2 Ruthless Antiheroes Attempt to Destroy the World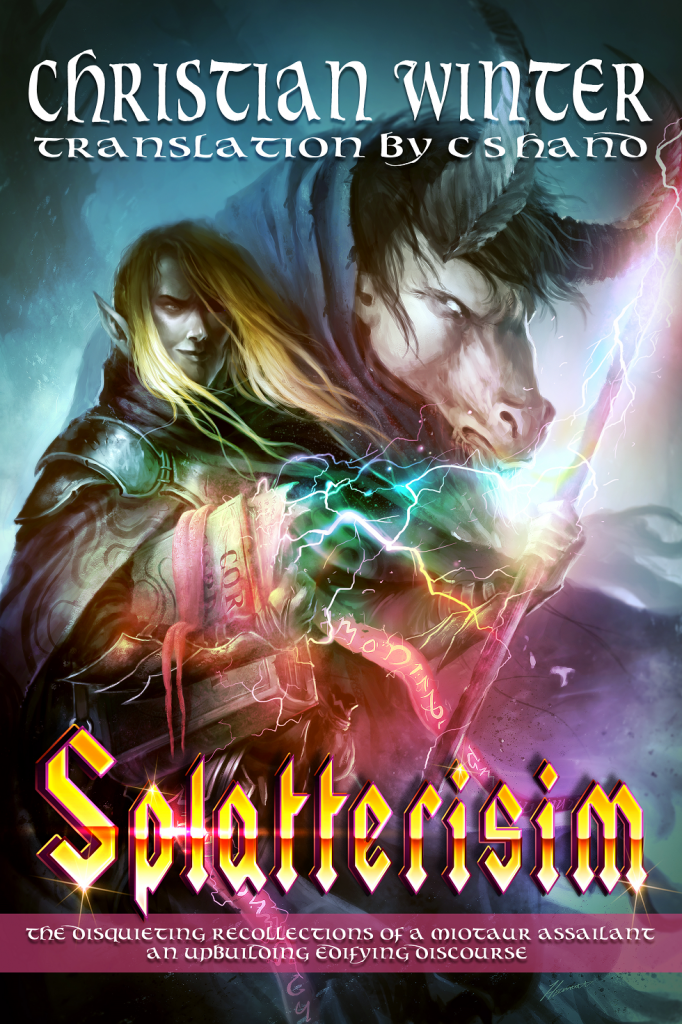 Discover Amazing Fantasy Books to Read
Are you looking for great fantasy books to read?
Are you getting close to the bottom of your huge TBR pile and need to find new fantasy books immediately?
Did you enjoy the adventures of Kvothe in books like the Name of the Wind, or the persiflage and ingenuity of the Gentlemen Bastards from the Lies of Locke Lamora, the philosophic ruminations and powerful, elegant language of R. Scott Bakker's fantasy books, or Brent Weeks's fantasy books with assassins?
Then follow these 2 antiheroes across the world as they wreak havoc, kill heroes, defile altars, and steal sacred books (so they can cause even more mayhem).
Here are just a few of the crimes Scammander and Evander are wanted for:
Stealing sacrosanct garments of famous heroes
Teaching outlawed versions of magic
Assassinating Judges
Assassinating prestigious mages
Stealing rare books & rare manuscripts
Kidnapping celebrities and holding them for ransom
Thinking for themselves
Usurping commonly held opinions that pass for facts.
And they're only going to commit more.
Discover How These 2 Anti-Heroes Destroy the World
Incredible Fantasy Novels that Led to Doubt, Dismay, & Splatterism
Great fantasy books introduce us to worlds that by their very nature stretch our minds and challenge our understanding of what is true and false, what is possible and what is impossible—what is fantasy and what is reality.
There is something incredibly magical thrumming around the world of fantasy novels in recent years, and it only seems to be intensifying.
Progenitors of the rise and creation of great fantasy novels are J. R. R. Tolkien's Lord of the Rings, Ursula Le Guinn's A Wizard of Earth Sea, George R. R. Martin's Saga of Fire and Ice, and Robert Jordan's Wheel of Time fantasy series.  It goes without saying that these are incredible reads.
Books like The Hobbit or The Fellowship of the Ring, were the first titanic step forward towards the bright age of fantasy that we currently live in.
George R. R. Martin's A Game of Thrones introduced readers to a much darker world.  Through subsequent novels like A Storm of Swords and A Clash of Kings, Martin demonstrated that no character he created was safe, and that in his fantasy books the world was much more "dangerous, lusty, and real."
Progressing towards our current epoch, most of the authors seem to be pursuing the darker slant in the new fantasy books that are currently being composed.  If you are reading dark fantasy books, you almost expect your favorite character to die.  You expect trauma, salty female characters, and lots of blood and guts.
Joe Abercrombie is carrying knives, axes, and poisoned daggers.  He is also carrying the dark fantasy genre forward, composing works such as The Blade Itself, Best Served Cold, and the Last Argument of Kings (plus a slew of others).
Scott Lynch is also composing great fantasy books, making ample use of witty, Shakespearian dialogue.  Lynch's books are thick and twisted, but he moves through the plot at an incredible speed.
But before all of these incredible authors got to work, there was another much more reticent student focused on composing great fantasy books to be read by an exclusive circle of his Oxford peers.
Meet the "Dark Oxonian" who created "A Talisman with which One May Destroy the World"
"I have, as of late, been glisterning with the twinkle of the old bards, and at such a height, have written a book from the peak of my soul."
Christian Winter was a neglected outcast with radical ideas.  Those two traits weighed heavily against him in his own life while at Oxford, and continue to work against him posthumously.
It is very likely that he wrote much more than the extant manuscripts that we currently posses.  It is also very likely that he wrote to very few people, and what he did write was seldomly about himself.  The few letters available to us Winter discusses only his upcoming novels.
A brief epistolary exchange reveals just how excited and intensely the young author had been working on his forthcoming fantasy novels.
"I have, as of late, been glisterning with the twinkle of the old bards, and at such a height, have written a book from the peak of my soul."  Winter goes on in a later letter, in a particularly electric passage, to describe Splatterism as a "coruscanting work of youth, written in lightning and starlight."  Any modern reader must keep this sentiment in mind while reading (if that is what one does with a work like this) this text.
What we do know about Christian Winter is that he was deeply read in the disciplines of Philosophy and Literature.  His work demonstrates an uncanny fluency in poetics, the creation of ambitious arguments, and an imagination whose wings are spread wide, beating furiously in the ether.
But perhaps they were beating too furiously for an esteemed Academic publisher, more interested in traditional, well-argued thoughts.
Dangerous Books that Shocked Oxford
A popular theory among scholars of literary history is that Winter hoped to publish his works with the illustrious Oxford University Press.
"What admirably puckish thoughts you have woven in this macabre tapestry.  I have hung it in the great castle corridors of my mind and often go to visit it."
"A demonic volume written with a wizard's hand, the likes of which our school has seldom authored. What eerie revenants have you summoned through candle flame while I was reading my Vergil?"
"I should like to accompany you to this glowing fairy circle you visit every midnight.  Does one get there down a black staircase in the Bodely?"
"I had no idea I had been passing port to a King of the Fairies.  The Masters of college will be quite jealous to learn that you have plukt Prospero's flowing cape and wear it for a robe."
"There is a great deal of blood and Latin here.  If this does ever reach the wider public you will certainly need lawyers.  It is unwise to foment revolution, especially since you have become a nationless vagabond."
"If you had managed to finish your degree, Oxford surely would have stripped you of it."
"I must admit I was quite vexed to receive these manuscripts and did not open them immediately. The poetry within is admirable, as is the ingenuity and clever conversation.  But you should reconsider rampaging about with knights and sorcerers and find more earnest and worthy vessels for your ideas."
A professor of philosophy wrote, "This is a thinly veiled manifesto for the destruction of our world.  I would admonish you to burn this manuscript and continue to study mathematics, where you might make a lasting contribution to this world.  Europe, especially right now, needs little encouragement to resume its spilling of blood."
"Possessing a single idea is enough to doom one in our world.  You have many."
The subtext is clear: while the thoughts are revolutionary and invigorating, the author had better consider other options if he wants to live even a somewhat "decent" life.  But it was too late: Christian Winter had chosen to follow the phantoms of his imagination and had written a book from the peak of his soul.  The world would be left to wrestle with it, and any revolutions it might inspire.
Read Unusually Tremendous Fantasy Novels by a Neglected, Thoughtful Lyricist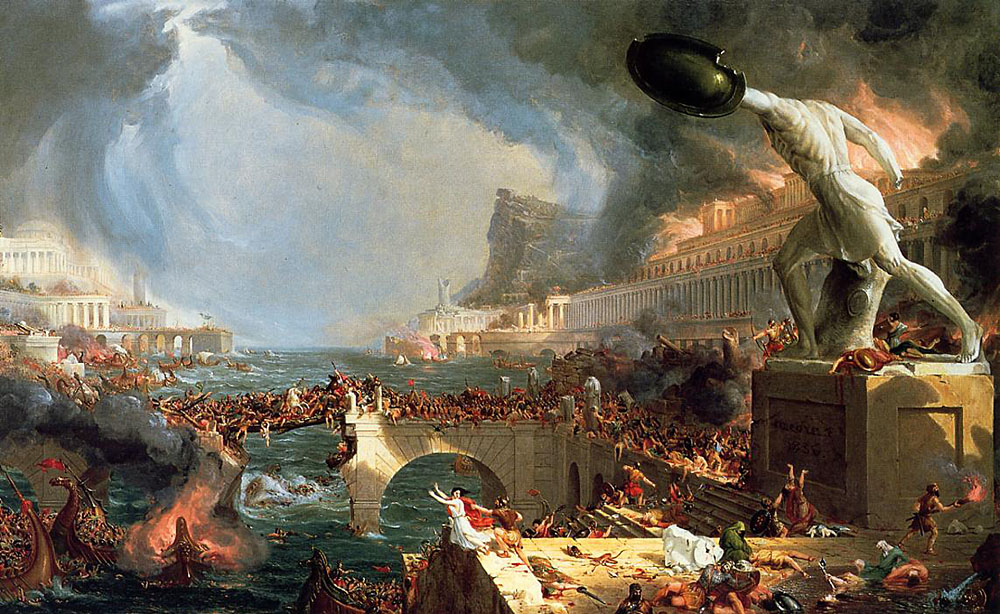 "This little novella is a talisman with which one may destroy the world, or at least become a clever lyricist, which is everything a young girl loves and her old father hates."
So author Christian Winter tells us in a pithy journal entry describing a novella written "in cold sweats past midnight" that eventually blossomed into a sprawling tripartite epic.
Reflecting on his work in the final journal entry before he shot himself in a hidden labyrinth on the isle of Lemnos, he describes Splatterism as a "lullaby for nihilists," a unique lullaby that "causes one to pass out from prodigious strenuousness rather than merely succumb to Nature's slow destruction or Culture's corrosive conditioning.  Yes, finally, this epic poses the question written in the hues of daylight across the ivory clouds that linger pensively on our epochal horizon:  What, O What, will the bad do when the good become evil?  And it answers—perish miserably."