A pen is a statement. These luxury pens make a statement whether you are holding them in your hand or if they are sitting on your desk. Many of the ones I have found are only released in limited quantities and most of the pens are quite expensive. Thus you can be sure that you are looking at one of the more rarefied pens around.
Whether you are looking for a gift for writers or an hard to find collector's item, I have rounded up exclusive luxury pens that anyone would be proud to have on their desk.
Visconti Dark Age Fountain Pen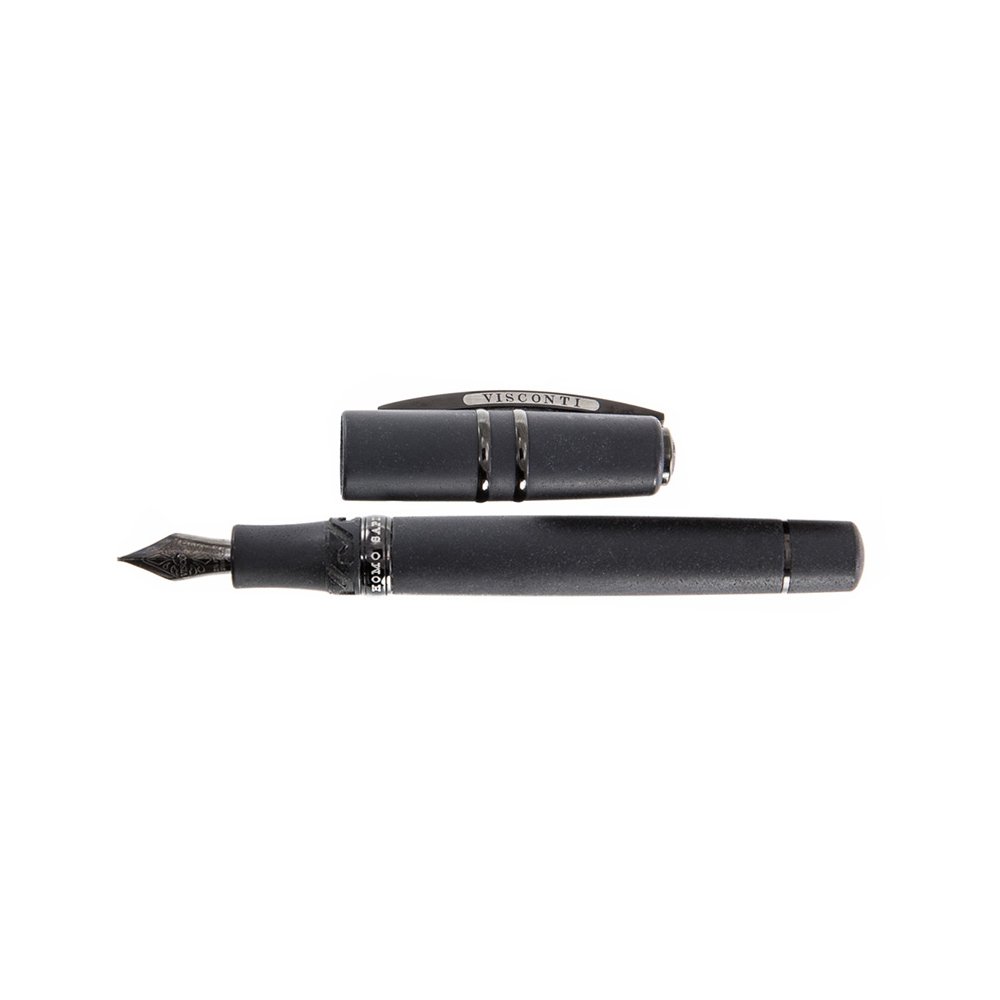 Dark and swarthy and irresistible, the Visconti Dark Age fountain pen is made of Basaltic Lava. Yes, you read that correctly, it's made of rare molten lava! How would you like to write with a pen forged from the ancient and legendary volcano Mt. Etna (where a famous philosopher hurled himself off a ledge and into the mountains steaming core!). Sporting a dark nib (making it somehow even more powerful and alluring) made of 23k palladium the Visconti Dark Age ensures not only a breath taking piece of art to behold, but a breath taking piece of art to hold and compose with.
Ancora Bitcoin Luxury Refillable Rollerball Pen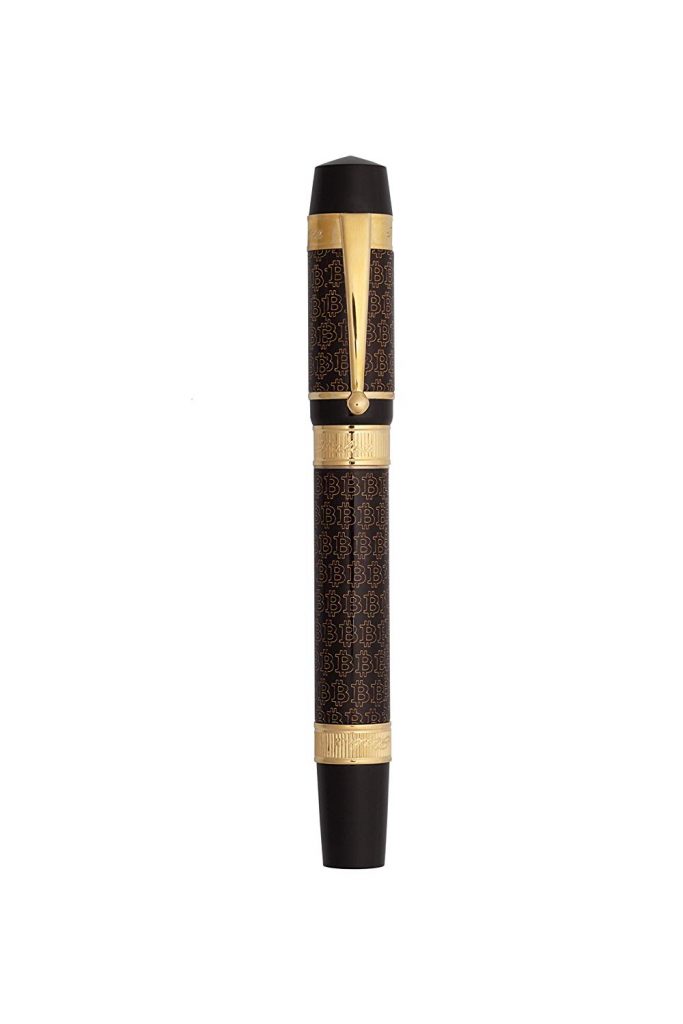 This is one of the most expensive pens around, but even still it took everything I had not to buy this for myself. This rare pen by Ancora features jaunty Bitcoin logos etched in light gold cascading down the black barrel. The Ancora Bitcoin Luxury Refillable Rollerball pen is definitely trendy but it won't be around long; and with only a few ever made, it will only become more and more exclusive as time goes on. This is without a doubt one of the top luxury pens you could ever hope to own.
Namiki Cumulus and Dragon Luxury Pen

This is a top of the line fountain pen from Pilot, which is offered by their luxury pen line, Namiki. Made with a unique art approach called Hira-maki-e, this pen features a 14 karat gold writing nib and truly unique and stunning art on the pen itself. The design on the rich, masculine, dark lacqured pen is a dragon twisting through the clouds which is suggestive of fortune and power.
PELIKAN Souveran M600 Medium Point Fountain Pen

The Pelikan Souveran is of course instantly recognizable by its iconic golden clip formed like a large beak of the brand's namesake bird. This is a pen for those with refined tastes. The Souveran (meaning sovereign) comes in a deep emerald complimented by sophisticated sable accents. Etched into the nib in 14 carat gold is the brand's famous emblem of a pelican and its lone child. Perfect for your next legal treatise or brooding philosophy tract!
Pilot Justus 95 Black Resin Fountain Pen with Gold Accents and 14kt Gold Nib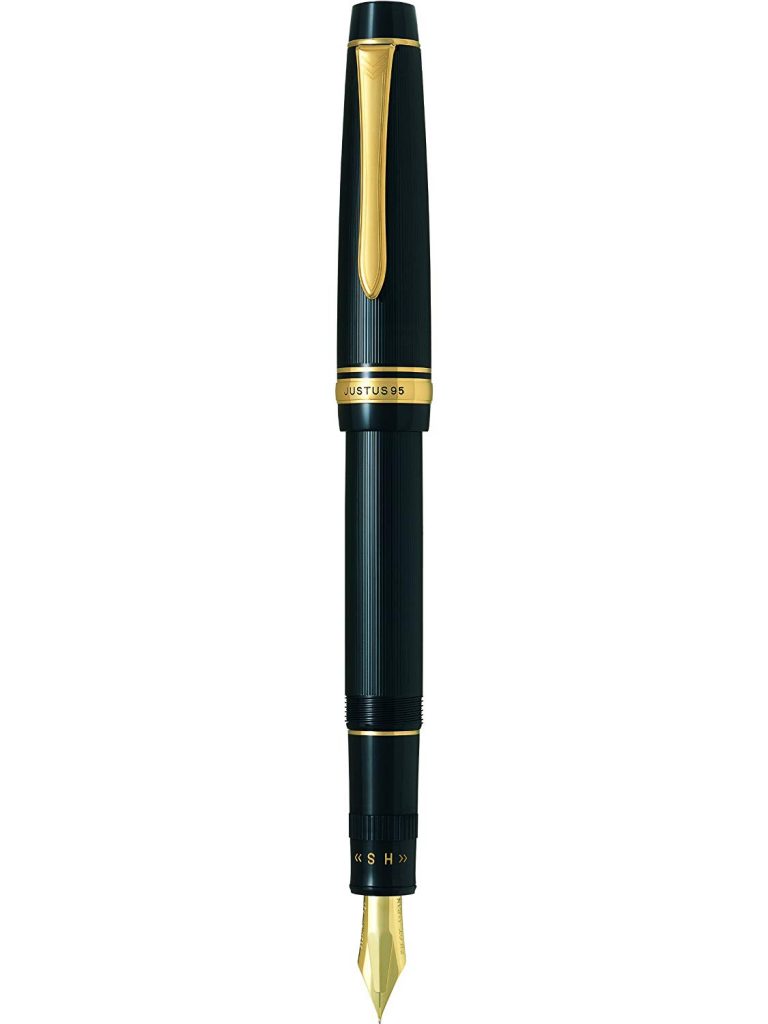 The Pilot Justus 95 was launched to honor the company's 95th year in operation, making it one of the most esteemed companies with a long history of creating writing instruments. With a bold black resin balancing bright golden accents and nib, this pen exudes a silent power. But this pen isn't just for looks. It is a workhorse. Not only will you want to put it to good use, but it adapts to your particular writing style, which is where the model got its name (Justus is short for "just for us."). Definitely a premium pen in a league of its own, this is a classic and essential addition to anyone's desk.
Waterman Perspective Fountain Pen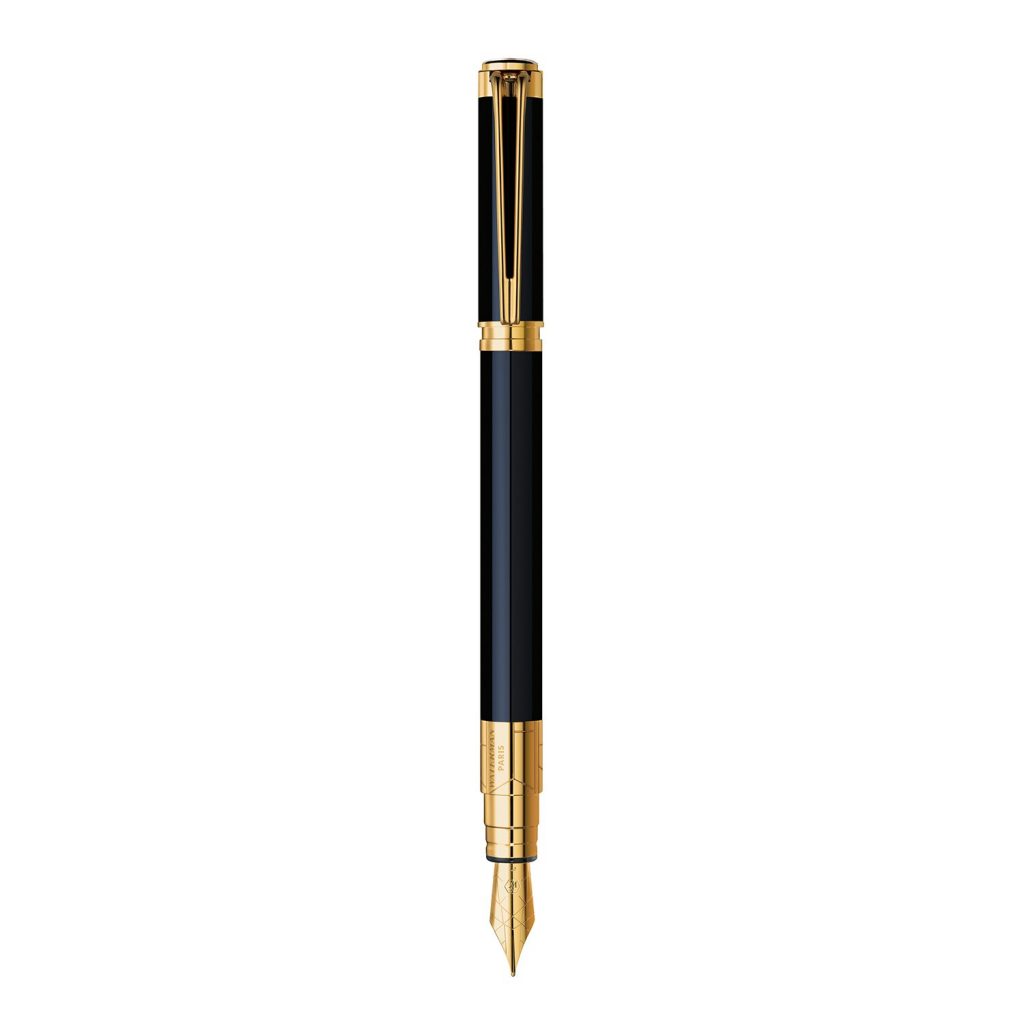 Sporting a high gloss black barrel and gleaming gold nib, this luxury pen is as sleek and sophisticated as the skyscraper you likely do business in every day or the penthouse you have been dreaming about. The famous Waterman logo features tastefully at the base of the nib and is ensconced by intricate detailing and etching.
Ancora Titanic Luxury Fountain Pen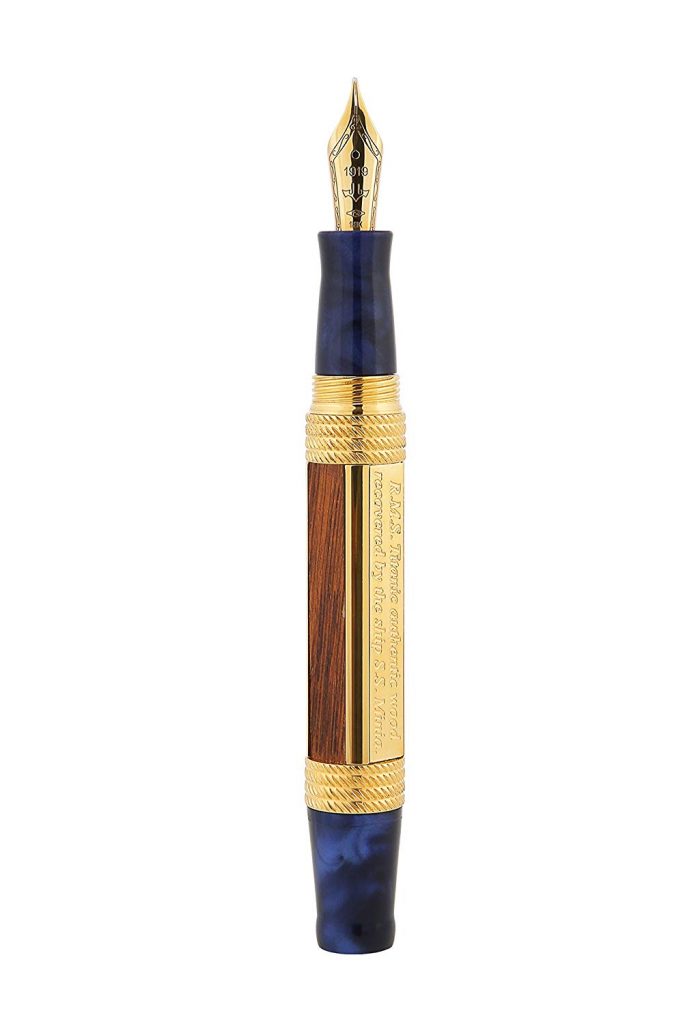 This is the second entry from Ancora on this list and it might clue you in on just how elite the pens they create really are. Ancora makes extremely limited quantities of their luxury pens every year so you can be sure this is a very exclusive pen and likely no one else you know is going to have it. This one is from a collection featuring wood from the Titanic, yes, you read that right. Ancora purchased the wood from the sunken ship at the official Bonhams auction on the 100th anniversary. That just goes to show you the type of rare materials they enjoy creating with and their intrepid and excellence of imagination. This is definitely no ordinary pen. This one in particular is perfect for the nautical enthusiast who loves to sail the seas as much as much as they love to embark on their own glamourous adventures.
Montblanc Heritage Fountain Pen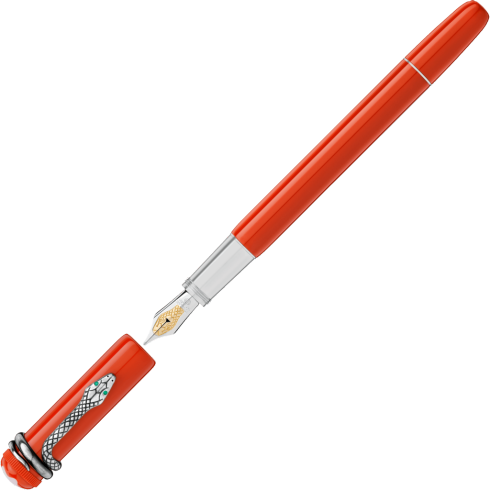 Montblanc has been making exquisite pens since 1903 and were one of the first to make a fountain pen in Europe. This prestigious brand is nearly synonymous with luxury pens and if you don't have one now is always the time to get one. Many will go with the classic Meisterstuck, but the one I have selected here is a rare and phenomenal pen (that is nearly completely sold out, by the way). Offered in a coral or dark brown resin it is adorned on the top with a coiling silver serpent. The nib shows extraordinary craftsmanship and the kind of uniqueness that only a renowned brand like Montblanc could display: it is decorated with the head of a snake that has been etched in gold. This is an obvious addition for anyone who enjoys the craft of writing and high style.
Montblanc Heritage Rouge et Noir Ballpoint Pen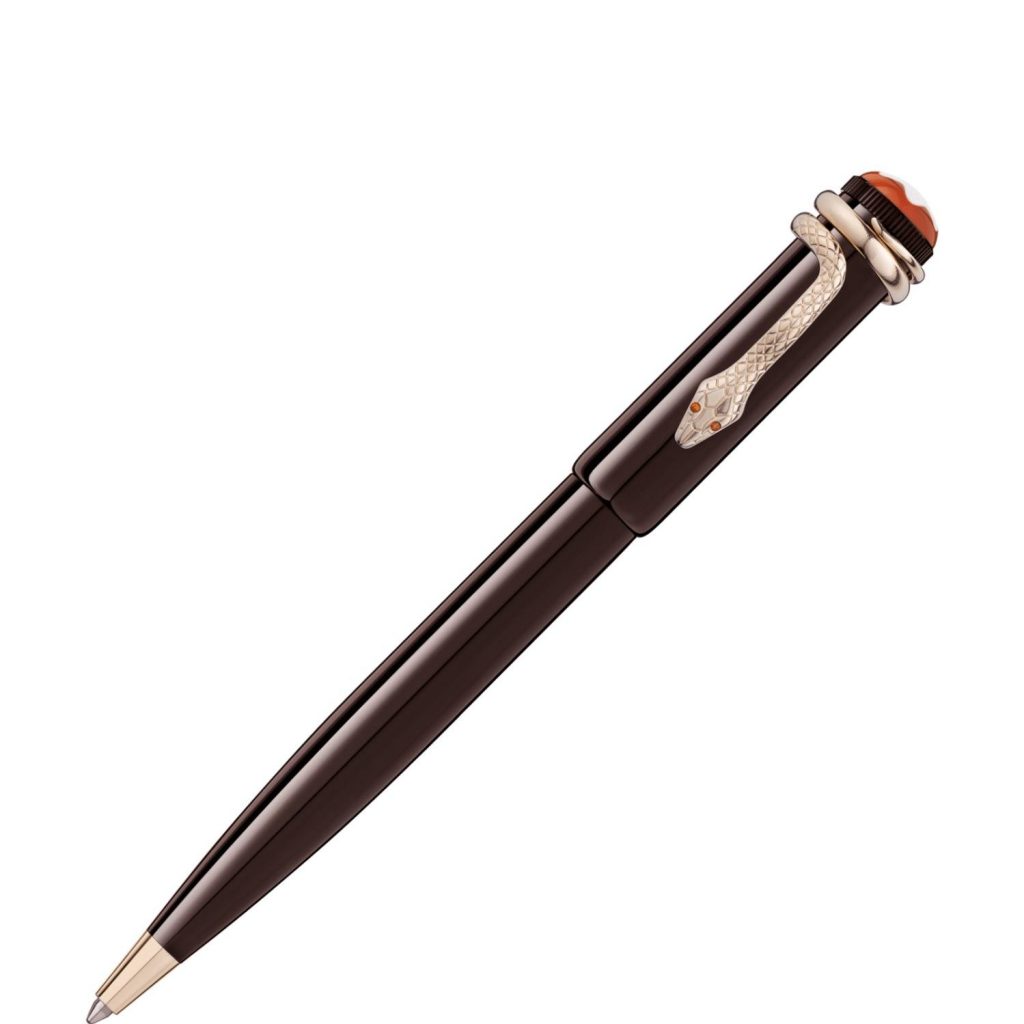 For those of you who prefer a ballpoint pen, I have included this exceptional Montblanc Heritage Rouge et Noir pen as well. Just like the entry above, it has a golden serpentine clip set with dark tangerine eyes coiling around the top of the pen. Available in a limited supply at this price, you will want to act fast if you hope to get it before it sells out!