If it's getting close to Christmas getting the perfect tree is top of mind. Artificial Christmas trees have made significant advances in recent years regarding their apparent realness and as a result they have become hugely popular. You can even add special scents on them to bring out that magical Christmas tree smell. But how can you be sure you are getting a good one? The best artificial Christmas trees are plush, easy to store, and very realistic.
You'd be amazed how many varieties of trees exist to imbue your home with some special Christmas cheer. While trees come in a variety of heights from 5 feet to a stunning 12 feet, you will most likely want to look at the 7 or 7.5 foot range to ensure you get one that fits easily in your home and has enough of a presence in a room to not go missing.
Here are the primary types of artificial Christmas trees to consider when buying:
Unlit: Usually just the tree and the stand.
Pre-Lit: What you would expect; be sure you get LEDs so if one light goes out all the other lights won't go out as well.
Decorated: Tee comes with ornaments and often this will come with lights as well.
Flocked: This means that the branches have been dusted to give them a snowy look to ensure that you get that magical white Christmas vibe.
While you might be initially surprised at the price of some of these fake Christmas trees, keep in mind that this one purchase is likely going to last for many years. Often a higher price not only means increased realness and durability, but also extras like storage, more lights, more branches, and longer warranties.
These trees are very popular and as such they tend to sell out very, very quickly (especially the closer we get to Christmas). So if you see one you like don't wait too long before making a decision as someone else is very likely eyeing the same one you are!
1. Red Sleigh Noble Fir Artificial Christmas Tree Lit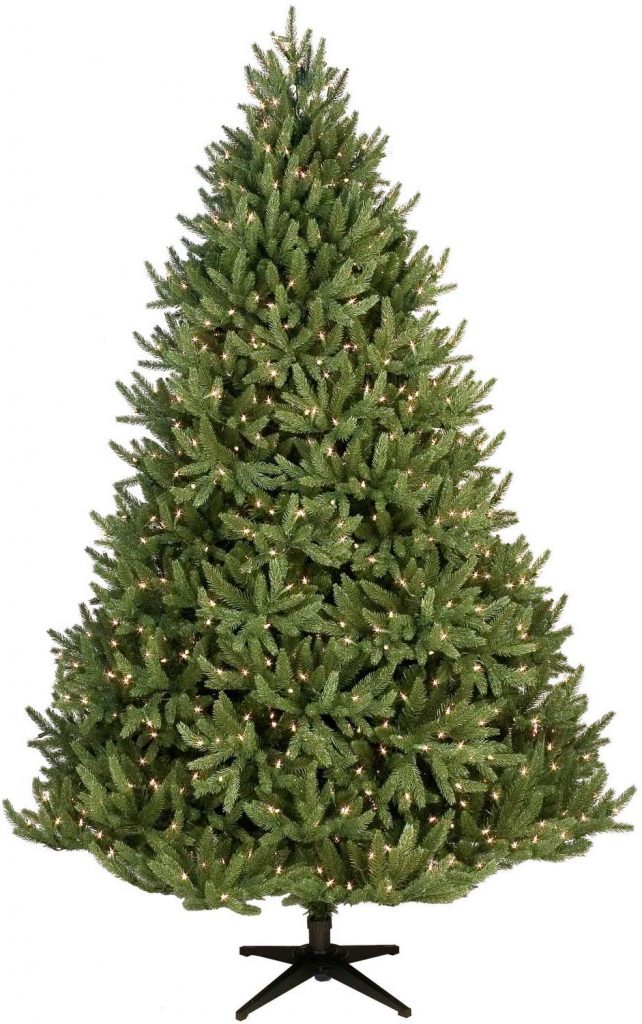 If you are looking for a realistic tree, this Noble Fir from Red Sleigh uses their "TruTip" technology to create natural looking color variations throughout many realistic needles. Speckled with 800 warm white LED lights and 2,961 tips, you are sure to feel the classic holiday magic in your home the second you stand this tree up. You can be confident you have made a purchase that will stand the test of time as this tree comes with a 10 year warranty and a 3 year warranty exclusively for the lights.
2. Flocked Bavarian Pine, 7.5 Foot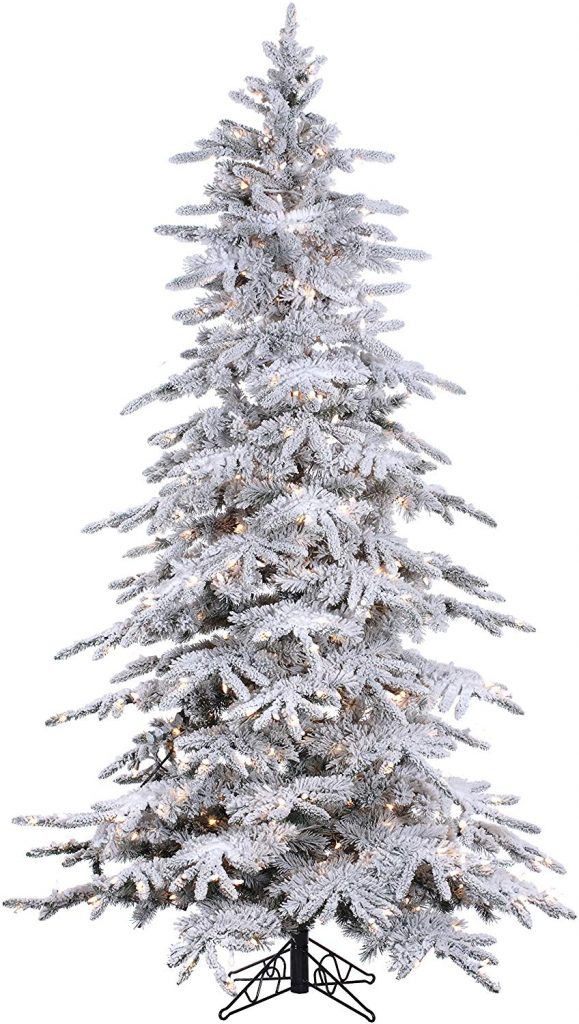 Adventure to the frosty far north of the world with this flocked Bavarian Pine. Easy to see why this is such a popular choice this year and has scored such great reviews!
3. 7.5 Foot White Pre-lit Dunhil Fir Christmas Tree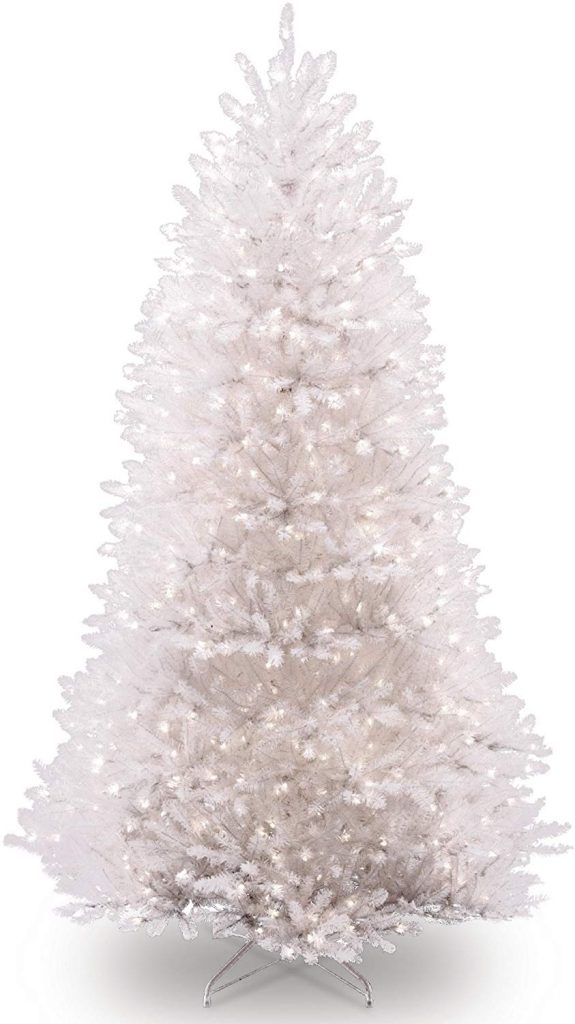 If you have been looking for a tree that is going to be a little different this year and are tired of green trees, a prelit Christmas tree in a bold white is just what you need this holiday season. And that's exactly what the 7.5 foot National Tree Dunhill Fir delivers on. While it doesn't come with any ornaments, that gives you the chance to decorate it how you see fit or simply leave the lights on for a nice and clean look.
4. Black Christmas Tree

Add a bit of sophisticated feels to your home this holiday season with this affordable black tree from The Christmas Tree Company.
5. Small Artificial Christmas Tree in Champagne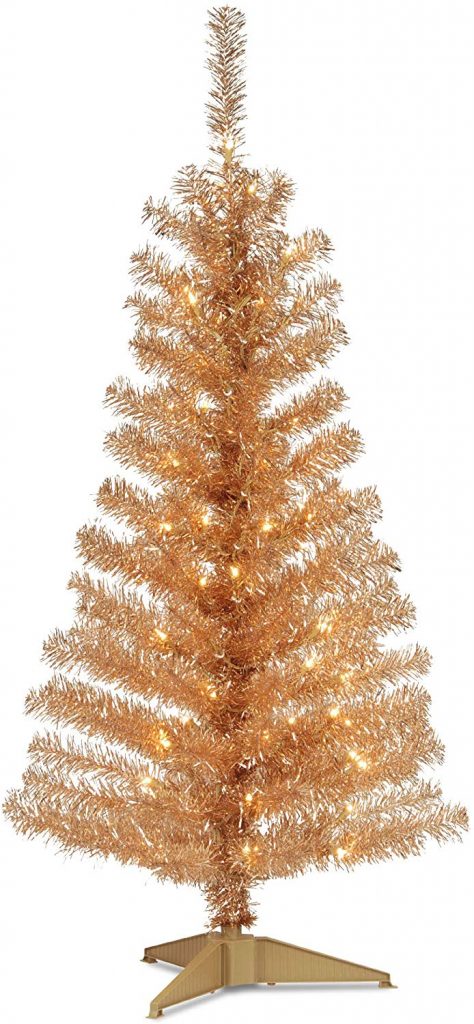 Not every tree needs to be tall in order to make a statement. This small tree in champagne is the perfect choice to add a pop of on-trend color to any nook or sprinkle Christmas cheer on your desk or coffee table.
6. National Tree 6.5 foot Dunhill Fir Tree with Multicolor Lights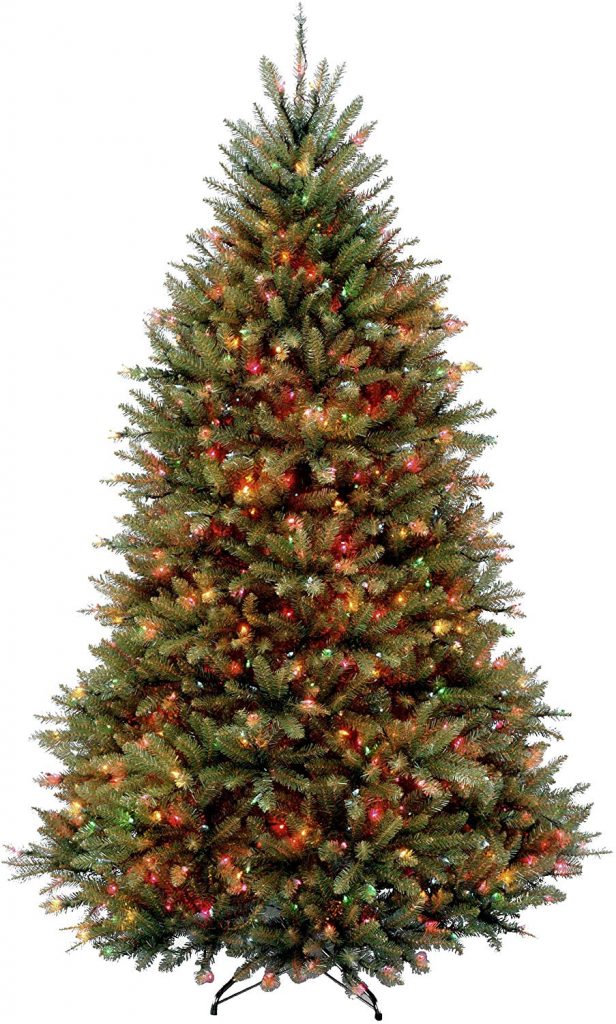 This is a bright and festive tree with a total of 650 multicolor lights and a special feature called "bulb lock" which will go a long way towards keeping the bulbs from falling out over the years. If you are looking for a slightly taller tree for your home, there is a 7.5' tall version as well which comes with even more lights!
7. 7.5 Foot Pink Christmas Tree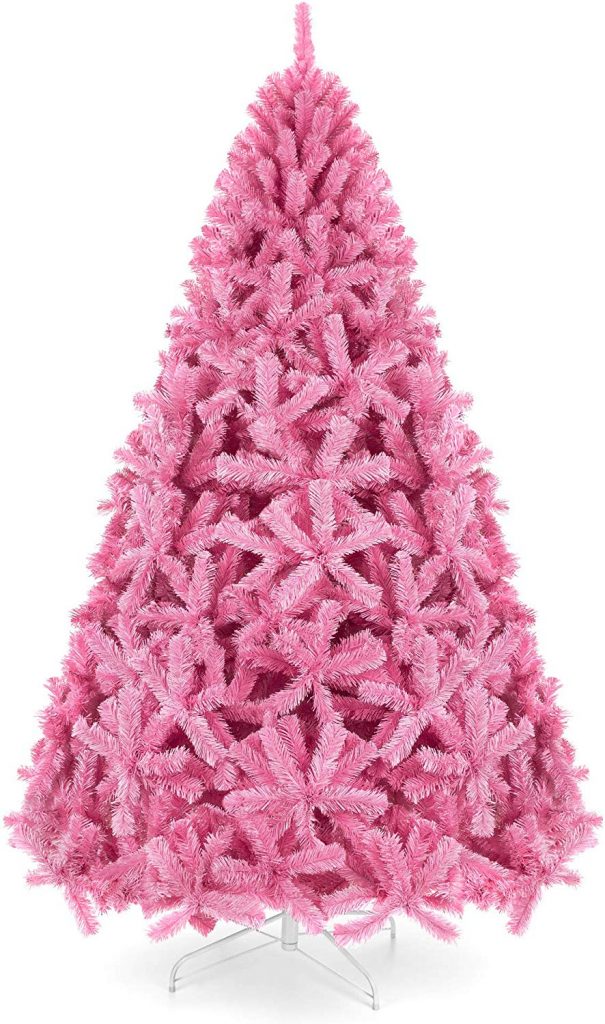 If you are looking to change things up this holiday season this pink tree is sure to do just that and will definitely be a conversation piece.
8. National Tree 7.5 Foot Carolina Pine Tree with Cones and Clear Lights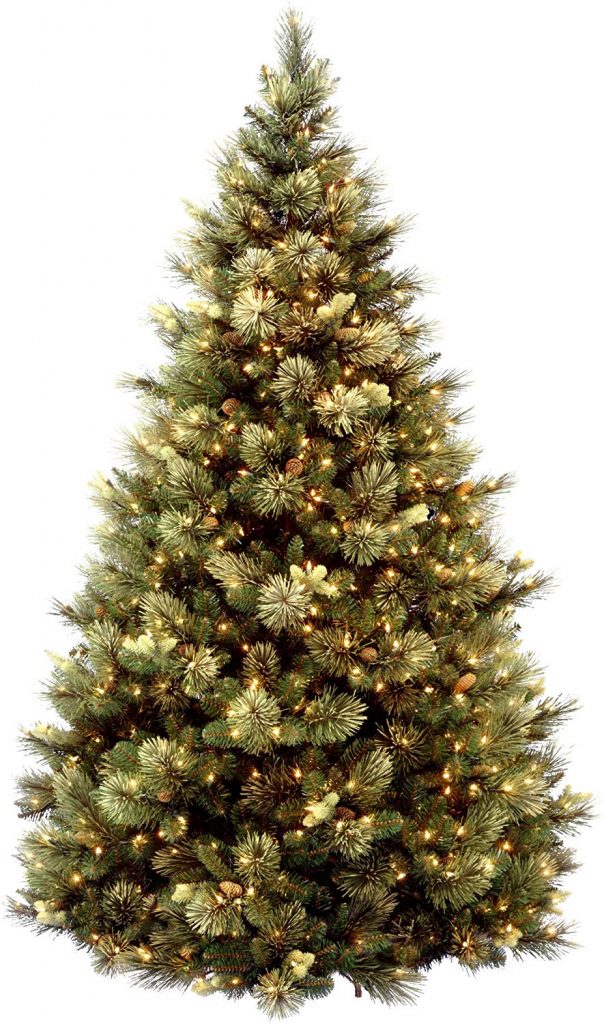 The Carolina Pine tree creates a rustic Christmas vibe and is perfect for your log cabin this holiday.
9. Best Choice Products 7.5 Premium Spruce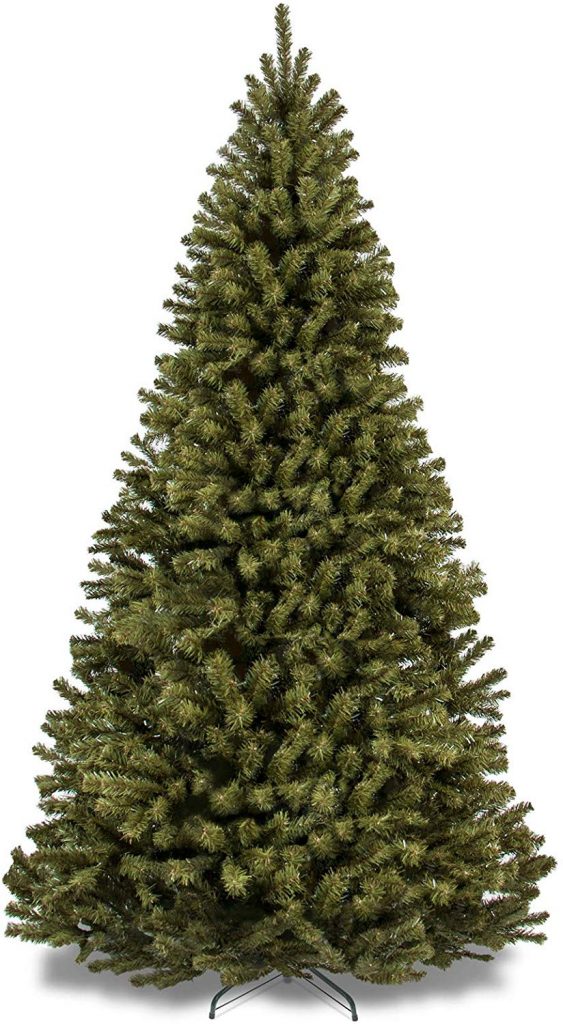 If you prefer a clean slate to make your Christmas Tree masterpiece, then this Premium Spruce offered by Best Choice Products is the perfect canvas you have been searching for. This tree has 1,346 tips to string your favorite set of holiday lights across and hang all those special Christmas decorations from! While this particular artificial tree does come with a tree stand, it does not come with a storage bag which you will need to purchase separately.
10. 7 Foot Balsam Hill Classic Blue Spruce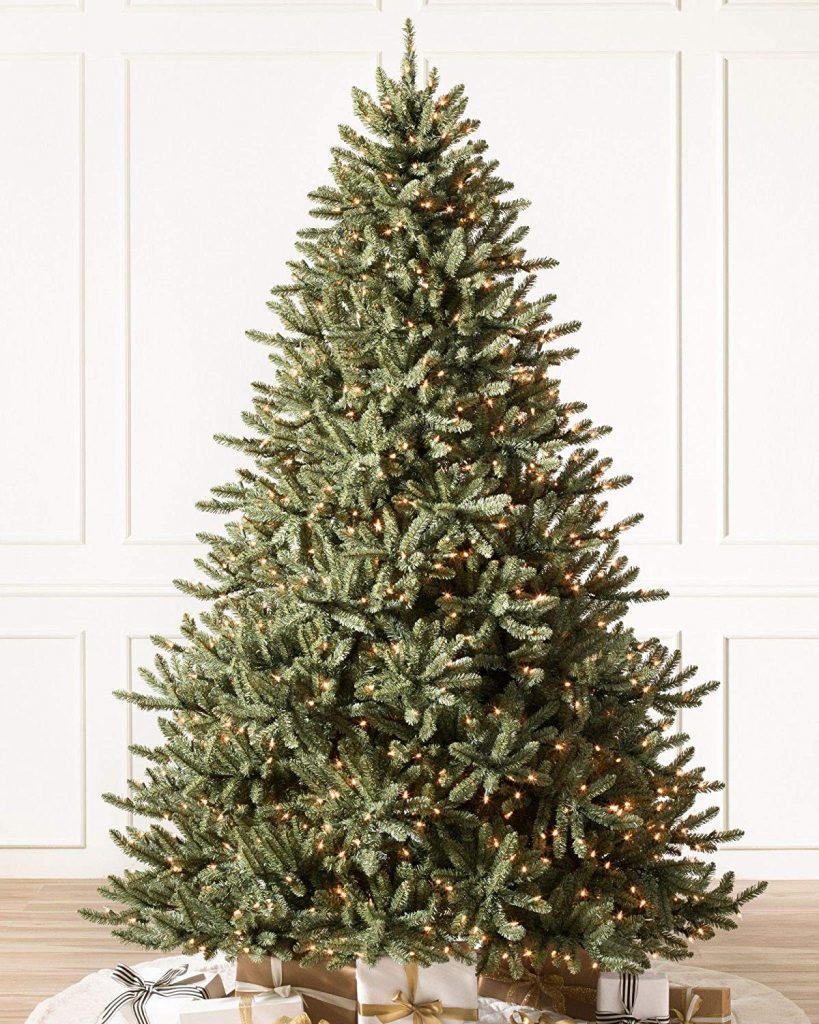 With plenty of tips creating a fulsome tree and ample clear LED lights shining brightly from the boughs, the classic blue spruce is just that—a classic.
11. 7.5ft Snow Flocked Christmas Tree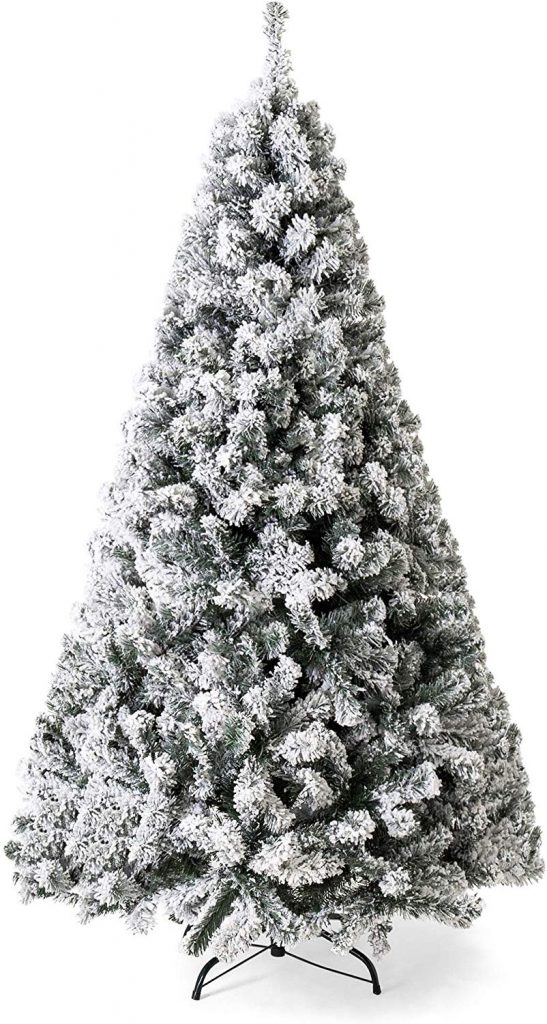 Create an enchanting wintery Christmas feel in any room with this popular snow-dusted tree.
12. 7.5 Foot Kingswood Fir Pencil Tree

If you are trying to add a little Christmas spirit to a particular corner in your home, look no further than the Kingswood Fir Pencil Tree. Tall and narrow, it adds a delightful accent of holiday cheer that is both quiet and yet unmissable.
13. Balsam Hill Fir Premium Christmas Tree 7.5 Lit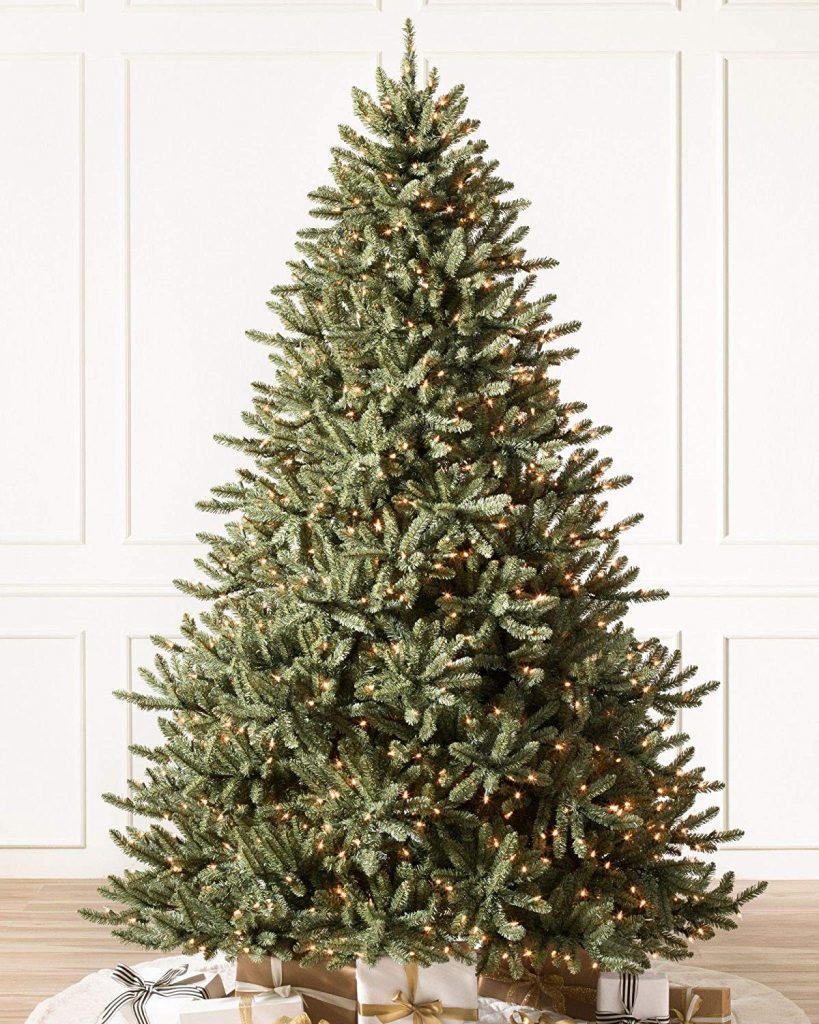 The Balsam Hill Fir Premium is one of the high end artificial Christmas trees that sports a larger price tag but is worth every penny and it's easy to see why. It has a total of 5,768 branch tips ensuring a plush look along with 900 hand-strung LED lights to create a classic, traditional Christmas ambiance. It also comes with a tree stand, storage bags, and it even has extra bulbs and a 3 year warranty. So if you are looking for a safe investment in your next artificial Christmas tree, this one is it.
14. National Tree Dunhill Fir Frosted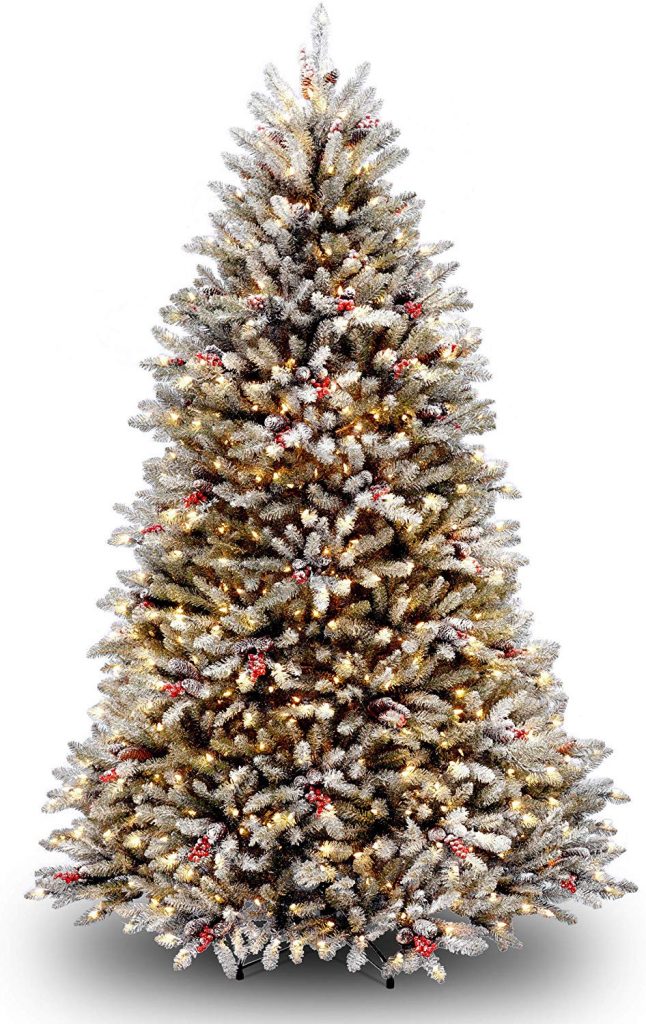 I especially love the frosted trees since they seem to usher in the joyous Christmas spirit like nothing else (ok aside from some real snow outside perhaps). This Dunhill Fir comes with 700 clear lights that have already been strung around the tree, saving you the massive and often stressful trial of stringing them all together. It has 2,144 branch tips decorated with pinecones and red berries which blend perfectly with the snowy branches to really create a unique and wonderful tree.
15. 7.5 Foot Frasier Grand "Real Feel" Christmas Tree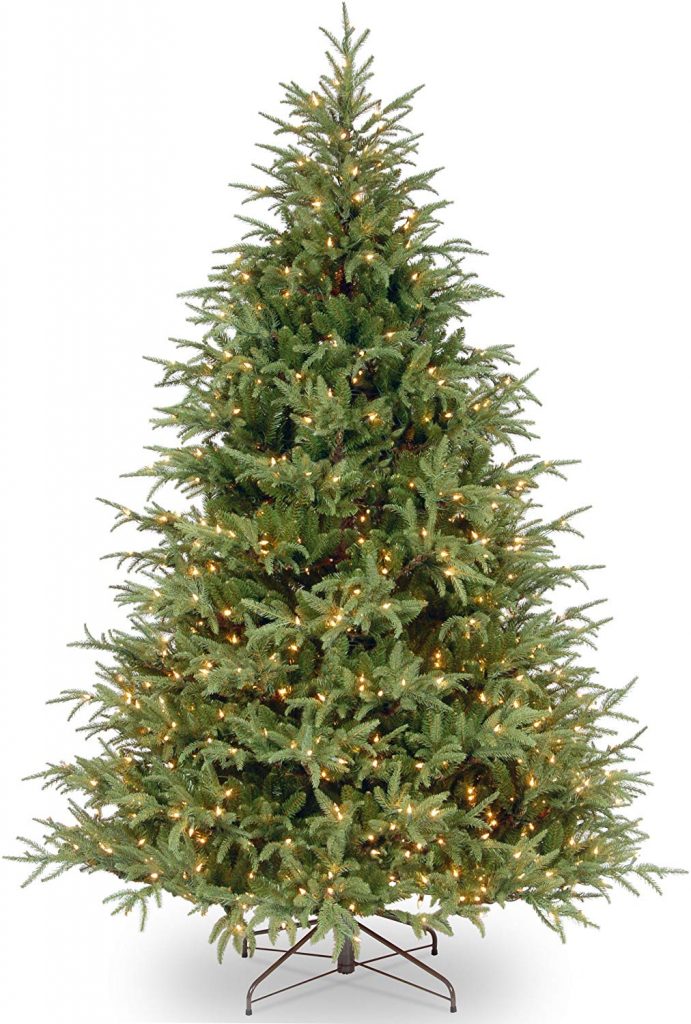 This highly rated artificial Christmas tree will be a grand host for your presents this holiday season. Utilizing "Feel Real" technology, this Fraiser Fir will have you singing Christmas carols and drinking hot chocolate by the fire, creating many delightful holiday memories. It is pre-strung with 1,000 clear lights which are certainly stunning when lit and gives you a head start on your decorations. It also is packed in a reusable storage carton so you can effortlessly pack it away once the holidays are over.
16. 7.5 Foot Rainbow Tree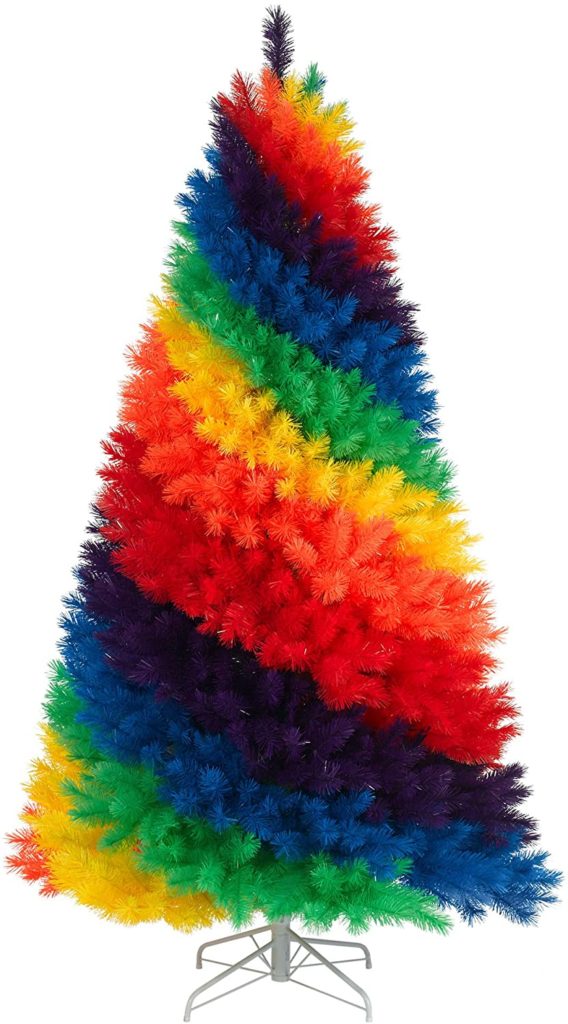 Add an exciting burst of color to your holiday space this year with this 7 foot Rainbow Christmas tree. Sporting over 1200 tips, a stand, and even a 5 year warranty, the folks at Treetopia want to guarantee many exotic and colorful holidays for your future.
17. Cactus Christmas Tree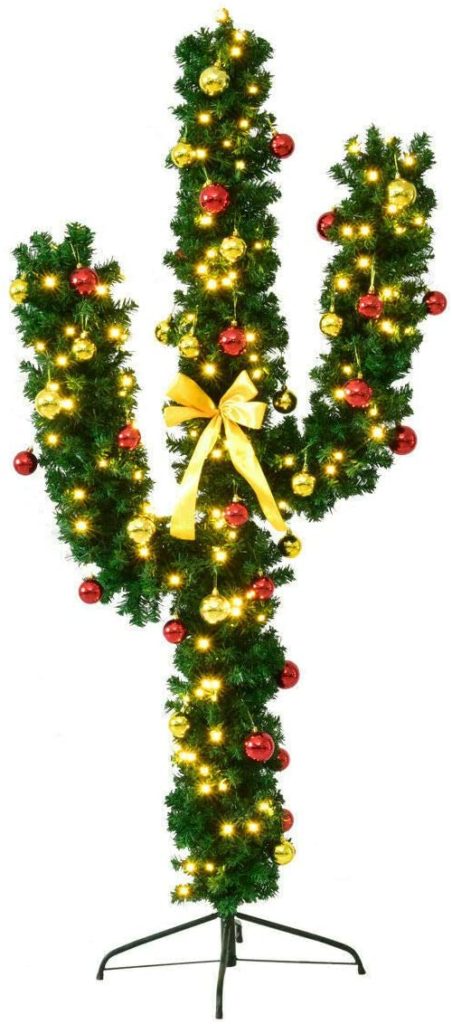 For everyone celebrating the holidays in the South West, or for anyone who really wants a unique tree this year comes the Christmas Cactus! It arrives pre-lit with white-gold lights and great red and gold ornaments. The metal stand means you can rock around the tree without having to worry about it falling over all season long.