Whether you're looking to upgrade your existing ereader or taking the bold leap to ebooks, there are a lot of different things to consider when shopping for the best ebook reader.
First you need to be familiar with the vast offering of Kindles, Kobos, and Nooks. While most will likely end up with an Amazon product, Kobo has created devices with some compelling features as well.
Importantly, you really need to consider your reading habits.
Do you travel a lot or have a longer commute on a train or bus?
Do you read primarily indoors or are you looking for an ebook reader that can be read outdoors too?
Do you read comic books and blogs?
Do you read mostly in the morning while you enjoy a cup of coffee or do you prefer to read at night snuggled up in bed?
Do you enjoy listening to audiobooks?
Knowing the type of reader you are will help ensure you pick the device that is perfect for your personal lifestyle.
Lastly, because it tis the season, these make obvious and excellent [gifts for readers] of all stripes whether it's for Christmas, a birthday, or another special occasion.
I've scored these reviews based upon five crucial factors related to reading and convenience:
Lighting
Battery Life
Readability
Screen size
Storage
In a Hurry? Here Are the Top Picks
| Kindle Oasis | Kindle Voyage | Kindle Paperwhite | Fire 8 HD |
| --- | --- | --- | --- |
| | | | |
| 12 LEDs, 7″ Screen | 6 LEDs, 6″ Screen | 4 LEDs, 6″ Screen | 8″ Screen HD Back-lit |
| Battery Life – Weeks | Battery Life – Weeks | Battery Life – Weeks | 12 Hours |
| $249 | $199 | $119 | $79 |
| | | | |
Kindle Oasis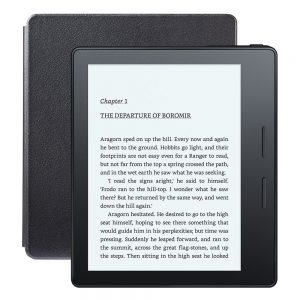 With the major update and redesign of the Oasis, readers now have everything they could ask for in a device because the Oasis is now waterproof. Enhanced battery life translates into weeks of reading which makes fretting about keeping your device charged a thing of the past. Storage options ranging from 8GB to 32GB empowers book lovers to do what they love best: hoard piles and piles of books.
Now, let's be honest:
You're a reader. You are going to be holding this device for hours. If you don't want your hand to turn into a mangled claw the ergonomic design becomes a crucial, even indispensable benefit. Amazon has also tried to make the act of reading even easier: with the Oasis you can turn the page with a simple click of a button.
But what is reading actually like? The Kindle Oasis has laser quality text and next to no glare so you don't have to worry about trying to find an awkward way to read it in the sunlight. Importantly, if you do a lot of reading at night (like I do) the Oasis has 12 LEDs to illuminate the 7"screen. And if you get tired of reading and just want to listen to books for a change, this ebook reader now comes with Audible as well.
All told savvy, veteran e-readers on the go will scoop up the Oasis and leave their Kobo Aura or previous device behind for good.
Kindle Voyage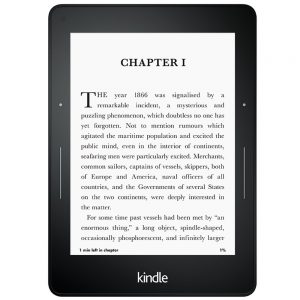 This e-book reader hits the perfect balance of price and benefits, the best of which is its lighting. Much like the Oasis, the Voyage's lighting shines onto the page, not into your eyes which reduces glare and makes it easy to read no matter where you are. Amazon even researched optimal brightness levels based upon certain lighting conditions to create an adaptive front light. This ensures that your device automatically changes based upon your environment.
The Kindle Voyage is thin which makes those long reading sessions easy on your hand when you get swept into a great novel. Lastly, turning the page is simple and effortless with PagePress which allows you to zip through a book with a light tap of a button. No more smudging up the screen with swipes and incessant tapping.
Kindle Paperwhite – Best Ereader for the Price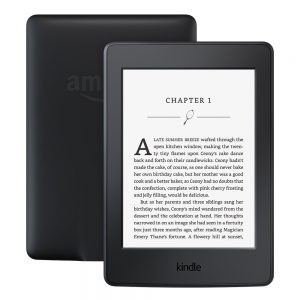 This is by far the best-selling Kindle available today and it's easy to see why. Extensive battery life, a crisp and book-like reading experience, and near zero glare make this one of the easiest purchasing decisions you will ever make. Now, Amazon boasts 8 weeks of battery life but in all likelihood, you probably won't have to worry about charging for about a week of solid reading time. The four built in LEDs will provide suitable reading for those late nights where you simply can't stop until you finish the book. However, if you are looking to get into audio books you will need to consider the Oasis or a Fire tablet. Attractively priced for the number of benefits it offers, this is the best option for most readers and offers a significant upgrade from the standard Kindle e-reader.
Kindle Fire 8 HD Best Tablet for Reading Books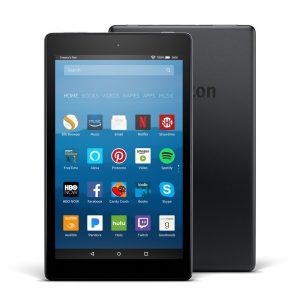 The versatility and amazing picture quality make the Fire 8 an extremely attractive entry. The 8" HD screen and 12 hours of battery life guarantees a joyful and reliable reading experience and the 16GB of storage means you can load just about every book, comic book, and a decent sized music library without a second thought. The secret about reading on a tablet is that you get to enjoy book covers and their lush colors in all their remarkable splendor—something that is noticeably absent from all the other top ereaders.
The top reviewed tablet is a standout and should be given serious consideration for anyone looking for an ereader but in addition it also offers a tremendous range of other apps like Netflix, Spotify, HBO, and of course Facebook. Readers looking to get into audio books will be delighted to discover that all the Fire tablets have Audible which is a great format for those long road trips or plane flights.
If you spend most of your time reading inside the Fire 8 HD is an attractive option. However, if you are looking to take it along with you to a bright park, to the lake, or the beach you might be better served with the Kindle Voyage or Paperwhite where the glare from the sunlight won't be nearly as pernicious.
Kobo Aura One – Best Large Screen EBook Reader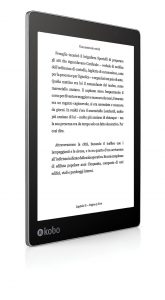 If you are looking for an amazing reading experience outside of the Amazon ecosystem and you want the larger screen size generally found in tablets the Kobo Aura One will be a welcomed addition to your life. At 7.8" the screen is still a little larger than the Kindle Oasis and readers who don't want to put up with ads will find an immersive reading experience with the Kobo's Aura One. Smart, customizable light settings ensure that you don't have to worry about manually updating your device but still have the option to do so if you want. For bookworms who are heavy users of their public library card this ereader lets you plug in with relative ease and virtually slip your next novel off the shelf.