If you have found yourself recently doing more work in bed or on the couch and at least one thing you really wish you had more of was some sort of stable support for your laptop you're not alone. Enter the lap desk. With a lot of them available there are a few popular features you should look for and keep in mind:
Built in Mouse pad
Storage
Portability
Adjustability
So whether your are drawing, reading, or composing emails and writing, I've rounded up the best lap desks for you!
Songmic Lap Desk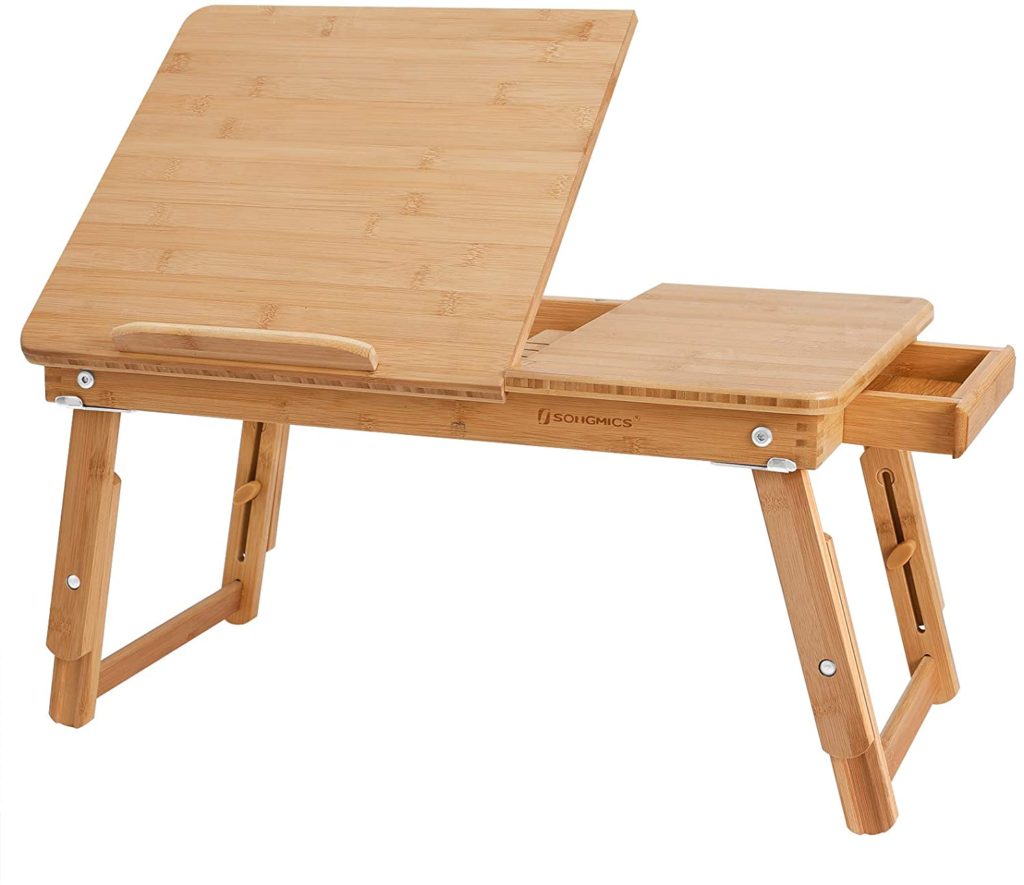 If you are looking for an economical use of space, this lap desk from Songmics can double as your breakfast-in-bed table and with a simple tilt it can also quickly pivot to a mini desk for note taking, reading, drawing, or working on your laptop. It has a small drawer for some additional storage for pens, a notebook, your wireless earbuds, and the like.
LapGear Designer Lap Desk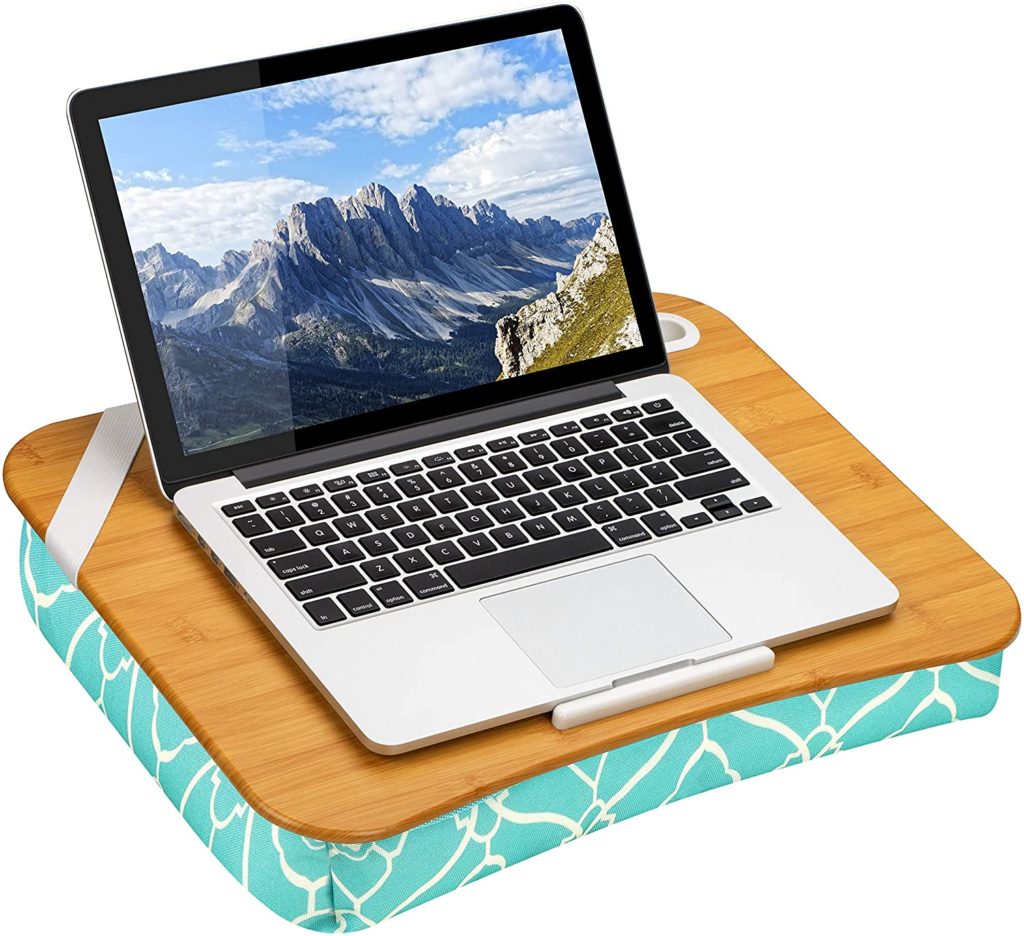 If not just any desk will do, LapGear has created one with great poolside vibes. You can chill and crank through all that work all from the comfort of your couch. It has a convenient place to dock your phone and is large enough for either a 15" laptop or a 17" laptop depending on which size you ultimately end up selecting.
Neeto Adjustable Lap Desk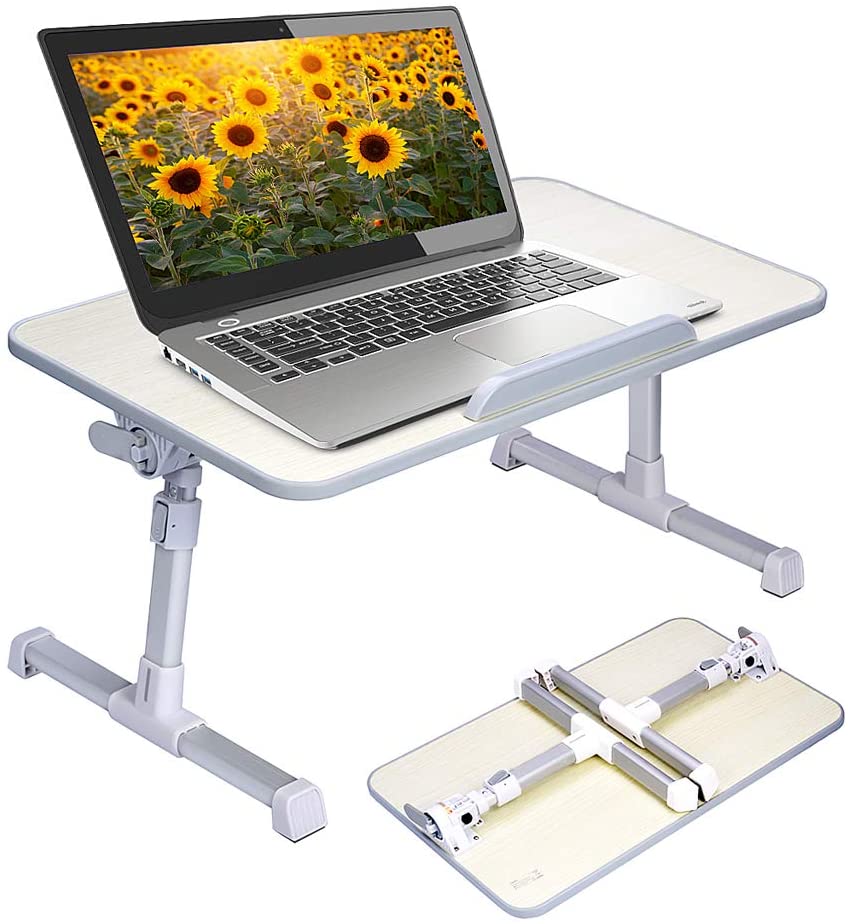 This is by far the most popular lap desk not only due to its light weight and sturdy materials, but also its versatility. Probably the best thing about the Neeto Lap Desk is its tall enough that if you want to place it on a coffee table you can adjust it to transform it from a lap desk into a standing desk (which saves a ton of money if that is the option you are looking for in your WFH life).
Sofia+Sam Bamboo Laptop Bed Tray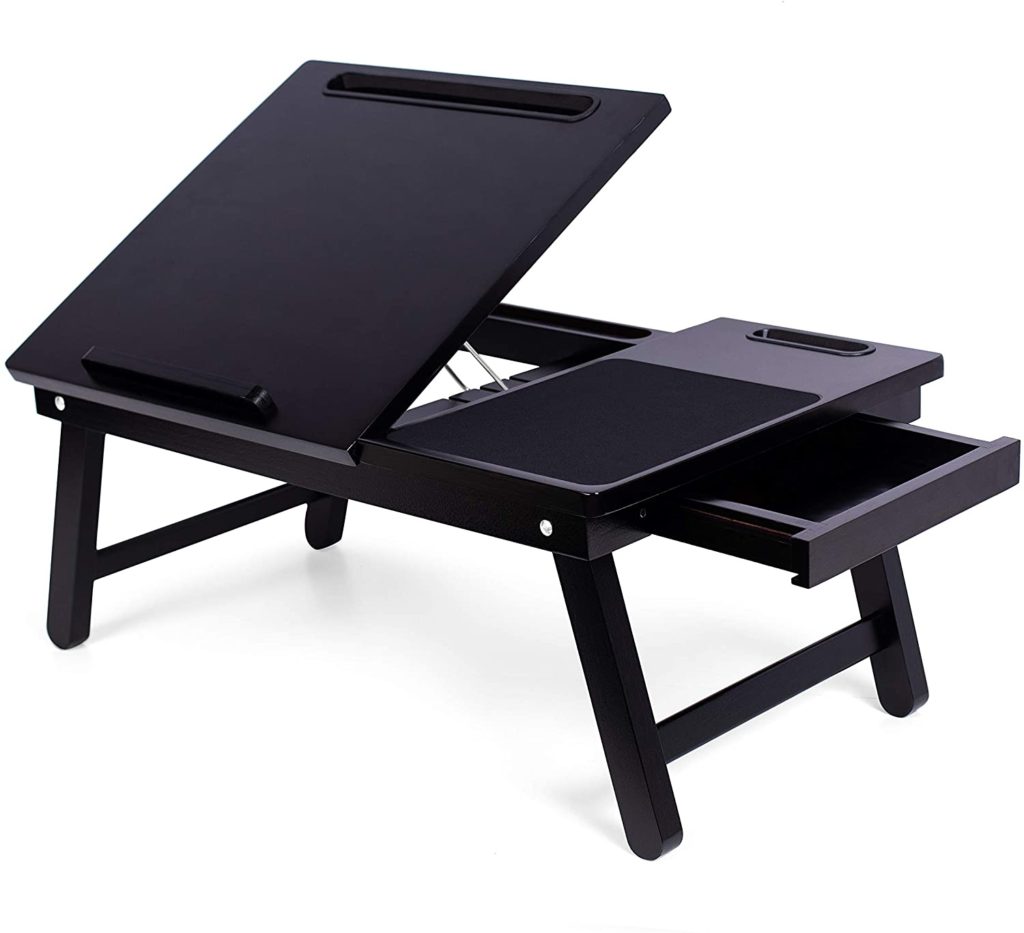 This lap desk is made from a sturdy bamboo and has a slot for both your tablet and your phone along with a small drawer for simple storage needs. It even has a mousepad so you don't have to worry about moving your existing one or sliding the mouse on the wood which can get frustrating. Ideal for laptops that are 13 and 15 inches.
Honey-Can-Do Portable Laptop Desk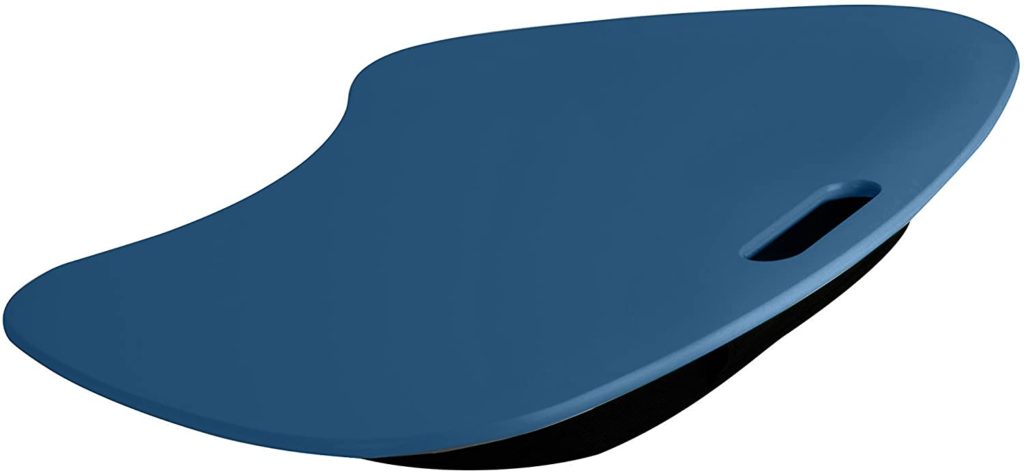 This is the best budget option if you are really focused on price point. The Honey-Can-Do has a nice soft foam pad under the tray to provide some easily stability. The desk itself is made of plastic which makes it easy to clean and makes it very lightweight. This doesn't have room for a mouse or a wrist rest so its best used on the couch.
Sofia+Sam Oversized Memory Foam Lap Desk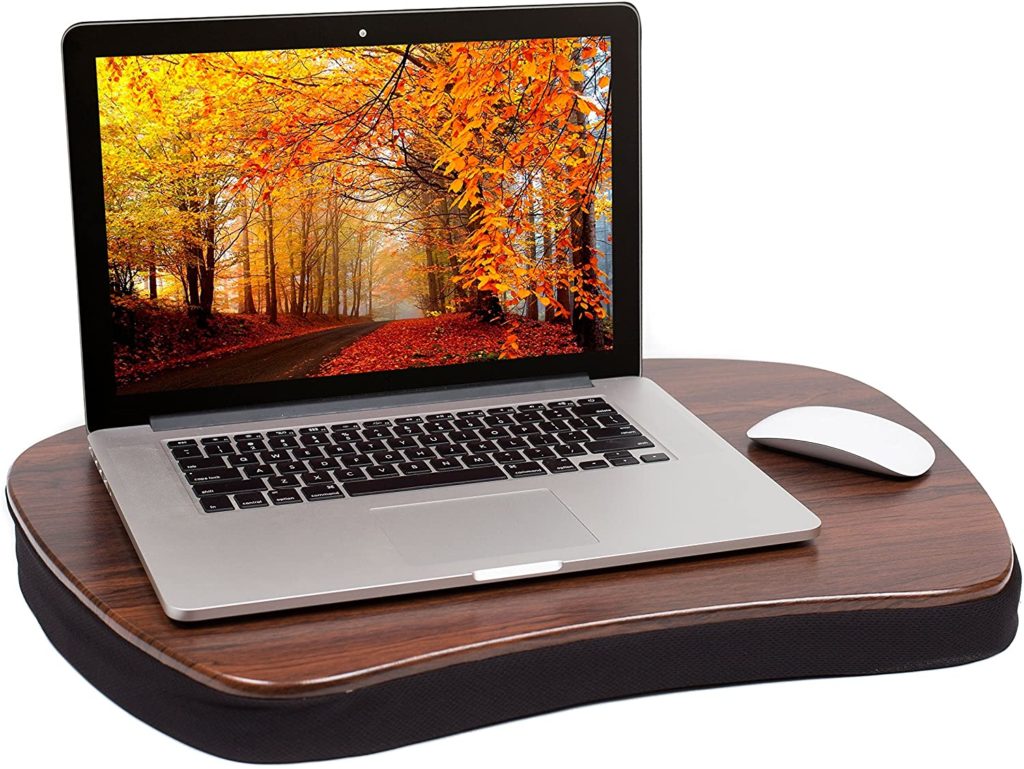 The Sofia+Sam Oversized Memory Foam Lap Desk is large enough to accommodate a 17-inch laptop and a mouse or if you prefer a smaller one which then allows you to have more desk space for things like your coffee cup or a notepad. Spring for the one with a wrist rest to get even more surface area and easily stop things from sliding off your desk!
NearPow Wooden Laptop Desk for Bed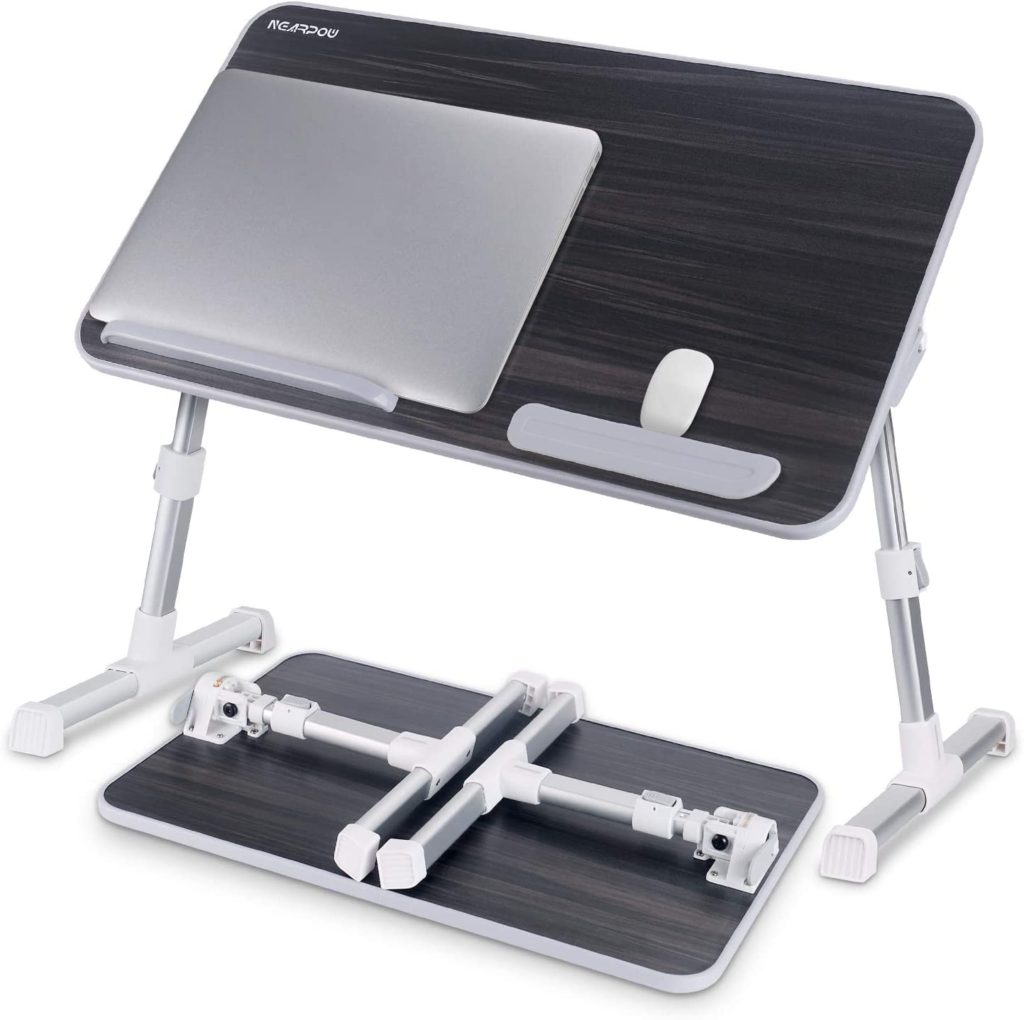 The NearPow Lap Desk is a popular choice for those in search of a nice clean and modern look: featuring dark textured wood and silvery legs and edges it stands out among many desks that completely neglect the style factor. It is adjustable and the legs can be set to 5 different heights. The legs fold easily under the table for great storage when you are finished using the table and knocking out that to-do list.
LapGear Home Office Lap Desk Pro in Carbon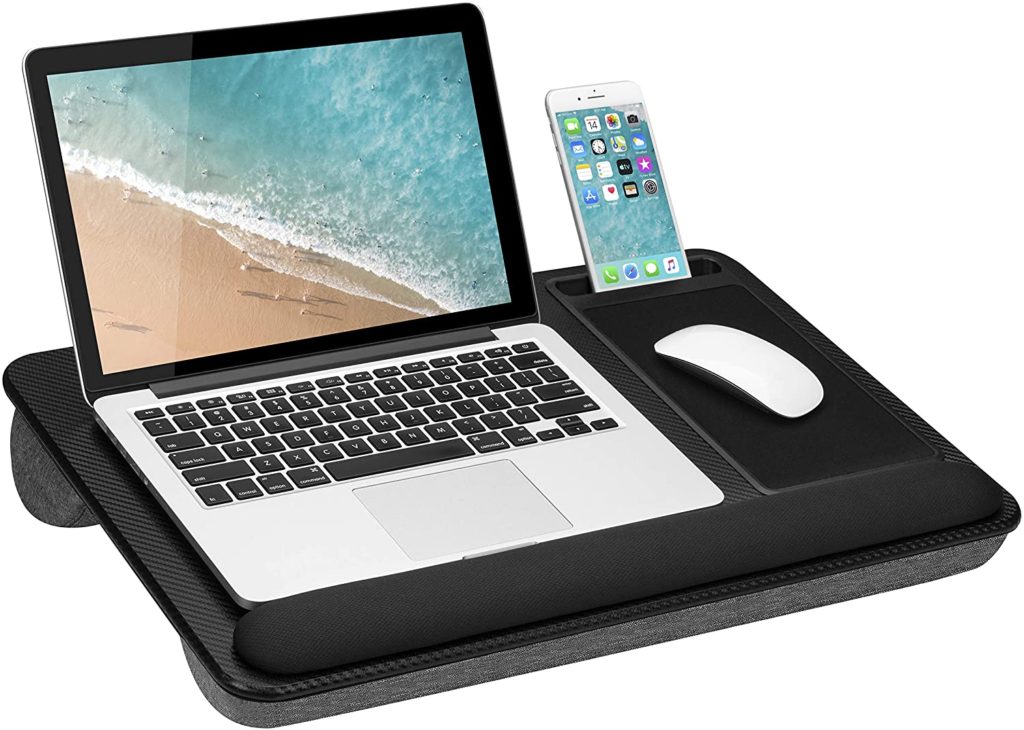 This lap desk is ideal for your couch and can comfortably fit a 15-inch laptop on it. It has a slot to vertically store your phone (so you can see those incoming texts and Instagram updates) and also comes with a built-in mousepad. The smooth flat surface will ensure your laptop doesn't overheat and two cushions help to keep the desk stable as you compose emails and move JIRA tickets to done!
Sofia+Sam Memory Foam Lap Desk with USB Light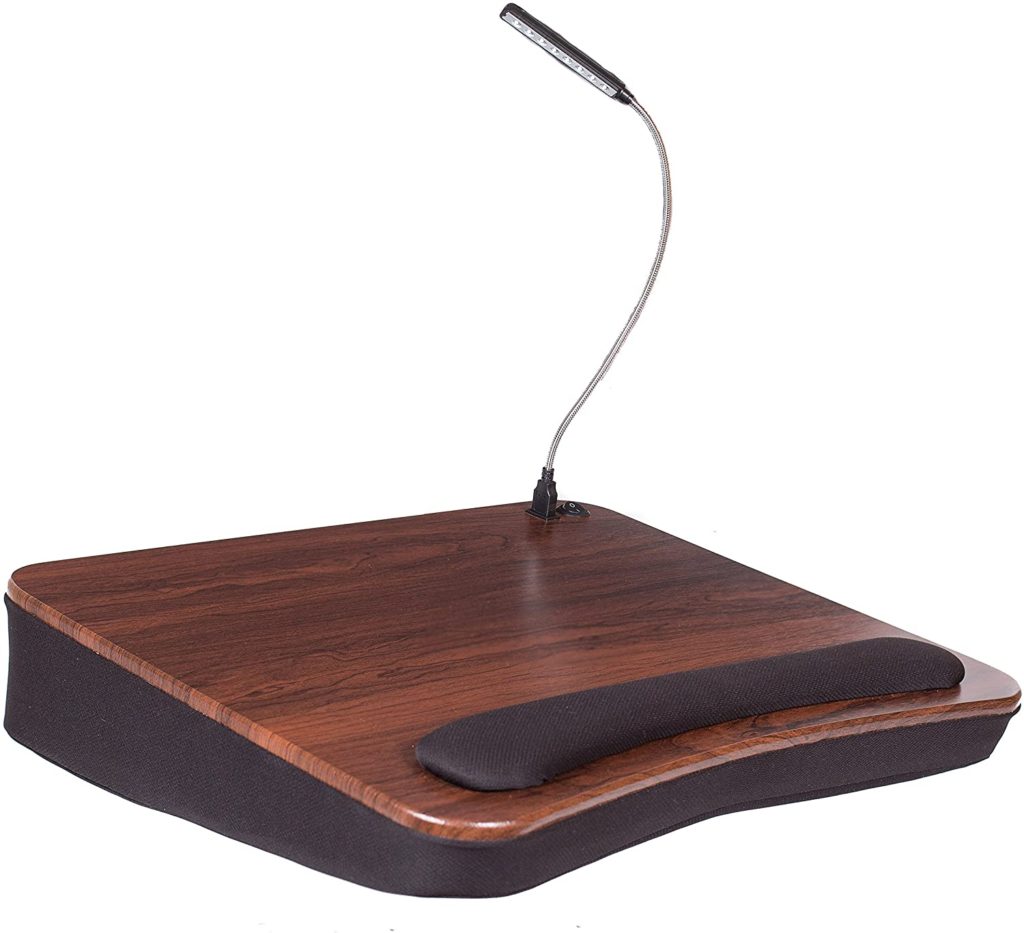 If you are travelling and want to get some work done while relaxing in that king-sized comfortable hotel bed (and not the hard wooden chair at the crowded hotel room desk) this is a great choice. The USB Light on this lap desk is detachable so travelling with it won't take up too much precious space and the desk itself is spacious enough to accommodate your work laptop with a few inches to spare.