Men's messenger bags have become indispensable as all of our lives become increasingly mobile and the need to carry an ever-growing list of essentials ranging from your laptop, protein shake, a phone charger, and hopefully a book demands more room than a backpack or briefcase can reasonably accommodate.
For first time buyers, these might initially seem expensive but think again: they are likely to last you a few years at least and you will want to select a messenger bag that will age well. It's going to be thrown on a lot of coffee tables and office desks and be next to you (or your feet) on a lot of buses or bike rides.
After all, you want a bag that fits your style and is a worthy companion, not something that looks like you picked it up on a whim and don't exactly know what you are doing in the world.
To help you pick the right messenger bag, here are a few important questions to ask yourself during your search.
Do you prefer leather or canvas?
Do you want a vintage or modern look?
Do you want to throw it over your shoulder or carry your bag?
Are you traveling outside with it frequently?
Are you using it for a morning and evening commute?
Whether you are riding a bike to work and need something to sling across your back or using the bus and want a bag that is stylish and yet durable I've rounded up some of the best men's messenger bags from major brands like Fossil, FRYE, Ted Baker, Timbuk2, and TUMI.
FRYE Men's Oliver Messenger Bag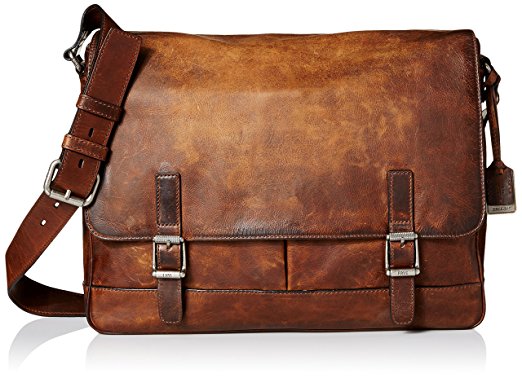 Made of antique leather this handsome messenger bag is perfect for your city commute and likely a perfect complement to your sophisticated and stylish sensibilities. While there is no handle which means it will never leave your shoulder that's probably fine since you are biking or walking a couple blocks and don't want to have to hold it anyways (especially during the colder and wetter months of the year).
Ted Baker Men's Flame Bag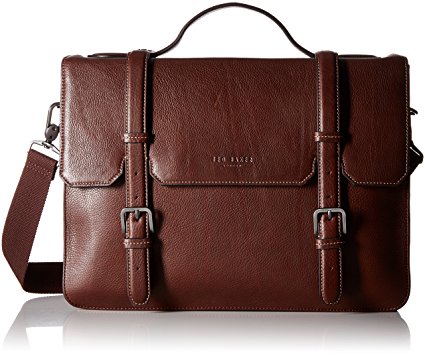 The Flame bag from Ted Baker is roomy enough for you to get everything you need easily into it and yet not cumbersome enough to prevent you from jumping on a bike for your daily commute. It is also wonderfully versatile, offering shoulder strap option or a reliable solid leather handle. Not to be missed is the intricate inside of the bag featuring primal red tigers stalking birds through dreamy blue silken flora.
Will Leather Goods Kent Messenger Bag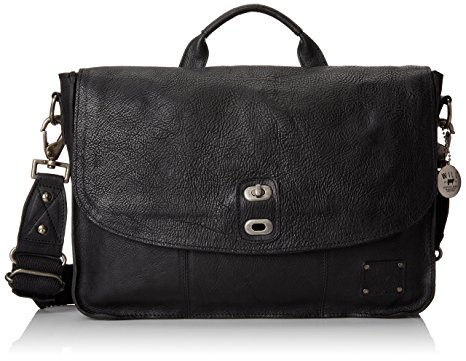 The Kent messenger bag quickly became one of my favorites for a number of reasons. At 14.5" high it's one of the taller bags is therefore readily distinguishable from a murse (which, in my opinion want to stray as far as possible from). It's also a masculine statement piece, especially in the black leather option. Craftsmanship is obviously at the center of the Will Leather Goods Kent messenger bag which takes on average 159 steps to construct. The rich tartan lining adds a distinguished touch to an already outstanding messenger bag.
FRYE Men's Logan Top Handle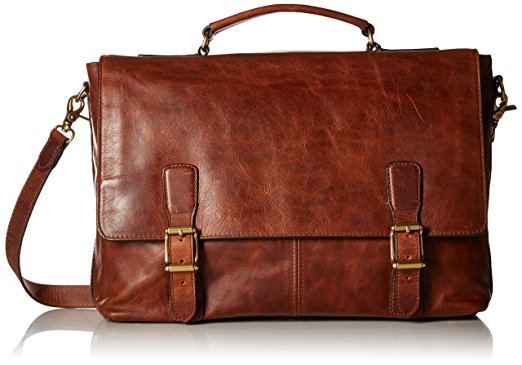 What FRYE does so well is create a rustic, masculine leather bag that makes a bold statement without drawing unnecessary attention to itself. The Logan is large enough to hold everything you need for your everyday carry bag and can be held like a briefcase or used with a strap for the longer walks.
KomalC Buffalo Hunter Leather Messenger Bag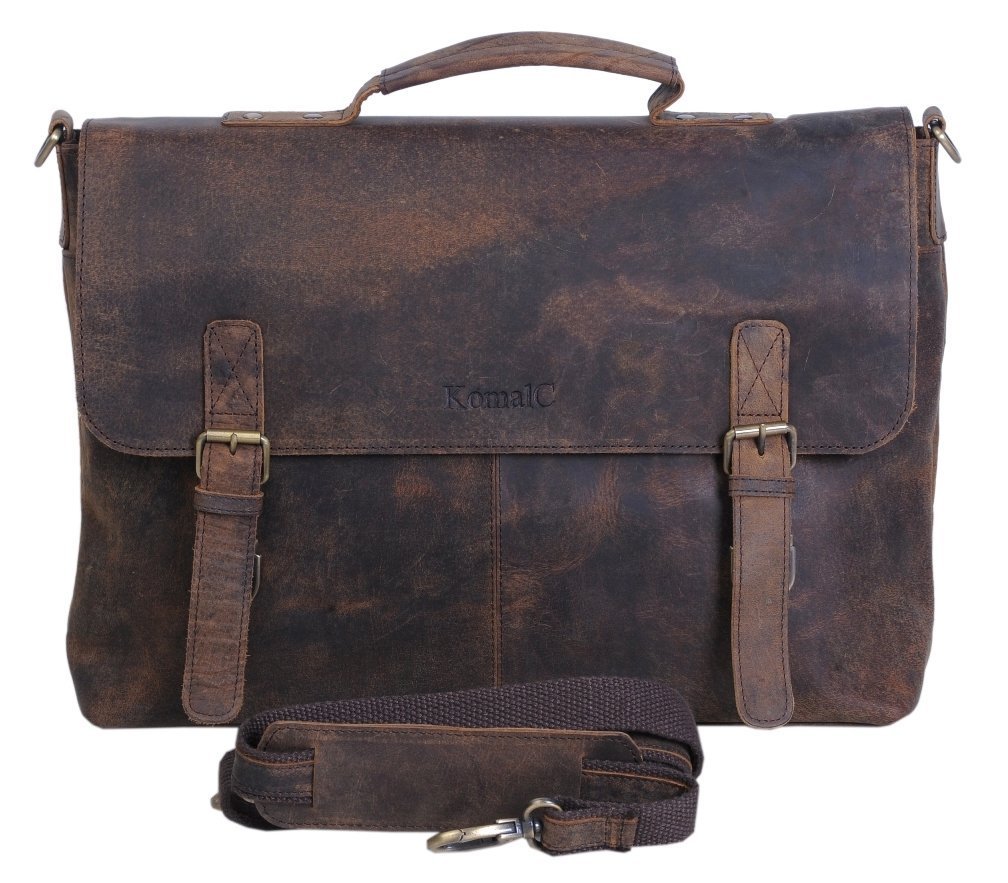 This top rated messenger bag is crafted from fine buffalo leather and lined with an artisanal canvas interior. The vintage look is perfect for modern urbanites and the large front pocket is spacious enough to store a 15" laptop and special well-padded pockets have been crafted especially to store your phone and favorite pen.
Samsonite Colombian Leather Flap-Over Messenger Bag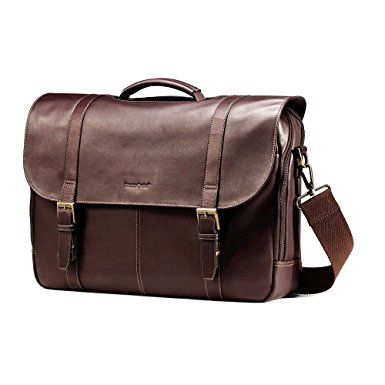 The Samsonite Colombian is sure to become your go-to bag for your daily commute. It can store your laptop, cell phone, tablet, charger and still have room for office essentials like pens and notepads. The glossy leather finish crafted from natural cowhide provides an urbane touch. This is an excellent bag that you shouldn't be afraid to sling it under a bus seat or get a little rain on it while riding your bike to that next meeting.
Kenneth Cole Risky Business Messenger Bag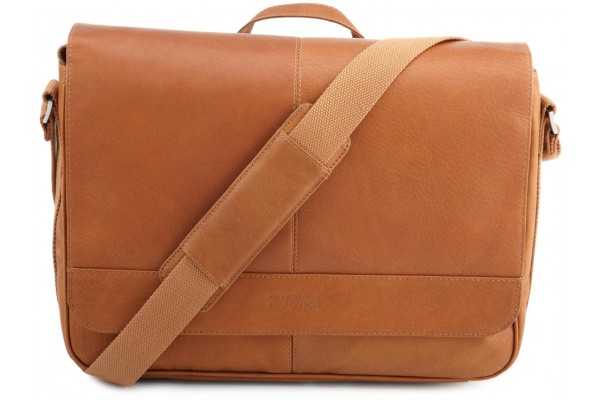 The Kenneth Cole's bag is your top choice if you are looking for something simple which you can use every day and are not trying to make a statement with the bag (hey, some of these bags definitely draw attention). The interior is roomy enough for your books and laptop and has two front pockets that can hold a phone and some miscellaneous personal items.
FRYE Men's Logan Antique Bag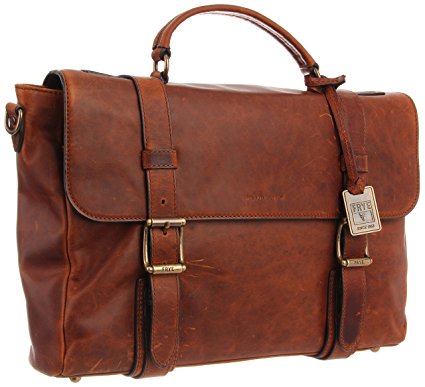 This is technically a briefcase with a shoulder strap, but hey that's essentially what a messenger bag is anyways right? The Logan antique leather offering from FRYE is a rugged and potent messenger bag for men that comes in cognac or dark brown.
Ted Baker Raised Leather Messenger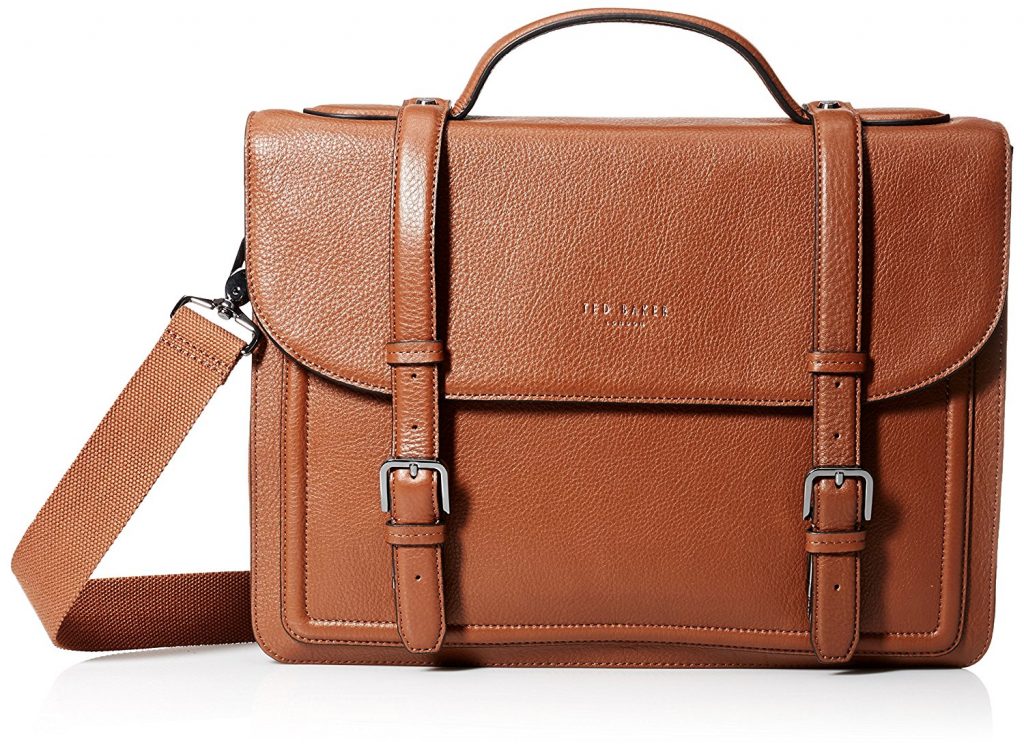 This messenger is made of 100% leather and is complete with 4 interior pockets and even one on the outside. At 12.8" tall and 15.9" wide it is perfect for carrying or throwing over your shoulder and jumping on your bike. Inside the bag there is a hypnotic pattern that excites the eyes and is sure to start some conversations around the table anytime you remove your items among a group. It's the attention to the finer and artistic details like that which make Ted Baker an enduring and great choice. All told this is a stylish and stout messenger bag for work that won't let you down.
FRYE Men's James Tumbled Leather Messenger Bag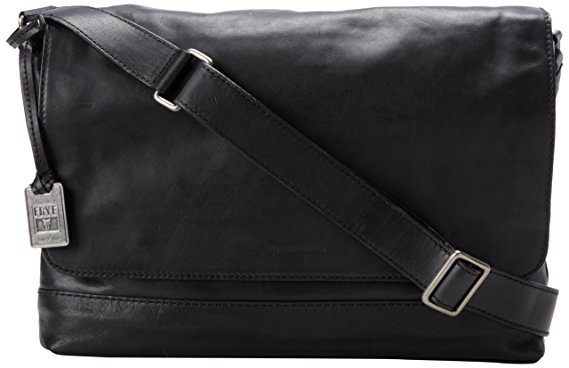 Made from the highest quality leather (full grain) the James bag from FRYE exudes a bold and confident masculinity. While it lacks a handle and is a little less versatile for that reason, this is a bag everyone will admire as you stride down the sidewalks or zip through the streets on your way to the café or office.
Coach Metropolitan Courier Saddle Messenger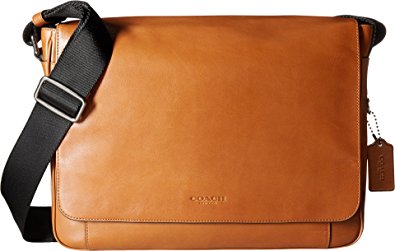 The Coach Metropolitan Courier is a sophisticated and finely made bag. The smooth leather and rich brown coloring are certain to make you stand out whether you're walking to class or on your way to an important meeting. At nearly 13" tall and 19.5" wide its perfect for storing all your books and daily essentials. An adjustable strap makes it easy to wear across your body or hang off your shoulder.
Polare Men's Messenger Bag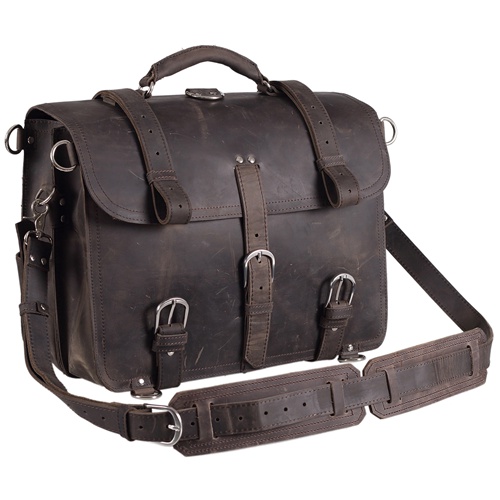 This is one of the largest bags listed and for that reason I wouldn't recommend riding your bike with it on (I doubt it's even possible). However, with many rave reviews I would definitely recommend it as an amazing book satchel. You can fit a small library in here as well as a packed lunch and a few personal items with ease. Handcrafted from full grain leather and imported from Italy, this is a top notch bag that will age gracefully and stick with you for a very long time.
Fossil Men's Graham Fabric Messenger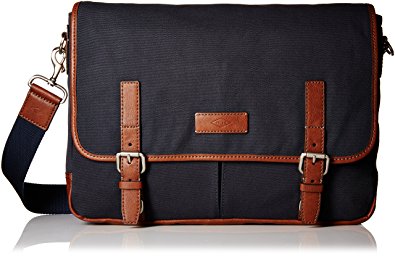 If you are worried about messing up the gorgeous leather of a Fossil bag (they are pretty durable, but hey I understand) and want something that you can fearlessly stuff under a bus seat or run through a downpour with, the fabric on Fossil's Graham messenger is going to be a welcomed relief. The bag is big enough for a laptop and there are two front pockets for your essentials. The leather bottom and front straps makes your reliable bag it look smart and professional without being too stuffy.
Fossil Mayfair Leather Double Zip Work Messenger Bag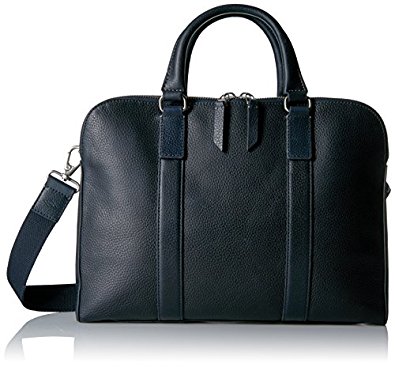 Of all the Fossil messengers rounded up here, this one is by far my personal favorite. It comes in a classy navy leather with two handles and a shoulder strap making it versatile enough to either carry by hand or across your shoulder if you are in a hurry or need to travel longer distances. It doesn't compromise style for utility however. You will be able to easily slip in a 15" laptop along with pens, notebooks, and books of course.
FRYE Men's Oliver 2-Handle Messenger Bag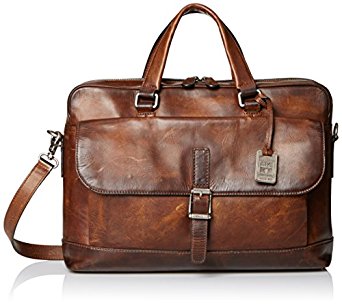 If you liked everything you read about the Oliver but wanted more versatility (ie, the ability to carry your bag and not just sling it over your shoulder) the FRYE men's 2-handle messenger bag is the rugged companion you've been looking for.
Tumi Unisex Alpha 2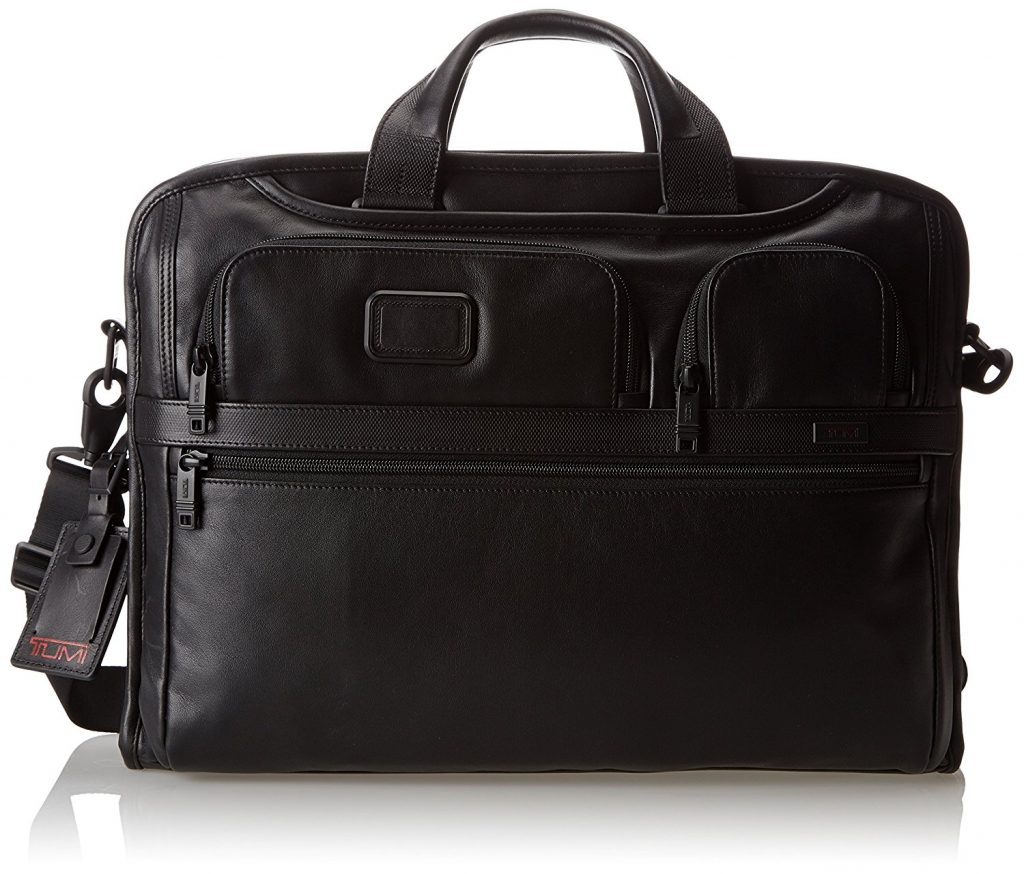 When most people are looking at Tumi for a commuter bag, they find the famous Alpha Bravo Foster. But the Alpha 2, while remaining true to its ultra functional and extremely durable heritage, is also a smart bag. The black leather ensures that wherever you go you will be carrying one of the most elite bags in the room–even if its just to the cafe to read and take notes for a little while.
Timbuk2 Command Messenger Bag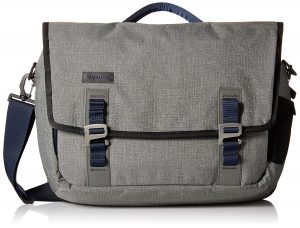 If you have seen someone with a messenger bag lately, it's probably a Timbuk2. These top rated messengers are everywhere and for a good reason. While I don't think they are something you would bring to a meeting their utility and durability is undeniable. You can throw it high over your back and look like a ninja, wear it across your body, or simply carry it.
Fjallraven Foldsack No. 2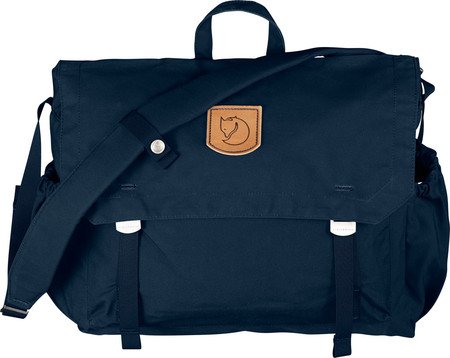 Made from a durable polyester the Fjallraven Foldsack charms with its minimalistic Nordic design. Utilizing HeavyDuty G1000 fabric means your laptop and everyday essentials will be safe from the elements and the shoulder strap and handle optionality provides you the means to carry this bag however you like.
Ona The Brixton Waxed Canvas Messenger Bag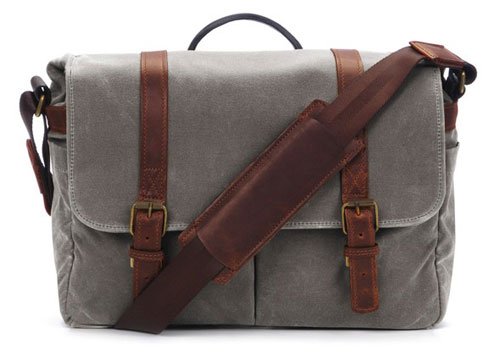 If you need a scruffy messenger bag that can hold all your bookish essentials and your camera (because people need to see your literary picnic!) the Brixton is the bag for you. With a variety of options from waxed canvas (featured here) to a charming rustic cognac leather you will have a hard time trying to decide which to purchase. Hint: the former for your outdoor adventures, the later for your urban ones.
Ted Baker Carbon Bag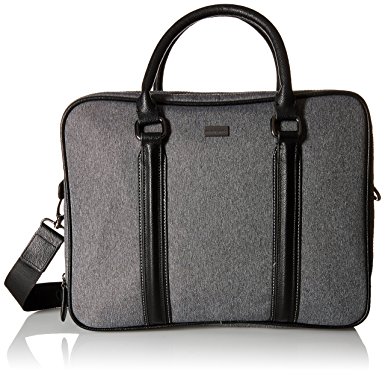 If you are looking for a sleek, low maintenance bag that can take a beating during your city jaunts the Carbon offering from Ted Baker is your solution. As with all the Ted Baker messenger bags, you won't have to worry about looking stylish, that part is easily taken care of for you. You'll be able to slip in your favorite novel or laptop and likely little else—but honestly what more could you need?
Holssen Messenger Bag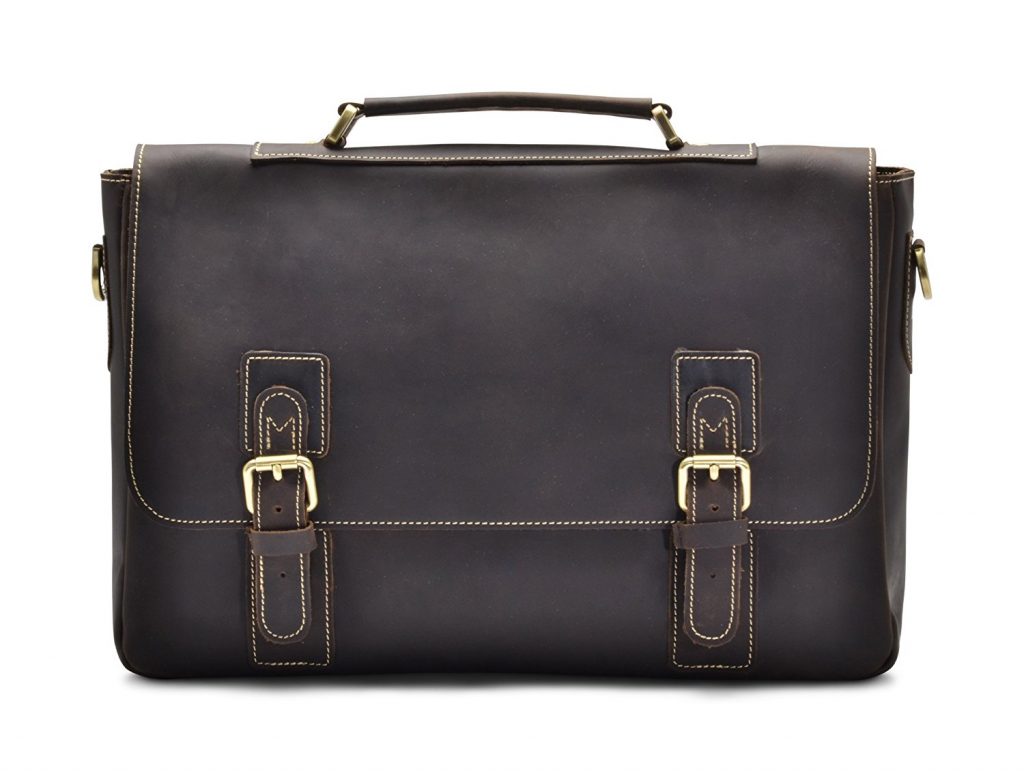 Like many other bags it has interior pockets, pen loops, a zip compartment and you can very easily store your 15" laptop and even a notebook inside. Or just a few of your favorite books! This bag is sturdy and made of tough leather and can stand upright on its own much like a briefcase would and the solid brass hardware on zippers and clasps adds a tough professional finish for a thoroughly stout bag.
Fossil Men's Estate Saffino Leather Messenger Bag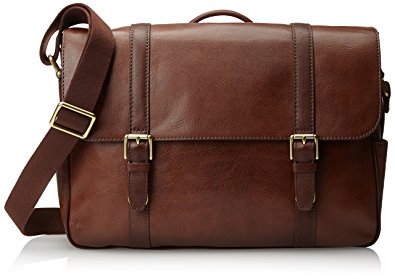 This leather messenger bag is designed to hold your laptop and daily essentials (most important of which are probably books!). Fossil's Estate Saffino is a dependable bag that won't draw too much attention and will remain dutifully at your side whether you need it for the morning commute or a longer weekend getaway.
Ted Baker Men's Fredim Bag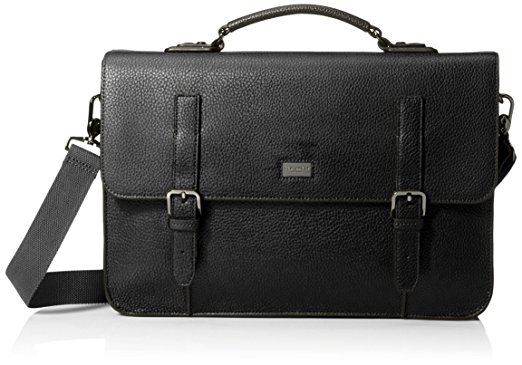 This bag is large enough to store anything you need and modern enough to keep you looking dapper no matter what you wear it with. The polyvinyl has the look of pebbled leather which means you get to enjoy the style without the worry of upkeep or damaging an expensive messenger bag.