Notebooks are near and dear to my heart as a writer–they are also the secret to keeping track of your important thoughts and ideas and unleashing your creativity, or just staying organized in a world where there is already too much information, too much to do, and not enough time to do it.
Notebooks come in lined, dotted, or plain paper depending on your needs and are offered in either hardcover or softcover outsides. Some are even weatherproof. If you are traversing through the outdoors you might find the softcover more appealing as it's a bit easier to rest on a rock or stump and then tuck away in your backpack or pocket. Conversely, if you need one to take to meetings or your favorite coffee shop, a hardcover that opens flat and allows you to write easily is likely a good choice for your needs. The sizes are usually either for carrying in your back pocket (smaller, dimensions go here) or big enough to throw in your backpack for note taking later.
Whether you are looking to organize your thoughts or to do lists, write your next novel, or have a reliable place for all your sketching, I've gathered my picks for the best notebooks.
Popular Notebooks
Moleskein Classic Notebook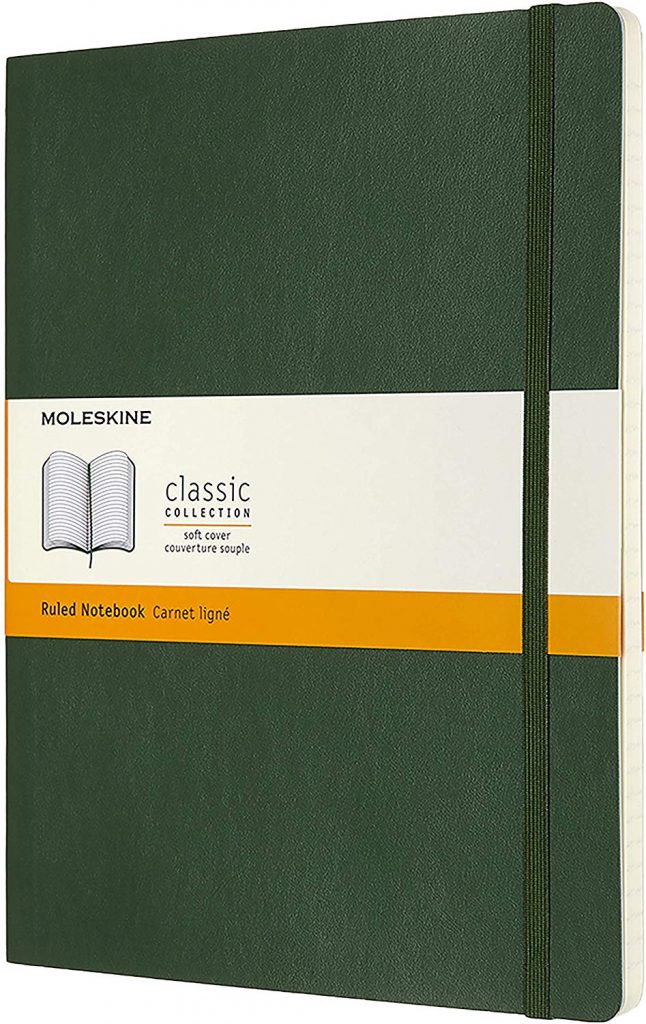 These highly rated notebooks were made popular by American writers living in France. They come in both hardcover and softcover versions and the most common one you will see is the plain black cover. However, Moleskien often collaborates with major brands to create unique and wildly popular notebooks that are available for only a limited time and can become somewhat of a collector's item. I chose the classic notebook as it was one of the first I ever used and was a steady companion when I was spending more time writing on desks. The creamy pages are soft and spacious and invite your hand to rest on them as you glide through your thoughts and notes. The journal itself is pliant and at 7″x 9″ will be perfect for those who prefer a larger notebook.
Montblanc Saffiano Leather Journal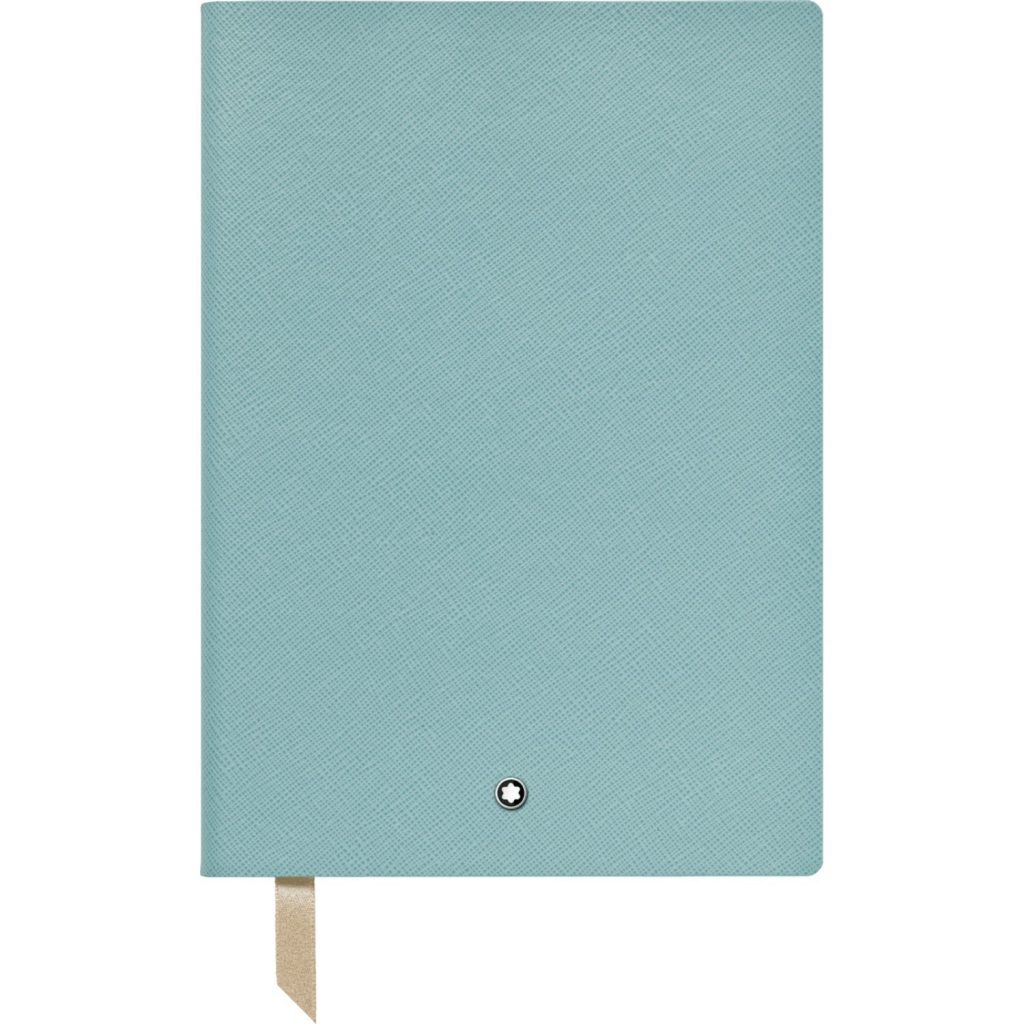 A hallowed brand for all things writing, when it comes to notebooks Monteblanc is in a category all of its own. Without a doubt one of the finest notebooks here, the Montblanc journal is a mark of sophistication whether you are using it to take notes in college or in a business meeting (or writing in your favorite cafe for that matter). The cover is made of Saffiano leather, a masculine leather that is as durable as it is eternally stylish. Each of the 192 pages is gilded with a silver lining and is thick enough to prevent any bleed through from one side to the other. Finally, the pages are watermarked with Montblanc's prestigious emblem, a tasteful and comforting touch that ensures you are writing your thoughts in the best possible place. Also offered in blue and black.
Scribbles that Matter Dotted Journal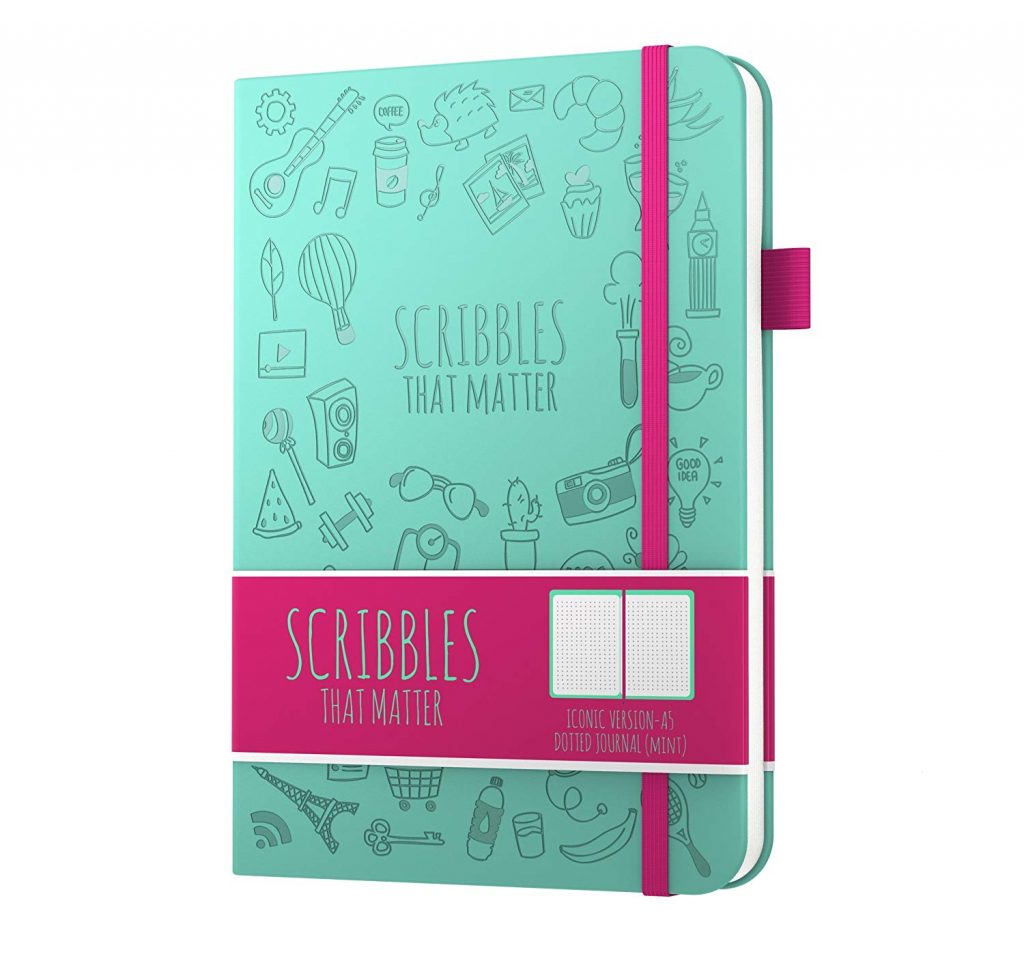 Add a pop of color and a bit of zest to any desk or writing session with this A5 notebook from Scribbles that Matter. This very popular and best-selling notebook is constructed from 160gsm acid-free paper and features a Pen Test page where you can scribble with a variety of pens to see how each ink performs on the page. It even has two bookmarks so you can keep track of two different sections (which is a great feature especially for me when you have lots of different ideas and sections that you need to continually refer back to in your journaling).
Leuchtturm1917 A5 Ruled Hardcover Notebook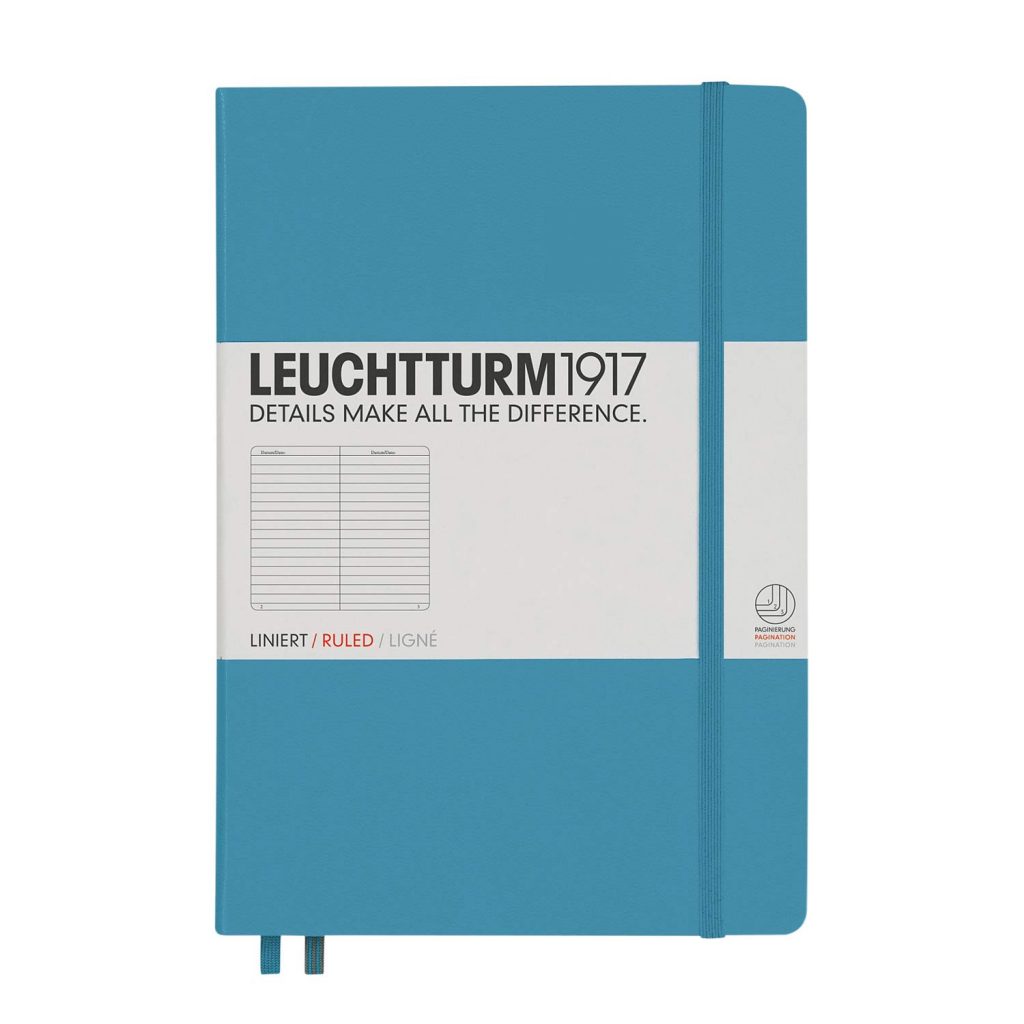 My personal favorite. This is a sturdy hardcover notebook that is built to last. Another great thing about the Leuchtturm1917 is that it "folds flat," meaning that you don't have to worry about the cover popping back over your hand while you write or draw. It has two ribbons for bookmarking previous entries, and with a total of 249 pages you will definitely put it to good use. I mostly use a ballpoint pen these days when writing, so if you are using a wet pen (like a fountain pen) there are other options that you should consider so the ink doesn't bleed through on the page.
Field Notes Pitch Black Ruled Notebooks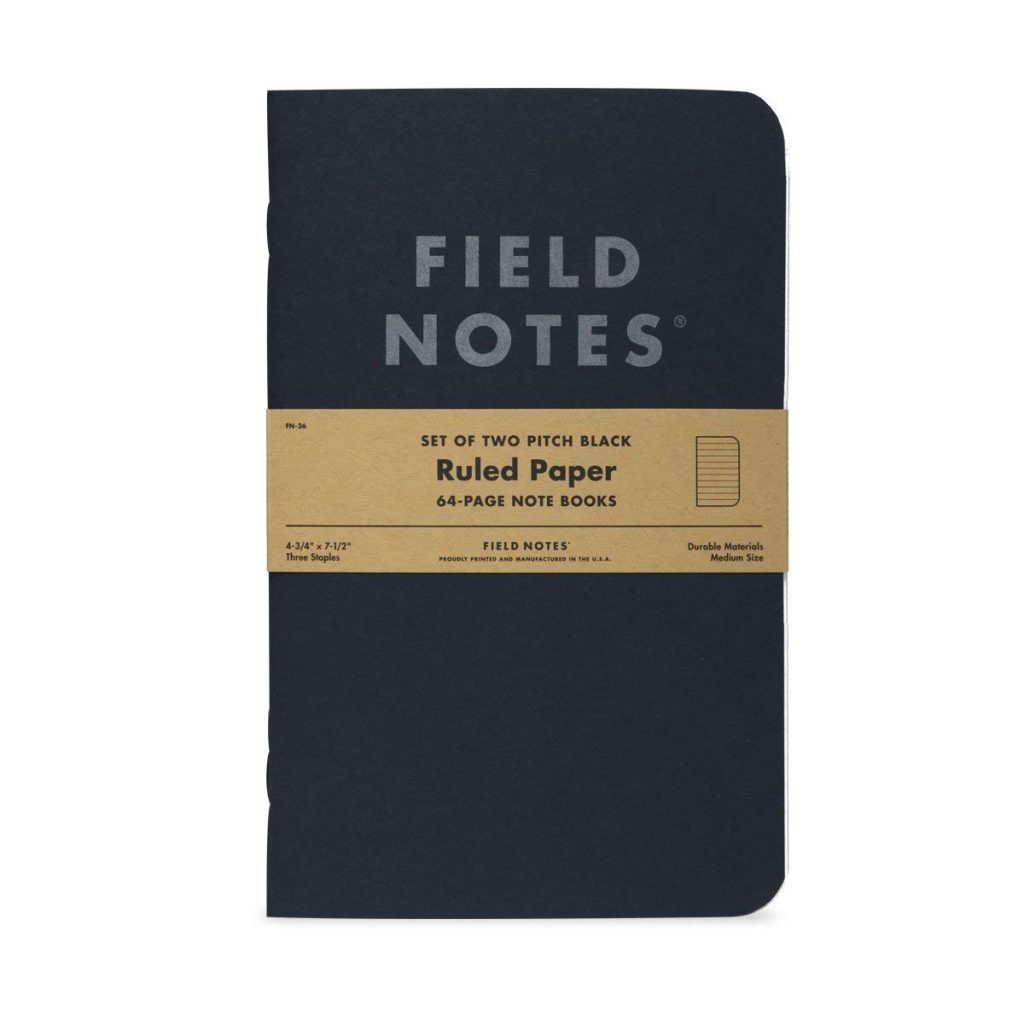 This is a cool offering by Field Notes in a sophisticated black. Field Notes is definitely worth keeping up with since they launch exclusively themed notebooks throughout the year (my all time favorite was Dime Novel as you can imagine).
Lemome Cork Notebook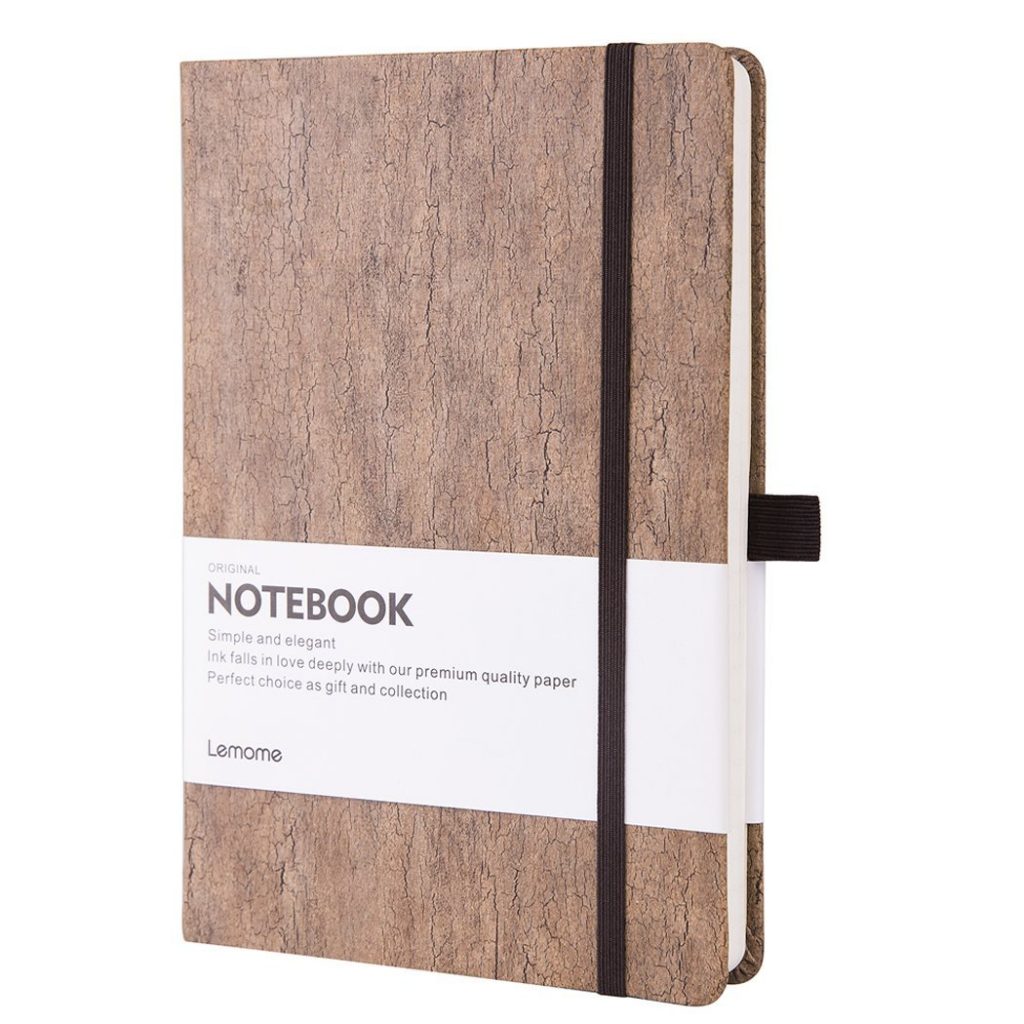 I love the warm and natural wooded look of this notebook. The calming cover puts my mind at ease and invites meditative writing sessions. Like the Leuch, it opens flat so the pages rest naturally on either side while you write or draw free of any annoyance from unruly pages flapping back against your hand. Lemome chose to use smooth, thick paper which means minimal bleeding even if you are using a fountain pen and a heightened writing experience as your hand brushes across the soft notebook pages. Finally, the interior pocket and penholder should take care of all your storage needs.
Signature Field Notes Pack of 2 Ruled Paper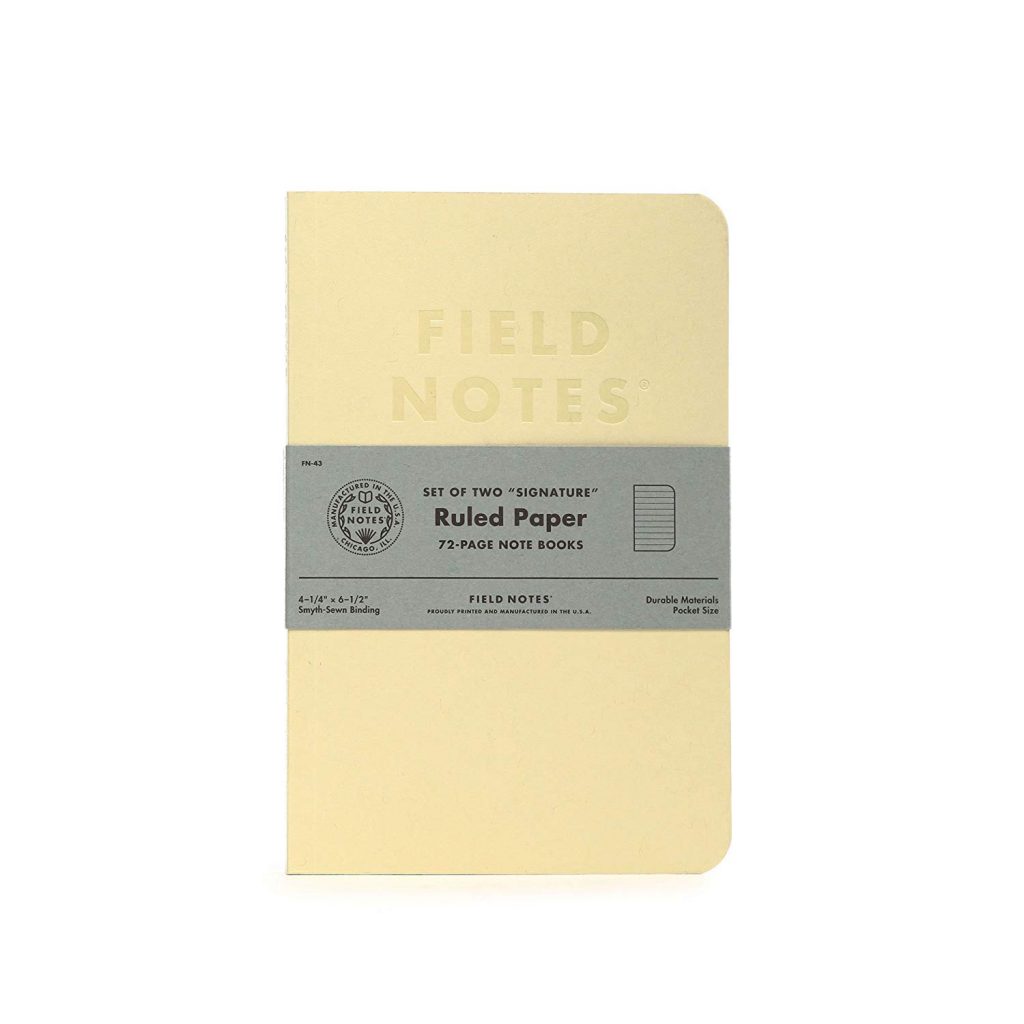 I've always liked the intrepid vibe that the Field Notes journals emit, so if your writing or work feels like embarking on a scientific adventure (perhaps you are an ambitious anthropologist or scruffy and bold archaeologist), then the Field Notes is definitely for you. Made in the USA and sporting a 1950s retro science class look, these are great and dependable notebooks. The Signature line comes as a set of 2 notebooks each containing 72 pages to capture all your essential notes. Ruled.
Moleskine Cahiers Heavy Duty Journal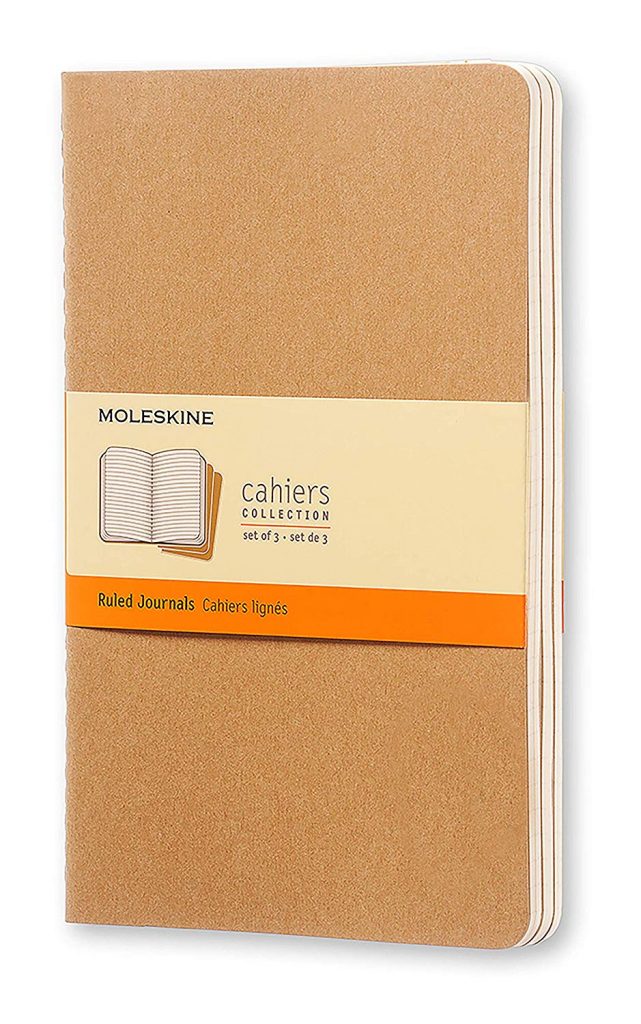 What I have always liked about the Moleskine Cahiers journals and especially the one here which I've used is the ability to customize the cover. I usually write a fun quote that is related to the theme of what I am thinking about on these, but if you are good at drawing and sketching then you can easily add your own unique art to the cover. Offered in a set of 3 notebooks and paper styling ruled, plain, dotted, and squared. These are the large version (ie, the ones that aren't small enough to fit in your back pocket) and measure 5" wide and 8.25" tall.
Dingbats Wildlife Medium A5 Hardcover Notebook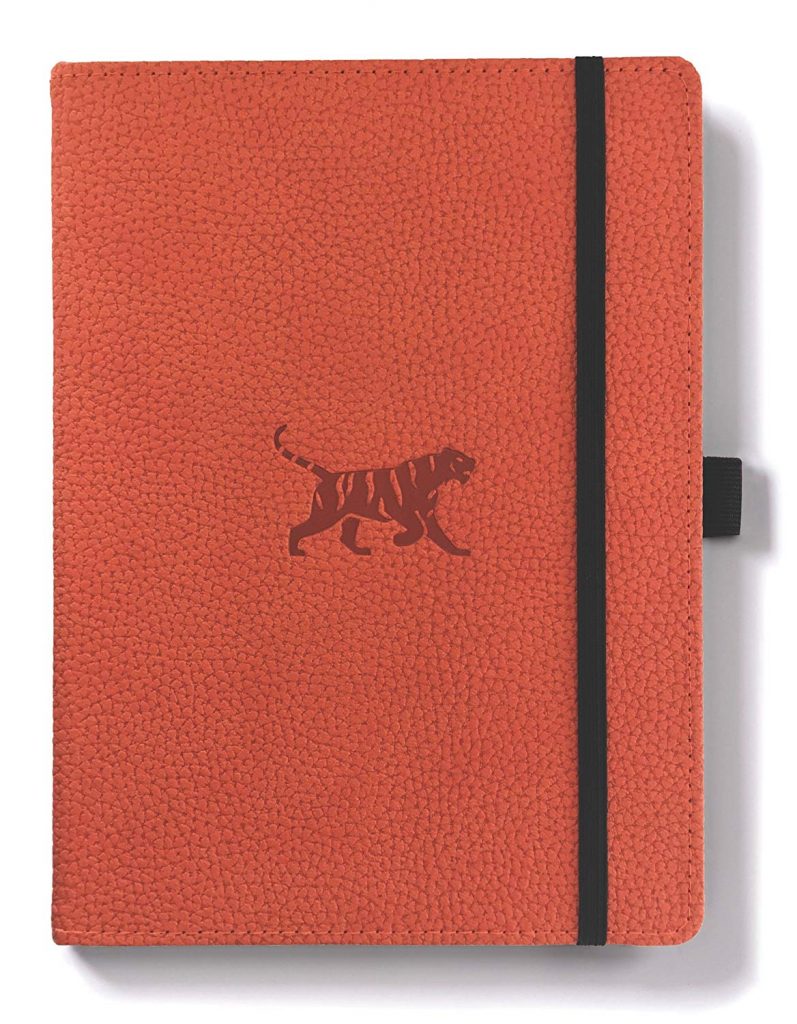 Sporting a toughened faux leather cover with a singular wild animal of your choosing, this Dingbats notebook comes packed with 96 pages of lined, heavy duty paper. It has an interior pocket to store other notes or pages you tear out and an elastic strap to keep your notebook sealed nice and tight. It even sports a pen holder on the side which you will surprise yourself by using more frequently than you could have ever imagined.
Rite in the Rain Weatherproof Top Spiral Notebook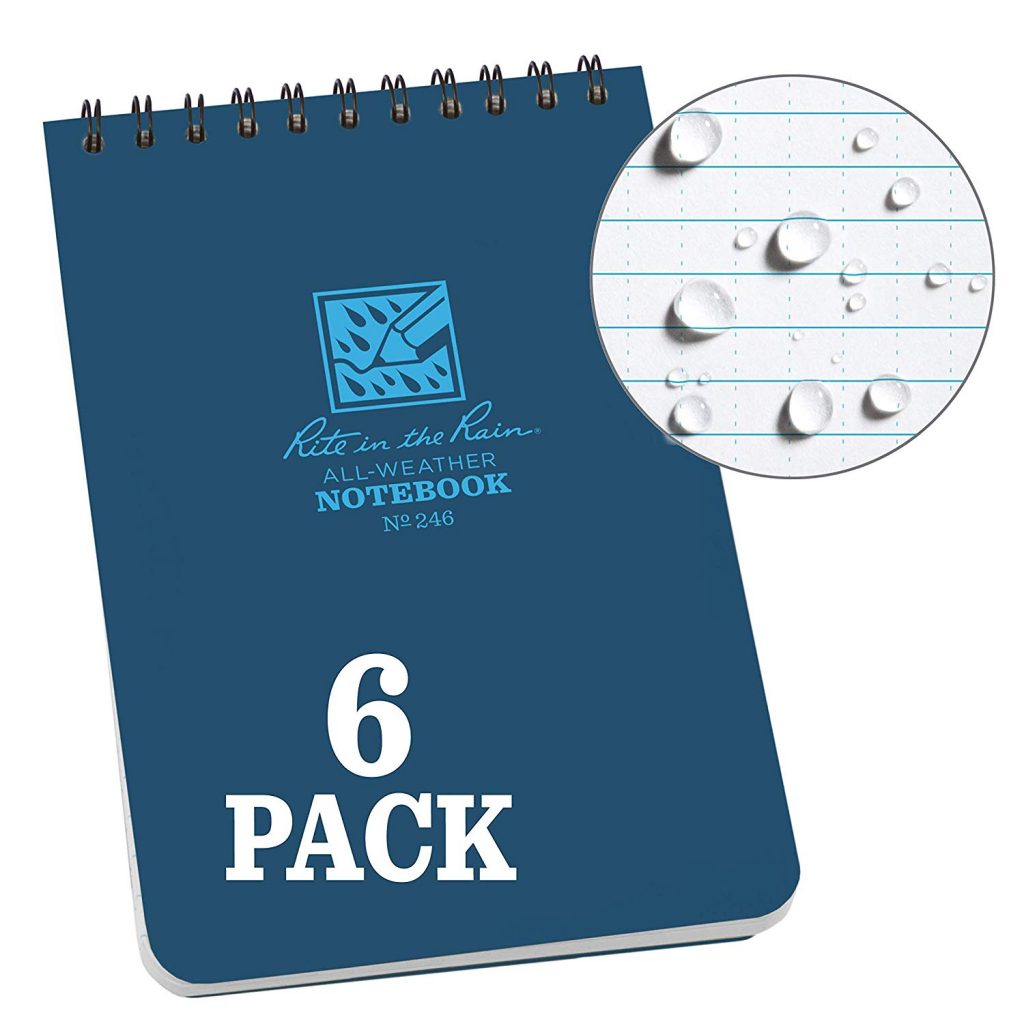 My writing is mostly confined to indoor work, but if I was headed for a rainy environment this is absolutely the notebook I would take to record my thoughts. It comes in a variety of sizes and styles, but if you are outdoors and moving around you probably want something you cannot only slip in your pocket and not have to worry about it, but something that will be entirely waterproof as well. And this is that notebook. Enclosed by a tough cover, you get 50 sheets of paper in each notebook and they are held together by a top spiral made of "wire-o" which will keep them aligned as you tough it out in the elements.
Mead Composition Notebooks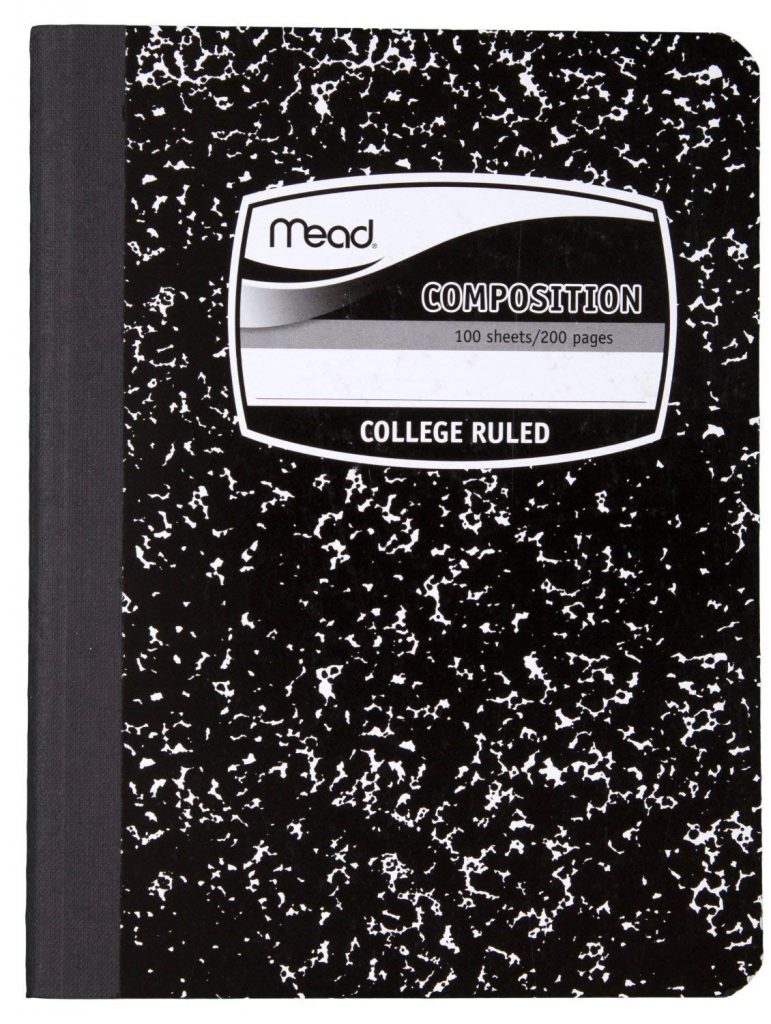 Mead is a classic choice if you just need something to take notes in class with. They are a little on the bulky side and the paper is a very bright white, but if you need a notebook that is dependable and disposable these are certainly an excellent choice and at a very compelling price point.
Moonster Leather Journal Writing Notebook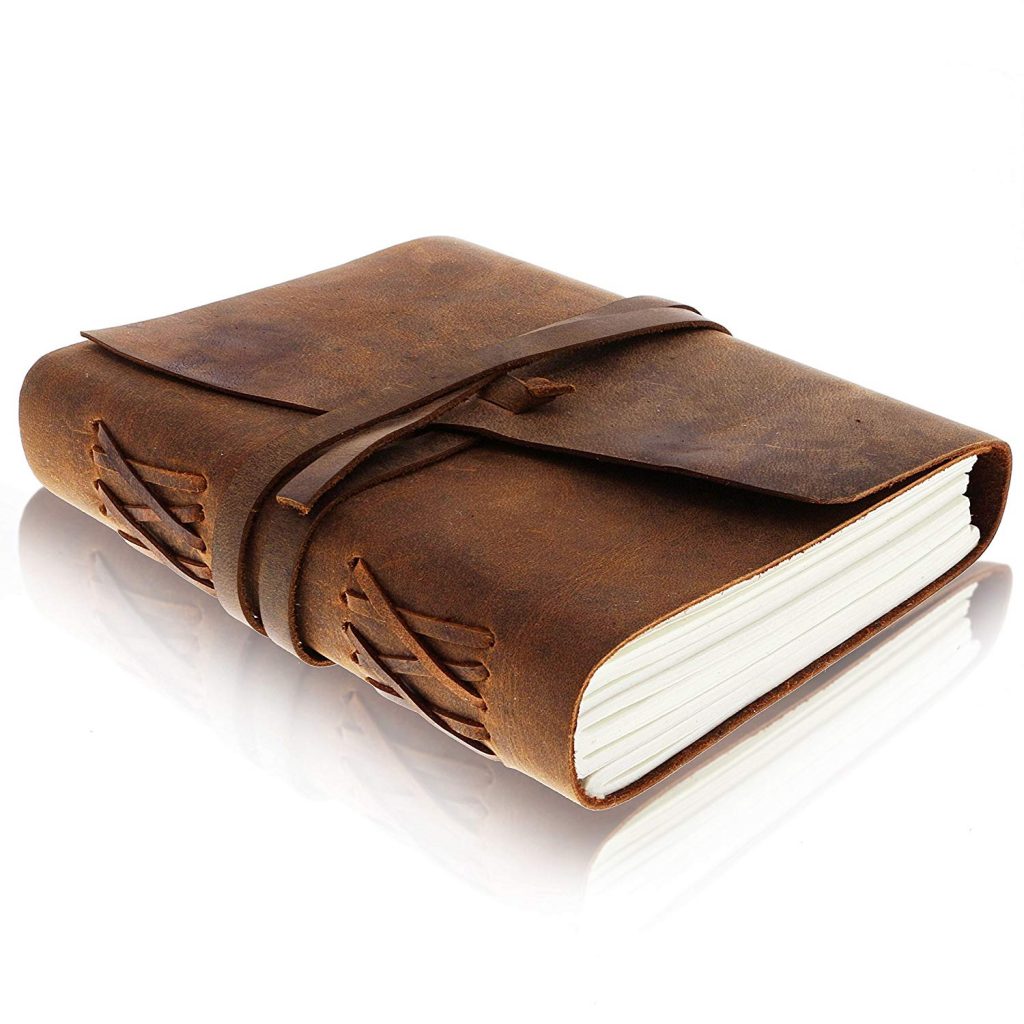 This handmade organic leather writing journal has a rustic and adventurous appeal and is a very popular and highly rated notebook. It has 120 sheets of paper (basically 240 pages to write on) and is available in either 7"x5" or the larger 8"x6". The rugged leather strap will keep the notes to your next novel safely bound and the paper itself is very thick, which means most of your favorite writing or drawing pens will work fine on it and wont bleed through to the other side.