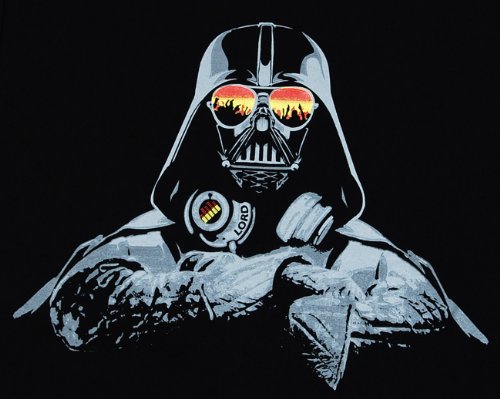 Whether you need some fly clothing and apparel for your next Star Wars marathon or for the opening night of Episode VIII, these Star Wars shirts are sure to deliver.
Featuring Storm Troopers, Imperial propaganda, famous bounty hunters, your favorite Jedi and of course everyone's favorite Sith Lord on officially licensed tees that both men and women can enjoy. Oh, and these also make for wonderful Star Wars gifts for your favorite fan.
Star Wars Cat AT-AT Shirt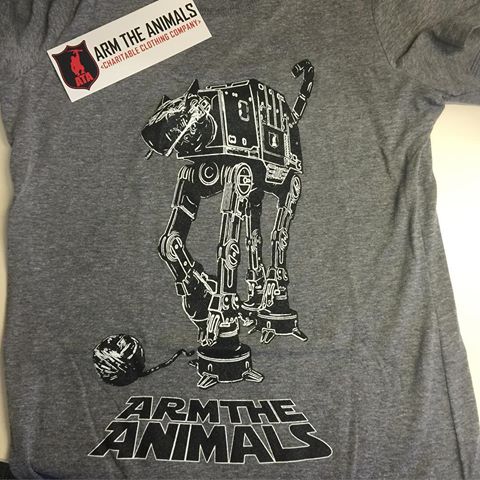 Is there a more perfect combination than star wars and cats? I guess the feline AT-AT brings a whole new meaning to catwalk.
Darth Vader Walking an AT-AT T-Shirt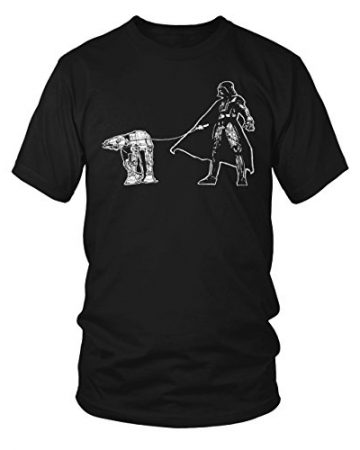 This clever, awesome shirt will draw a lot of attention. Hope you can handle it.
Master Yoda DJ Shirt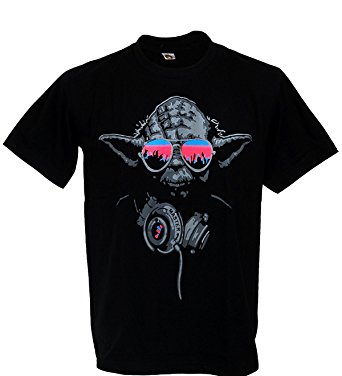 There is no reason not to own this shirt. Rock it, you must.
Storm Trooper Mood Shirt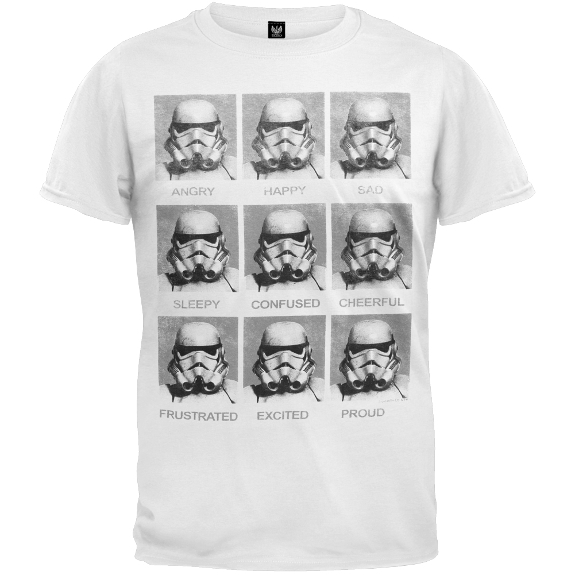 Storm troopers experience a vast range of emotions and this t-shirt captures the uniqueness of each one. I think the face for happy is particularly expressive.
Darth Vader DJ Shirt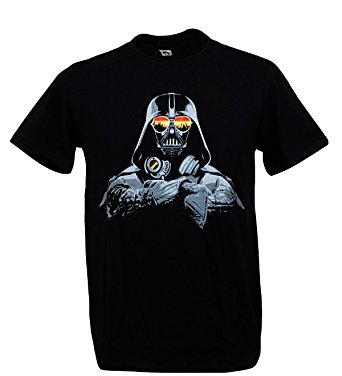 Never underestimate the power of the dark side of the force. Especially when its wearing aviators.
Storm Trooper Starry Night T-Shirt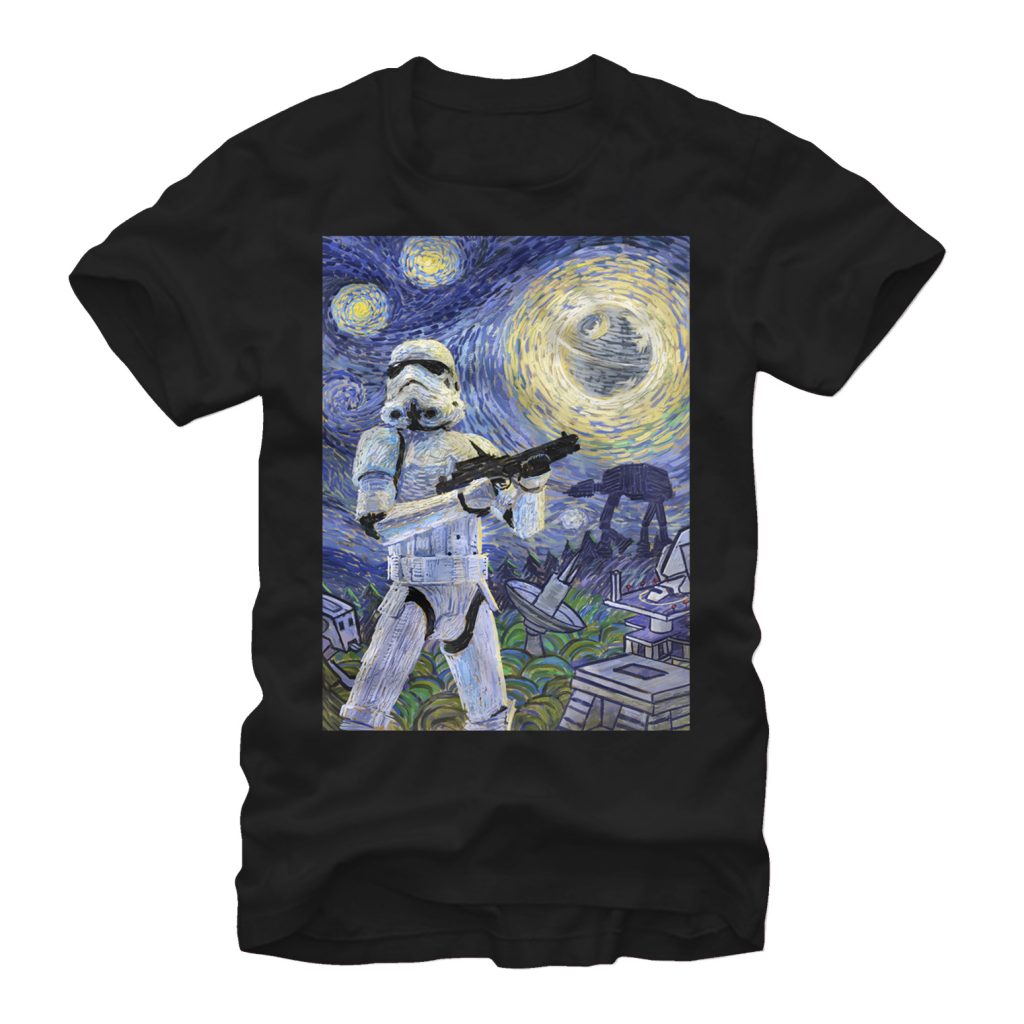 This great remix of Van Gogh's famous painting really captures the true spirit of the Empire. The lone Storm Trooper followed by the looming, shadowy AT-AT walker makes for an inspiring (if imposing) tee.
And the Death Star never looked so beautiful!
Banksy Star Wars Pulp Fiction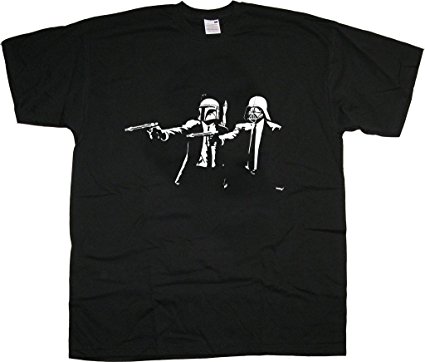 Here is a classic Star Wars t-shirt no closet should be without. Say Rebel Alliance again! Say Rebel Alliance again I dare you!
Mos Eisley Cantina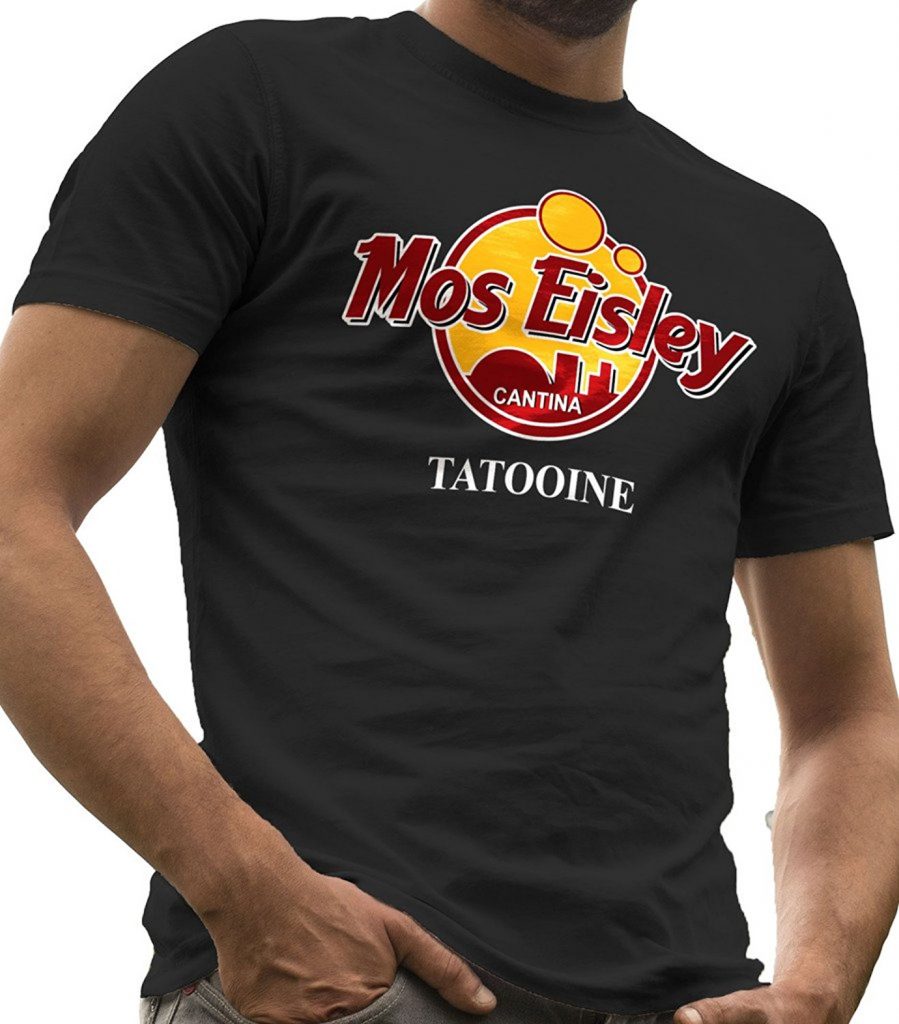 The Mos Eisley Cantina is where any good swashbuckling rogue would spend most of his or her downtime in the Star Wars universe. Help the Cantina fill up some of the holes from blaster fire when you buy this tee.
Welcome to Tatooine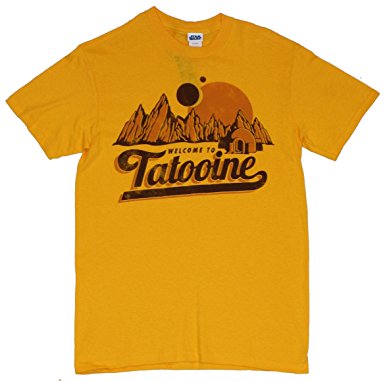 Show you've been to the lawless outer rim of the Galaxy and survived its harsh desert and cavorted with the Hutt gangsters with this Star Wars T-shirt.
Imperial Walker Safari Shirt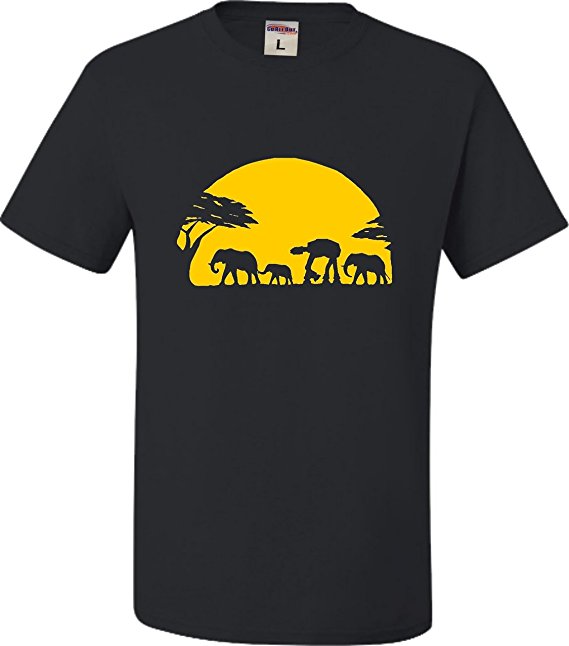 There's just something that warms my dark heart seeing the beautiful outline of Imperial AT-AT's on a safari sunset.
Star Wars Old Rebel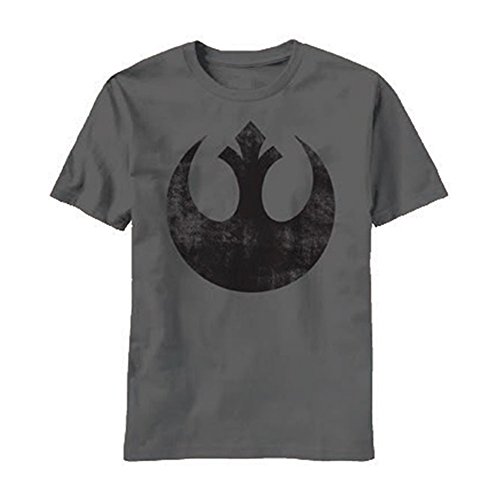 Support hope and the possibility of a new, free world as you boldly represent the Rebel Alliance. The shirt sports a rough, worn symbol
Old Ben's Sabers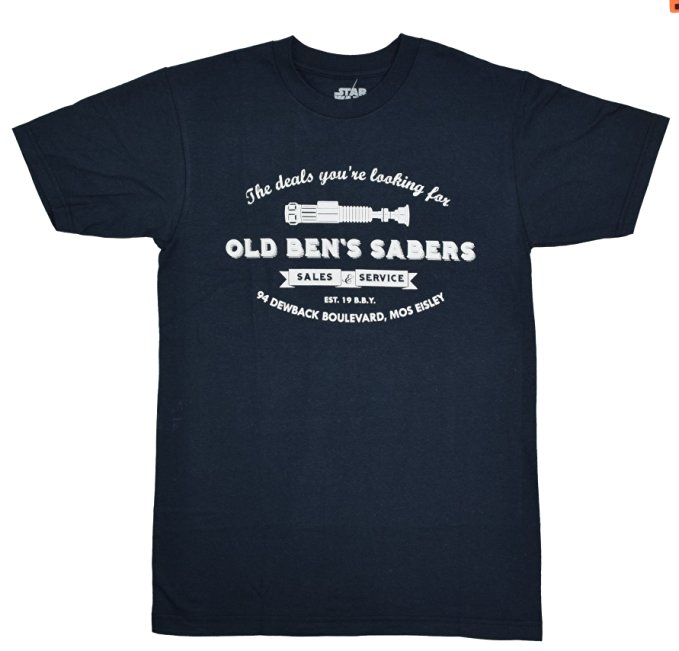 Let everyone know you got a great deal on a lightsaber from Obi Wan Kenobi!
Support Our Troops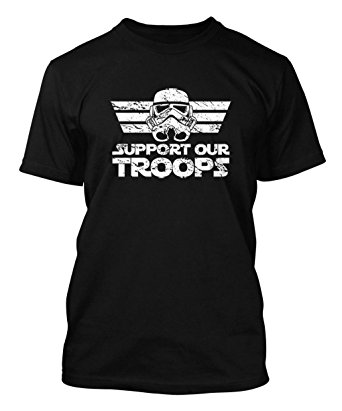 Life on the front lines of the Galactic Empire is not easy. Show your support for the Storm Troopers who risk it all every day fighting insane Jedi Knights and their Rebel Alliance scum bags.
Wear this shirt and wear it proudly.
Join The Empire Shirt Storm Troopers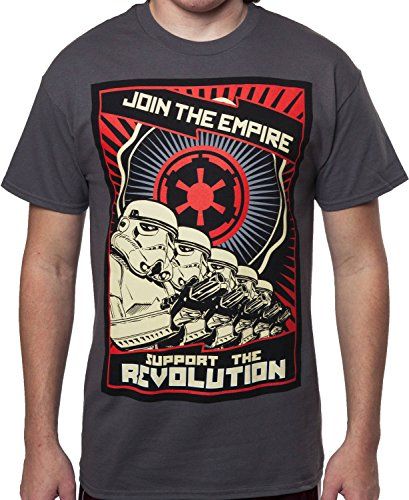 Sure, maybe Storm troopers don't know how to shoot too well but no one looks better in the galaxy. Grab this shirt and no doubt a few friends will join you in the ranks!
X-Wing Starfighter's Shirt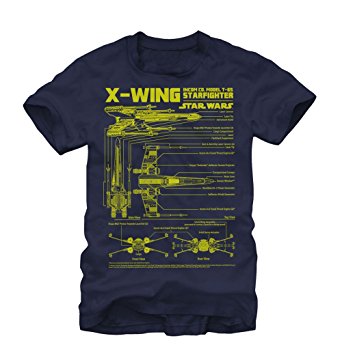 This Star Wars tee breaks down the iconic X-Wing Starfighter that has been used to shoot down countless TIE fighters (and provide some spectacular air support in Rogue One). In comes in more colors than there are lasers, but I think black or blue is the best.
X-Wing Squadron T-Shirt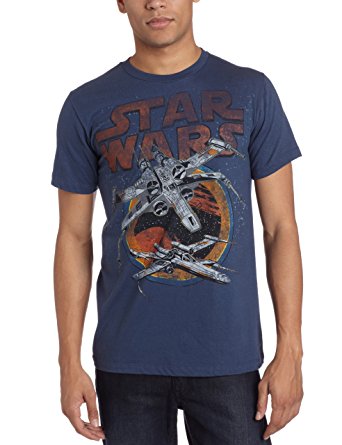 Featuring a distressed X-Wing graphic this cotton tee will make you want to say "Gold leader" and "I'm hit" "Stay on target!" and other classic lines from the film's glorious space battles as many times as possible.
What Storm Troopers Do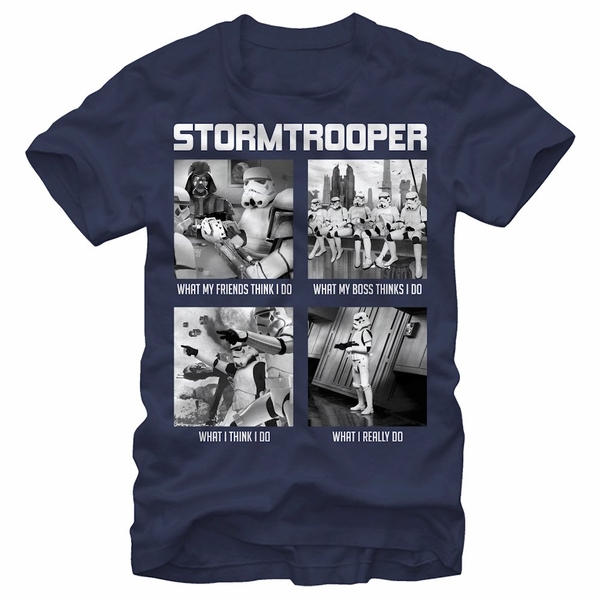 Help the most undervalued soldiers in the Empire show everyone what they really do with this clever Star Wars shirt.
Lightsaber Diagram Tee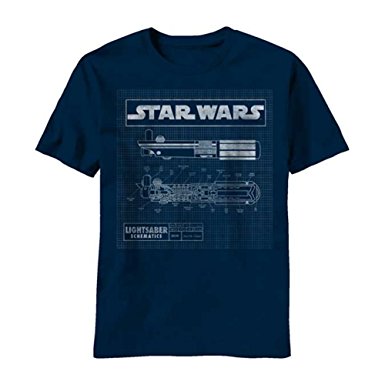 If you can't find an old Jedi to help instruct you in the ways of building their most treasured and cherished weapon, then this t-shirt is a must have for any aspiring Jedi attempting to build their own lightsaber.
Empire T-Shirt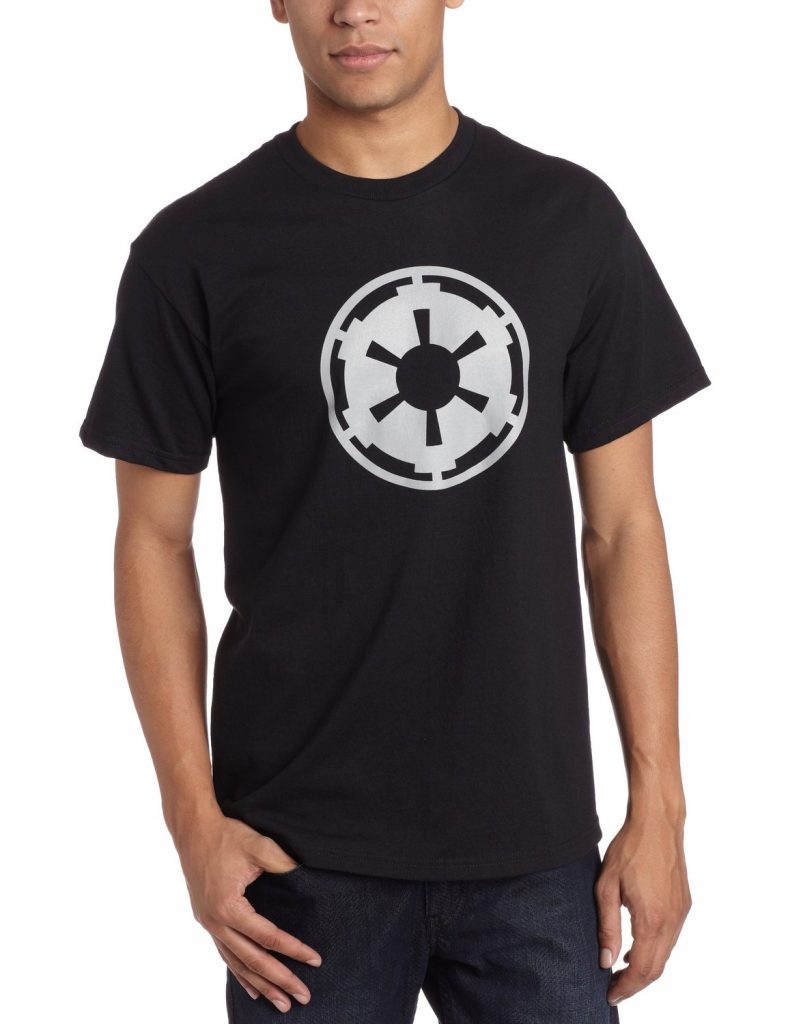 This officially licensed Star Wars shirt plants a bold Galactic Empire symbol right on your chest—which will either strike fear into the hearts of rebel scum or give them a great bullseye to aim at.
Star Wars Logo Tee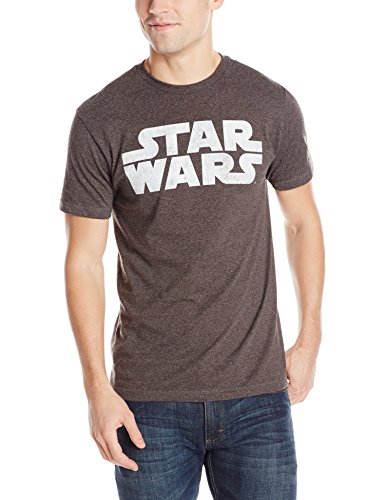 If you are just looking for a simple shirt with the Star Wars logo on it this is the shirt for you.
Storm Trooper Casual Friday Shirt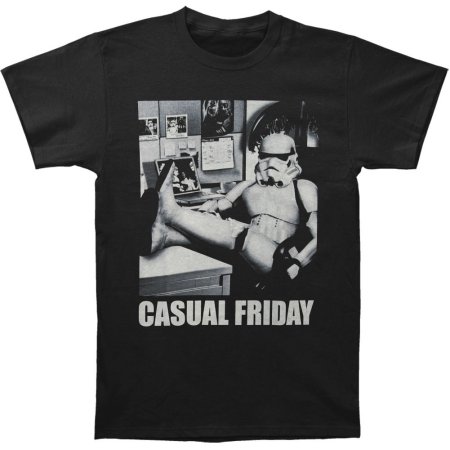 The perfect shirt to wear on the Death Star for Fridays, especially when you don't have to clean out the trash compactors. Have you seen the type of crap down there lately?
Everyday should be casual Friday.
Yoda Words of Wisdom Shirt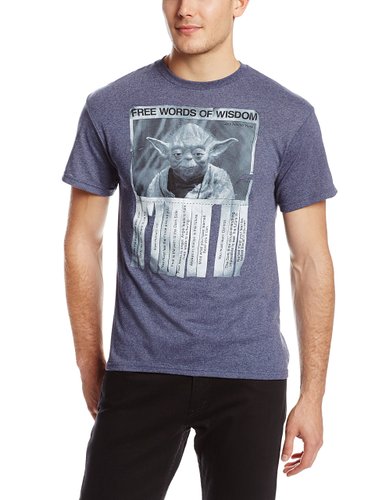 Never stray from the path with the wise words of this imminent Jedi master close to your heart.
Star Wars Rogue Squadron T-Shirt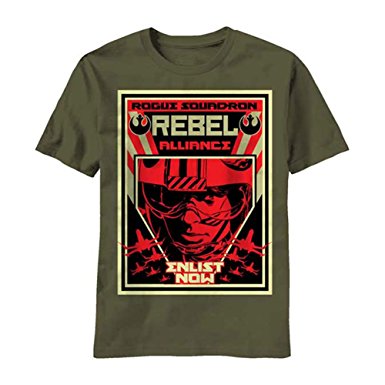 Not to be outdone by the overwhelming propaganda of the Galactic Empire, the Rebel Alliance has produced its own shirt to inspire new recruits to join the cause of the good and true.
This officially licensed cotton shirt for Star Wars fans is great for cruising in the Millennium Falcon, riding across the sand dunes of Tatooine, or shooting down TIE fighters in your X-Wing.
Glow in the Dark Millennium Falcon Shirt
Turn off the lights to really kick any conversation into hyperdrive. Once everyone realizes the Millennium Falcon on your shirt is now GLOWING in the dark you can expect to be surrounded by waves of cheer and applause, just like in the movies.
This also makes approaching people with the phrase "Hey, I'd like to talk to you in a dark room" much less awkward. No really, it does.
Boba Fett Shirt
A glimpse at the most famous bounty hunter…before he became Sarlacc fodder. Never forget!
Star Wars Aging Vader
Darth Vader needed a smoke every now and then as he grew older. Always having to suck up to Palpatine and always having to do the dirty work was bound to take its toll.
If you feel the same way (or are just apathetic towards life in general) then this is the moody tee you've been searching for.
Boba Fett Bounty Hunter Logo Shirt
Let everyone know you're not one to be messed with when you rock the Mandalorian's universal bounty hunter insignia.
Boba Fett's Body Armor T-Shirt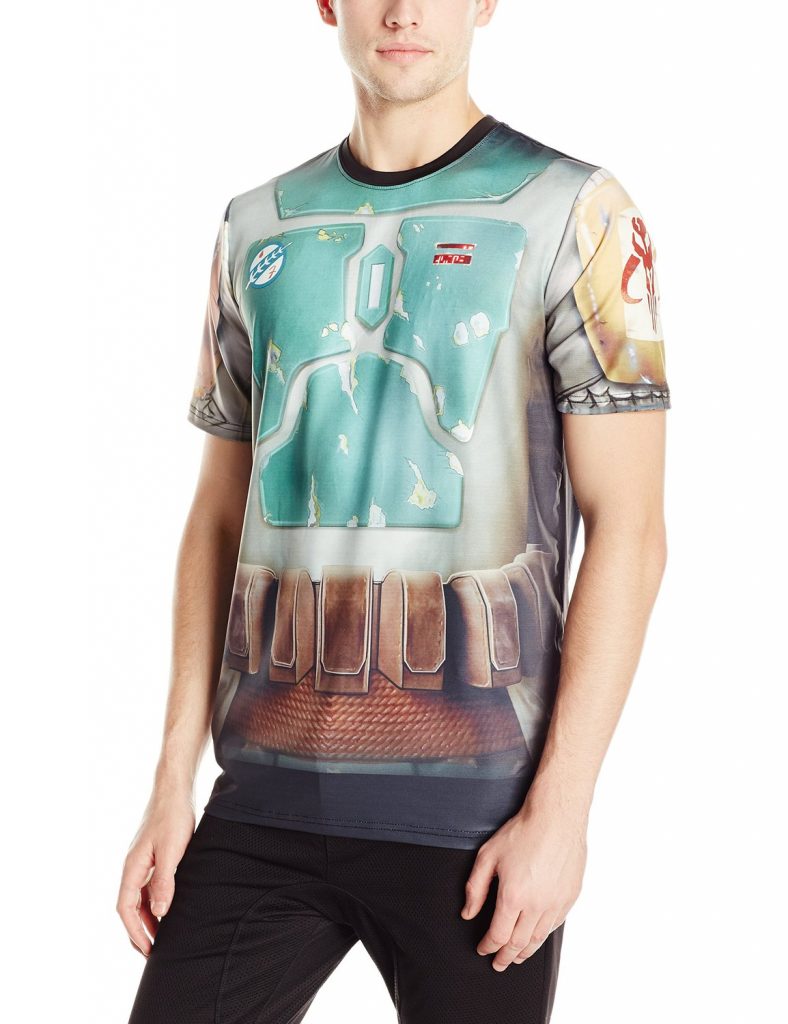 Want to look like the greatest bounty hunter in the galaxy? Put this shirt on and everyone will give you a few feet as you swagger through the bazaar.
Darth Vader's Body Armor Shirt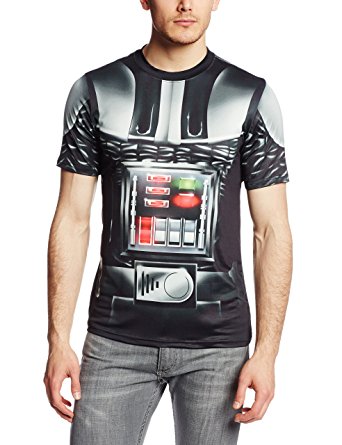 For when you feel like choking rebel scum…but it's too hot outside for the full Vader suit.
Chewbacca T-Shirt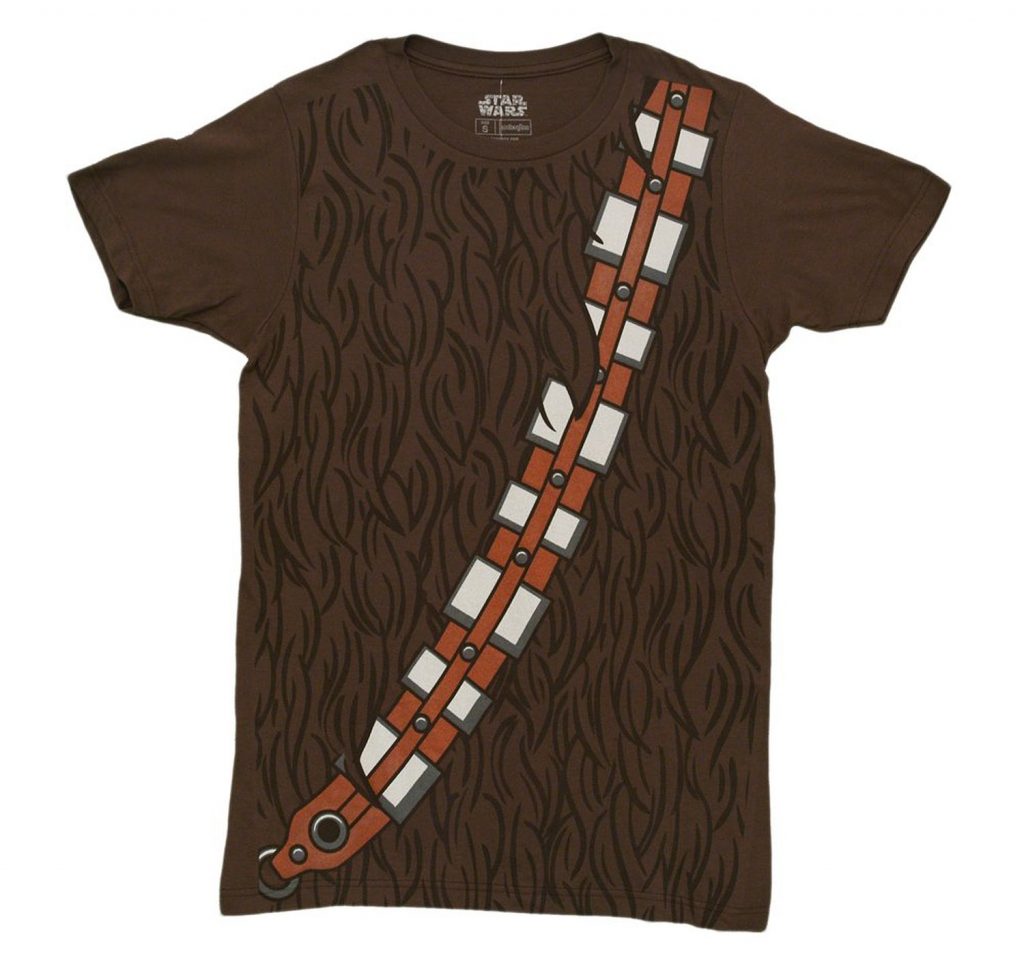 Of course this wouldn't be complete without a way to wrap yourself in some wookie fur! This 100% cotton officially licensed Chewbacca shirt comes complete with a mock utility belt just like in all your favorite movies.