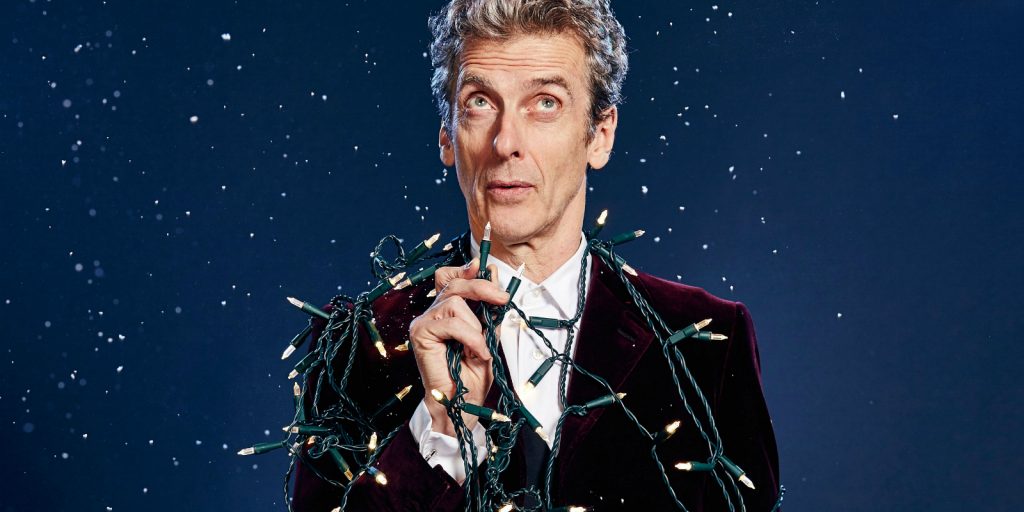 Doctor Who is the longest running and most celebrated science-fiction show on the BBC.
It has developed a dedicated and passionate following and if you have watched only a single episode you can easily understand why. The clever and charismatic Doctor zips from age to age and across exotic stars and planets battling Cybermen and Dalek's usually accompanied by a gorgeous female companion.
So if you have found yourself seeking a gift for your favorite Time Lord but don't have a time traveling blue British police box this list of Doctor Who gifts is going to be the next best thing.
As the good Doctor says, Allonsy-Geronimo!
Doctor Who Vortex Manipulator and Sonic Screwdriver
If there is one crucial gift all Whovians yearn for it's a sonic screwdriver.
Jack from Torchwood's Vortex Manipulator makes a smart companion piece to this essential Doctor Who gift.
Price: $19.94
Doctor Who TARDIS Wallet
Fans of Doctor Who will think they've finally found their own personal TARDIS with this wallet, which has tons of pockets and slots to stash everything from cards to cash.
Price: $18.02
Doctor Who Christmas Specials
These are unmissable episodes and a great joy to revisit year after year.
Grab your friends and fellow or budding Whovians, favorite tea, mulled wine, or coffee and join the 11th Doctor played by the indelible Matt Smith on 3 different Christmas Eves.
Episodes include:
A Christmas Carol
The Doctor, The Widow, and the Wardrobe
The Snowmen
Doctor Who's Disappearing Tardis Mug
This will be an essential addition to any Whovian's mug collection.
The TARDIS will disappear on one side of the cup and show up on the other side when full of your favorite hot beverage.
Doctor Who Figural Tardis Mug
I'm sure out of all the places in the multiverse there is someone or some organism who can drink out of this fascinating Doctor Who mug, but it's very likely none of us humans on planet Earth.
That doesn't mean that this doesn't make an absolutely wonderful Doctor Who gift that can be put to many creative uses.
Genesis of the Dalek's Mug
The Dalek's are my favorite part about Doctor Who, so I was thrilled to find a mug featuring the Doctor's number one nemesis.
Filled with a proper invigorating beverage Whovians of all ages will be able to say "exterminate!" to any challenge that faces them (but hopefully not planets).
Price: $13.95
Doctor Who TARDIS 16oz Travel Mug
When you are flying through space and time there is one thing you absolutely must have: a warm beverage.
Ensure your fellow geek never leaves any planet or previous century with a drink that's not the perfect temperature with this Doctor Who travel mug.
Price:$10.19
Doctor Who Icecube Tray TARDIS & Daleks
The perfect icebreaker for any social gathering, the Doctor Who ice tray is bound to be a delightful gift. Create 3 frozen Daleks and 3 frozen TARDIS time-traveling blue police boxes then plop them into your favorite drink.
Though you should be warned: the last time the Time Lords and the Daleks got together they ended up destroying a planet, so maybe on second thought they should each get their own glass.
Nahhhh.
Price: $8.50
Doctor Who 20 oz. Ceramic Stein
This stoneware stein will have you throwing back your favorite drinks in true Time Lord style.
Doctor Who License Plate Frame: "My Other Ride is a TARDIS"
There are some gifts that you just have to buy aren't there? The Doctor Who License Plate Frame is an essential gift for any and all Whovians.
Price: $16.98
Doctor Who TARDIS Teapot
Well this is just obvious isn't it? Your favorite fan loves Doctor Who. Your fan probably also loves Britain and the BBC. And most importantly, they probably enjoy tea. A variety of teas.
Why not indulge them in all their geeky loves with this teapot?
Price: $24.99
Doctor Who: The Secret Lives of Monsters
Acclaimed alientologist Justin Richards was able to procure high level access to get the inside look at what Torchwood and UNIT have been hiding all these years–that alien life exists and is among us.
Of course, all Whovians already know this, but still.
Price: $17.99
Doctor Who River Song's TARDIS Journal
Is your beloved Whovian looking for a way to record all their fantastical journeys?
Then this 8 x 5 journal with 160 lined pages is an excellent place to start. The cover looks just like the TARDIS and the journal will function just like the magical police box: a simple book on the outside but a key to a hidden and vast world within.
Price: $10.50
Doctor Who Journal of Impossible Things
78 pages featuring detailed drawings and inscrutable, and often scintillating notes this journal even has 21 pages for geeks to record some of their own impossible things.
Price: $24.98
Doctor Who TARDIS Cookie Jar with Lights & Sounds
This gift combines the two most wonderful things about our world: Doctor Who and cookies.
And then it does something even better.
It lights up and makes sounds when anyone closes the lid or presses on the lamp.
This is the perfect addition to any kitchen—or your TARDIS.
Price: $24.01
The Tenth Doctor Action Figure
An essential gift for fans of the David Tennet years (read: everyone who has ever watched the show ever) this Doctor Who action figure will maintain a vigilant watch over your most cherished possessions.
Price: $9.58
TARDIS Action Figure
You can't get someone the Doctor action figure and then not give that person the TARDIS now can you?
Price: $14.56
Doctor Who Throw Blanket
A great Doctor Who gift, this soft and comfy blanket will keep any fan warm and cozy during the cold nights and chilly adventures as they fly across space and time with the Doctor.
Price: $21.50
Doctor Who Coloring Book
While Doctor Who definitely encourages us to think outside the lines, sometimes it's just fun and soothing to stay within the boundaries.
For those days, this Doctor Who Coloring Book is just what your favorite fan will reach for.
The Doctor, the TARDIS, Planets, and the Time Vortex itself are just some of the 96 incredible illustrations geeks of all ages get to bring to life using all their wild, vivid coloring skills.
Price: $9.96
Giant TARDIS Blanket
This makes a great gift for any Doctor Who fan since it will keep them warm while they watch their favorite show.
Doctor Who Cookbook
Doctor Who Water Bottle
Let's face it, iF you are planning on being around the last living Time Lord, you are going to be doing a lot of running.
Doctor Who Monopoly
Whovians and their fellow geeks can play as a scarf, bow tie, sonic screwdriver, celery, recorder, and an umbrella as they buy and sell iconic episodes of everyones favorite BBC show.
Price: $24.99
LEGO Doctor Who Building Kit
This is a great gift for Doctor Who fans regardless of their age.
The LEGO Doctor Who TARDIS also comes with 2 Dalek's bent on dominating the multiverse and the scariest thing ever—the weeping Angels.
Price: $52.34
Doctor Who Yahtzee
This is great game to break out among a gathering of geeky Whovians and is guaranteed to inspire some wholesome fun.
This version of Yahtzee comes with a collectible dice cup in the shape of the TARDIS (obviously) and 5 dice featuring sinister, iconic foes of the good Doctor.
Price: $15.99
Dalek Insult Shirt
Dalek's have some of the best and most variegated lines in all the shows. They range from"It's the Docotor!" "find the doctor,  "destroy the Docotor"  to "kill the doctor."
That said, this shirt is a great one to wear to any gathering of Star Wars geeks to start some…friendly banter.
Price: $20.00
Doctor Who Backpack
Does your favorite Doctor Who fan need a backpack to carry their journal, sonic screwdriver, and all the various things they collect on their adventures?
Then this Doctor Who Backpack will help them carry all their goods from here to Gallifrey and back. While it's not as big as the TARDIS you'll be amazed at how much can fit in this bag.
Price: $18.90
Doctor Who 22" Wibbley Wobbley Timey Wimey Necklace
Did you know that the Doctor actually met William Shakespeare? Your favorite Whovian sure does.
This much cherished quote comes from the now famous Blink episode. Anyways, the point is, if you know someone who loves Doctor Who they will absolutely adore this necklace.
Doctor Who TARDIS Christmas Ornament
CTA: Get the Doctor Who TARDIS Christmas Ornament on Amazon
There are other iconic tree ornaments that Whovians of all ages might be interested in collecting, such as:
K-9
The 11th Doctor
Sonic Screwdriver
Daleks
Weeping Angel
Cybermen
But if you are just looking to start your Doctor Who Christmas ornament collection you simply have to start with the essentials, and that obviously is the TARDIS.
Price: $9.90
Doctor Who TARDIS String Lights
What better way to decorate for a Doctor Who themed party or the holidays than with these TARDIS string lights?
You can use these both indoors and outdoors. Each 9ft string comes with 10 lights that look just like the Doctor's time traveling blue police box.
Price: $23.99
Doctor Who TARDIS Nightlight
In the deepest recesses of space or even at the end of time when all the planets and stars are disappearing from the sky it gets quite dark.
If your room is in a similar situation this Doctor Who TARDIS nightlight will deliver a warming blast of illumination so you can make your way to the bathroom or into the kitchen for a midnight snack without squishing and Adipose or tripping or falling on something. Like a Dalek.
Thankfully, it also comes with a lightbulb.
Price: $19.99
Weeping Angel Mug
This essential Doctor Who mug features perhaps the most terrifying deadly alien known to any univrse (except maybe the Vash Nirada), the Weeping Angel.
Don't blink!
Doctor Who Gifts Worthy of a True Time Lord
From Gallifrey to the end of the universe, these are without a doubt the toys, shirts, mugs, jewelry, and kitchenware that your beloved companion in all things geeky most deeply covets and is no doubt earnestly seeking.
Whovians of all ages will find these gifts timeless and thus hugely worthy of a Time Lord.