If you are looking for Fall candles this time of year, you are not alone. The crisp air, sweaters, and abundance of flannel basically demands it. And wouldn't it be great if you could find all of those things in a candle? Well dear reader, that is exactly the adventure we set out on.
It was an epic journey full of crisp early morning walks, pumpkin pecan waffle breakfasts, leafy mountain sojourns, and evenings spent by a warm crackling fire, all with a pumpkin spice latte in hand of course. Here is what we were able to haul back! Enjoy!
Yankee Candles Spiced Pumpkin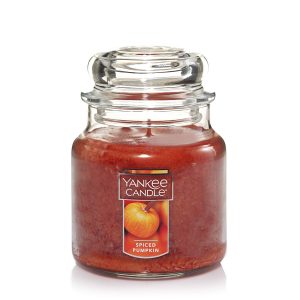 If it's Fall, you definitely have to have this Spiced Pumpkin scent from Yankee Candle. Pumpkin spice is so essential to this time of year that I have created a whole piece dedicated to discovering all the varieties of wonderful pumpkin scented candles.
The Perfect Autumn White Barn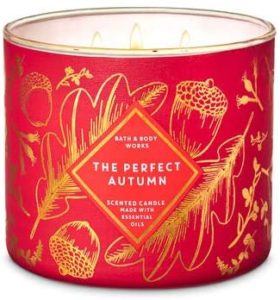 Enjoy crisp red apples, rich clove spices, and fresh tarty cranberries every time you light this candle. It's Autumn in a candle, what more could you ask for?
Maple Cinnamon Pancakes by White Barn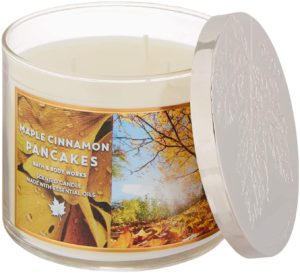 Wake up to a hearty Fall breakfast when you light this Maple Cinnamon Pancakes candle from White Barn. Nutmeg, cinnamon, and warm fluffy buttermilk pancakes await you!
Pumpkin Pecan Waffles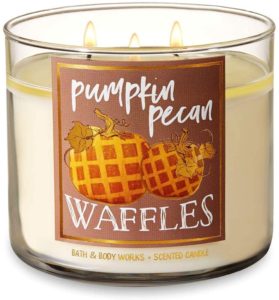 Looking for a sweeter start to your morning? The Pumpkin Pecan Waffles candle is exactly what you need. It's a delicious experience: Thick maple syrup spills over golden waffles mixed with pumpkin spice and a light sprinkling of brown sugar in this excellent fall scent.
Yankee Candle Autumn Leaves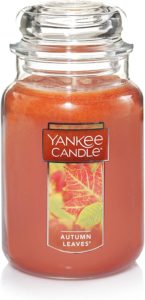 You can almost feel the birch and maple leaves softly crunching under your feet or brushing together on the branches overhead with the Autumn Leaves candle from Yankee Candle.
NEST Hearth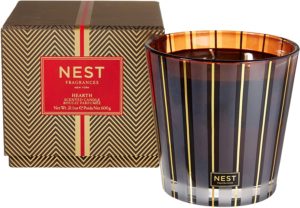 Frankencense and smokey wood embers will create the enchanting aroma of a perfect fire on a cold night all with the effortless help the Hearth candle from NEST.
Northern Lights Whiskey and Tobacco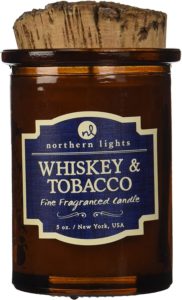 If there were ever two things that went hand in hand (literally), it would be whiskey and tobacco🥃. Both are perfect for those reposeful autumn evenings spent reflecting on the warm glow of old victories with chummy companions and as the fire slowly dims. Who knew you could get all that with just this candle? The dark amber jar from Northern Lights Whiskey & Tobacco comes with a stout wood top looks like it was pealed right off the giant oak in your backyard that you used to play on and will add a great Fall vibe to any room you place it in.
Yankee Candle Red Apple Wreath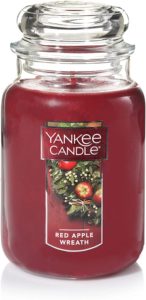 For me, this really distills the essence of fall into a single candle. Rich aromas of red apples hover next to spicey cinnamon leading to the earthy crunch of walnuts. But it doesn't stop there – if you pay attention you will catch golden, warm melted butter and oozy maple syrup at the end which should give you that warm fuzzy feeling on the inside, bring about those good relaxing Fall vibes and feelings of homecoming. Everything is in its right place.
Bath and Body Works Marshmallow Fireside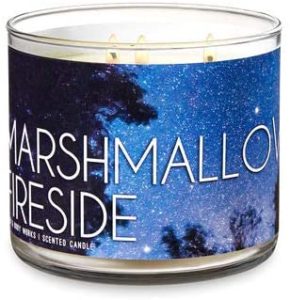 If it's Fall, it's definitely time for roasting marshmallows by a roaring fire and sharing smiles and stories with the ones you love. Can you put all that in a candle? Yes, you sure can!
Yankee Candle Mountain Lodge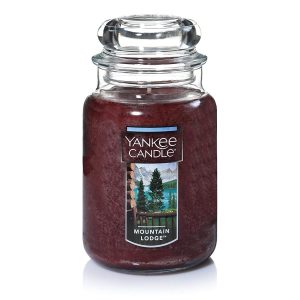 There's nothing more autumnal than a retreat to the mountains. Bring the mountains into your home this fall with this candle from Yankee Candle. Fresh pine needles and cool crisp air fly through your home.
Yankee Candle Autumn Wreath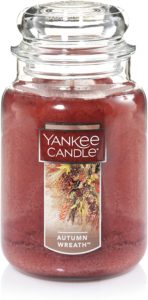 When it comes to Fall, you can never have too many wreathes. And that is true for scented candles as well. Autumn Wreath is a swirl of apples, stiff green leaves, clove, nutmeg, and some woodsy notes thrown in at the end for a solid finish. It's like taking a walk through an apple orchard – except you can do it in your cozy pajamas on the couch!
Bath and Body Works Spiced Apple Toddy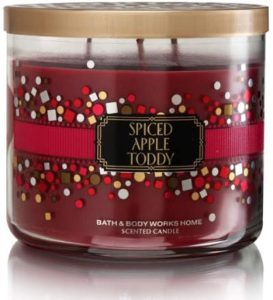 After a long day full of adventures and quality time with friends and family, enjoy some time alone and relax with a warm cider. Light this Spiced Apple Toddy candle, dim your lights, and break out your favorite novel to enjoy a low-key evening inside.
Yankee Candle Apple Pumpkin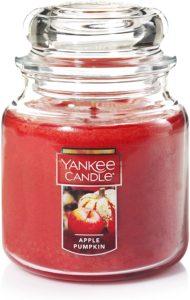 An extremely popular Fall candle, Apple Pumpkin combines two quintessential Fall things everyone loves into one. But it also mixes in soft butter, warm piecrust, nutmeg, and caramelized sugar which takes this candle and your autumn vibes to a whole new level.
Nest Birchwood Pine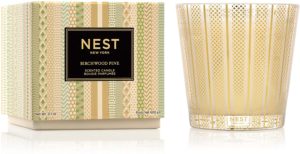 To create those great fall vibes there is no better choice than the Birchwood Pine scent from NEST. Lighting the candle creates a feel of walking through a crisp forest during winter, right as the sun begins to rise and skip across the pine needles.
White Barn Mahogany Teakwood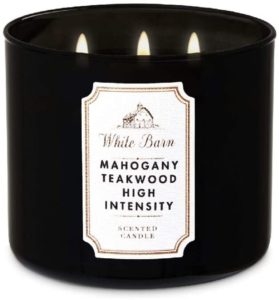 This is one of those candles for when it really starts to get cold outside and you want to walk in to a full-bodied scent. The Mahogany Teakwood candle from White Barn will envelop you in heavy woods like Mahogany and dark Oak before introducing you to the lighter sweeter side of this scent, the frosted lavender petals.
Paddywax Tobacco and Patchouli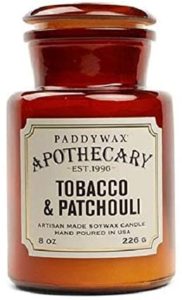 Smokey and leathery the Paddywax Tobacco and Patchouli candle  is that heavy scent you need for when the nights get longer and the days get colder. The Paddywax Apothecary collection comes in amber jars that add a great vibe to any space.
Dark Rum and Oak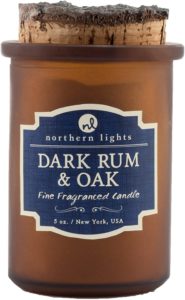 Sweet with a dark side, this smells of barrel aged rum, coffee, and an unmistakable oakiness that is heavy with tradition, just like the wood paneling, oil paintings, old books of Latin grammar that accompany your leisure sessions when burning this candle during this time of year.
Yankee Candle Crisp Fall Night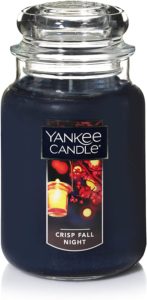 I absolutely love the look of this candle, Crisp Fall Night is exactly as you would expect it to be: crisp and clean – you can practically see the starlight twinkling across the dark night sky. The opening scent clears the way with grapefruit and bergamot which then transitions into a crisp black peppercorn before concluding in maple leaves and oak. If you don't feel like going outside tonight but want to get the classic fall night sensation, this is your candle.
Wax and Wick Mulled Cider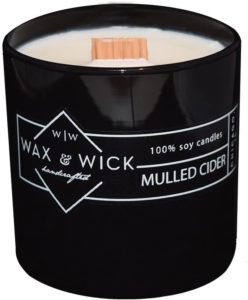 Wax and Wick are the only other company that I know of that uses a wood wick to create the magical pop and crackling noise we all love about fireplaces. In their Mulled Cider candle you'll enjoy the deliciously warm apple and nutmeg
Woodwick Trilogy: Warm Woods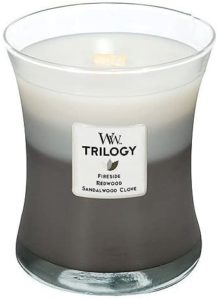 Woodwick invites you to go on a journey across three scents in a single candle. The Woodwick Trilogy Fireside, Redwood, Sandalwood, & Clove hits the perfect notes to create a cool day spent outside in the Fall walking through old forests and enjoying a warm fire.
Maple Butter by Village Candle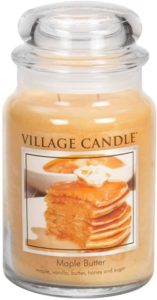 The Maple Butter candle hits all the right notes of a delicious fall breakfast: buttery and sweet anchored by a heavier note of rich maple brown syrup. You'll find that the creamy yellow tint of the candle itself is a welcome additional color to any room during the Fall, immediately brining to mind warm, smooth butter and freshly baked waffles or pancakes. Delicious!
Woodwick Evening Bonfire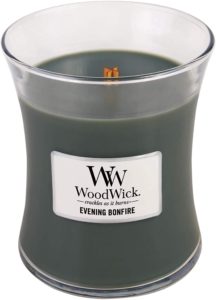 If you are yearning for that late night campfire vibe the folks at Woodwick have got you covered. Not only does Evening Bonfire conjure the warm and soothing notes of woodfire, but the folks at Woodwick use a natural wick made from organic wood to create a magical sound of crackling fire.
Blessed and Fall Obsessed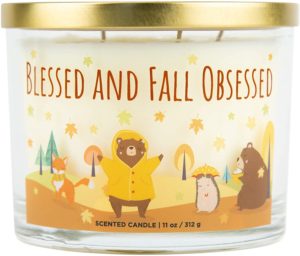 The Chesapeake Bay Candle company tried to put all your favorite things about this time of year into a single candle. The result? Blessed and Fall Obsessed. You'll take a casual stroll through a pumpkin patch, take a bite from red McIntosh Apples, and enjoy cider with nutmeg, clove, and other warm spices.
Lakeside Morning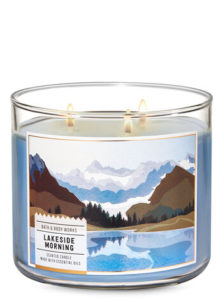 Enjoy a brisk walk in the morning along a secret mountain lake. Take in the whitewoods, crisp autumnal air, and green apples beaded with morning dew.