Looking for the best Game of Thrones mug?
I've rounded up the most popular and top reviewed ones to ensure your drinking experience is perfect–whether you are drinking coffee or downing cool spirits in your favorite dining hall.
Any of these will make great game of thrones gifts, and no matter which one you end up with, it's sure to be talked about at your next GoT marathon or viewing party.
Many Faced God Heat Sensitive Color Changing Mug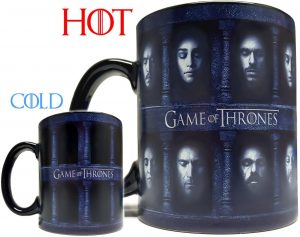 I think this is my favorite Game of Thrones mug of all. I've always loved the artwork and was happy to see this finally wind up on a cup so now I can look at death every morning as I savor my morning coffee. If you are like me, this is the one for you.
Targaryen Game of Thrones Coffee Mug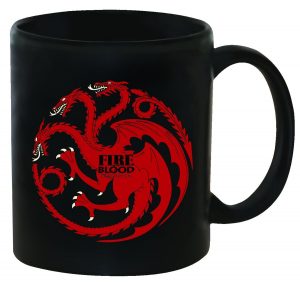 For those fans who've pledged allegiance to House Targaryen (and really, having flying fire breathing dragons one your side is a pretty good reason to side with Daneyris) this black mug with the three headed red dragon is a great vessel to hold your warm beverage.
Dark Horse Delux Game of Thrones Mug: House Stark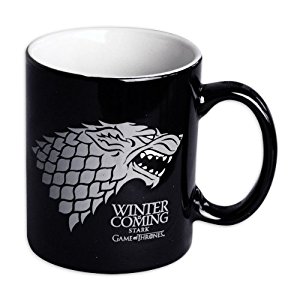 Start your morning off right with this classic House Stark mug. The growling direwolf is sure to help you stomp over your enemies and strike terror into any who would dare thwart your perfect day.
I Drink and I Know Things Mug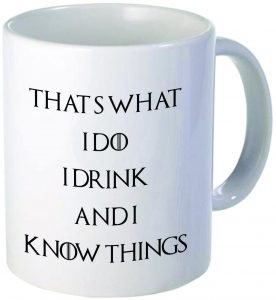 This is perfect for the smug, swaggering cynic in your life (maybe that's actually you). Drink up, laugh at the madness and ignorance that rages across the world, and then slide down your chair in the knowing comfort that while all the world is a brutal and irrational stage for fools you and you alone know the deep and eldritch secrets and nature of things.
Game of Thrones House Stark Stein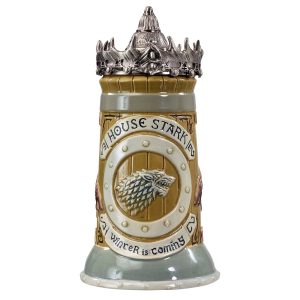 Enjoy the next season of Game of Thrones with a boozy feast and this ornate Game of Thrones Stein. Drink and then drink some more, but just be sure your foes are always a few ahead of you otherwise you might never wake from the feast!
House Targaryen Ceramic Coffee Mug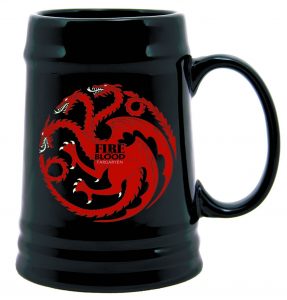 This coffee cup for Targaryen fans sports a fierce dragon with the terrifying House motto, "Fire and Blood." Two things, incidentally, that go perfect with morning coffee or even a late night marathon.
House Stark Large Ceramic Coffee Mug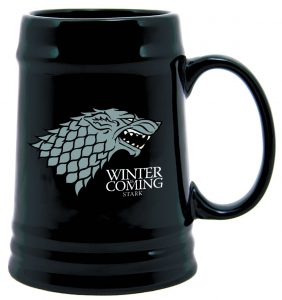 For the special occasion like series premiers and season finales this ceramic Game of Thrones mug will be your go to option.
Hold the Door Mug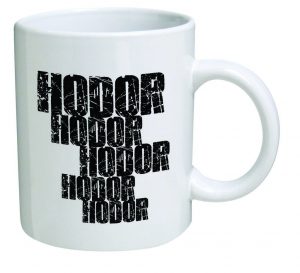 If the chant from Wylis still rings in your ears then don't try to silence it. Embrace it and the plaintive song by Sam Coleman with this Game of Thrones coffee mug. Hold the Door. Hodor.