One of the best things about this time of year is fall candles, which of course must include pumpkin candles. Especially great about these candles are all the perfect wax hues: most come in a spectrum of rich apple reds or burnt saffron that really celebrates all that is wonderful and earthy about the Fall season in general but also makes you feel like you are casually walking through a pumpkin patch.
When it comes to these pumpkin scented candles people seem to have a maddening lust for them – so get them before it sells out or you will have to wait a whole year for your home to have that perfect pumpkin smell this Fall!
1 Pumpkin Macchiato
Archipelago nails it from scent to display with this Pumpkin Macchiato candle. The burnt saffron glass is perfectly on-trend for Fall and the candle itself smells like freshly ground pumpkin seeds, silky coconut milk, and hearty brown cardamom. Available for a limited time only so get yours before they sell out!
2 Pumpkin Chai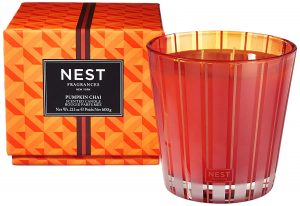 Add an exotic spin to your traditional pumpkin spice candle with NEST's Pumpkin Chai. There are wild pumpkins still fresh with crisp air here of course, but along with it is cardamom, ginger, and spicey masala chai for a unique take on a classic autumn scent.
3 Yankee Candle Spiced Pumpkin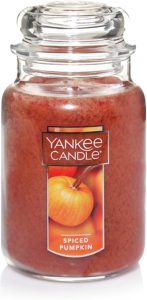 One of the most popular Yankee Candles of all time, Spiced Pumpkin sells out fast. Enjoy this essential Fall scent all season long with rich pumpkin aromas, cloves, and nutmeg swirling around your cozy abode.
4 Yankee Candle Apple Pumpkin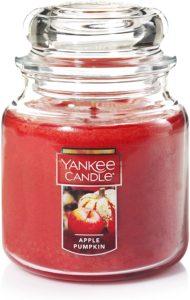 A popular Fall candle, Apple Pumpkin from Yankee Candle combines two quintessential Fall things everyone loves into one. But it also mixes in soft butter, warm piecrust, nutmeg, and caramelized sugar which takes this candle and your autumn vibes to a whole new level.
5 Pumpkin Pecan Waffles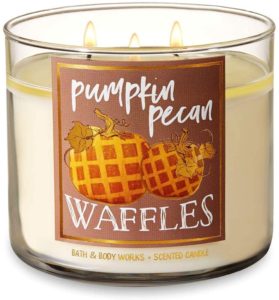 Looking for a sweet start to your morning? The Pumpkin Pecan Waffles candle is exactly what you need. It's a delicious experience: Thick maple syrup spills over golden waffles mixed with pumpkin spice and a light sprinkling of brown sugar in this excellent pumpkin scent.
6 Pumpkin Patch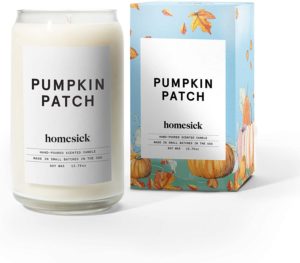 Another popular scent that seems to sell out too fast, Pumpkin Patch from Homesick candles is a lighter and brighter take on the classic scent. There is the familiar pumpkin and nutmeg but it is accompanied by white confectionery sugar and vanilla to help smooth the scent out and bring some cheerful levity to the aroma.
7 Woodwick Pumpkin Butter
Pumpkin, warm butter, and maple brown sugar swirl together with spices like clove and cinnamon to create an inviting aroma in the Woodwick Pumpkin Butter candle. The great thing about Woodwick candles is that they use an organic wood wick (hence the name) to create the enchanting crackling and popping of a real fireplace. So you get to indulge in two things: your favorite fall pumpkin smell and the magical ambiance of a fireside evening.
8 P.F. Candle Spiced Pumpkin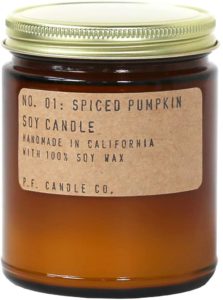 Popular L.A. based PF Candle Co's sophisticated Spiced Pumpkin will fill your room with a strong Fall aroma: ripe pumpkins, cinnamon, nutmeg—everything you would want for this kind of candle. It's perfect for a night in binging Harry Potter and cozy mysteries!
9 Village Candle Spiced Pumpkin Bread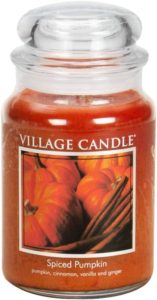 This price friendly option still has all you could want from your pumpkin candle: earthy orange wax the color of your favorite gourd and a billowing scent of pumpkins, ginger, and vanilla make this a lighter and sweeter scent.