If you are looking for ways to capture that classic log cabin or ski lodge feel and comforting warmth without all the effort of chopping wood, cleaning up the ashes, and embarking on the risky endeavor of starting a fire, then the electric fireplace is an excellent place to start. But since there are so many by so many different brands, which one is the best?
Electric fireplaces usually come in a few different styles:
Wall mounted
Insert
Traditional floor heating unit
Electric fireplaces are also made to appeal to two different aesthetic sensibilities: modern on the one hand and a cheeky old timey-ness on the other.
Touchstone 80004 'Sideline' Wall Recessed Electric Fireplace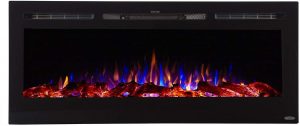 If you've decided that you need an in-wall fireplace or a recessed electric fireplace, the Touchstone is likely where your journey for stylish heat comes to a happy denouement. Flame diversity includes orange, blue, and a dual orange-blue option, but personally I'd never take it off the blue setting. It also offers the options a lighting spectrum from duller glowing embers to a full-on blaze. Offered in just about every size you could possibly require it is easy to see why the Touchstone 80004 electric fireplace is a top seller and favorite among customers with a wide variety of needs.
PuraFlame Electric Fireplace Insert with Remote Control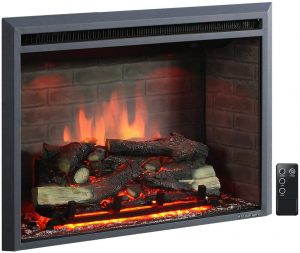 The PuraFlame electric fireplace insert goes a long ways towards helping create a warm and cozy ambiance as well as deliver on efficient heating. More than any other electric fireplace here, the PuraFlame perfectly captures a realistic depiction of a well used fireplace with popping embers and that smoldering log feeling.
XBeauty Wall-Mounted Electric Fireplace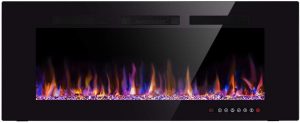 Sleek, modern, and minimalistic the XBeauty has versatile mounting capabilities which means it can be wall-mounted or placed in a recessed or semi-recessed wall. Whisper quiet heating ensures that there will be minimal air noise when the fireplace is on. With a number of flame options and colorful stones in the bedding of the fireplace any of your aesthetic preferences can be accommodated and changed with ease to match whatever your current mood might desire.
Touchstone 8001 50 Inch Hanging Electric Fireplace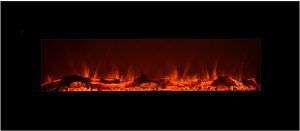 The Touchstone "Onyx" Hanging Electric Fireplace is perfect for your modern home and for any space that you want to add a bit of contemporary sophistication to. And a bit of heat as well of course. It comes with its own set of seductive glowing logs, which is going to look perfect on that big blank wall you've been trying to figure out how to make good use of.
Pleasant Hearth Mobile Infrared Electric Fireplace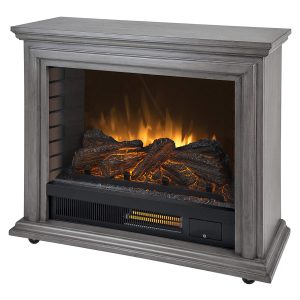 If you are looking to potentially save some money and want an electric fireplace that can be moved to different rooms with relative ease then the Pleasant Hearth Sheridan should be sitting at the top of your list. It's compact and perfect for smaller spaces and since it has wheels you can move it from room to room as your heating needs require.  There are 3 different brightness levels accompanied by 5 different heating levels
Duraflame 3d Infrared Electric Fireplace with Remote Control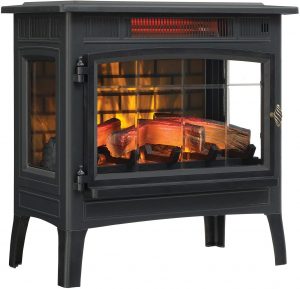 The popular and best-selling Duraflame electric fireplace is compact to fit well in any room and designed so that if you want it can be a feature of the room or blend into the background. If you were thinking of doing the later, then once you see the flames you might reconsider. The aptly named model has put a lot of effort into creating a very realistic flickering flame and some of the most realistic looking logs of any of the electric fireplaces listed here. The brick background really completes the feel that you are sitting next to a real woodburning fireplace. And to think, all of this at a very affordable price point!
Southern Enterprises Sicilian Harvest White Electric Fireplace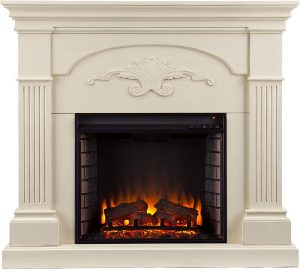 If you are looking to add a colonial touch to your environs, then Southern Enterprises' Sicilian Harvest electric fireplace is exactly what you need. It has a mantel large enough to place additional items on (and is even big enough for a 40 inch TV) so you not only get heat but tasteful increase of usable space as well.