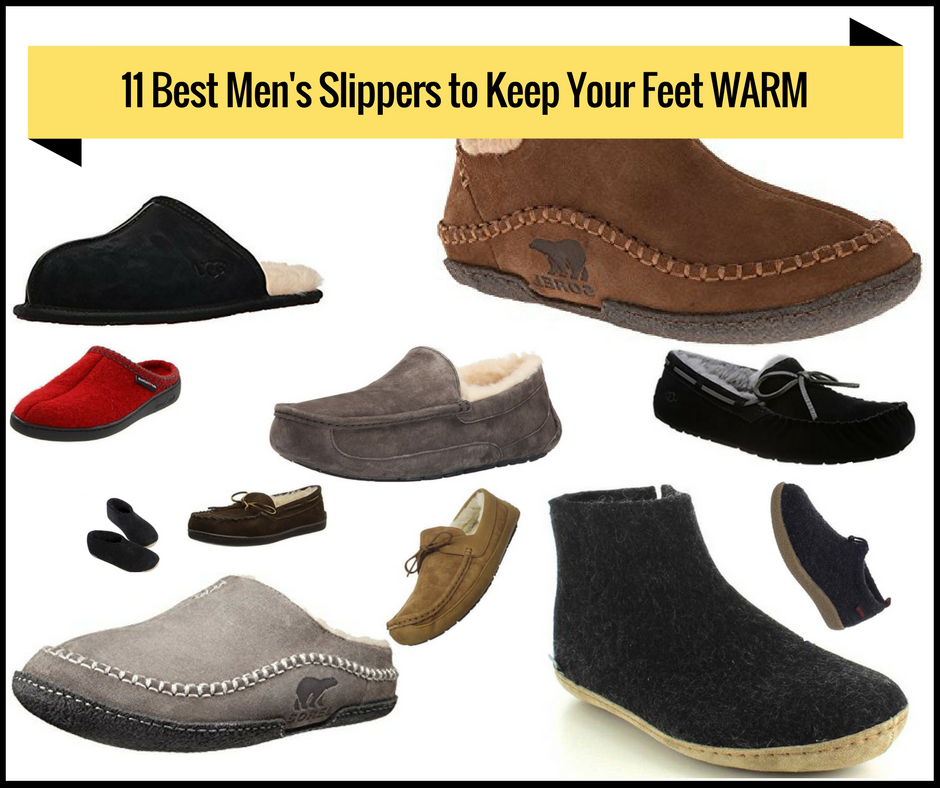 Looking for the best slippers for men?
👑Best Overall: UGG Ascot Slippers
🔥Warmest: UGG Olsen Moccasin
🤗Most Comfortable: Acorn Men's Slipper Sock
🌲Best for Indoor/Outdoor: Sorel Men's Manawan Slipper
Here are a few questions to consider before you pick the best comfy slipper this winter.
Do you need slippers primarily for indoors or outdoors, or do you want a versatile pair that you can even wear down the street to your favorite coffee shop?
Do you want backless slippers or a more traditional pair that snugly wraps around your ankle?
What type of sole do you want? Common options are leather or rubber.
What type of lining? Fur?
What type of material do you want? Suede or Wool
And lastly, do you plan to wear socks or not?
It's a good idea to work through some of these in order to get a sense of what the best slipper will be for your needs.
What makes for a top rated and best-selling men's slipper?
A common theme between the reviews and individual pairs I have personally owned are:
Durability
Comfort
Warmth
Versatility
Now let's talk about brands. There are literally tons of brands making men's slippers these days. The consistently top rated brand is without a doubt UGG. Familiar slipper makers will be Halflinger, Acorn, and Sorel, each who make excellent and comfortable slippers. A standout brand for those who are looking for something different with their next pair or who are just getting into their first comfy yet practical slippers will be Gelrups.
UGG Ascot Leather Slippers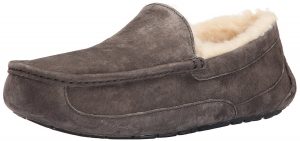 Without a doubt these are the best men's slippers. They come in a range of color options to match any wardrobe preferences you have . The pure wool insole lining combined with the sheep fur ensures your feet will stay toasty warm and be ensconced in a soft cloud of
These are slippers you wouldn't think twice before sliding into and heading out the door. Whether you need to walk a couple blocks to get your morning coffee or hop in your car and drive to get breakfast (or a late night snack) the UGG Ascot will suit perfectly.
I personally upgraded form my Acorn to these two years ago and joined the legions of customers leaving five star reviews on Amazon.
Sorel Falcon Ridge Men's Slippers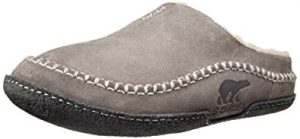 These open back slippers are great for those of us who enjoy wearing socks with their favorite pair of slippers. The soles are thick and flexible and will let you glide easily across wood floors without making a sound. Probably the easiest pair to put on and remove, the heel-less slippers also allow your feet to breathe easily and thus reduce the amount of foot odor that usually builds up with time.
These are also excellent for those early Spring months where the mornings still have a little chill to them and you just want something to slip your socks into but not something you want to completely envelope your feet.
UGG Byron Men's Leather Slippers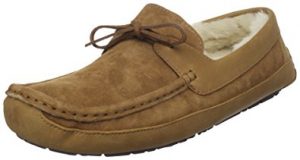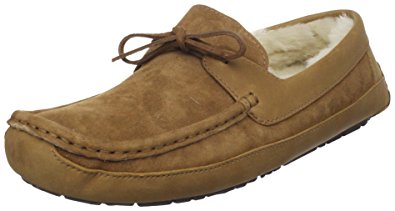 UGG is essentially synonymous with comfort and durability. Much like Ascot, these top-rated slippers are sturdy and well constructed. One customer on Amazon even boasts having a pair last for 10 years and another customer reports a pair lasting for 7 years.
Will make you feel like you are walking with soft downfeather pillows attached to your feet.Excellent choice if you need to run outside to grab a few more logs to throw on the fire and don't feel like going through the hassel of changing your shoes.
Glerups Model A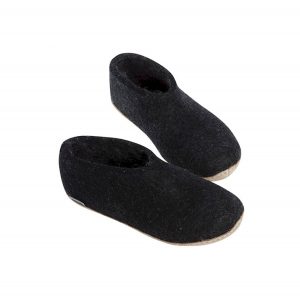 Born of Danish simplicity and meticulous attention to detail these sturdy slippers have amassed a cult following. Fitted with a soft calf-skin sole and made of a single piece of wool these are sure keep your feet amply warm while you silently slide across tile and wooden floors. You likely won't need socks at all with these, or thin ones if you insist on wearing them. Intrepid fall and winter stylists will gravitate towards the Model A since the unique look will be sure to draw a comment.
While this will likely be the first pair of Glerups you buy the reviews don't lie: your next slippers will be the Model GR boot.
UGG Men's Olsen Moccasin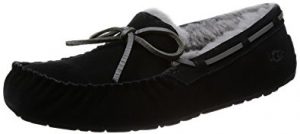 For people wanting the comfort of a bedroom slipper with the look of outdoor shoe comes the Olsen from UGG. The premium suede outside protects your feet from the brisk and biting winter airs while thick natural wool lining wraps around your feet creating a luxurious, soft, and cozy warmth. A range of fall colors from the classic walnut to the dapper black will fit seamlessly with your winter wardrobe.
Durability, warmth, and comfort were common themes among the Amazon reviews. One customer even wore them daily inside and outside and the slippers lasted for 4 years. With a total of 466 reviews and an average of 4.4 out of 5 stars these top-rated slippers are an easy choice for those looking for warmer feet this winter.
Haflinger Boiled Wool Hard Sole Slipper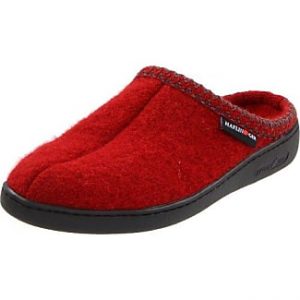 These were the very first pair of slippers I ever owned and they will always hold a special place in my heart. They were great when spending lots of time next to a fireplace and moving around from room to room during the winter holidays eating treats and gathering with friends and family. These are great for being active: cooking, doing chores around the house, or relaxing in a cozy, heated nook. But if you are looking for the perfect slippers to lounge around in and watch TV or read a book I'd recommend a pair that will cover your entire foot.
Made from wool, the classic clog design will keep your feet reasonably toasty while allowing air to escape and reduce the amount of sweat buildup (which again, makes them great if you have a lot of moving about to do!). As with any hard sole, be mindful when walking across wooden floors or tile as you could scuff them up on accident.
Spice things up a little bit and get the bright reds.
Acorn Men's Moc Slipper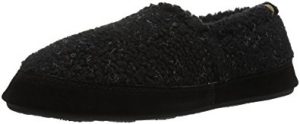 Made in Maine, the Acorn is a popular men's slipper and are excellent for the price. Durable but not indestructible, expect them to last you at least two or three years with fairly heavy use. Cloud-cushion insoles will be an immediate and noticeable difference for those who choose this over the Haflinger for their next pair of cold weather footwear since your feet will experience softness rivaled only by UGG and at about half the price.
These are great for sitting around in and enjoying a lazy afternoon or long winter evening. I would not recommend being too active in them however as the pointy tip can cause you to trip (I've often done this) and you definitely don't want to try to drive or leave the house in these slippers. But then again, you won't want too: as soon as you slide into them you know you'll be relaxing for the next couple of hours!
Sorel Men's Manawan Slipper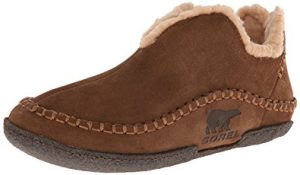 A soft suede exterior, chunky faux fur lining, and a durable rubber sole combine to make an outstanding pair of men's slippers perfect for cold weather. The Manawans are a great option for those who want their slipper to wrap around their ankles to keep warm on cold winter nights, especially if you have to go outside to get trash, logs for the fire, or even unload groceries from your car. These go perfect with flannel and jeans, so if you are looking for a pair of men's slippers to fit seamlessly with your outdoorsy clothing the Sorel Manawan will do the trick.
Like many of the other top-rated slippers, customers are celebrating the durability of the Manawans; one remarked that his pair lasted over 3 years with daily indoor and outdoor use. Many customer reviews also highlight the versatility of the Sorel Manawans and cite being able to comfortably move from indoors to outdoors was a compelling selling point.
Minnetonka Pile Lined Hardsole Slipper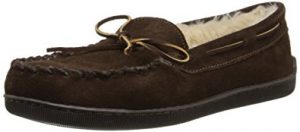 For a casual, classic look the Minnetonka hardsole slipper will fit your needs perfectly. With the faux fur lining you likely won't need to wear socks to keep your toes toasty warm.
With 1,438 reviews averaging out to an overall 4.5 star rating customers who bought these slippers were altogether delighted. However, since they don't offer half sizes it can be tricky to find an ideal fit.
Deer Stag Men's Wherever Slipper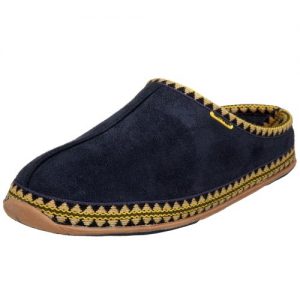 If you are looking for something to quickly slip in and out of and you don't want to lay down the cash for the likes of Haflinger and UGG, the Wherever slipper offered by Deer Stag is a solid alternative. The Deer Stag has a stiffer feel which is not always a bad thing as some people would rather do without the fluff (or you might get what you need from a thick sock instead). Pleasing to the eye with fun and intricate patterns laced around the soles these top rated open-back clog slippers have racked up over 1,780 reviews and an average 4.1 star rating.
Tamarac Slippers International Men's Cody Sheepskin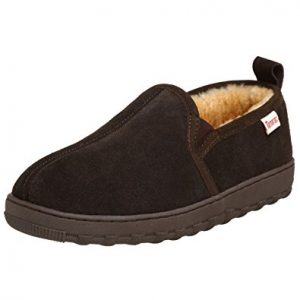 While not as stylish as the UGG or as durable the Tamarac knows the two things it is best at and sticks to them: keeping your feet comfy and cozy. The shearling lined slipper combines with the memory foam sole to deliver a one of a kind experience for your foot. These will be essential companions for your feet for the next few winters but don't expect them to last forever—but hey, nothing great ever does!
Glerups Model G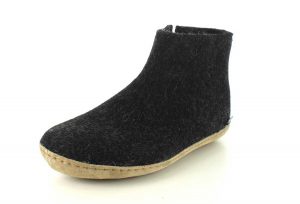 If you are in a climate where you need something to go up around your ankles on an especially chilly and wet morning you will find these appealing. The lightweight sole makes walking effortless and the unique color options will add a little extra pep in your sleepy winter step. The Model Gs are perfect to wear not only around the house but on those short trips down to your local grocery store or coffee shop on a cold winter morning. Pack them for your next ski trip and wow people at the fireside.
Giesswein Vent Slipper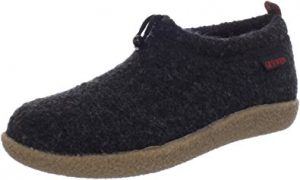 If you are looking to keep your feet warm, why not get slippers made from people who live in the freezing cold areas of the world? Well, the folks at Giesswein are a traditional Austrian company who have been making men's slippers since 1954. They know a few things about how to stay warm.
That's why they created a slipper made from wool which is naturally warm and moisture-wicking at the same time. The thick rubber sole makes it just as easy to go for a walk with your dog or down to the barn as it does to hop in the car and go get an early breakfast or run your errands. Needless to say, you'll have nothing to worry about walking through the house in these either. The drawstring on the front allows you to tighten or relax the slipper, accommodating thick socks as well as no socks and everything in between.
UGG Men's Scuff Slipper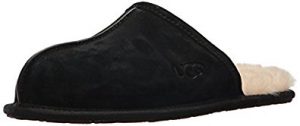 UGG's take on the classic men's slipper does not disappoint. If you plan on spending most of your time inside by the fire or television and only plan to remove them when your tucking your feet under a warm blanket. The water resistant suede upper will at least keep a few coffee or tea spills from doing too much damage though I doubt you will be venturing outside too much in these.
The Fur shearling insole and the natural wool and sheepskin lining will ensure that your toes warm up quickly and remain perfectly toasty, however I would recommend socks unless you don't mind your ankles feeling a little bit cooler. The flat leather sole is sufficient to get you around your house with ease but those looking for the ultimate in arch support and comfort should consider the Ascot.