If you are looking for geek gifts that are going to be the perfect present you've come to the right place.
Whether your favorite geek is into Game of Thrones, Doctor Who, Star Wars, Harry Potter, video games, board games, ironic clothing, funny coffee mugs, the latest tech gadgets or, let's be honest here, all of them, here are the best geeky gifts I could find this year.
FitBit Blaze Smart Fitness Watch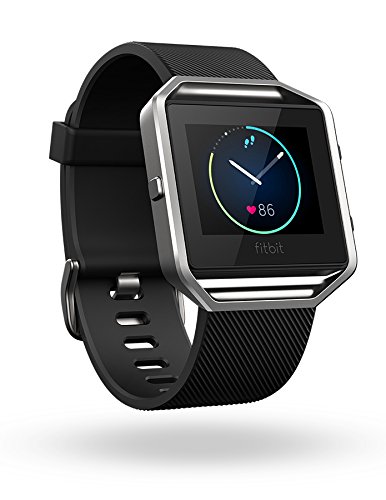 This top rated smartwatch is the perfect present for the health-conscious geek who loves gadgets and gizmos. Sure she might drain coffee and stay up late gaming or binging TV and movies, but she also loves the thrill of a long run after work and hates to miss a good facebook meme. The call, text, and calendar alerts will help her stay plugged in to her inner circle and make sure she doesn't miss that important meeting!
BB-9E App Enabled Droid by Sphero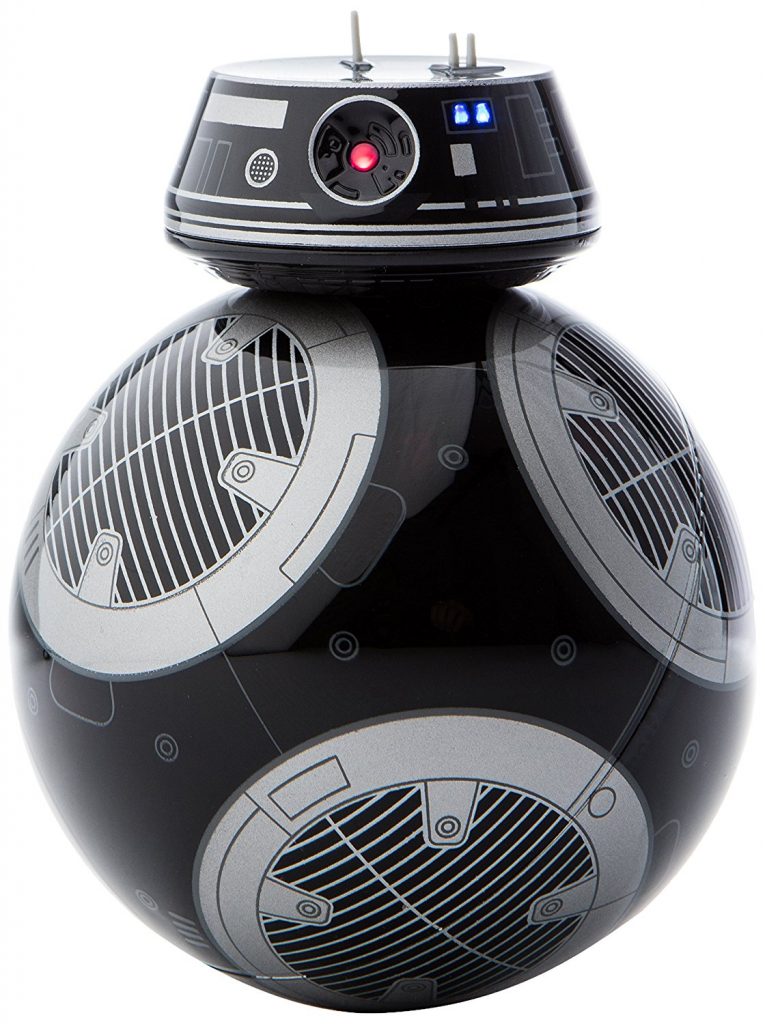 If there is one thing all geeks love it's Star Wars. And this droid makes the perfect addition to R2-D2 and BB-8, they even have special interaction modes for when they meet! Easily send the dark side's favorite droid flying down hallways with your Apple or Android phone, and for extra fun, do it in the dark to watch the BB-9E's spectacular lightshow.
Casio Men's Vintage Chronograph Watch
Embrace the vintage geeky vibe with Casio's Chronograph, which goes perfect with that nostalgic SNES you probably own. Yes, the 80's were kinda difficult for geeks, yet they contributed to much of what is cherished by nerds across the world today. So it's only proper that you rock this watch in their honor.
Sony XBR 43-Inch 4k Ultra HD Smart LED TV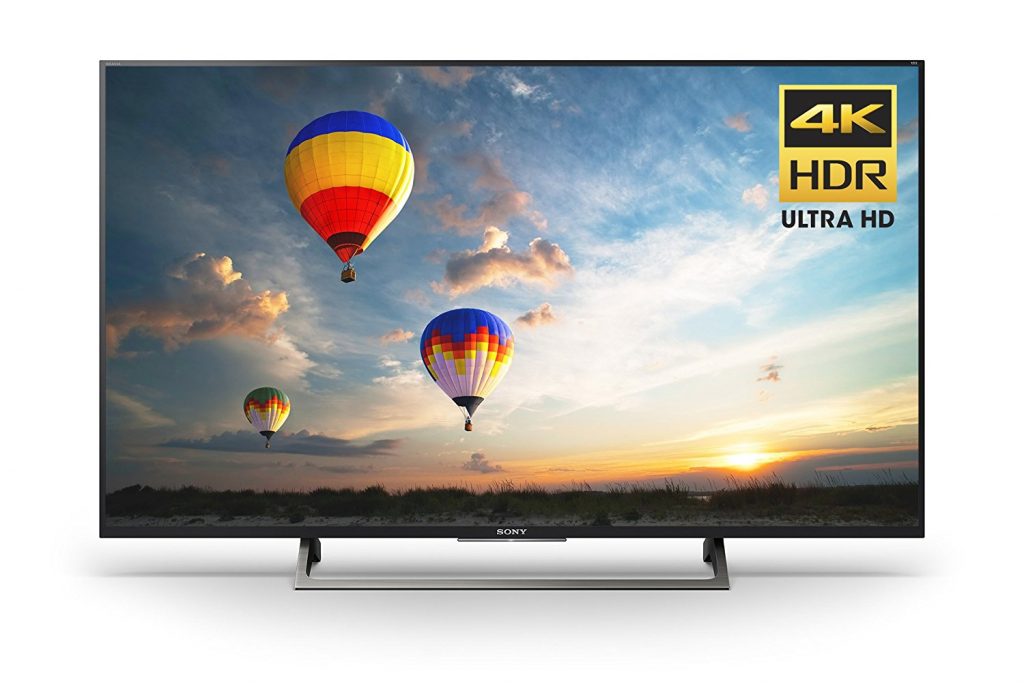 If you are looking to upgrade your TV to get the premium visual experience for all those Marvel Avenger movies or Star Wars marathons you need to look no further. This Sony 4k smart tv has stunning picture quality and excellent sound. You're not going to find a better option for under $1,000.
Bose Noise Cancelling Headphones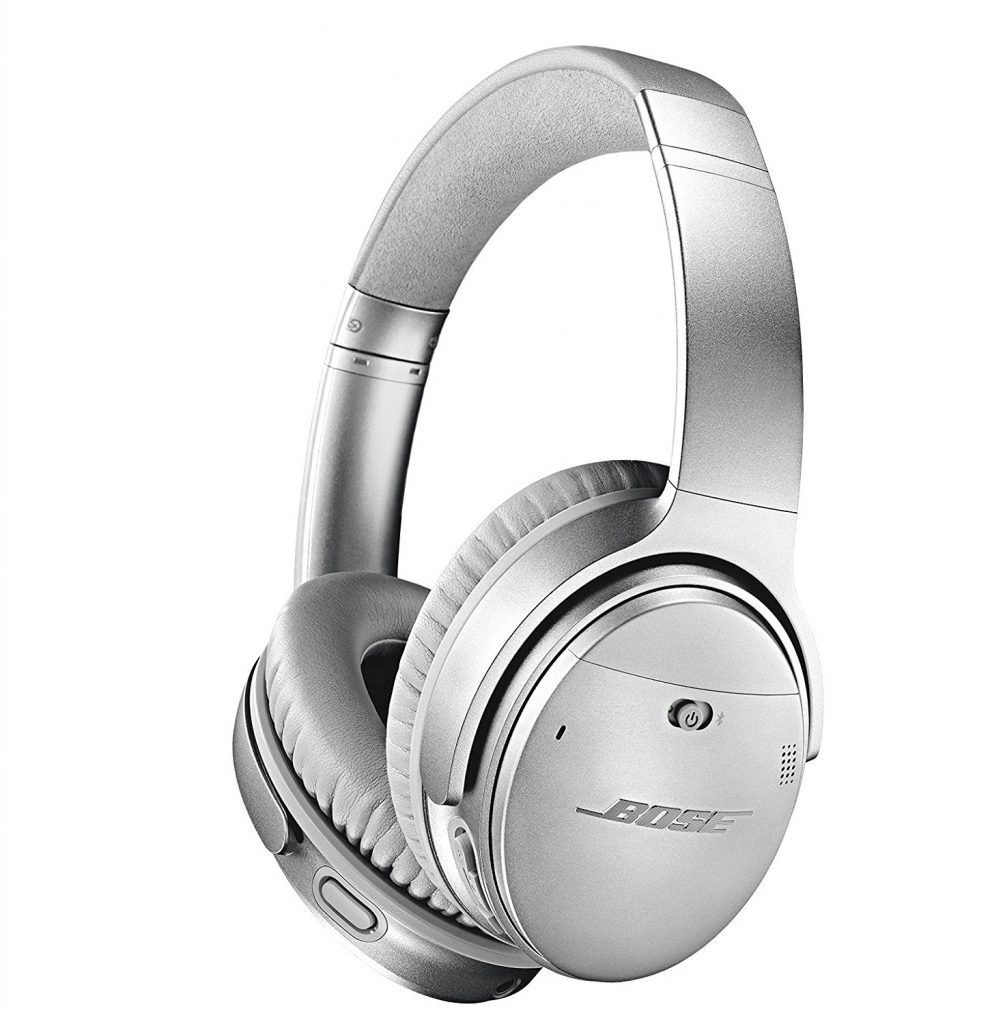 The new top rated noise canceling headphones from Bose allow you to adjust just how much noise you want to let in, from the total blocking that you've come to expect to letting in a little sound from your surroundings. 20 hours of battery life will make flights and train rides painless or help you focus through that next cram session.
ThinkGeek D20 Critical Hit Coffee Mug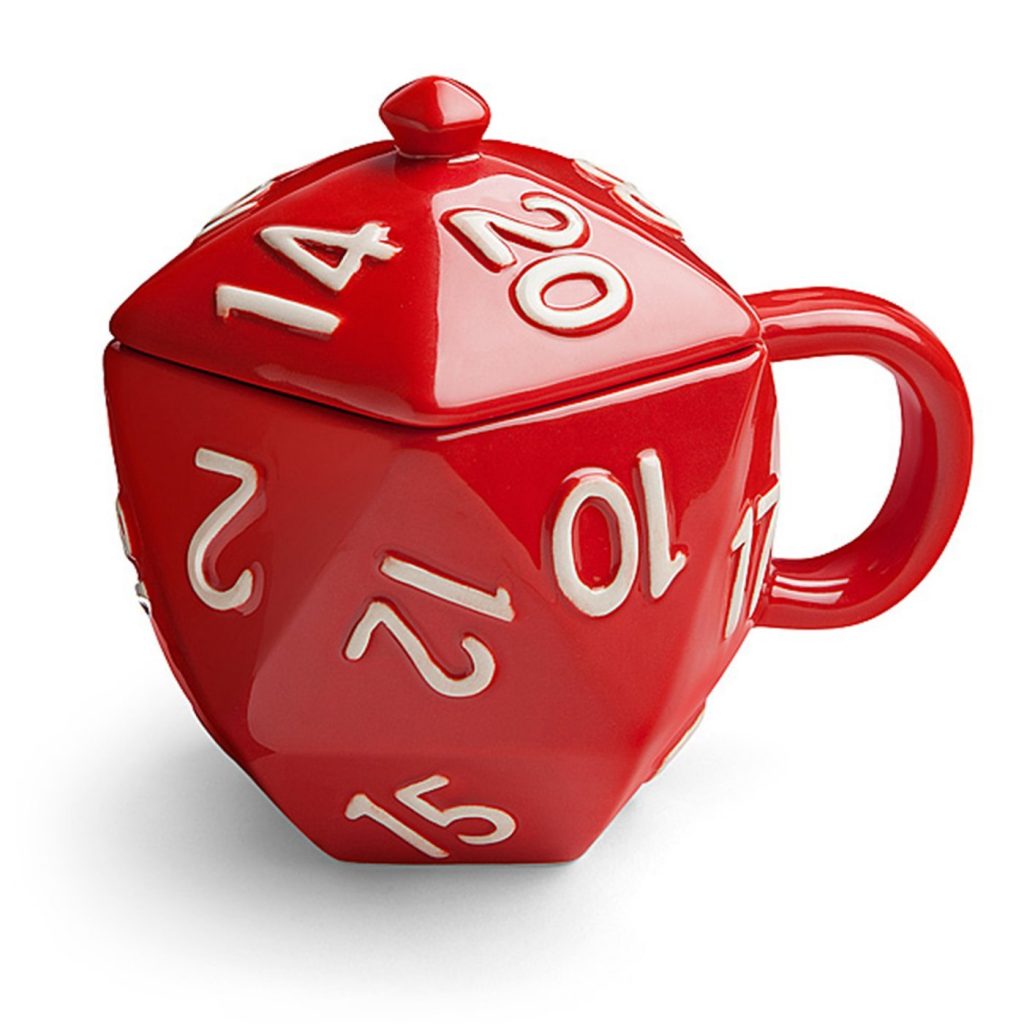 This is perhaps the greatest coffee cup ever made period. It will be an essential component of any geek's happiness.
Cthulu Funko Pop Toy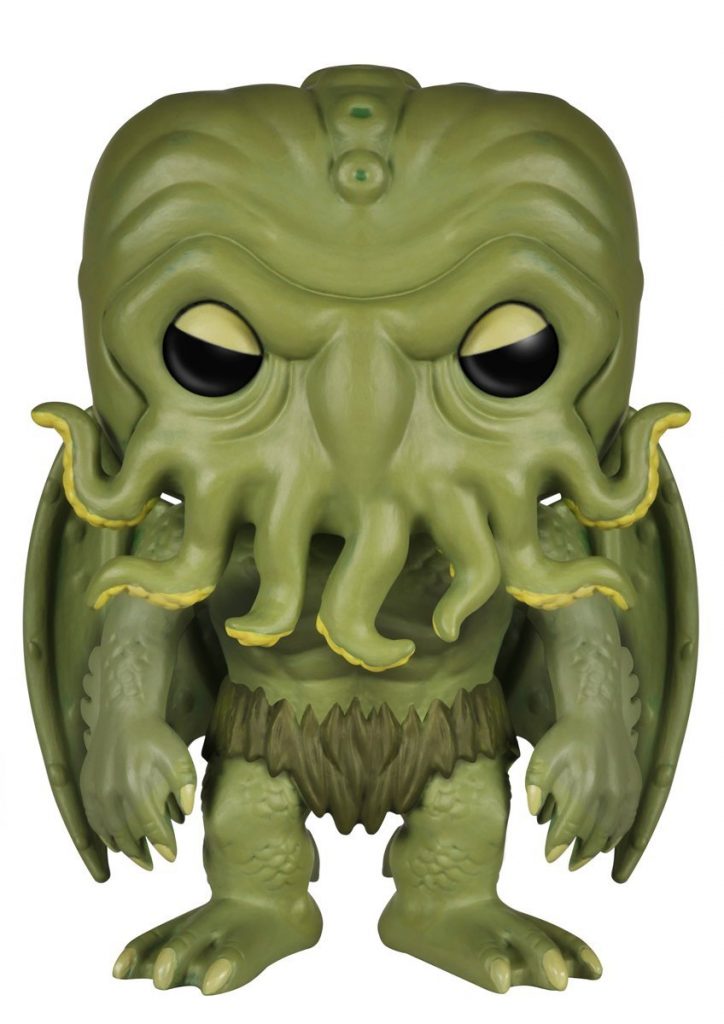 There is perhaps no more celebrated monster in all of Geekdom than Cthulu. Now you can bring him to work and set this fabled creature on your desk while you while away at your geeky tasks, hopefully doing your part to ensure the Evil One's return.
Amazon Fire TV Stick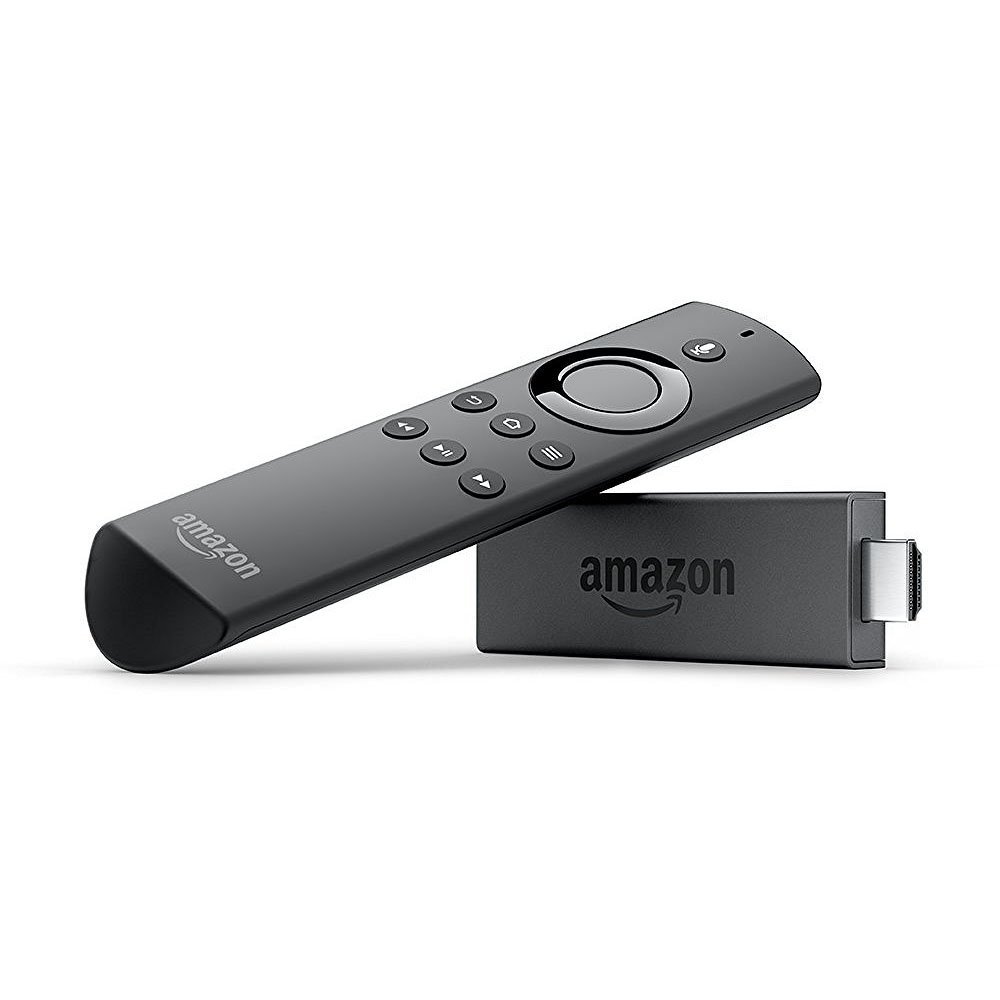 This is one of the geeky gadgets that is always going to be on someone's wish list. The Fire TV stick allows you to effortlessly stream TV and movies from apps like Netflix, Hulu, Prime Video, Spotify, HBO by simply plugging in the stick to your HD TV. For just $39.99 it's a near perfect gift for the tech geek in your life.
Science, Bitch T-Shirt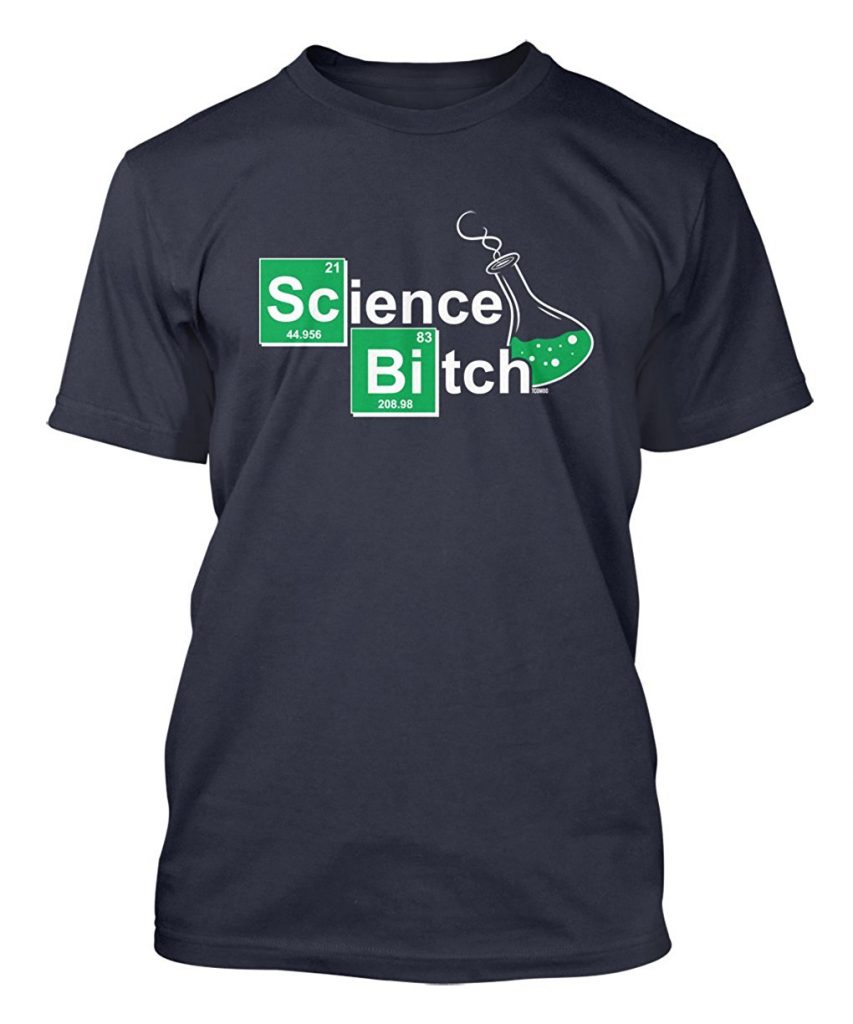 The only question you could possibly have is: why don't I already own this? This hilarious shirt is the perfect present for all fans of science and snark.
Magic Wand TV Remote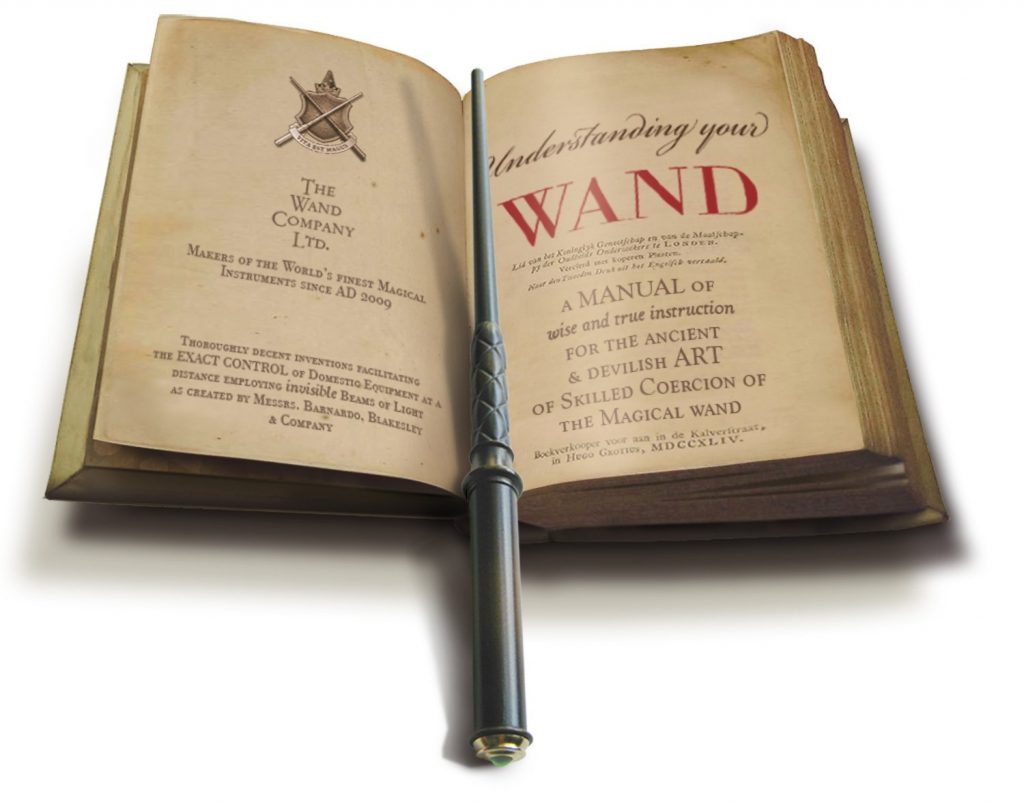 Transform any TV or movie session into a truly magical event. With a variety of different gestures this wand can do anything your normal remote can, but with an enchanting flair usually reserved for only the most powerful of sorcerers. This will be perfect for anyone who loves the magic of Harry Potter.
Samsung 55" 4k UHD TV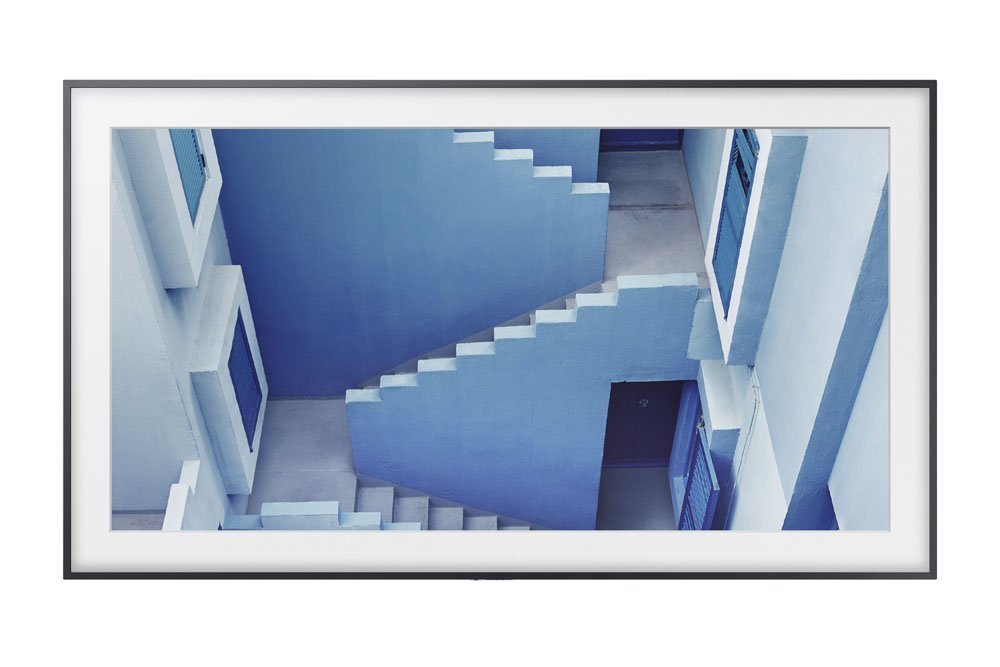 What makes this 4k TV by Samsung so special that it merits inclusion on this hallowed list you ask? It comes with an artistic side. Yes, in addition to being one of the best TVs in all of geekdom, it also comes with preloaded artwork and wooden frames. A unique gift for a unique geek.
Ancient Book Laptop Cover for MacBook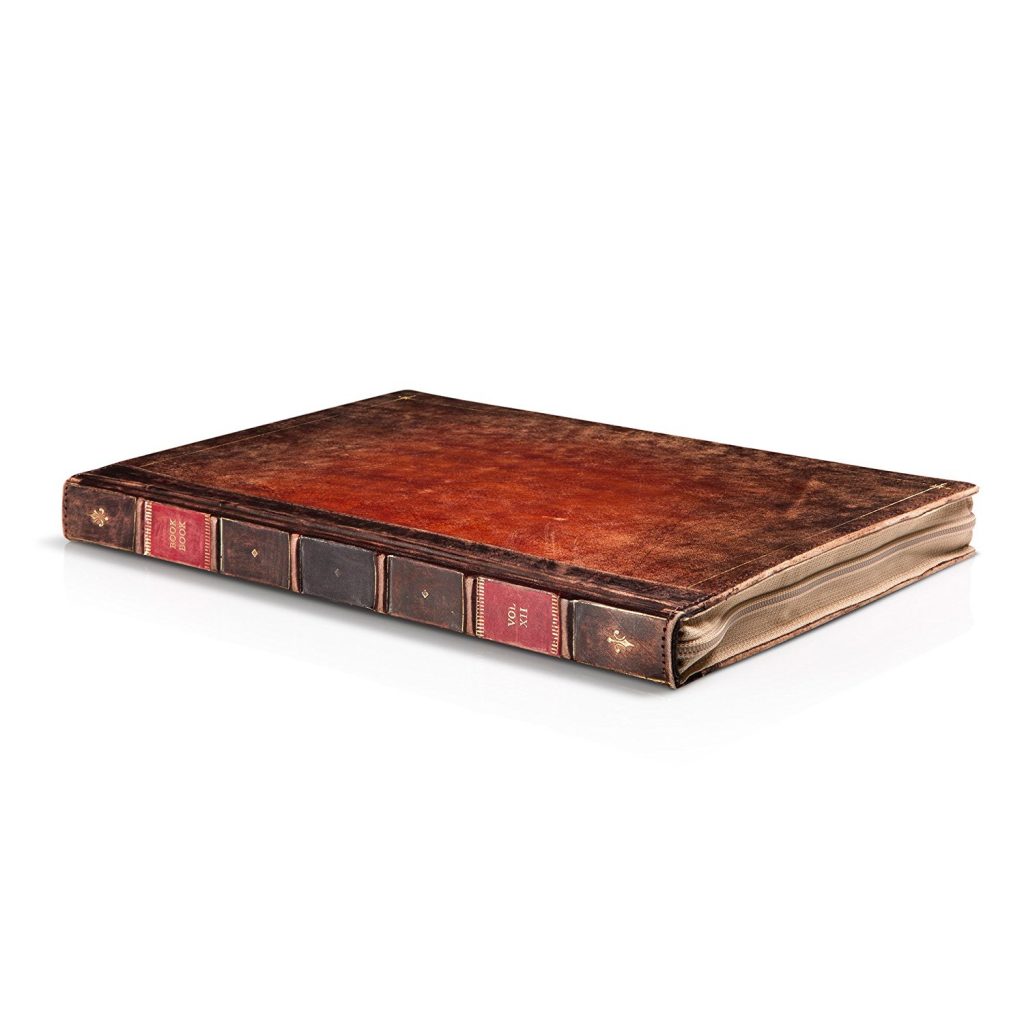 The perfect gift for nerds and those who love the written word, this laptop cover is made from genuine leather which is uniquely distressed to give it that old world feel. Goes perfect will elbow patches and clever coffee cups.
Amazon Fire HD 10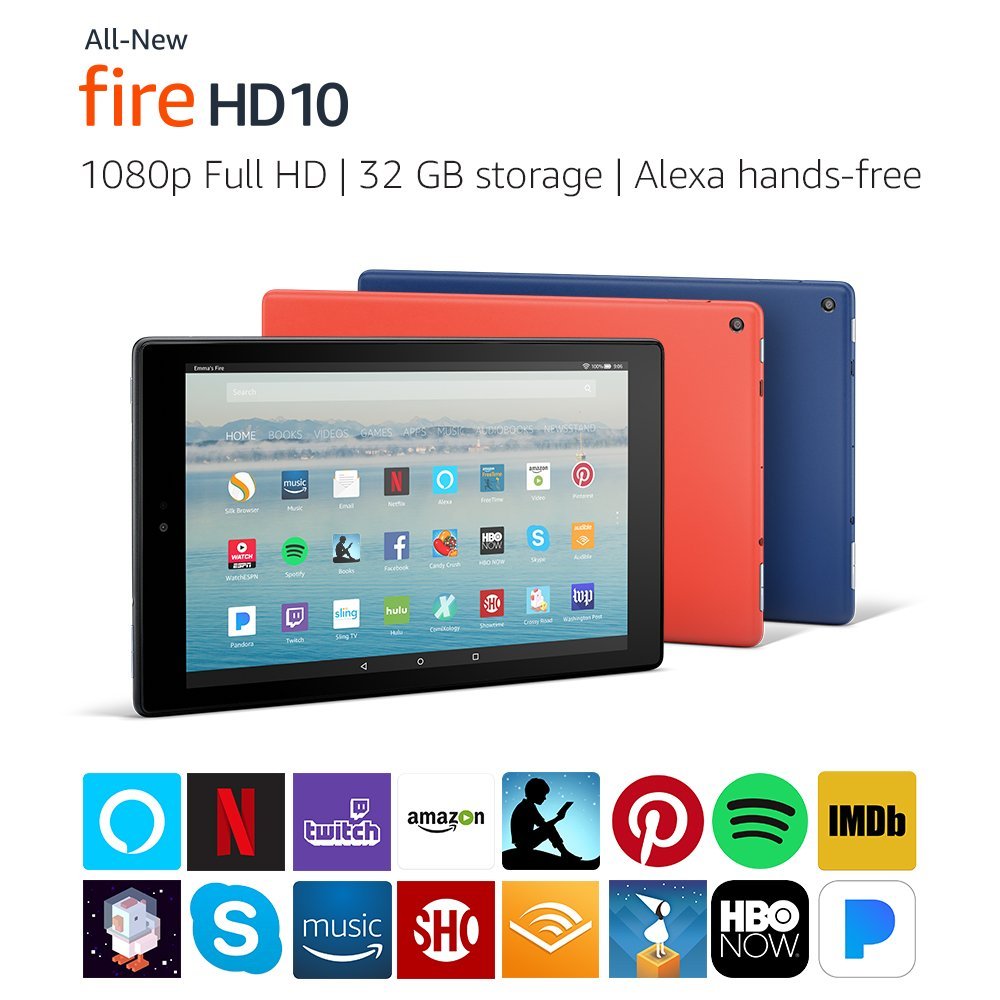 The all new Fire HD 10 is the top of the line when it comes to Amazon's range of tablets. Whether your tech geek wants to read, stream movies or TV shows, or music for hours on end this tablet delivers. It has Netflix, HBO, and Spotify, along with hundreds of thousands of other apps. Throw in 32 GB of storage and 10 hours of battery life and you have one of the most powerful and portable entertainment centers ever created.
Spock Socks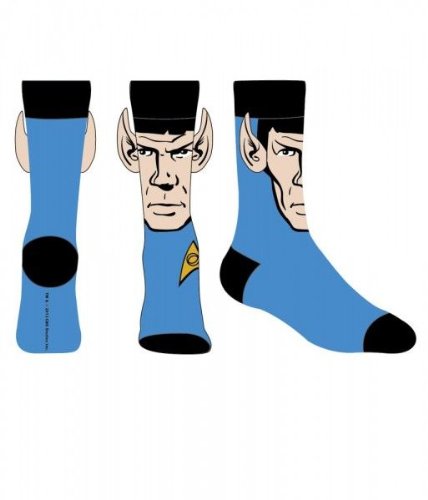 If you love Star Trek (all geeks do) then these Spock socks are an absolute must have. They even come with Vulcan ears! You're sure to live long and prosper as long as you are striding the galaxy in these socks.
Great Garden Gnome Massacre Toy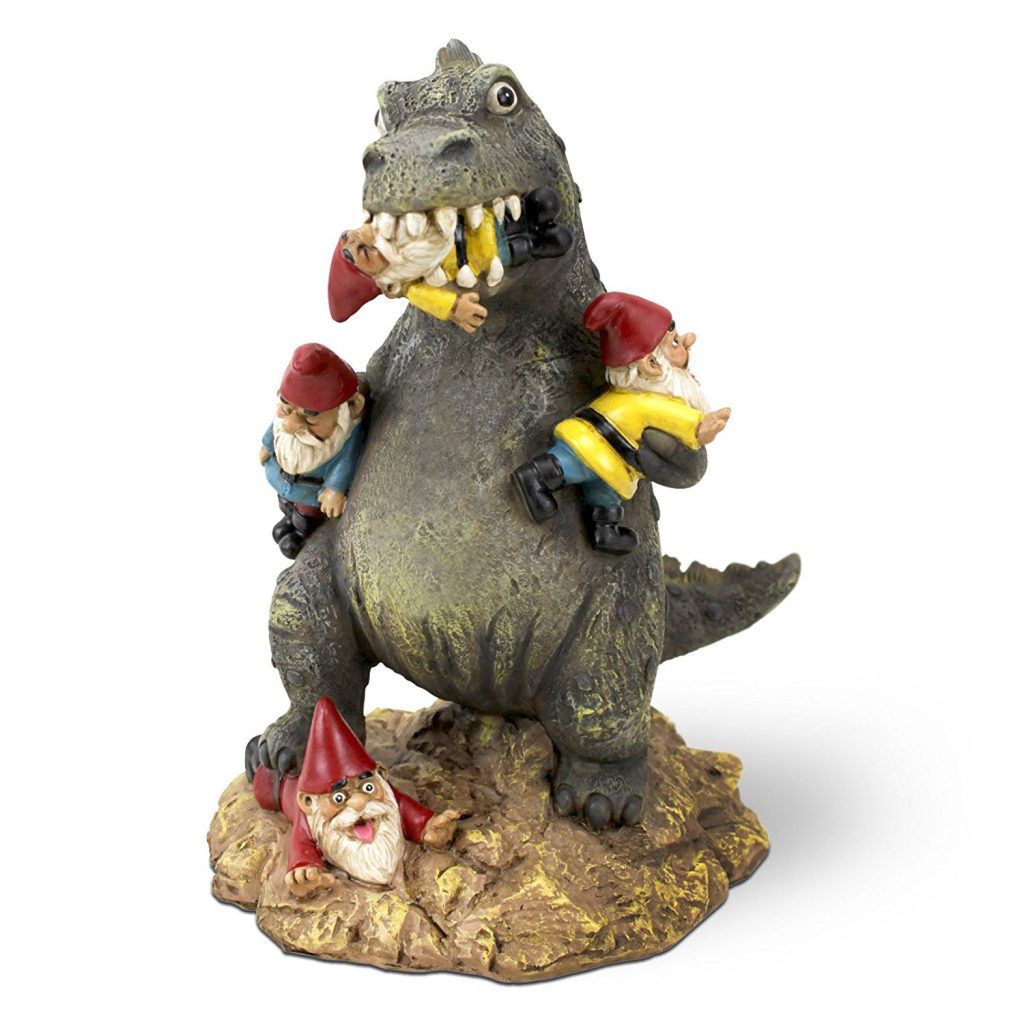 Whether it ends up in your garden, or, preferably, on your desk this is one massacre you will enjoy looking at every single day of the year.
Bose SoundSport Wireless Headphones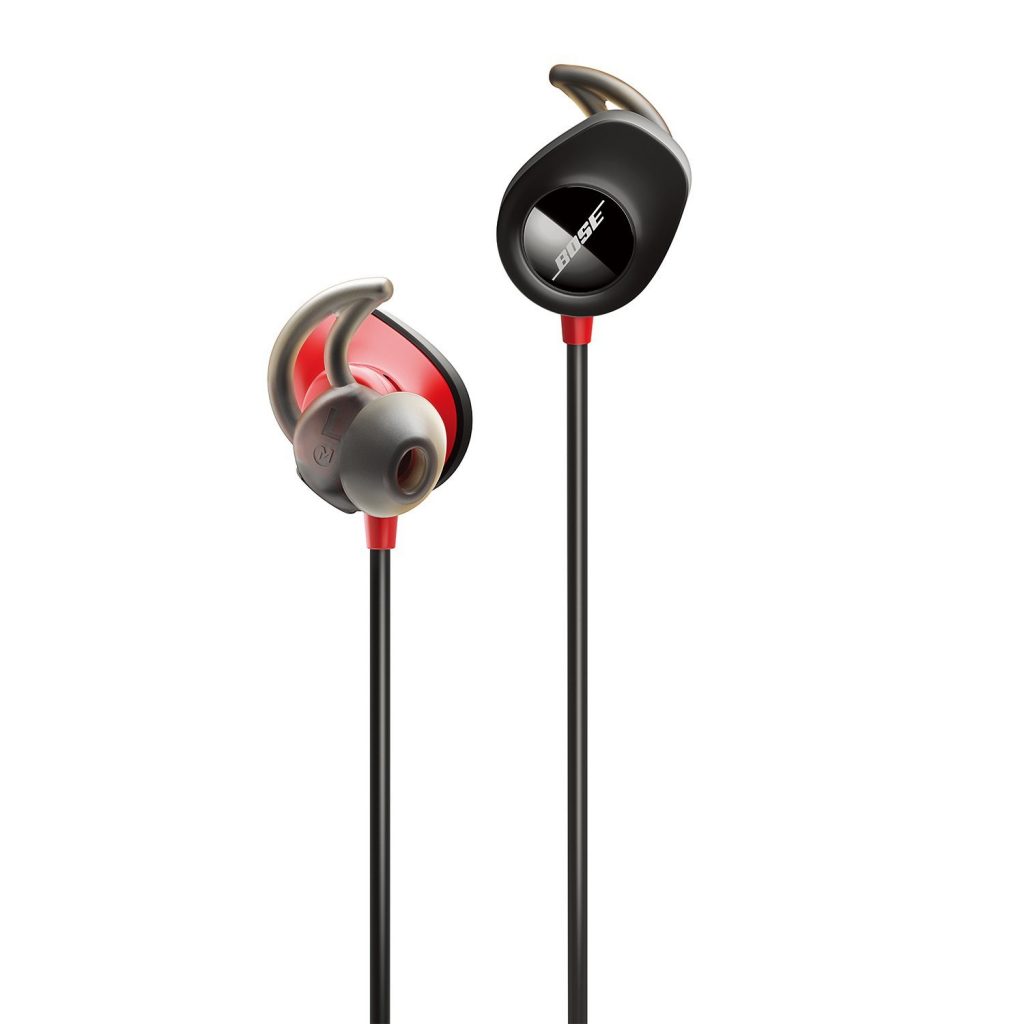 These wireless headphones are excellent for anything ranging from a light jog to an intense workout. They will stay comfortably in place during sprints and can be taken out in the rain without a second thought. Bose knows cool tech, and any gadget enthusiast will know you chose well when they unwrap their gift and see these.
Doctor Who Sonic Screw Driver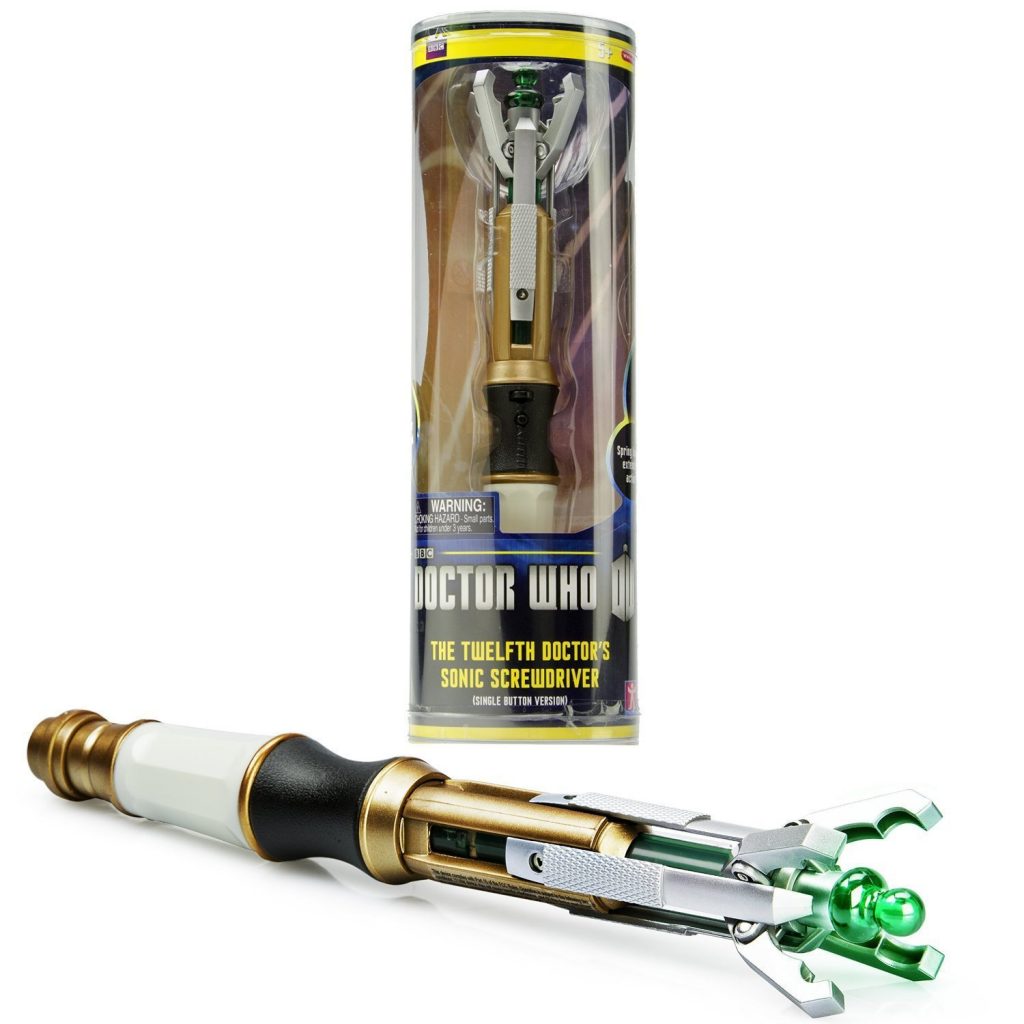 In any year and in any universe the Doctor's Sonic Screw driver is always highly coveted and sought after. For fans of this long running series this will be an excellent and welcome addition to their collection!
Balrog Action Figure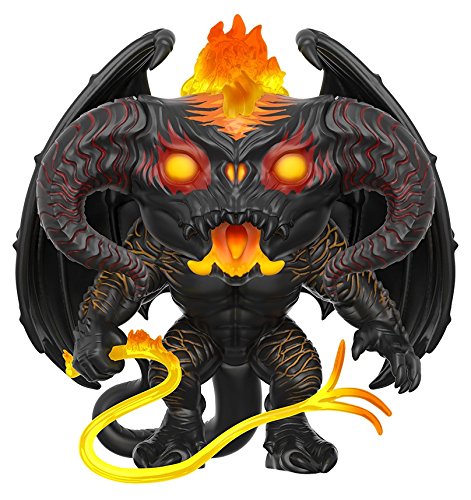 I have a special love for the demonic and took a break from attempting to conjure them when I found that Funko Pop was releasing this new Balrog toy from the Lord of the Rings. This will make an excellent surprise gift for anyone who loves the works of J R R Tolkien.
Infinite Dungeon Corridor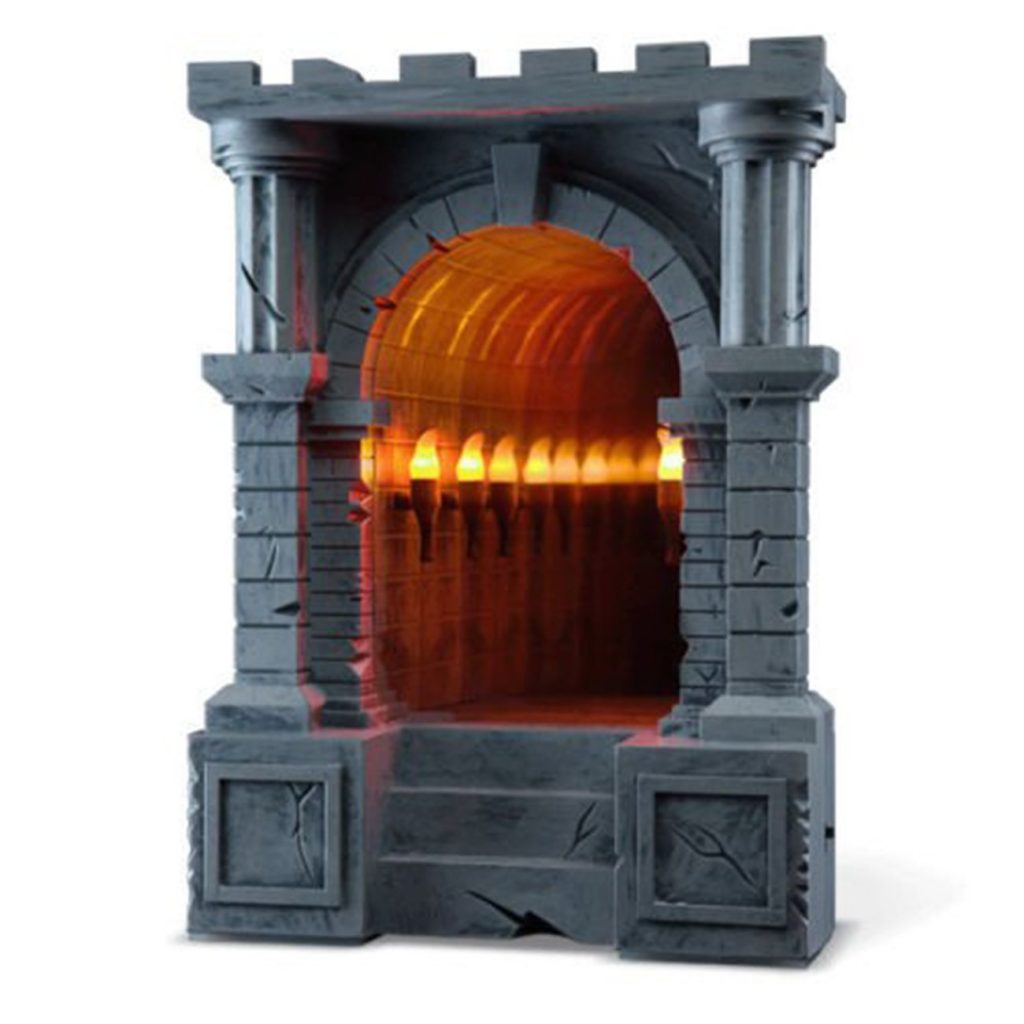 Whether you are looking to add a little spooky ambiance to your evening Dungeons and Dragons sessions, or if you are simply trying to enhance your favorite den of geek (or hey, an office desk) the Infinite Dungeon Corridor is the statement piece you've been searching for. Pairs nicely with the Balrog.
Three Sloth Moon T-Shirt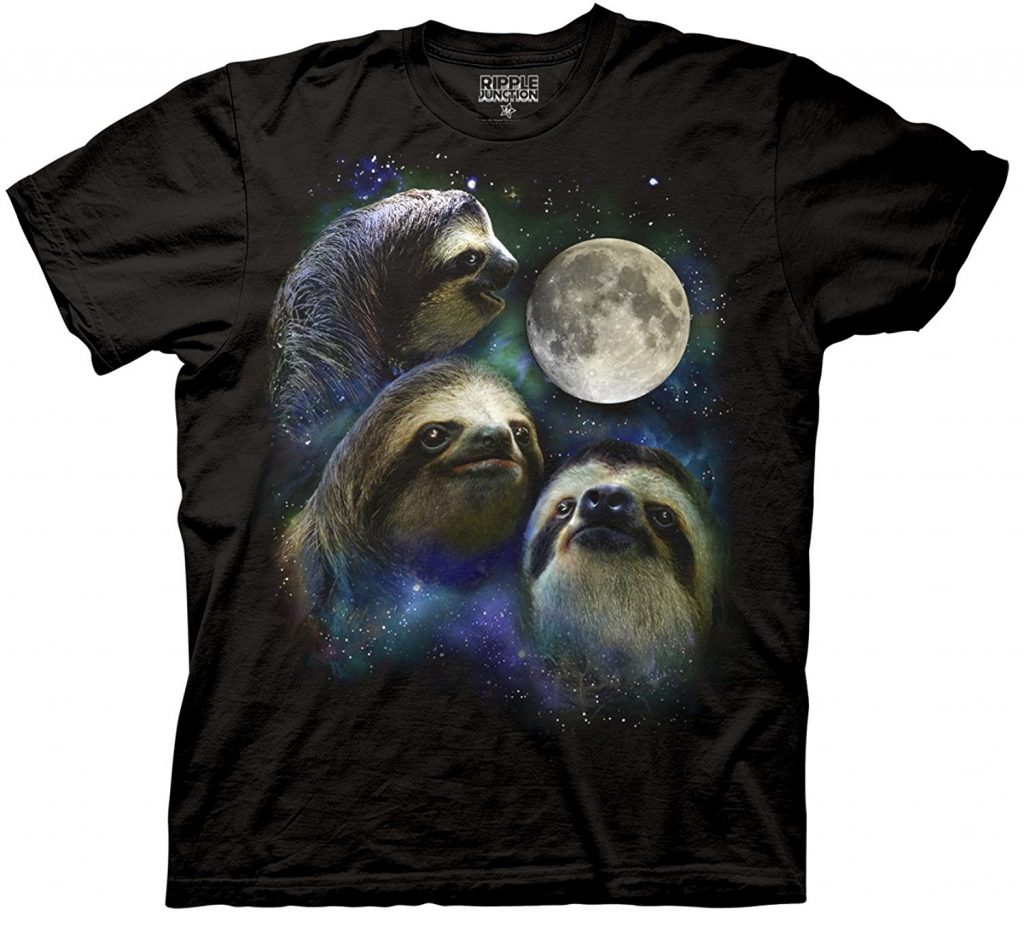 Three wolf moon was one of the greatest internet meme t-shirts to ever bless geekdom. Enjoy a soda-drenched day of gaming and Netflix in this equally hilarious Three Sloth Moon shirt, or don it for your next geeky gathering.
Bose SoundLink Portable Bluetooth Speakers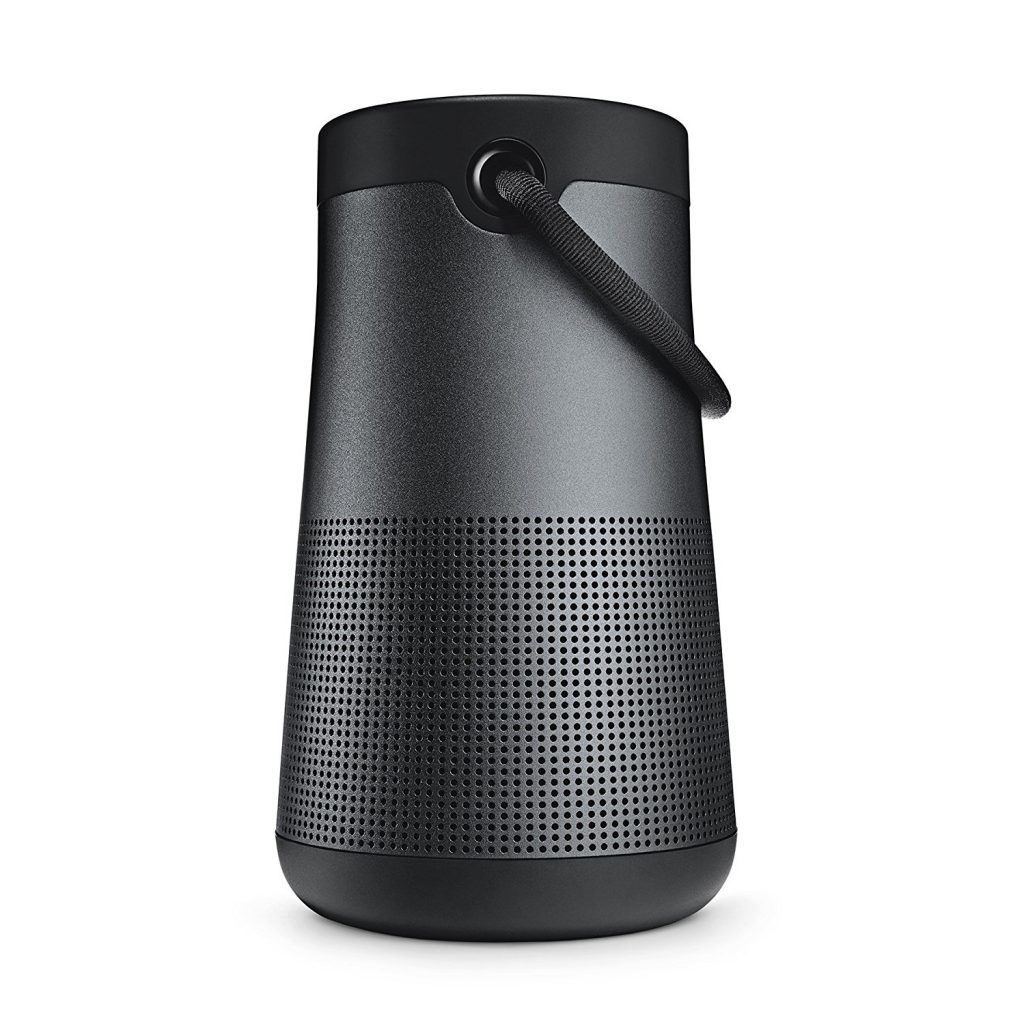 This top-rated Bluetooth speaker from Bose is definitely on someone's wish list this year (maybe even yours!). Durable and water resistant, you won't have to worry about leaving it on the table next to open drinks or when someone inevitably knocks it over. Boasting 16 hours of battery life and a rechargeable lithium-ion battery, the Bose SoundLink will be a reliable companion for years to come. The fabric handle makes it easy to grab at a moment's notice and move to another room along with the rest of the party so you can keep the music and good times flowing.
Diamond Steve Minecraft Toy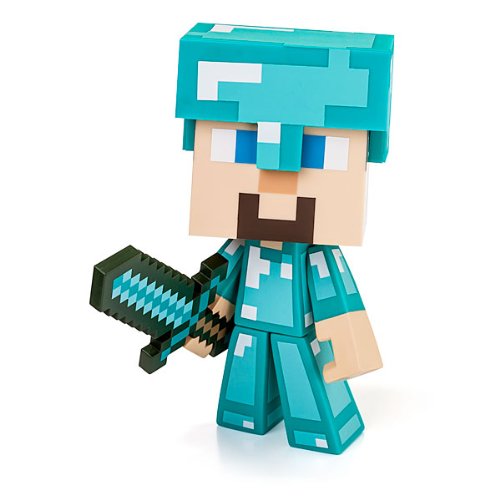 The wildly popular game Minecraft is sure to have at least one fan in your circle of friends. It's a perfect geeky addition to place on a desk near the monitor or near the gaming area at home.
When the DM Smiles It's Already Too Late T Shirt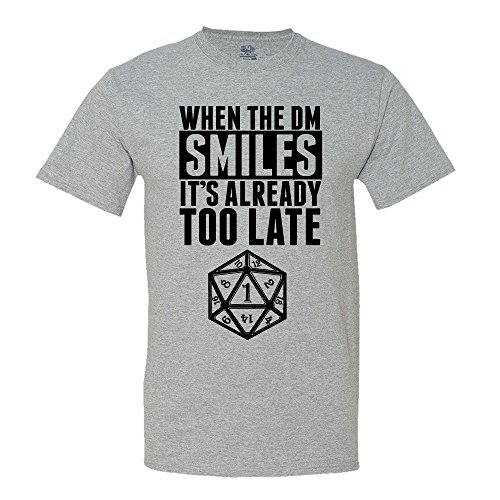 This is an essential that should be hanging in any geek's closet. It's perfect for any evening board game with friends, especially if its AD&D or just lounging about watching your favorite sci-fi and fantasy shows.
Star Wars Science Multicolor Room Light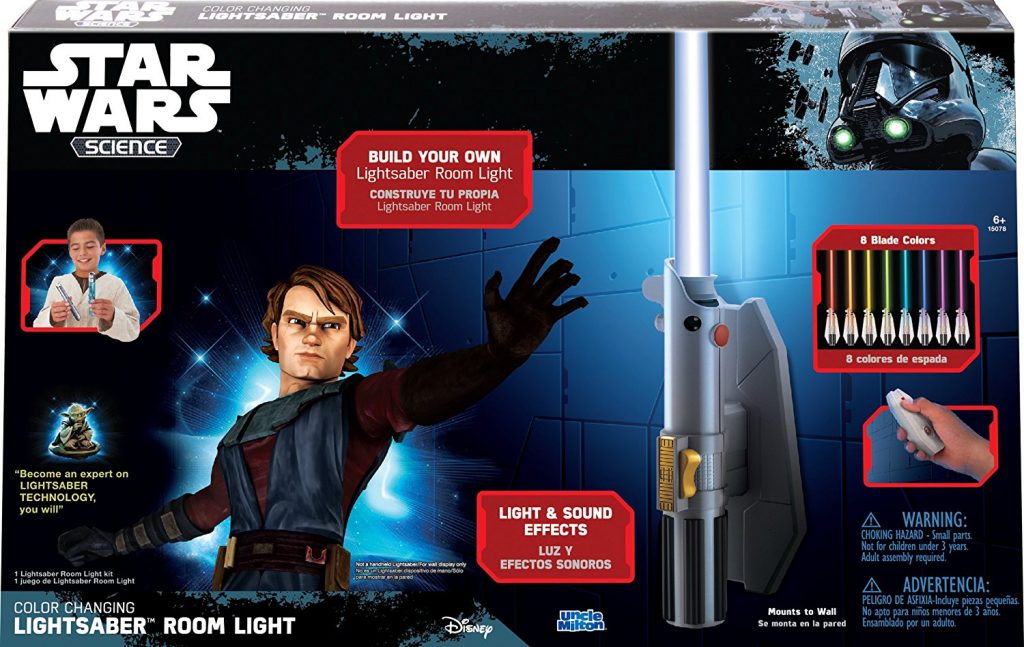 Embark on the quintessential Jedi's journey as you construct your very own lightsaber. Chose from a variety of colors or opt for the multicolor mode to illuminate your room.
Mjolnir – Thor's Hammer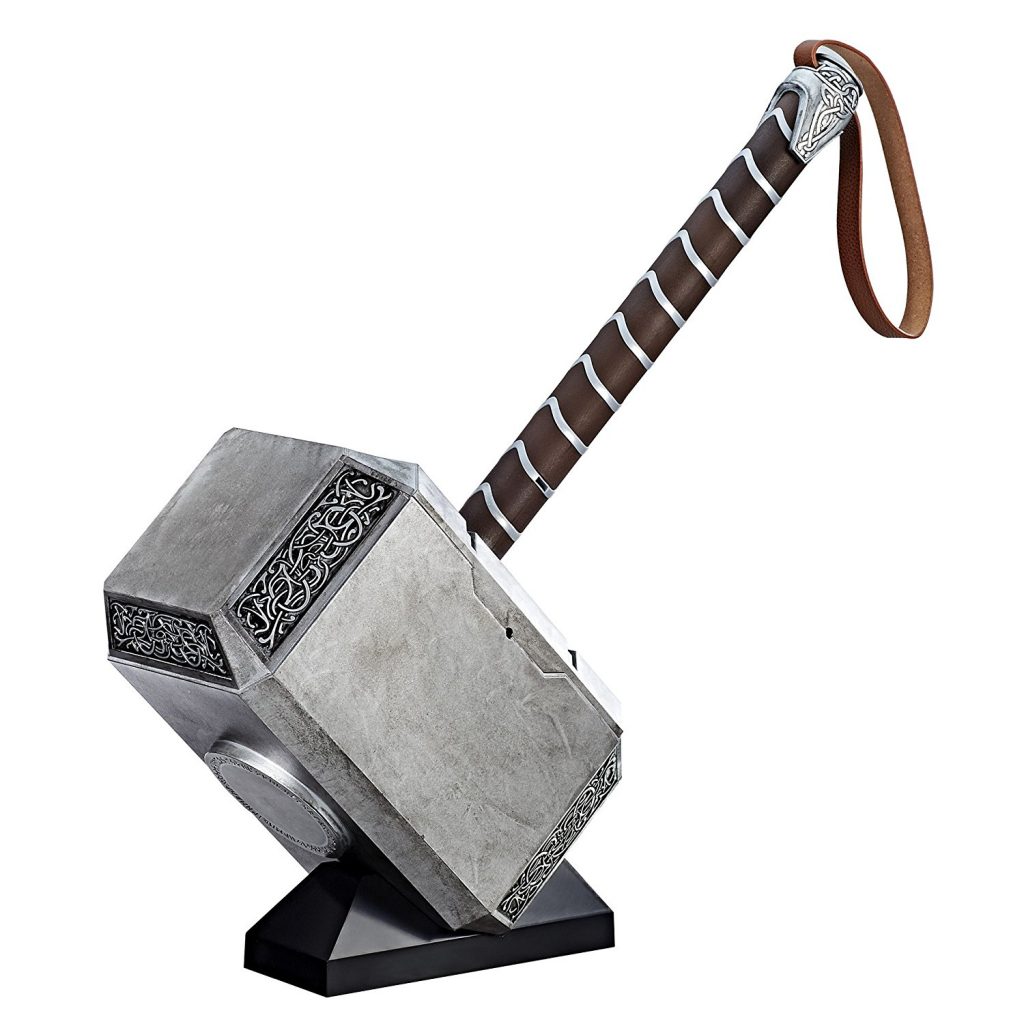 Feel like dropping the hammer on someone for real? Now you can, just like the mighty Norse god with flowing blonde locks. This is a perfect toy for any fan of the Avengers movies.
Falling Bookends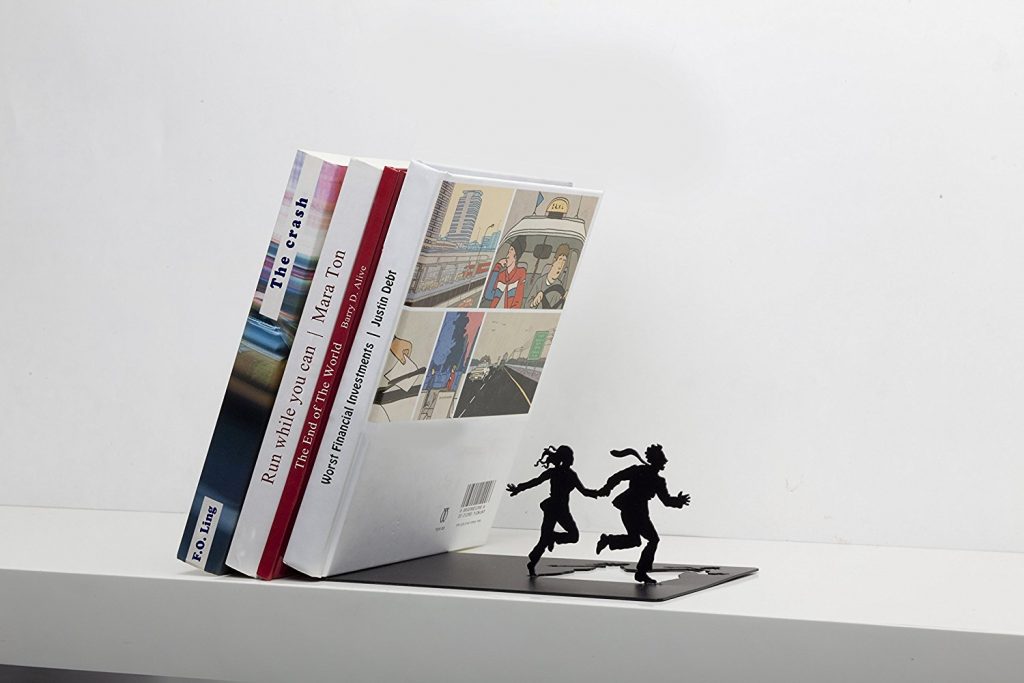 This is one of those excellent gifts for book lovers sure to be loved by whatever geek receives it.
Help your favorite nerdy companion add an extra bit of cleverness to their bookshelf with these incredible unique bookends.
Giant Gummi Bear Skeleton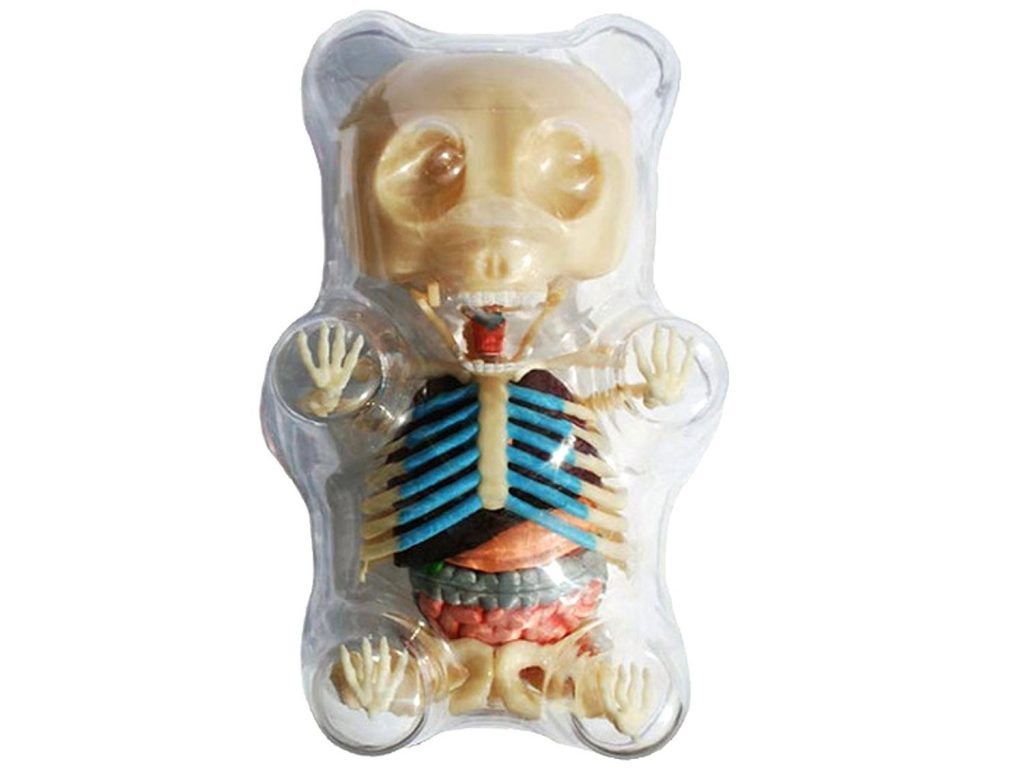 Dive into anatomy with this scientific puzzle shaped like a Gummi Bear.
Back to the Future 30th Anniversary Trilogy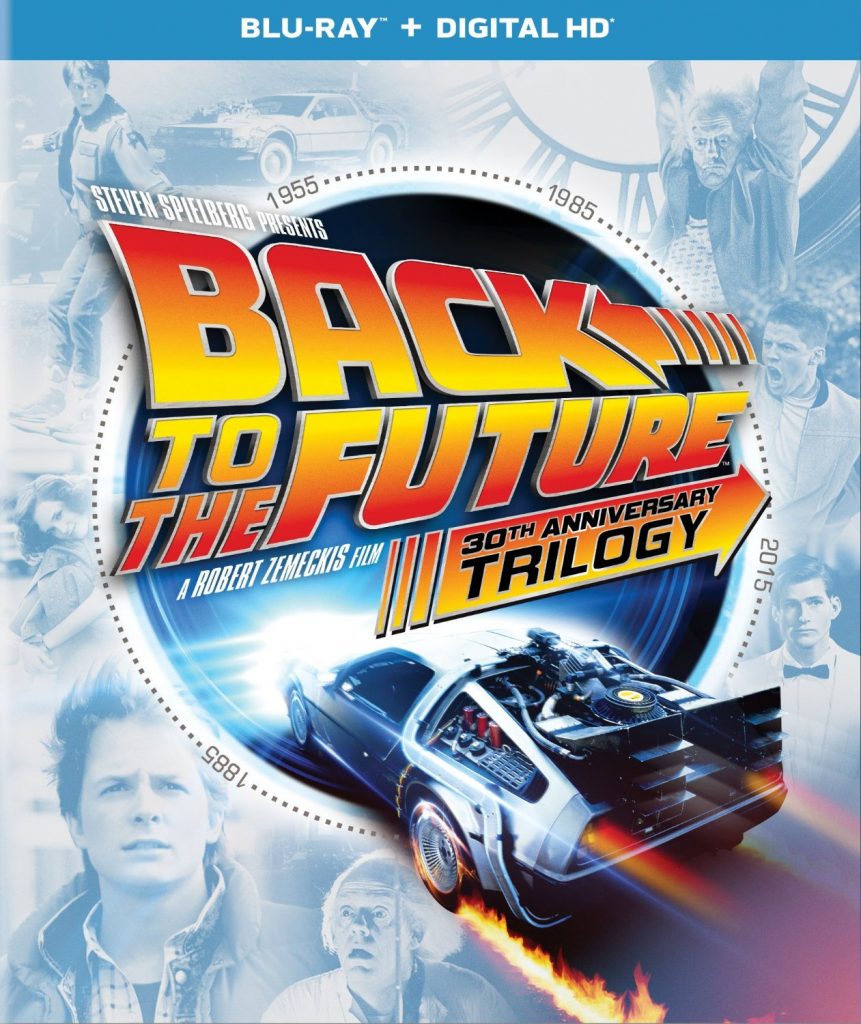 Gift an all-time classic that will have a special place in the heart of any geek who loves science. This indelible futuristic science adventure is a geeky essential and will make a great addition to any movie collection.
USS Star Ship Enterprise Bottle Opener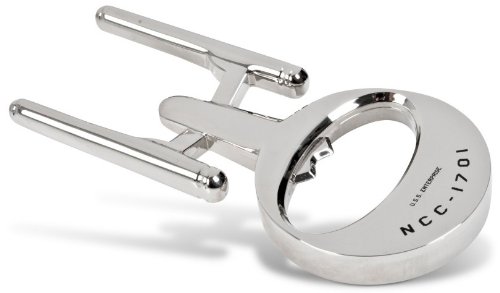 What's the best way to open any bottle anywhere? With a Star Trek bottle opener of course. It's only logical.
Samsung Gear 3 SmartWatch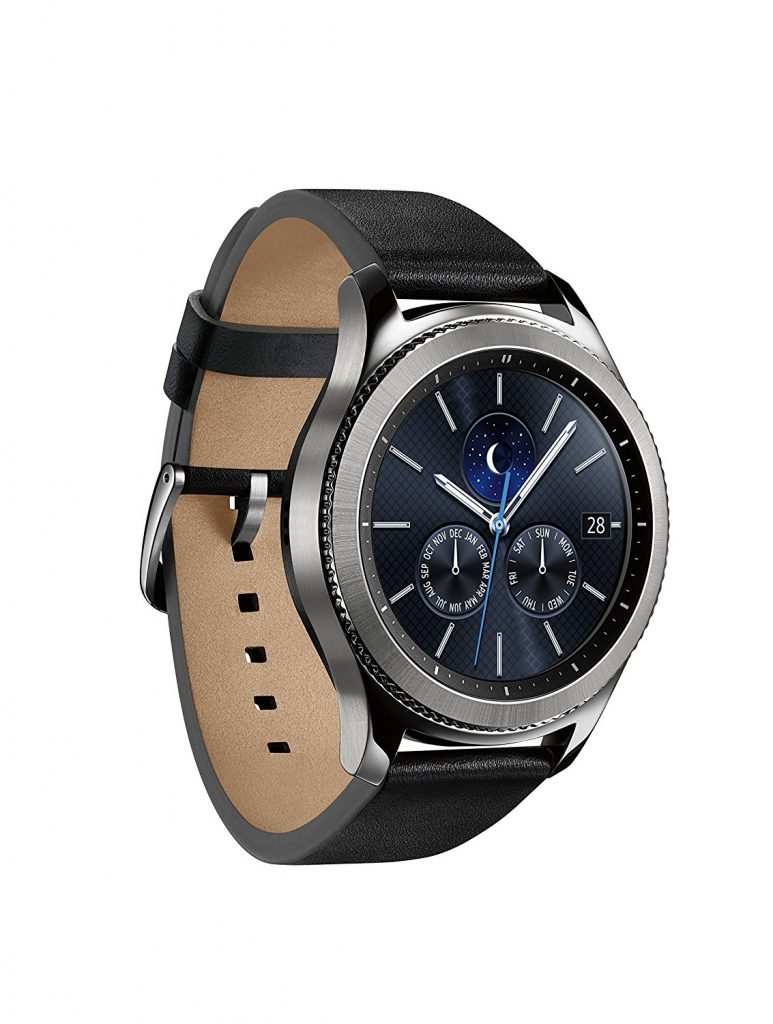 Apple and Samsung seem to be locked in an epic battle to win the opportunity to be your go-to gadget vendor. One of these great clashes is in smartwatches. And Samsung is delivering. The new S3 is resistant to water, dust, and extreme temperatures after being outfitted with military grade technology. You can opt for the spacey and minimalist watch face or choose from hundreds of others all to match your personal style. It's racking up rave reviews on Amazon and your special someone (hey even if it's you) is going to rave about it too.
Zombie Garden Gnome Toy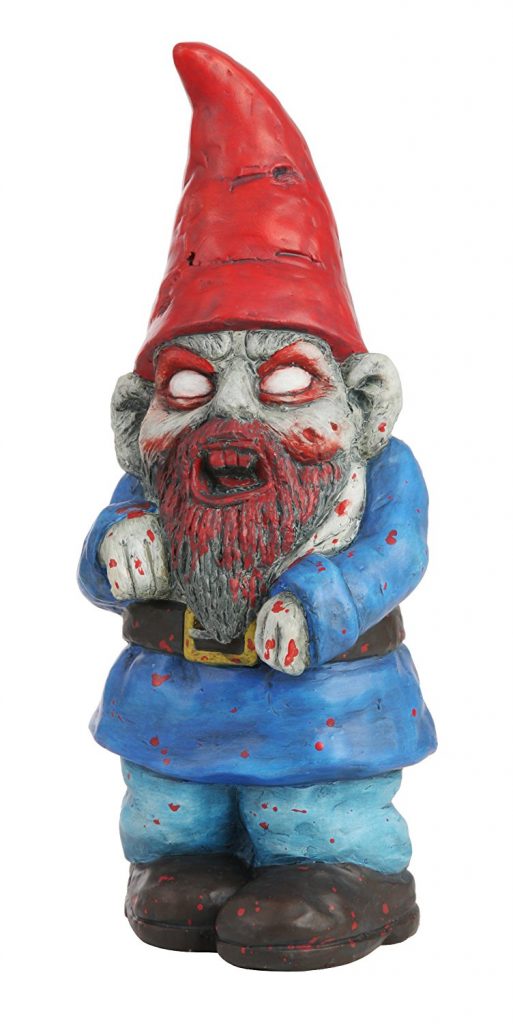 For anyone who loves the Walking Dead or just zombies in general this geeky gift is sure to get a few chuckles.
Disappearing Dinosaur Mug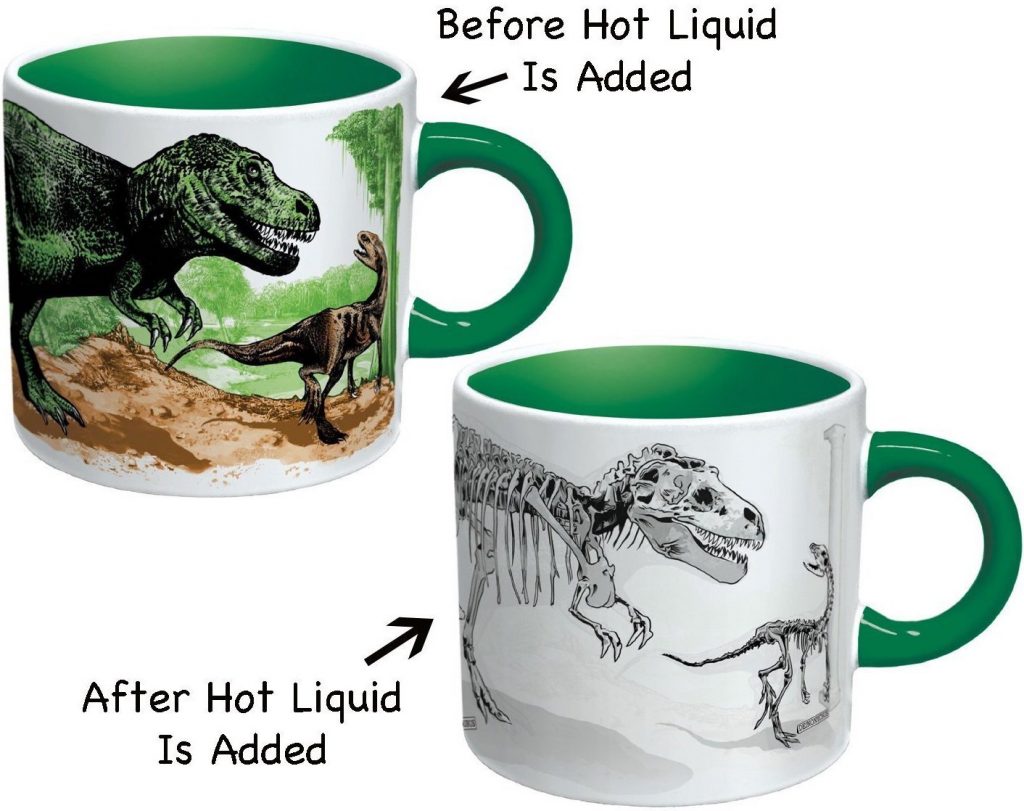 A great cup of coffee is only as great as the conversation it starts and the wry pleasure you or your friends get from basking in its humorous observations. For the geek who enjoys science or, like me, just has an appreciation for extinctions and apocalypses, the Disappearing Dinosaur coffee mug is sure to be a hit. Just like that meteor.
Valhalla Coffee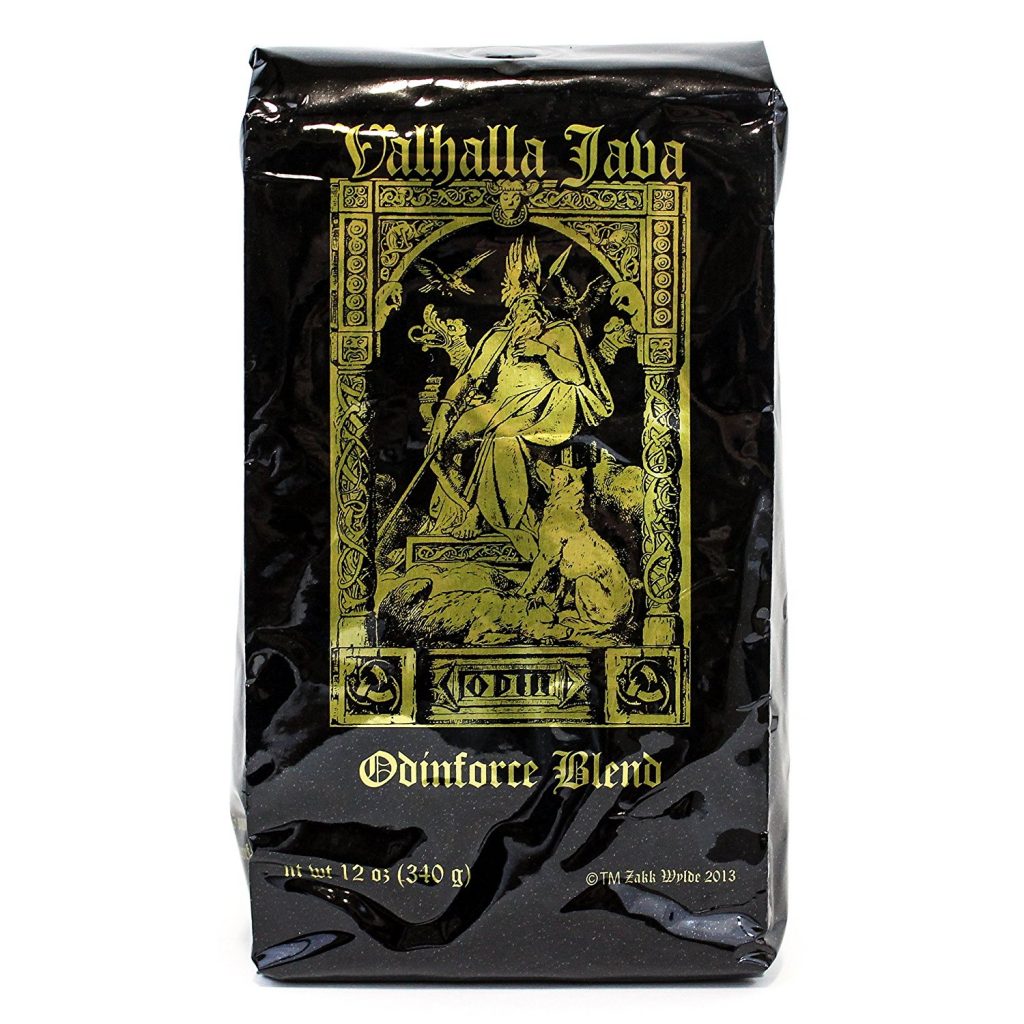 You need to stay caffeinated whether it's to power through the next boss mob on your favorite MMORPG or the next Star Wars or Harry Potter episode in your movie marathon. And for that, there is no better substitute than this potent elixir of brewed black magic.
HypnoCube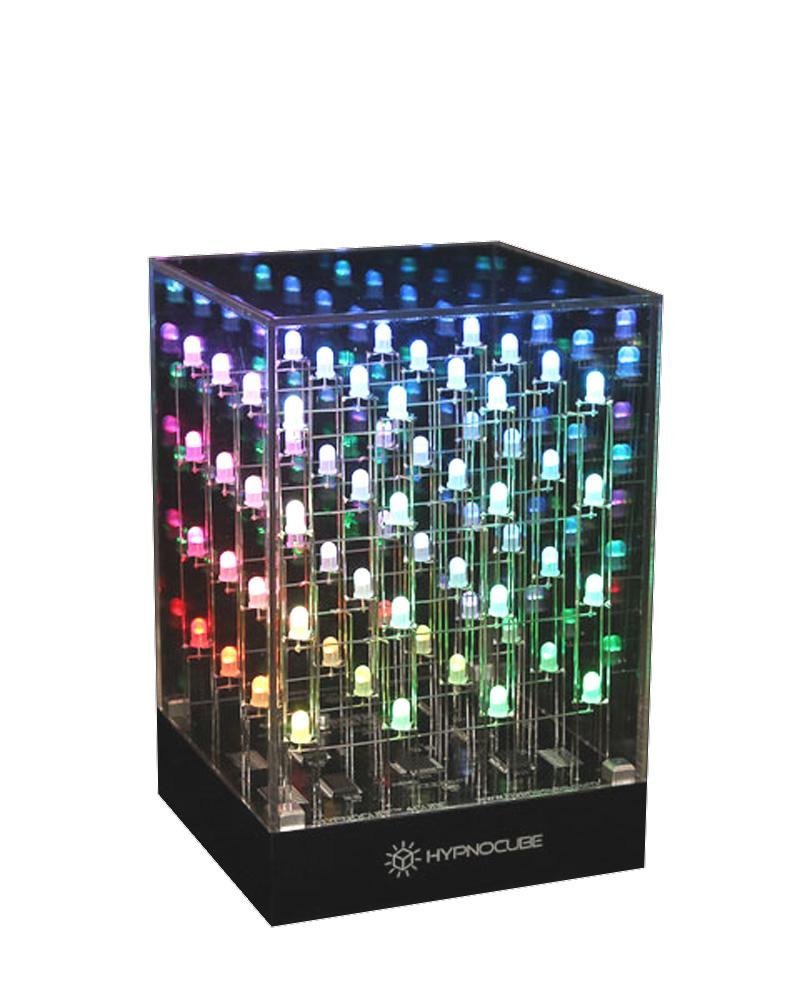 Not as cool as Futurama's HypnoToad but equally as enthralling is this LED HypnoCube. Bask in its radiant glory as it changes colors. The gizmo loving geek will thank you endlessly for this—if they can stop staring at the glowing shifting colors that is.
Star Trek Enterprise Pizza Cutter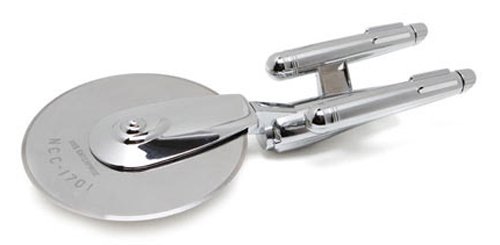 Geeks and pizza go together perfectly. Now you can slice your favorite pie with the accuracy of a Vulcan and the swagger of the captain of the Star Ship Enterprise.
Bag of Holding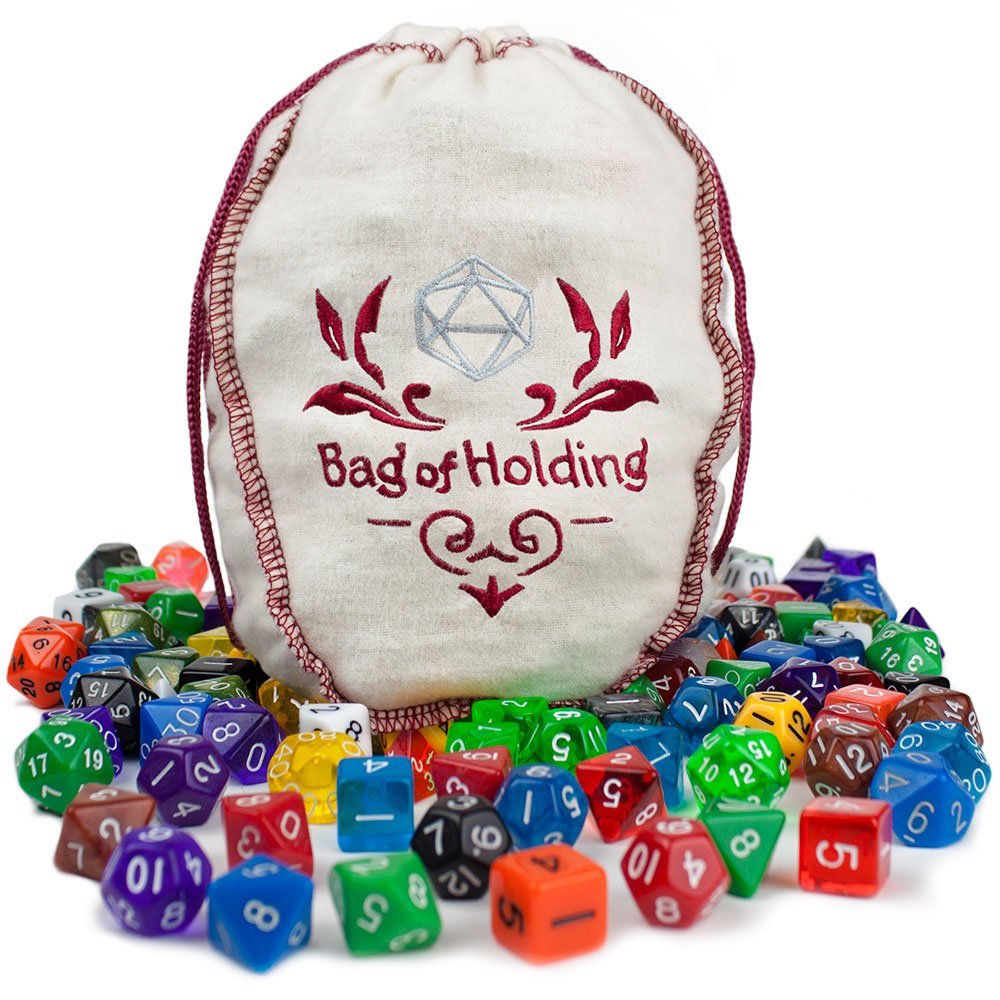 You and your favorite geeks play Dungeons and Dragons right? Or at least an impressive array of board games for adults I hope. This Bag of Holding is a clever and essential way to transport and store your precious loot.
Steampunk Dice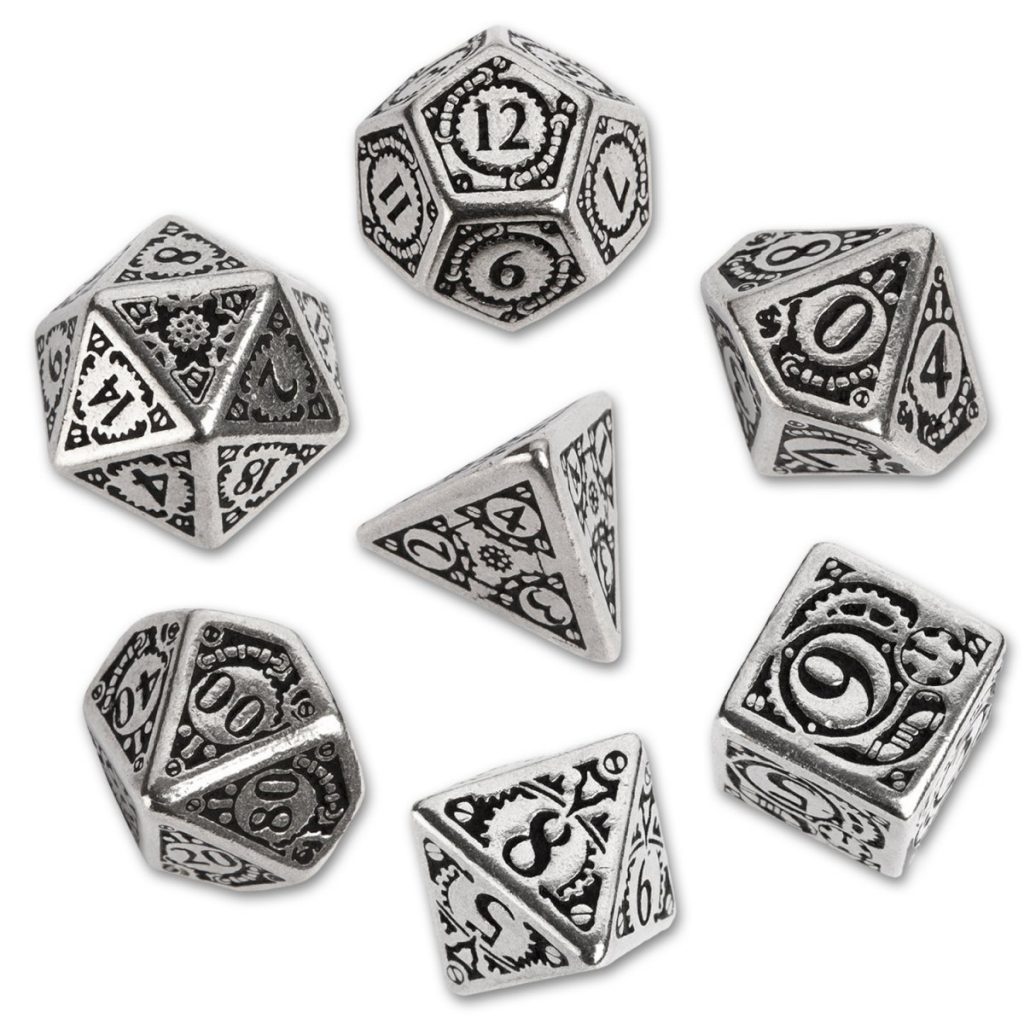 There are literally hundreds of insanely awesome dice sets for serious board gamers, but none come as close to sheer awesomeness as these Steampunk ones.
Minecraft Foam Diamond Sword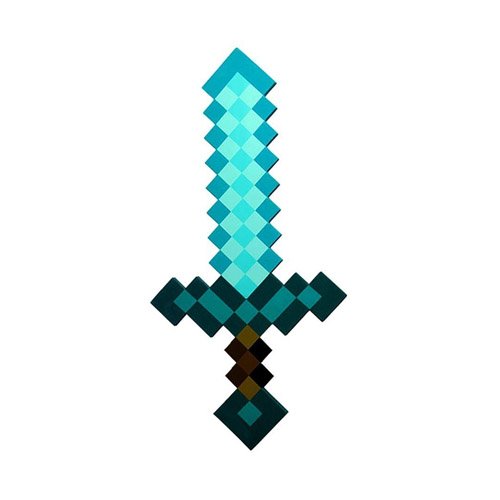 Someone you know loves Minecraft and while they might have many things, the one thing missing from their life is this excellent and officially licensed Minecraft Diamond sword. They will thank you endlessly and potentially give you a few things from their online stash for being so awesome.
Women in Science: 50 Fearless Pioneers Who Changed the World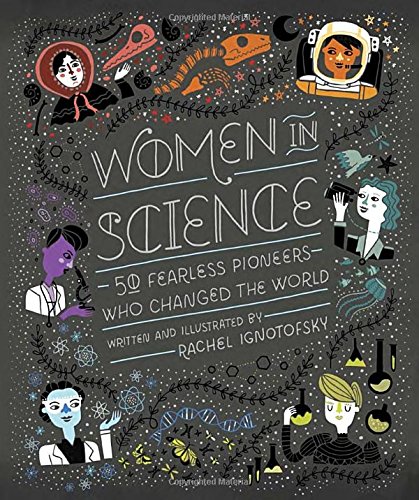 This thrilling catalogue of 50 trailblazing women contains their remarkable stories accompanied by eye-catching illustrations. Budding scientists will adore this present.
LumiSource Spilling Paint Desk Lamp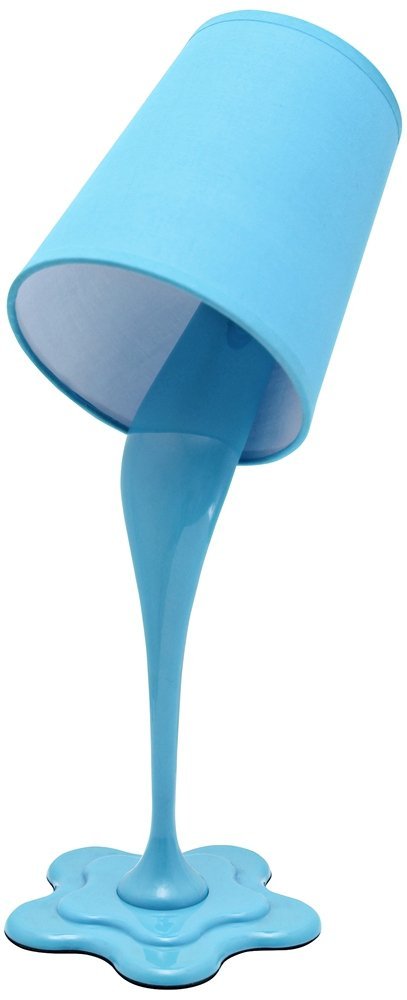 This quirky desk lamp is perfect for nerdy designers and can add a fun and whimsical feel to any room in your home.
Groot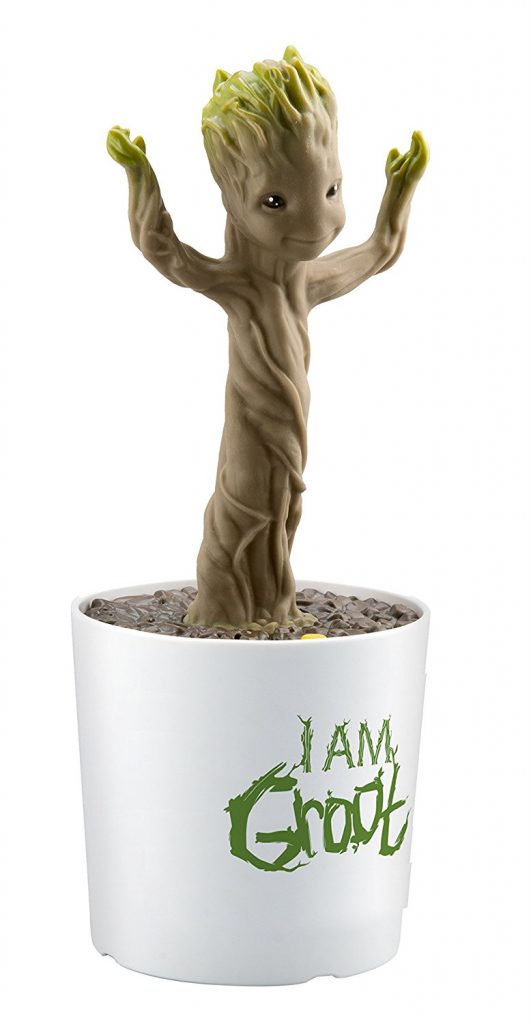 When Guardians of the Galaxy first took over theaters the hearts of geeks everywhere fell for Groot. Now you can take the playful tree with you anywhere and plop him down next to your laptop at home or on your desk at the office.
Wonder Woman FUNKO POP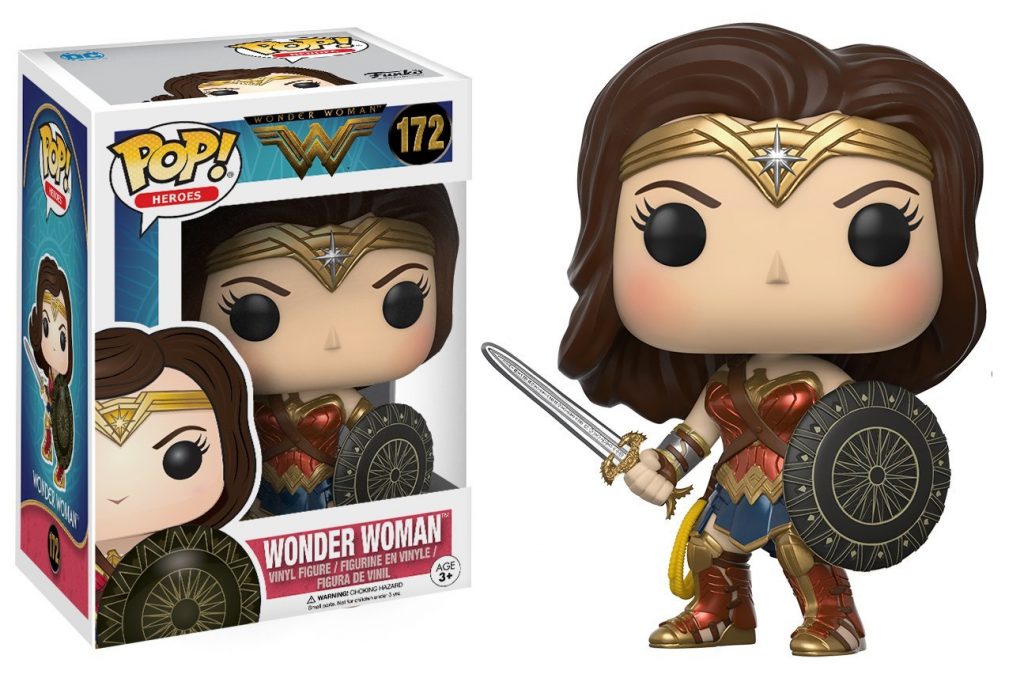 An excellent toy from one of this year's best movies. Now Wonder Woman can stand by your side as you battle through to do lists, stand guard over your favorite books, or make sure no one changes the TV when you are binging your favorite shows.
Dinosaur 3D Night Light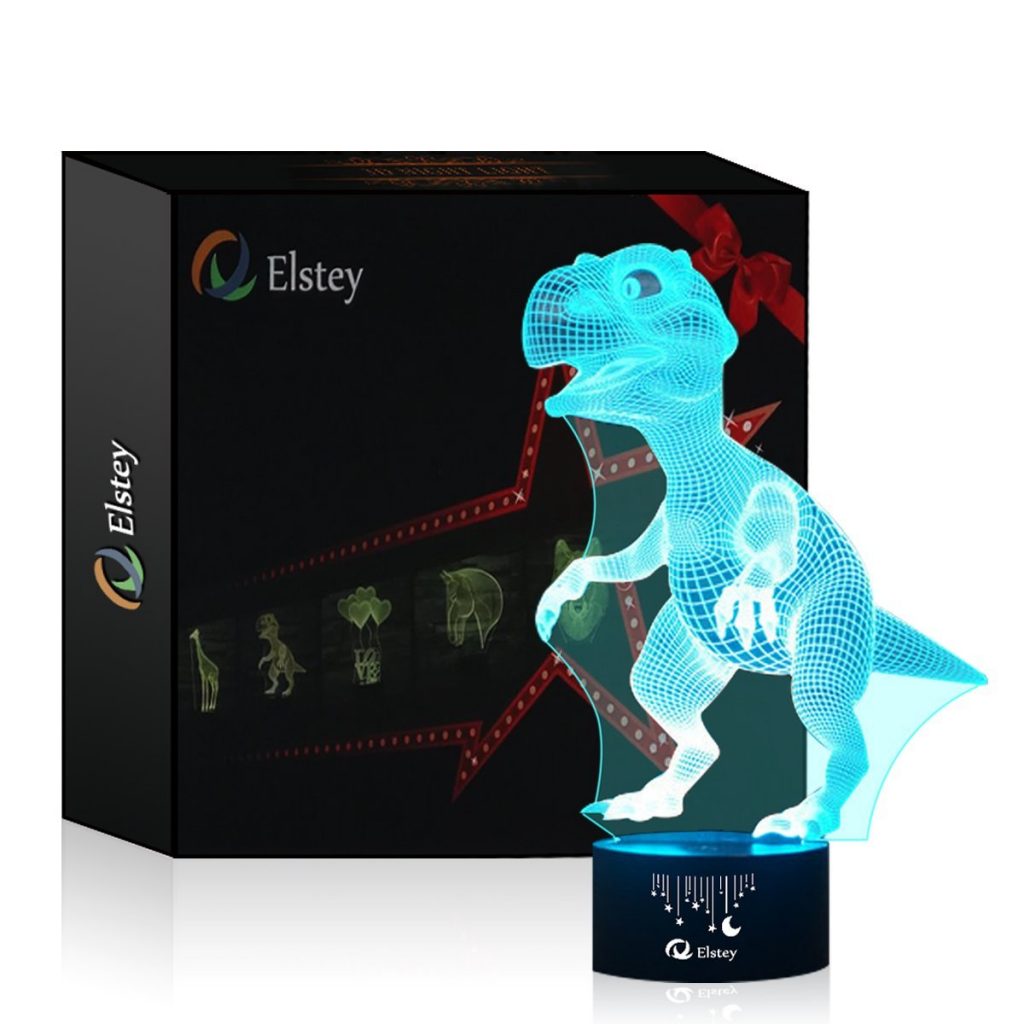 Create an incredible illumination with this 3D night light. Perfect for the bedroom of young geeks interested in science!
FOSSIL Touchscreen Smart Watch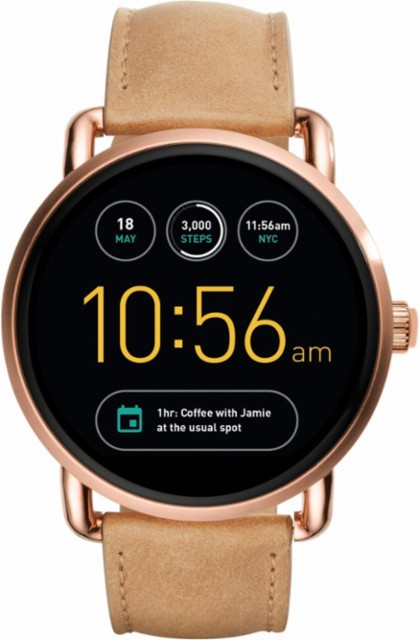 The Wander effortlessly keeps you connected with calendar reminders, emails, and texts all while tracking stats like distance traveled, step counting, and calories burned.  A variety of watch faces and band choices means you will never have to worry about finding the perfect match between this geeky gizmo and your style. Boasting 24 hours of battery life, the last thing you will need to check this watch is to see if its running low on power.
Galaxy Hoodies
Rock clothing that is out of this world. Perfect for lounging around in for a day of reading or video gaming.
Floating Bookshelves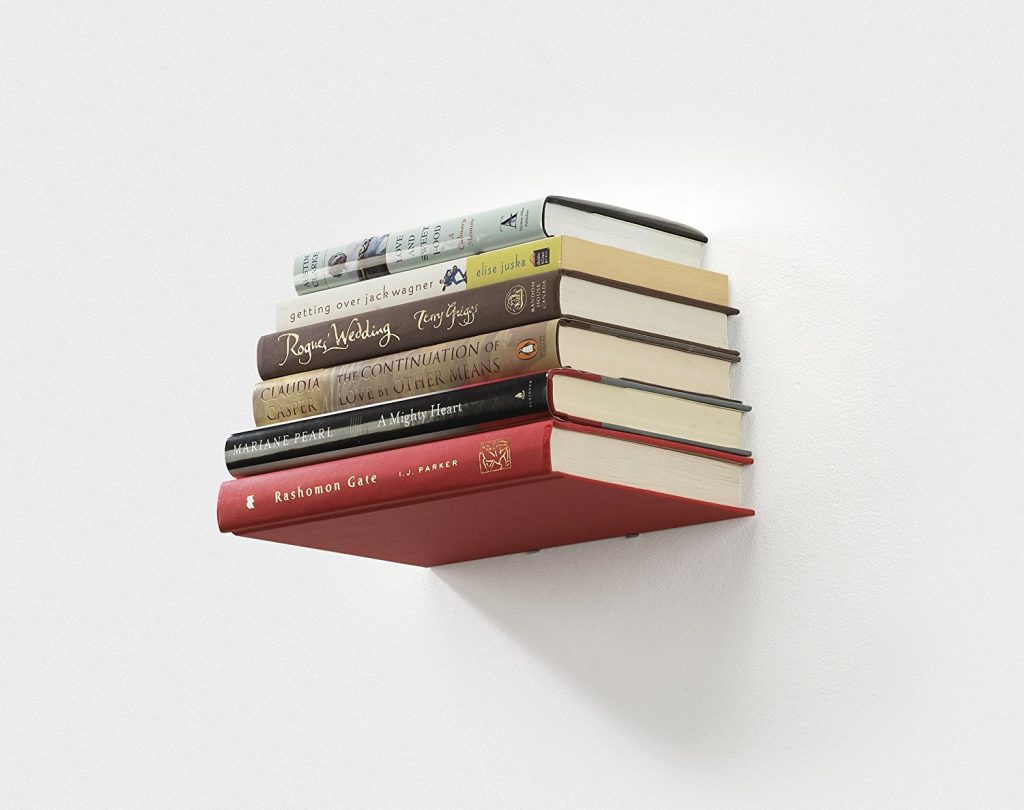 Every good geek needs a place to store their massive collection of comics, movies, or just good old fashioned books. These bookshelves can easily be mounted on your wall to create a cool floating illusion.
What If: Serious Scientific Answers to Absurd Hypothetical Questions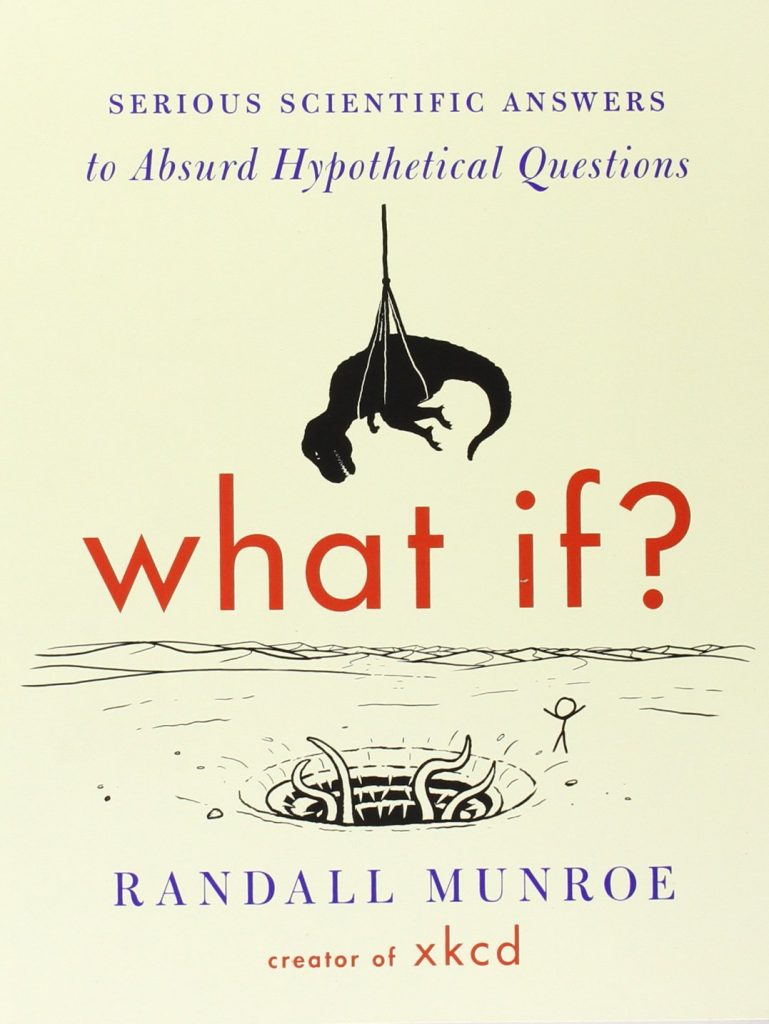 Regardless of whether or not you are familiar with the web comic xkcd, this book of absurdly hilarious hypothetical questions and their serious, scientifically backed answers is a must have. Science geeks will especially relish this tome of hilarity.