When its summer and you are working at your desk, the last thing you want to worry about is sweat dripping from your forehead. There are also those times when you just want to relax in your favorite room and enjoy a cool, silent, and refreshing breeze. Often, turning on something like a desk fan makes a lot more sense than cranking up the air conditioning and of course can save you a lot of cents as well. From ease of cleaning to the most recent technological innovations, I have found the best desk fans to keep you cool this summer.
Dyson Air Multiplier AM06 Table Fan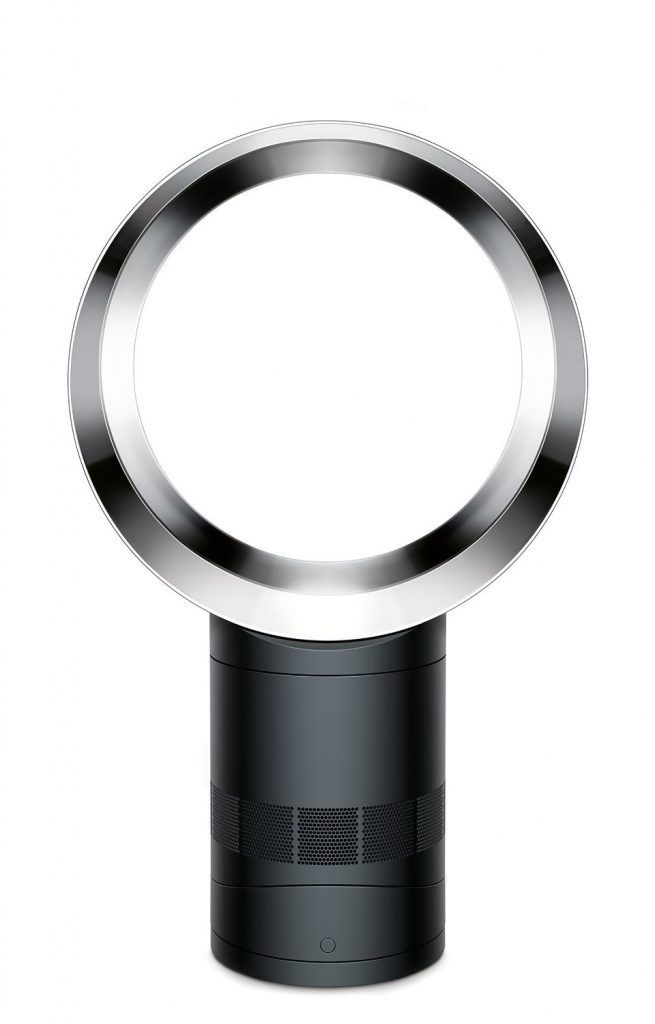 If you want the absolute best desk fan, then you must have the Dyson Air Multiplier. Not only does it have a sleek modern design, there are a whopping 10 different settings for air flow, ensuring this fan will keep you cool no matter what preferences you might have. The Dyson Air Multiplier is also quiet and cleaning will be minimal since there are no fan blades.
Rowenta VU 2660 Turbo Silence Electric Desk Fan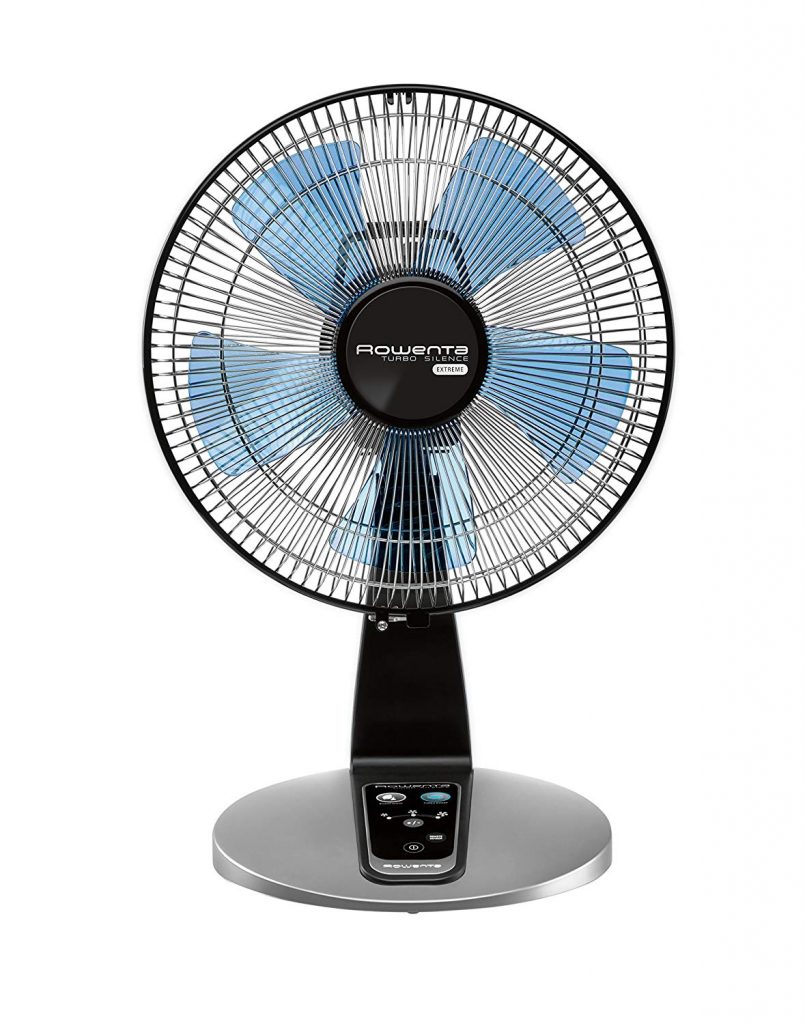 If a soothing quiet breeze is essential for your cooling needs, then the Rowenta VU2660 Turbo Silence Electric Table Fan is the best desk fan for you. It comes with 5 whisper quiet settings including the Silent Night mode which is utterly perfect for sleeping (and of course those relaxing mid-day cool naps).
Vornado VFAN Vintage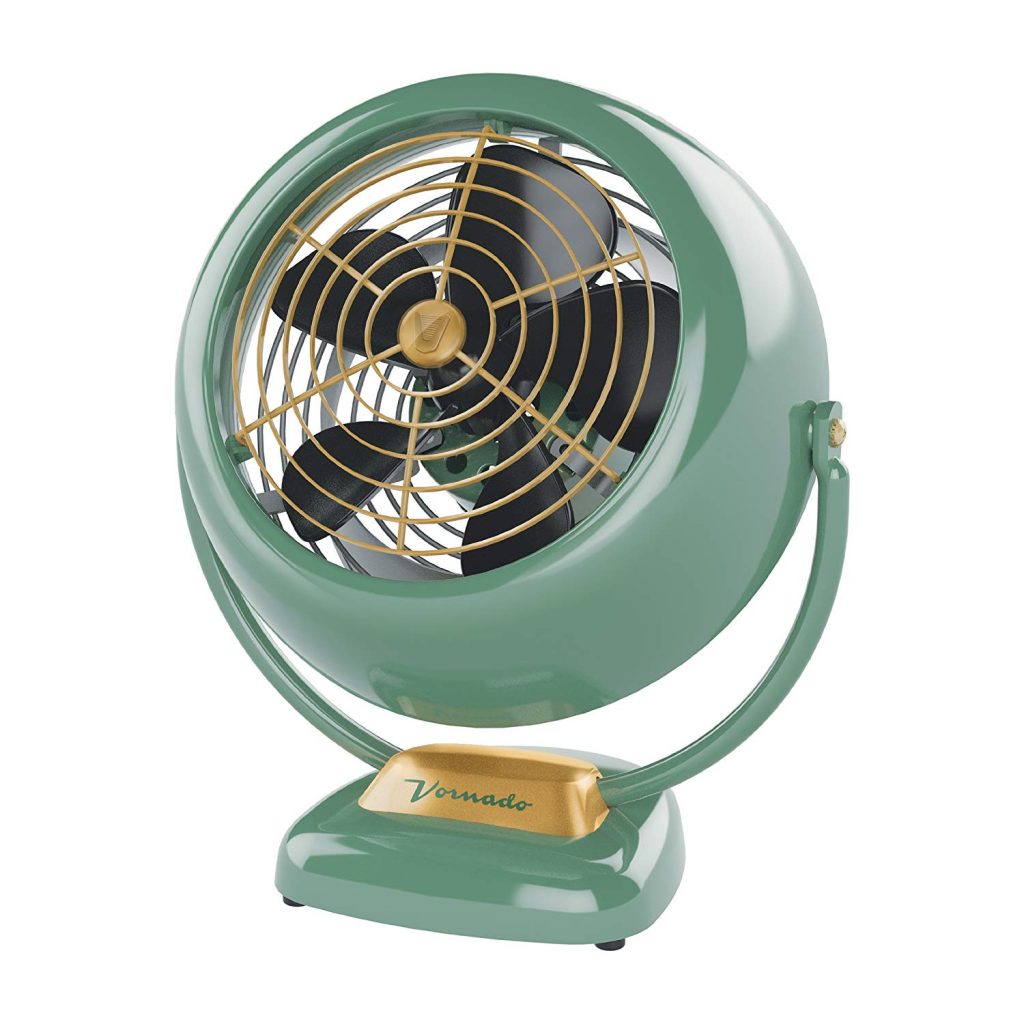 This thing is so cool! Vornado reached back into its vault to bring the world this vintage 1950s fan which became an instant best-seller. It comes in a variety of different colors from popular chrome to the Havana banana leaf green.
Vornado 630 Midsize Fan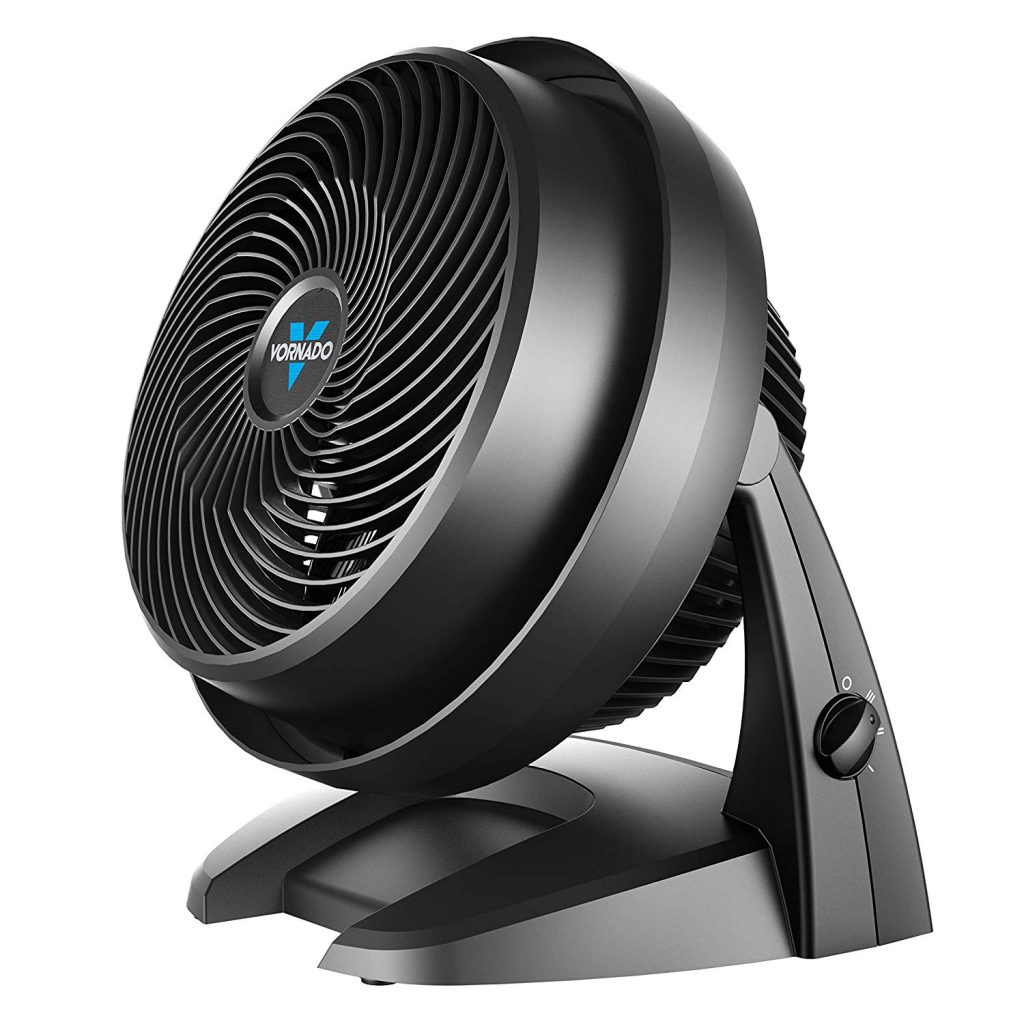 If you are looking for a fan small enough to fit on your desk but powerful enough to move air throughout the room, the best choice is the popular Vornado 630. Backed by a 5 year warranty, you are sure to have many reliable cool summers if you pick this up.
PureFlow QT7 Bladeless Oscialltion Fan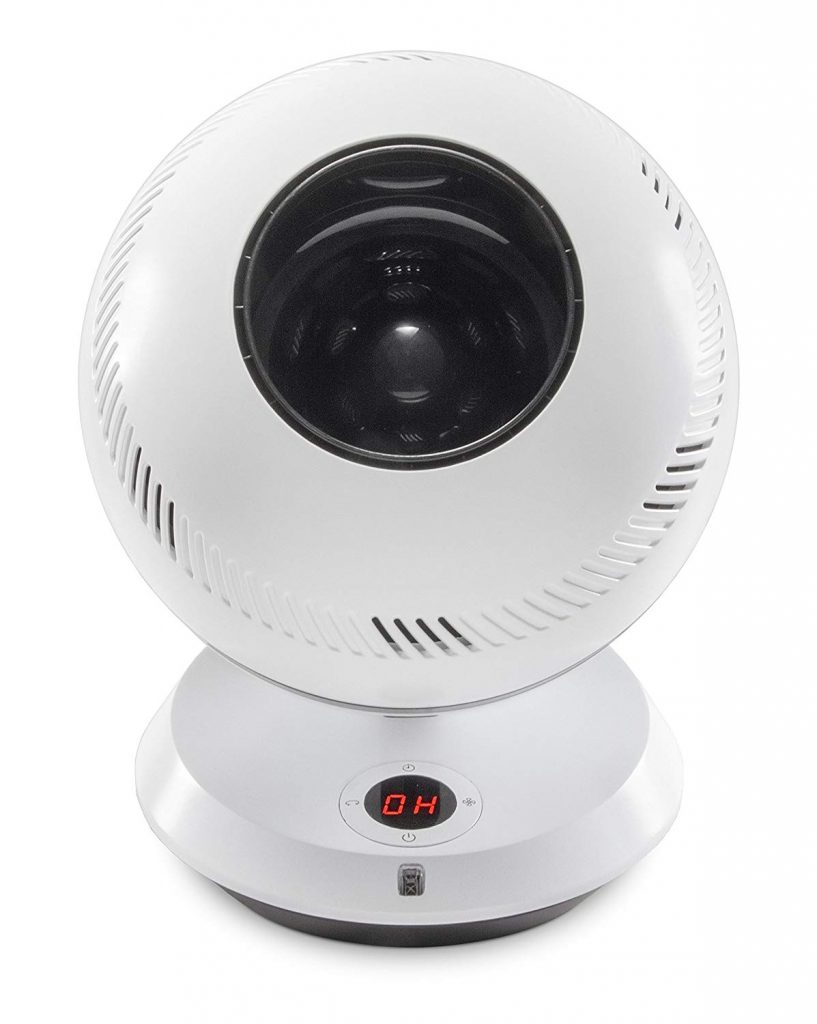 Much like the Dyson, PureFlow's QT7 bladeless fan is worry free: you don't have to worry about constantly cleaning the dust from the fan blades (because it doesn't have any!), and you don't have to worry about your pet getting hurt when it gets too close to the fan. Use the remote control to effortlessly adjust the fan settings so you don't have to constantly get up or stop what you are doing in order to change the fan speed. With 12 different air speeds you can select a gentle breeze to a full on blast of ice cold wind. All of this has helped it become one of the most popular and best-selling table fans available today.
Honeywell Comfort Control Oscillating Table Fan with Adjustable Tilt Head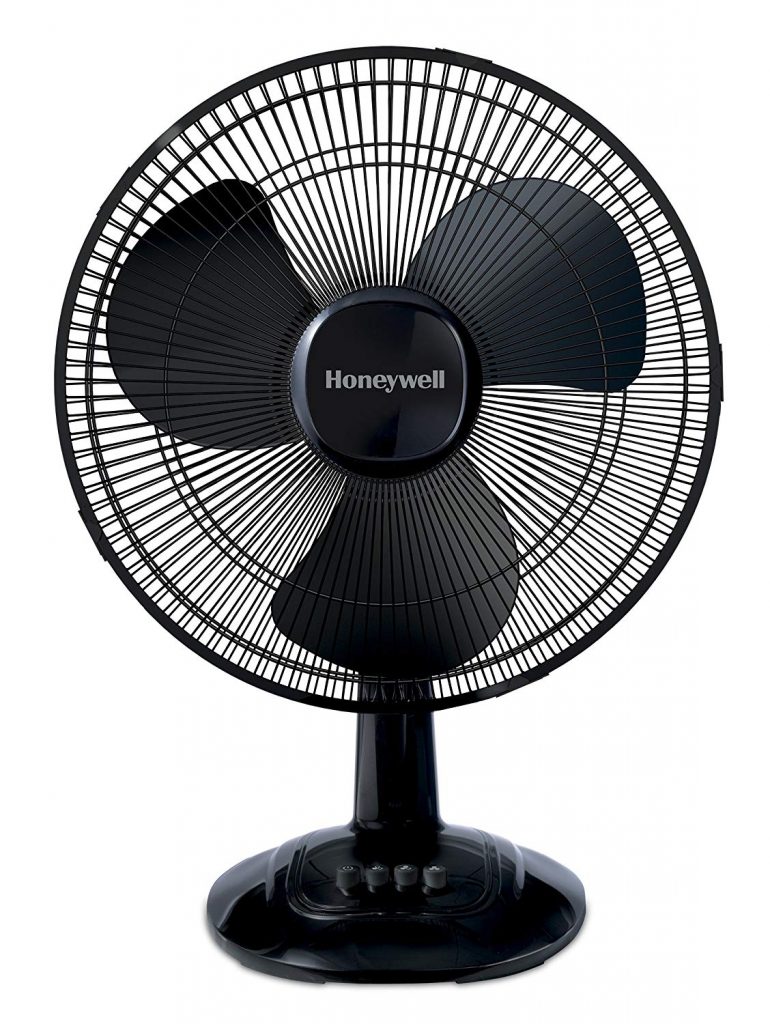 Honeywell is a big name in air conditioning and cooling and make a great fan for just about every purpose you could imagine. This compact desk fan is nice and simple: 3 different settings keep you cool and the fan itself is quiet and perfectly functional; use the adjustable tilt head to blow air any way you want throughout the room. The removeable grill is an excellent touch and makes it easy to clean the fan instead of helplessly watching as dust builds up on the fan blades.
Holmes Heritage 6 Inch Copper Desk Fan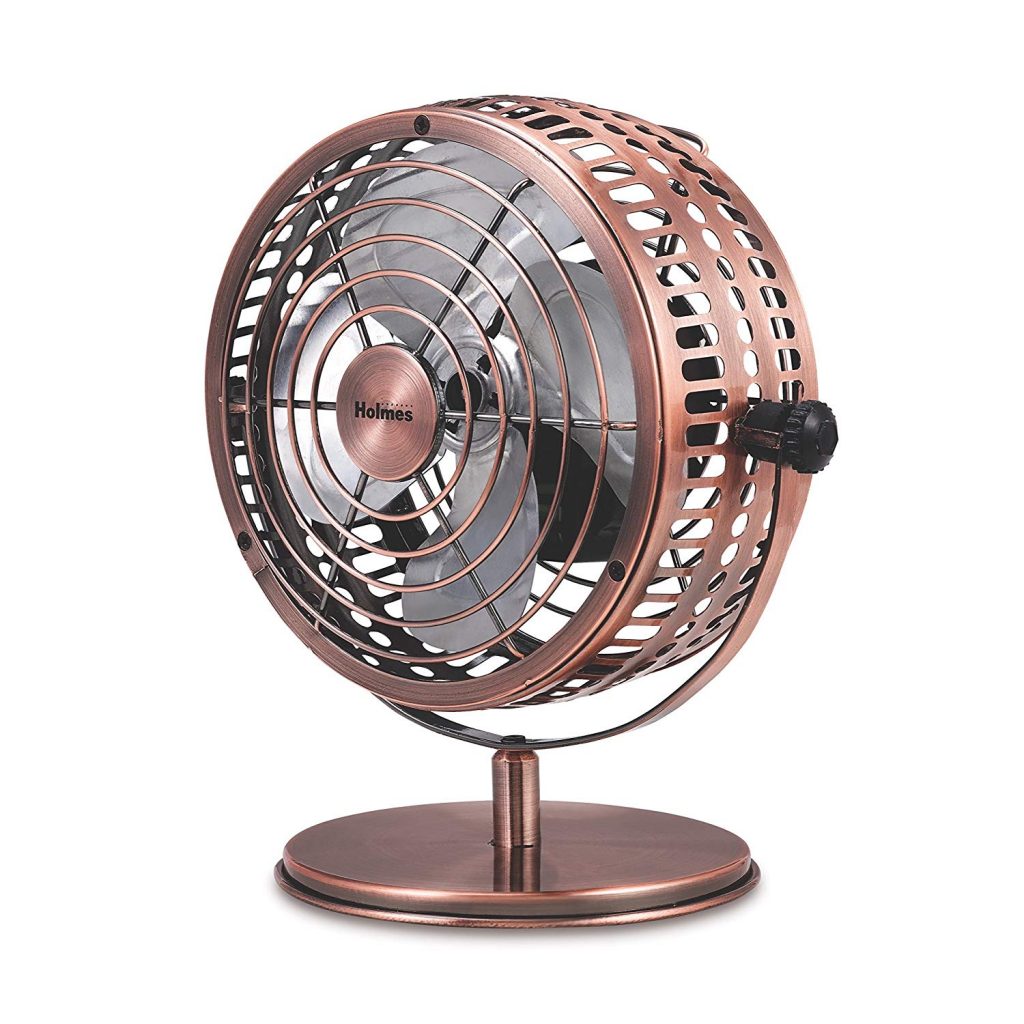 This gleaming brushed copper fan is an excellent choice for tiny spaces and will sit even on the smallest desk. At just about 6" this compact metal fan is the perfect addition to your office desk. The fan has two different settings and can be tilted up or down to ensure a nice cooling breeze is aimed exactly where you need it.
Vornado Pivot Personal Air Circulator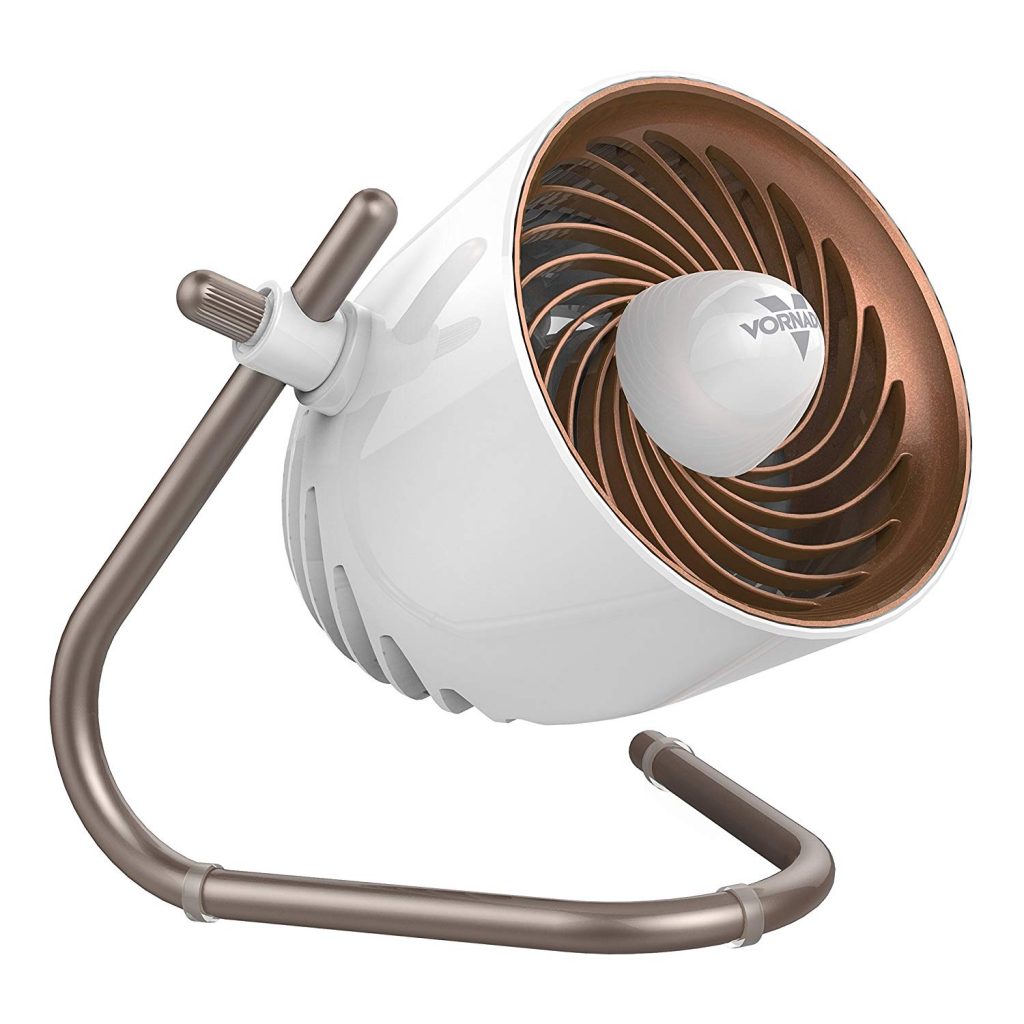 Like the Holmes Heritage fan, the Vornado has a nice stylistic appeal to it and is small enough for even your already overcrowded desk. It can oscillate a little more which makes it a great personal desk fan, and has three simple settings to meet your cooling needs.
Ozeri Brezza III Oscillating Desk Fan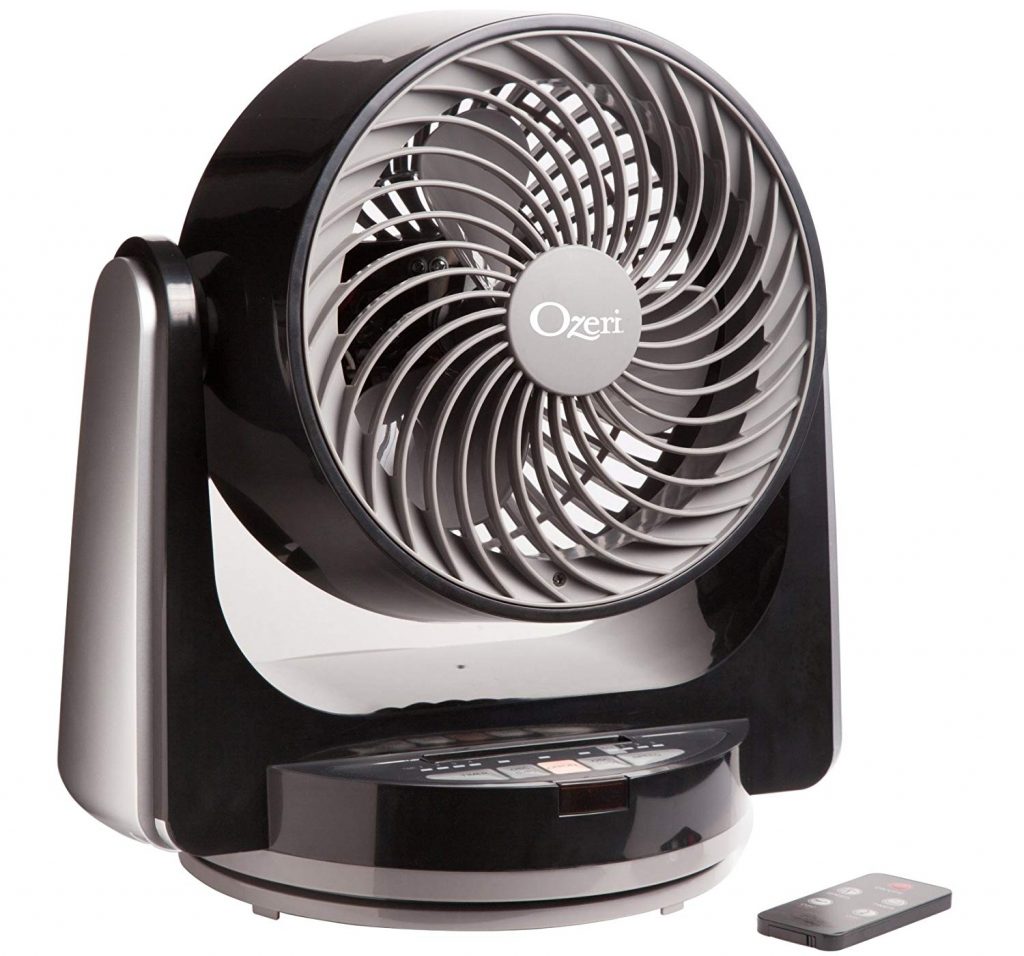 This is the third generation of the Ozeri Brezza, and the popular desk fan provides air circulation at 4 different speeds with designed to ensure your cooling is completed as quietly as possible. At 10" it is perfect for your table or nightstand that doesn't have too much else on it. Finally, it comes with a remote control so no matter where you end up putting the Ozeri Brezza, you can effortlessly change the air speed and the direction of the air.
IRIS Woozoo Compact Remote Controlled Desk Fan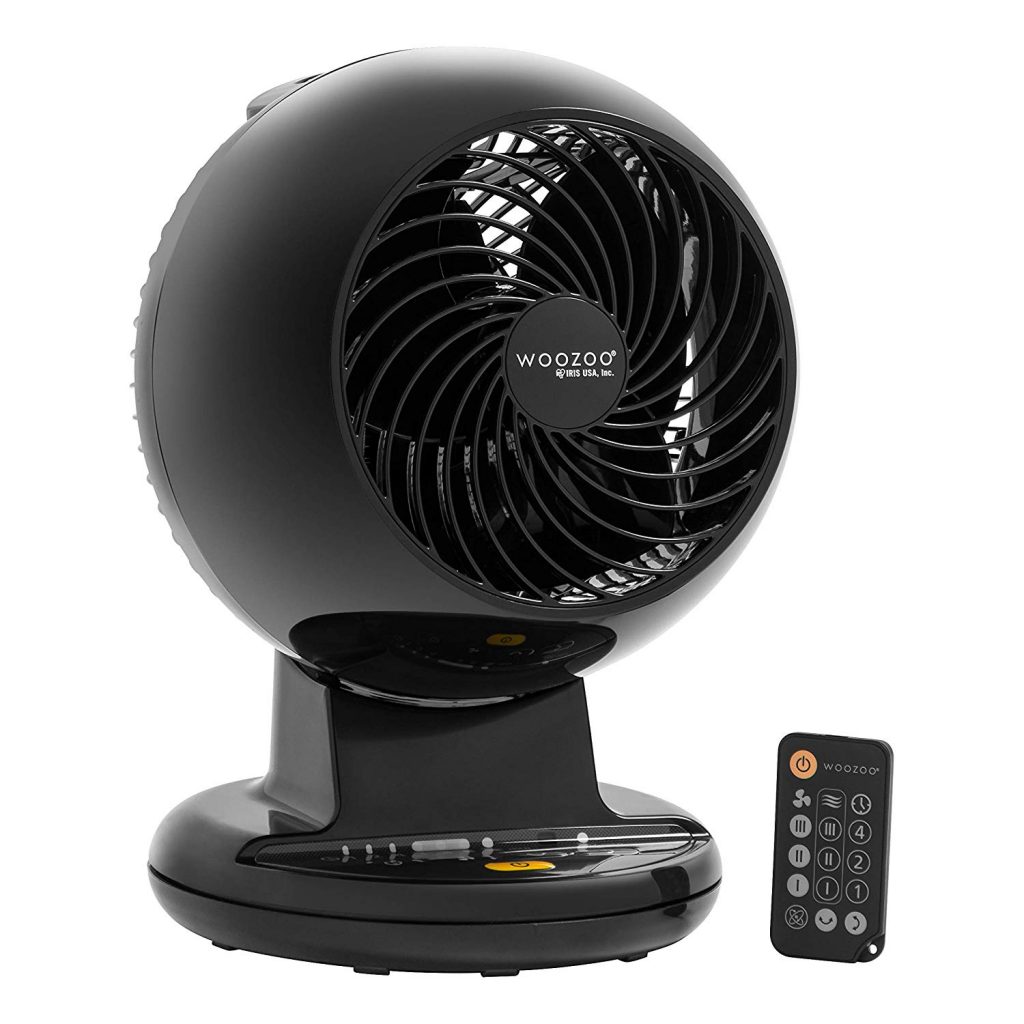 This popular and highly rated desk fan is available in 5 inch and 7 inch options which means you get a lot of cooling power in this compact fan and won't have to worry about making it fit on a desk, table, or nightstand. It comes with three air flow settings and the ability to program it to turn off 1, 2, or 4 hours so you don't get too cold. The remote allows you to change the oscillation and cooling settings no matter where you are in the room, and the black and white options are perfect for hitting that minimalist style which is always on-trend.
Honeywell Personal Tower Table Fan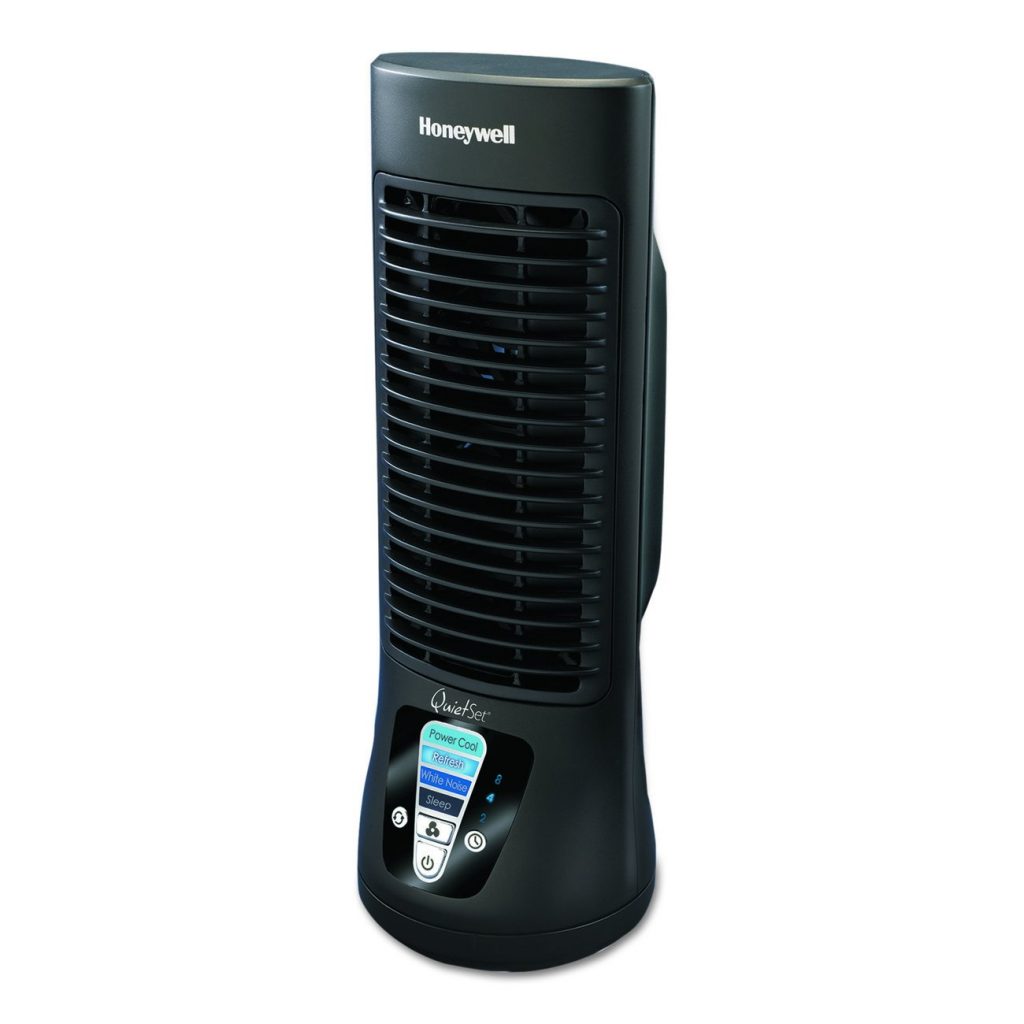 Slender and sleek, this tower fan will fit easily on a crowded desk or nightstand and still keep you cool for hours. The Honeywell HTF210B is a member of Honeywell's QuietSet which means they have done everything possible to ensure this fan is quiet and just to prove it they even made 4 different sound settings. Use "Power Cooling" on those days where the heat is unrelenting, use "Refresh" for that perfect afternoon nap session and opt for the peaceful "White Noise" option when you want to focus on nocking out some items on your todo list. They even created a setting especially for sleep, which makes this an obvious top choice for your next table fan.