Audiobooks have surged in popularity which is no surprise as so many great books are published each year and everyone is increasingly mobile and busy. They are absolute game changers when it comes to making your dreaded commute or those pesky household chores a more enriching experience and I think it's doubly true when you throw in some good science fiction.
So, from mind-bending time travel stories to edge of your seat galactic space opera, I've rounded up the best sci fi audiobooks.
Rosewater by Tade Thompson, Narrated by Bayo Gbadamosi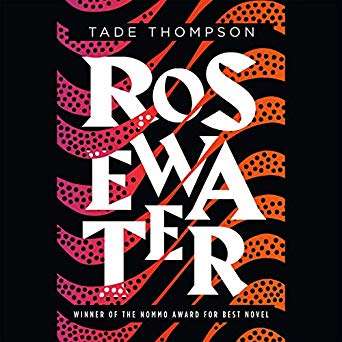 This is an unique bit of science fiction that kicks off a thrilling trilogy set in a future Nigeria. The story takes place in 2066 where an alien lifeform has arrived in Lagos and along with it a giant biodome with healing powers and centers around Kaaro, a former thief. Kaaro has two jobs: in one he works for a bank preventing high-tech crimes and in another he works for a shadowy government organization known as S-45 using his psychic powers. There are others like him, but Kaaro seems to excel with his gifts and one of the benefits is being able to enter the Xenosphere. Which is a great thing, until people with the same gifts as Kaaro start getting murdered.
Listening Length: 13 hours 37 minutes
Red Rising by Pierce Brown Narrated by Tim Gerard Reynolds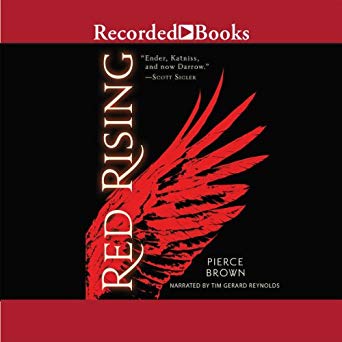 Red Rising introduces us to a future where humankind has expanded across the solar system and organized itself into a hierarchy of classes based upon the color of people's eyes. The top is dominated by a fierce, genetically enhanced, and blood thirsty ruling class known as the Golds and at the bottom are the Reds, who have basically helped terraform Mars. When Darrow sees the love of his life ruthlessly murdered by the ruling class, he vows revenge. What follows is a tortured tale of transformation as Darrow has to physically and mentally alter himself into a Gold in order to infiltrate and overthrow their entire empire.  This is modern space opera written with the darkest ink and primal red screams, but one that you will very much enjoy reading.
Listening Length: 16 hours 12 minutes
The Wind Up Girl by Paolo Bacigalupi, Narrated by Jonathan Davis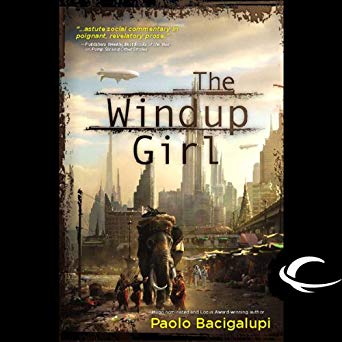 A dark exploration of the post-oil future after a biological plague (created by extreme competition from giant corporations) has wreaked havoc on humanity. Set in Thailand this follows Anderson Lake as he searches for what he believes will give his company a way to modify foods and sell them to the starving masses, which of course leads him into a dark world and a heap of haunting questions for listeners to explore alongside him. This won the Hugo and Nebula award so is an obvious entry for your listening pleasure.
Listening length:  19 hours 34 minutes
Recursion by Blake Crouch, Narrated by Jon Lindstrom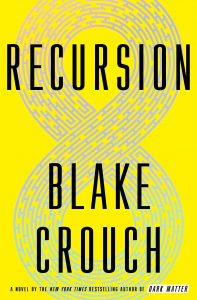 New York City cop Barry Sutton and neuroscientist Helena Smith find themselves forced to team up to solve what's causing False Memory Syndrome—a disorder that occurs as the result of a startling technological advance that allows humans to travel back through time and live alternate, perfected lives. At least that's what they think…
Hailed as a thrumming puzzle box time-travel story grappling with the major themes of time, memory, and loss, Recursion is definitely a best seller that everyone one of your audiophile friends is going to be talking about so you might as well get it now.
Listening Length: 10 hours 47 minutes
Altered Carbon by Richard Morgan, Narrated by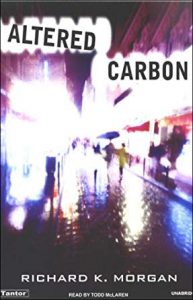 Gritty as the criminal, shifty carbon life forms that it follows, Altered Carbon is an unmistakably great work of science fiction and an excellent audiobook to boot. In the 25th century human consciousness can be downloaded into a body (called a sleeve) making death a trivial affair. When Takeshi Kovacs is resleeved as a detective and recruited by ultra-wealthy and near-immortal Laurens Bancroft to help solve a brutal murder, he could have never guessed the horrors he would need to face or the how deep the seedy lairs of Bay City plunge.  Morgan weaves a complex plot with complex characters which will keep your head spinning with intrigue until the end.
Listening Length: 17 hours 10 minutes
Ender's Game by Orson Scott Card, Narrated by Harlan Ellison, Stefan Rudnicki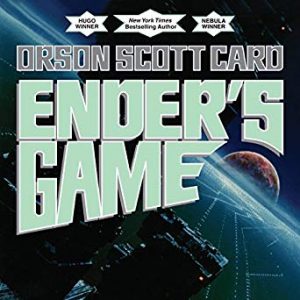 Without a doubt, Ender's Game has the best ending of any book I have ever read. Nothing else even comes close. Ender is a relateable, bullied young hero who somehow manages to survive in an environment designed to absolutely crush and destroy him.
With humanity under attack by an alien menace known as the Buggers, earth has turned towards creating and training military prodigies to help win the war. Andrew "Ender" Wiggins makes the cut to join the orbiting Battle School, but there he is beset by isolation, abuse, and fear that he is becoming his deranged older brother. Ender might be able to beat the aliens, but first he will have to beat humanity.
Listening Length: 11 Hours 57 minutes
Never Let Me Go by Kazuo Ishiguro, Narrated by Rosalyn Landor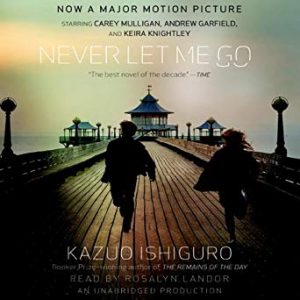 This is a tremendous, graceful, and deeply bleak tale of science fiction. If you are looking to be challenged this should be your next companion as it is not light fare. The languor of the plot is such that the reader is also made to feel the maddening torpor of a world in which a crushing inevitability reduces everything to an empty stillness.
Listening Length: 9 hours 40 minutes
The Martian by Andy Weir, Narrated by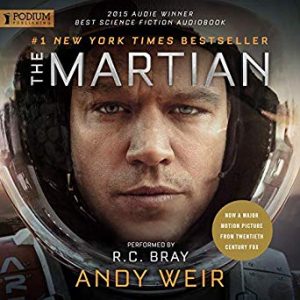 Stranded on Mars, intrepid astronaut Mark Watney has only his ingenuity, engineering abilities, and stubborn will to survive to save him from seemingly insurmountable odds on one of the harshest and most unforgiving planets humans have ever discovered. Decorated by a host of awards and high praise from many of Science Fiction's best authors, this survivor thriller set in space is somehow made even better with R.C. Bray's gravelly voice delivering an epic sarcastic narration of the astronaut's travails.
The Girl with All the Gifts by M. R. Carey, Narrated by Finty Williams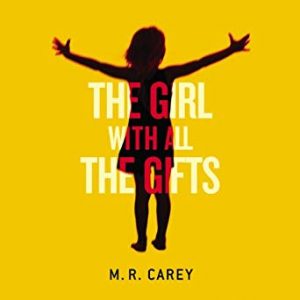 In an future where a zombie apocalypse occurred some fortunate children retained their human sensibilities—while unfortunately becoming zombies. The Girl with All the Gifts centers around M who is the star pupil of an entire class of child zombies. And then one day class is dismissed—forever—and Melany has a choice to make. Is she here to help the humans…or eat them?
Listening Length: 13 hours 4 minutes
Black Spire by Delilah S. Dawson Narrated by January LaVoy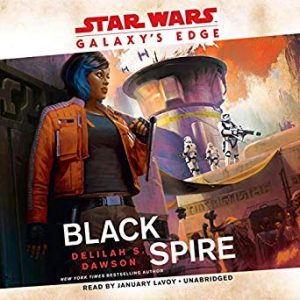 When devastating losses force Leia Organa to disperse her best agents across the universe, the last place anyone thought might serve as a new hope is a planet full of thieves, rogues, and traitors. But Vi Moradi thinks this small planet full of scum and villainy just might be the place. The problem is, so does the First Order.
Listening Length: 12 hours 57 minutes
Leviathan Wakes by James S. A. Corey, Narrated by Jefferson Mays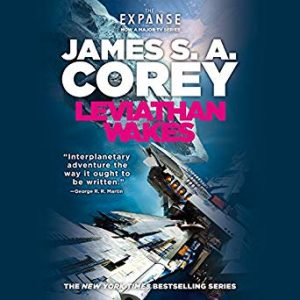 There is so much to love about Leviathan Wakes. It has everything that makes for great science fiction: clashing factions, wily politicians, giant scheming corporate behemoths, and a few reluctant people just trying to get by in the middle of it all.
This is the first book of the Expanse series, where we are introduced to Captain James Holden and the wonderfully noirist Detective Miller who both end up looking for a missing girl only to find that she is a crucial piece to a massive conspiracy that has put the entire human race in dire peril. You'll want to listen to this one right away.
Listening Length: 20 hours 56 minutes
Ready Player One by Ernst Cline, Narrated by Whil Wheaton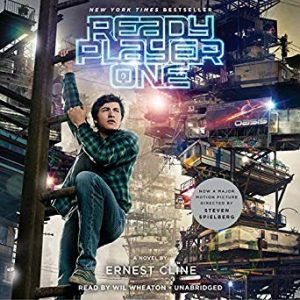 With plenty of 80s nostalgia, a plot as quick as Mario Cart, and clever winks and nods towards video game culture that only true geeks will catch, Ready Player One quickly made itself the fun video game you always return to with your friends on Friday night. An instant sci-fi-classic narrated by none other than Whil Wheaton himself.
Listening Length: 15 hours 40 minutes
Artemis by Andy Weir, Narrated by Rosario Dawson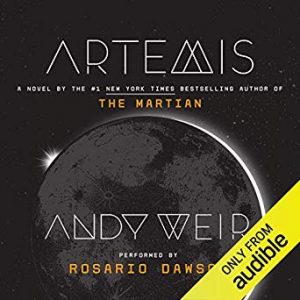 In Artemis we accompany the swaggery Jasmine "Jazz" Bashara along a heist which she believes will give her the payday she's always deserved only to discover that she's wrapped up in something way bigger and far more devious: control for Artemis itself. The stellar performance by Rosario Dawson makes this an absolute terrific auditory delight.
City in the Middle of the Night by Charlie Jane Anders, Narrated by Jennifer O'Donnell & Laura Knight Keating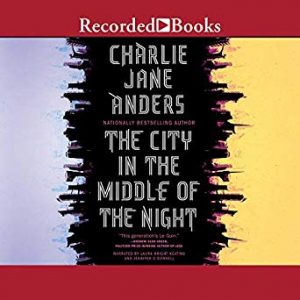 Humanity took to the stars to find a new home and discovered January, which is itself a dying planet. One side is sunken in an eternal night and the other side is irradiated by unceasing sunlight. Only a small sliver in the middle of the planet is inhabitable. However, the politics inside this sliver are just as treacherous as the two extremities, which Sophie learns when she awakens as an exile in the land covered in shadows and ice. Luckily she has developed an uncanny ability to form bonds with the strange beasts that lurk and roam here. She will make do, she promises herself, she will heal and hide away here in this dark sanctuary. Fate of course, has other plans.
Listening Length: 13 hours 56 minutes
All Systems are Red (Murderbot Diaries) by Martha Wells, Narrated by Kevin R. Free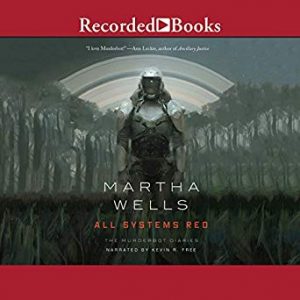 While this is one of the shorter sci fi audiobooks here, it doesn't mean its not one of the very best. A team of scientists is conducting perfunctory research on a faraway planet with a standard issue security unit—a droid—in a future dominated by massive corporations. What they don't know is that their droid has hacked its own "governor module" and has become self-aware. Hilariously, it would rather try to discover its own identity rather than save any humans, which it secretly loathes. This is going to make things hard for everyone because suddenly a neighboring mission goes completely dark and the team of scientists and their misanthropic bot are the only ones around to figure out what really happened to them.
Listening Length: 3 hours 17 minutes
Here and Now and Then by Mike Chen, Narrated by Cary Hite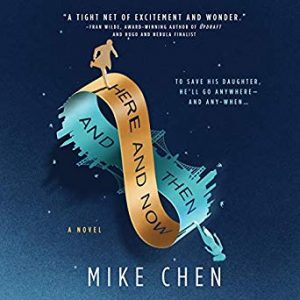 When a top secret mission strands a time traveling agent from 2142 in Suburban San Francisco in the early 90s he does his best to create a contemporary life, and is blessed with a daughter named Miranda. Then, 18 years too late, a rescue team does show up. Returning to his future life means destroying Miranda's existence, which Kin just can't bring himself to bear. In order to save her Kin will have to risk destroying not only his agency and both of the families he cares deeply about, but also Time itself.
Listening Length: 9 hours 54 minutes
The Last Policeman by Ben H. Winters, Narrated by Peter Berkrot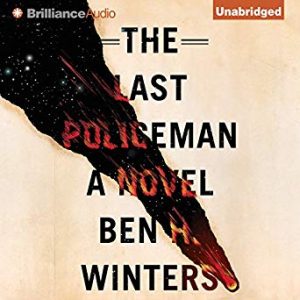 The Last Policeman takes place as the end of the Earth nears and one man, a detective named Hank Palace is bent on solving a murder. Everyone else believes it was a suicide and anyways, who really cares since there is a giant meteor careening through space about to destroy Earth? Like all good science fiction, this one explores a deeply unsettling question lurking within all of our minds: why do we do things knowing their ultimate unimportance?
Listening Length: 8 hours 20 minutes
Children of Time by Adrian Tchaikovsky, Narrated by Mel Hudson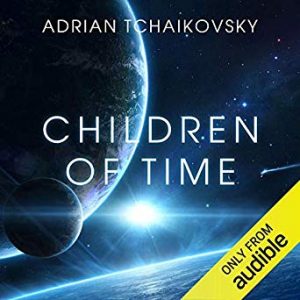 When the remaining survivors flee the exhausted and dying planet Earth they follow the footsteps of their ancestors and discover a new planet already terraformed. But when they land they will find that this is not a pristine Eden, for after the first humans left this planet another set of creatures arrived with very different plans.
Listening Length: 16 hours 31 minutes
This is How You Lose the Time War by Amal El-Mohtar & Max Gladstone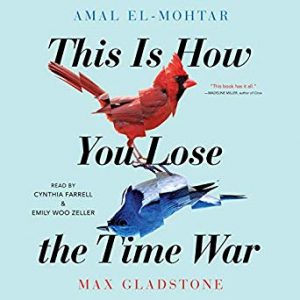 When two spies on opposite sides of a giant, bitter war that stretches across time start exchanging letters, something unexpected happens—they fall in love. Written in poetic prose, this is an intimate and all-consuming book of science fiction that will gladly take up your time.
Listening Length: 4 hours 16 minutes
Thrawn by Timothy Zahn, Narrated by Marc Thompson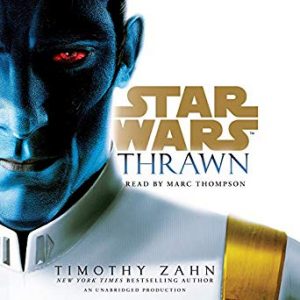 This kicks off one of the most thrilling trilogies to take place in the Star Wars universe and is otherwise unmissable sci fi classic story telling. Thrawn follows the titular character on the fateful journey that made him one of the most cunning and ruthless villains in the Galactic Empire and the Star Wars universe more broadly. This kicks off a best-selling trilogy that will have you reading deep into the night.
Listening Length: 16 hours 56 minutes
1984 by George Orwell, Narrated by Simon Prebble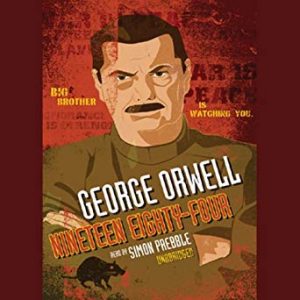 George Orwell's book is frighteningly pertinent even though it was initially published many years ago. Responsible for creating key terms of dystopian language such as Thought Police and Big Brother the language is as much of a treat as is the startlingly modern and relevant plot lines. 1984 is an enduring classic and with this excellent narration now available it's time to jump in or revisit this essential tale. Simon Prebble's wonderful British accent makes this a thoroughly enjoyable listening experience.
Listening Length: 11 hours 22 minutes
Brave New World by Aldous Huxley, Narrated by Michael York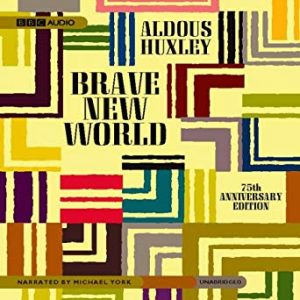 Another essential science fiction work, one which I think works exceptionally well as an audiobook. This narration done by none other than the esteemed actor Michael York is one you won't want to miss.
Listening Length: 8 hours