If you loved Harry Potter and are looking for more magic, more schools of wizardry, and more plucky young heroes and heroines then look no further!
Here is a pile of books like Harry Potter guaranteed to bedazzle your imagination into the small hours of the morning long after the candle flame has turned to smoke and even the stars have left the sky.
While you probably won't need spells to read all of these young adult fantasy novels, you should at least make sure you've got a good butter beer or a warm beverage in one of your favorite harry potter mugs!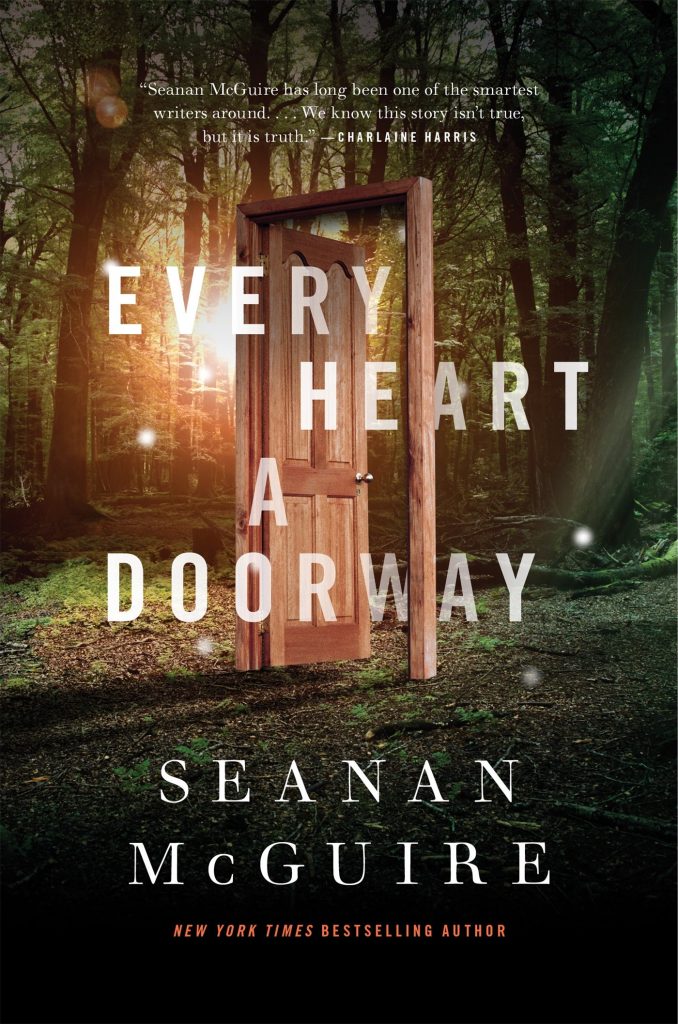 I love, love, love the premise of this novel—its like a reverse Harry Potter. When children return from their magical quests in other worlds they are often forever changed and matured beyond their years (and sometimes beyond human limitations). This is where Eleanor West's Home for Wayward Children comes to succor the parents of these disenfranchised children. Eleanor helps the children as best as she can until everything changes when a new girl shows up at the school followed by a rash of murders.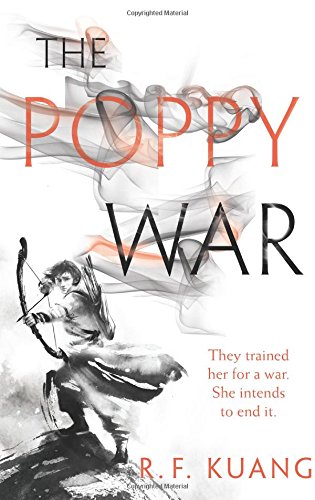 A thrilling debut with a familiar Harry Potter riff and yet so memorably unique that it offers up an unprecedented reading experience. When Rin unexpectedly and flawlessly beats the Empire-wide test to pick the best and brightest to study at the Academe, everyone was shocked. But life at the most elite military school—the Sinegard—isn't easy for a dark-skinned peasant girl from Rooster Province. Even so, Rin discovers long lost secrets about gods and rediscovers an ancient art that only a few have ever been able to harness. Rin's powers aren't the only thing growing however: across the Narrow Sea an old foe is readying itself for a third Poppy War—and this time there might not be any survivors.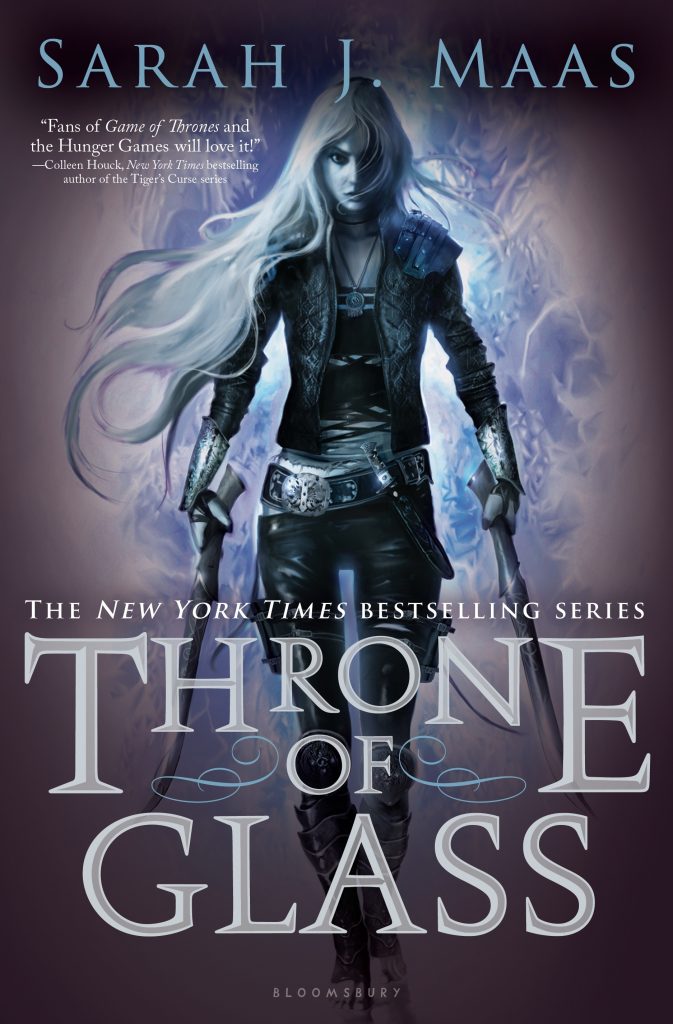 Written by Sarah J. Maas Throne of Glass introduces us to Celaena, an 18-year-old  assassin who finds herself bound to serve a tyrant she loathes.
Why would she Celaena do something like this?
If she triumphs in a deadly contest she will procure her freedom after 4 years of service to the very king who imprisoned her.
There are 5 total books in the series thus far but the next two that you will definitely end up reading are:
And once you finish reading this young adult novel, which I'm sure you will very, very quickly, you can find even more books like Throne of Glass.
A Discovery of Witches by Deborah Harkness
Hailed as a "sparkling debut" and a "wonderfully imaginative" tale for fans of Harry Potter, a Discovery of Witches is your perfect next read and will be especially delicious for bibliophiles.
When the young scholar Dr. Diana Bishop discovers the ancient alchemical tome "Ashmole 782" in Oxford's Bodelain Library, she unwittingly summons a magical host of daemons, witches, and a 1,500 year old French vampire who are all very interested in her new book.
Why?
Because it holds the secrets of immortality and the story of the Beginning of all things.
Sabriel (Abhorsen Trilogy) by Garth Nix
If you loved reading Harry Potter then Sabriel is going to be one of your next favorite books.
A young necromancer, Sabriel, is in her final year at Wyverly College where magic doesn't work. Over in the Old Kingdom, where magic does work, her father has mysteriously vanished and is trapped on the other side of Death.
Sabriel must journey through Garth Nix's lush and wonderfully wrought world to face ghouls, Mordicants, and other terrifying things to save her father.
But she doesn't have to face all these horrible, arcane, and powerful creatures alone.
Sabriel is accompanied by a powerful (and potentially evil) spirit condemned to live in the body of a cat and she meets a charming Charter mage by the name of Touchstone—who has reasons of his own to be going to the kingdom of the dead.
Jonathan Strange & Mr. Norrell
Jonathan Strange and Mr. Norrell is one of my most cherish books. It is a golden and turbulent tale of romantic passions and wonder set against a very modern and cool scientific skepticism.
The Name of the Wind by Patrick Rothfuss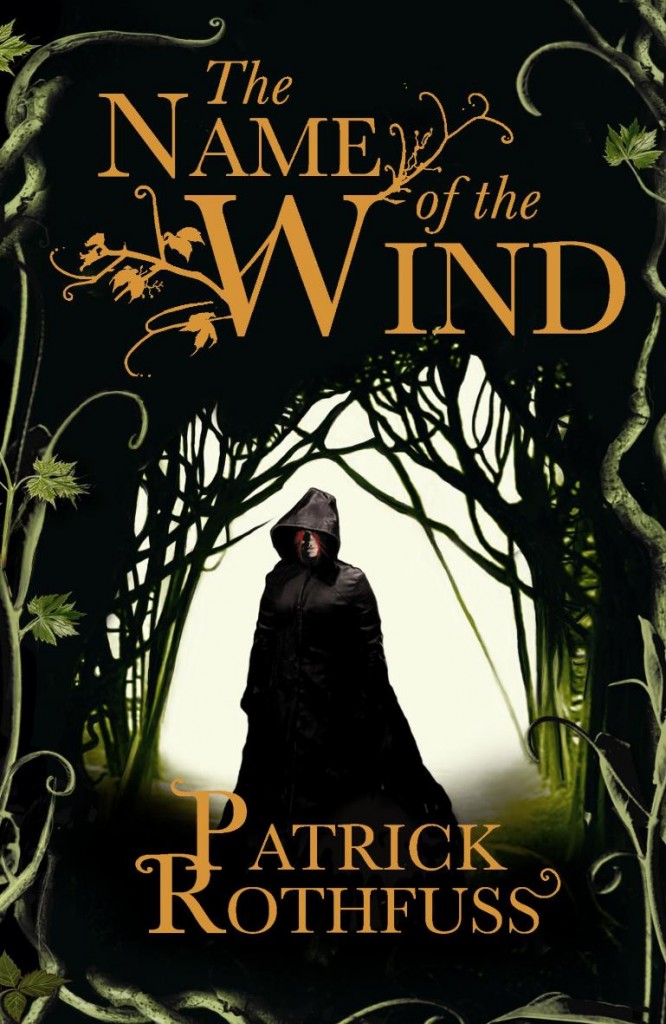 If you loved Harry Potter this is the book you absolutely must read next.
The Name of the Wind is about a young boy who grows to become the most famous wizard his world has ever known.
Sound familiar?
Loved by fantasy fans for its ornate writing and stories within stories fans of the Harry Potter books shouldn't go another day without reading this or at least adding it to your TBR pile.
And once you finish reading this splendid novel and revel in all its bewitching lyrical sorcery, you can discover more books like the name of the wind.
The Wise Man's Fear by Patrick Rothfuss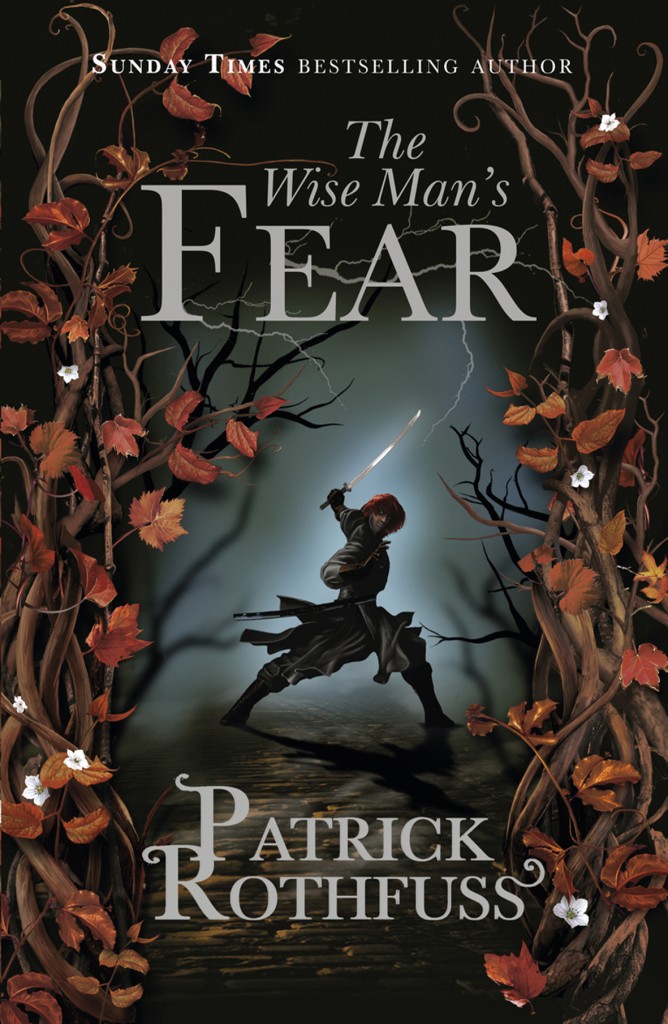 I'm in the minority here but I actually enjoyed the second book far more than the first book in this series.
The Wise Man's Fear is one of those fantasy books that simply defies summary.
But here goes: Kvothe does a number of epic and remarkable things like learn a secret fighting style, save a mayor from a treacherous plot, and visit the land of the fay. Oh, and in the process he still fails to hold on to the love of his life, Denna.
After you savor this book, be sure to join in and read why everyone loves the Kingkiller Chronicles.
The Slow Regard of Silent Things by Patrick Rothfuss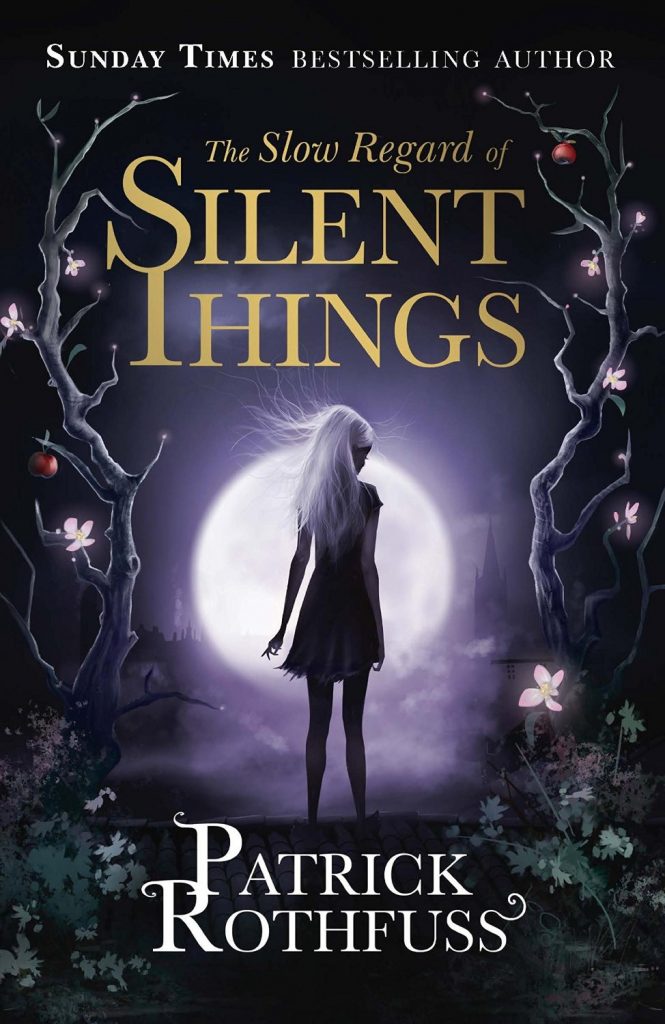 This is lyrical, fresh fantasy at its finest.
Just like Hogwarts, the University in Rothfuss's world has sewers and abandoned tunnels full of magical charms and creatures.
While none of them are as terrifying and harmful as the Basilisk, the charming and doleful Auri is worth spending a few enchanting and lugubrious evenings with.
Oh and one last thing:
It's written in iambic pentameter.
Why haven't you read this yet? Read it now!
The Paper Magician by Charlie Holmberg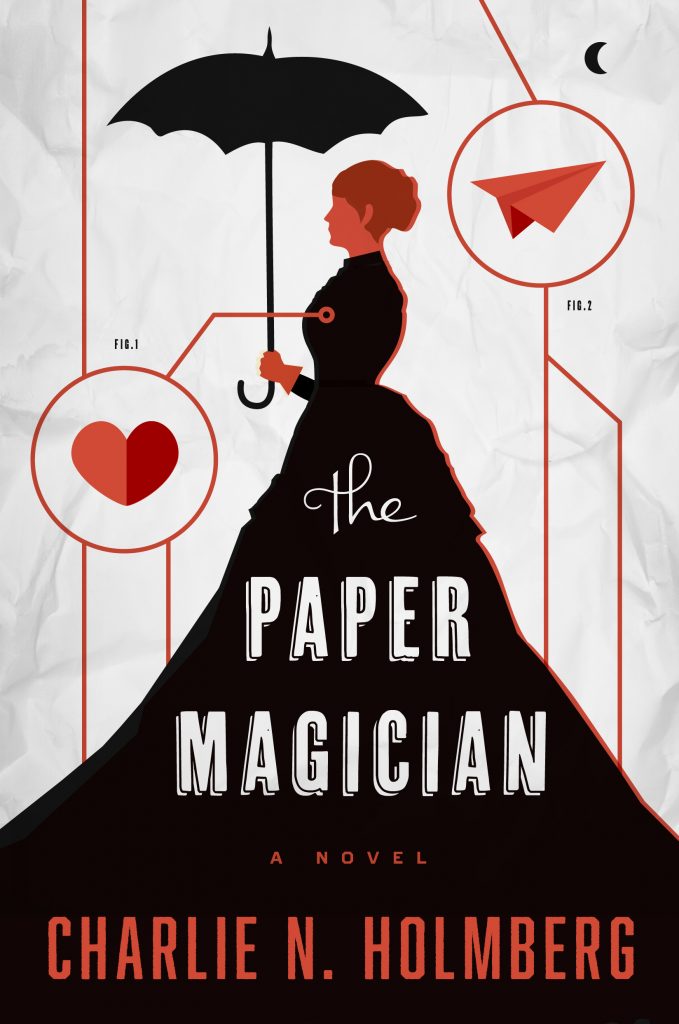 Blessed by fantasy masters like Brandon Sanderson, The Paper Magician is one of those deliciously magical books like Harry Potter that your fervid imagination has been yearning for.
After graduating at the top of her class from the wonderfully British "Tagis Praff School for the Magically Inclined" Ceony, who dreamt of bespelling metal, is assigned an internship in paper magic (there's only 12 left!) with a humble magician named Emery Thane.
When a practitioner of black magic rips Thane's heart from his chest, Ceony will have to enter her new Master's heart in order to save his life.
At just a little over 200 pages, The Paper Magician is a quick and enchanting read that you will be sure to enjoy.
The Young Elites by Marie Lu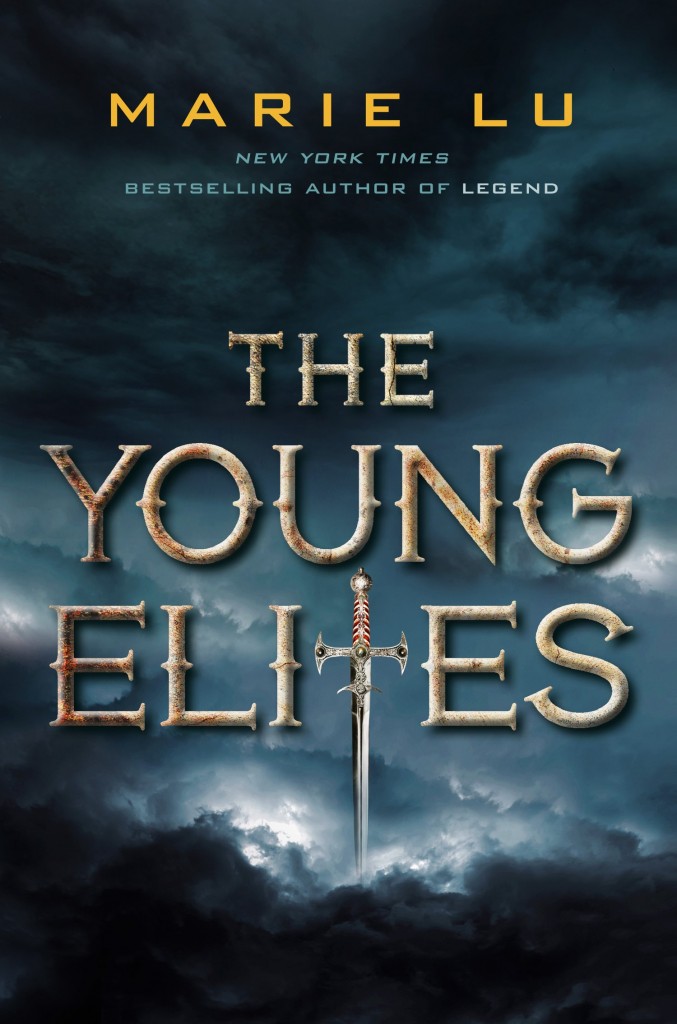 In general, if Marie Lu writes a book you should read it.
Never stray from this philosophical maxim unless you want to miss out on epic adventures, heart swelling romances, and incredible plot twists that make Cirque du Soliel performers look stiff by comparison.
Well, Marie Lu has written a new book, and if you loved Harry Potter you are definitely going to love her new young adult fantasy series.
When Adelina survives a terrible plague known as the blood fever she is condemned by her father and community as an abomination, a malfetto. This would kind of be like if Harry Potter survived Voldermort's attack and the world shunned him (and not just Voldermort's goons and Slytherin).
Instead of receiving a lightning-bolt scar Adelina loses an eye and instead of attending a charming school for witches and wizards she flees to a coven of malfettos with special abilities like her own. This group is known, feared, and loathed by the world as the Dagger Society.
But the more she learns about The Dagger Society and their ambition to place their leader Enzo on the throne, the more questions and misgivings she must confront. Not to mention trying to master her own powers of illusion and disillusion. And she better learn how to control them quickly because there are a lot of people—including those whom she would call friend—that think no one should have powers like she has.
This is followed by a second entry in the series entitled The Rose Society.
Uprooted by Naomi Novik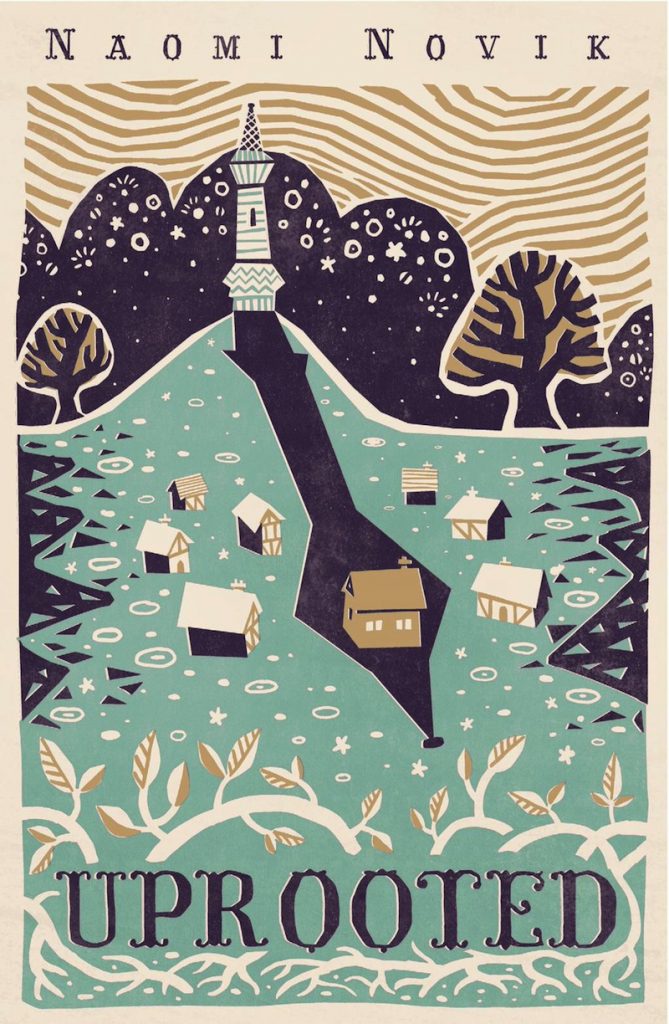 Every 10 years the Dragon picks a special girl from a small village.
And this year everyone knows it's going to be Kasia.
Kasia is beautiful, strong, and gifted in just about everything a young girl could want to be talented in.
She is also Agnieszka's best friend.
Why does the village let the Dragon take these special girls? Because his power is what holds a dark forest full of evils at bay.
And besides, the Dragon isn't the kind of Dragon that burns villages to the ground. He selects these gifted girls and then even lets them free after a while and gives them plenty of silver so that they may live a happy life and find a suitable husband.
But when the Dragon comes to the village, he doesn't pick Kasia.
He picks Agnieszka.
If you liked Harry Potter for its special attention to bestowing power on the most unlikely of heroes and heroines, Uprooted will not disappoint.
A Darker Shade of Magic by V. E. Schwab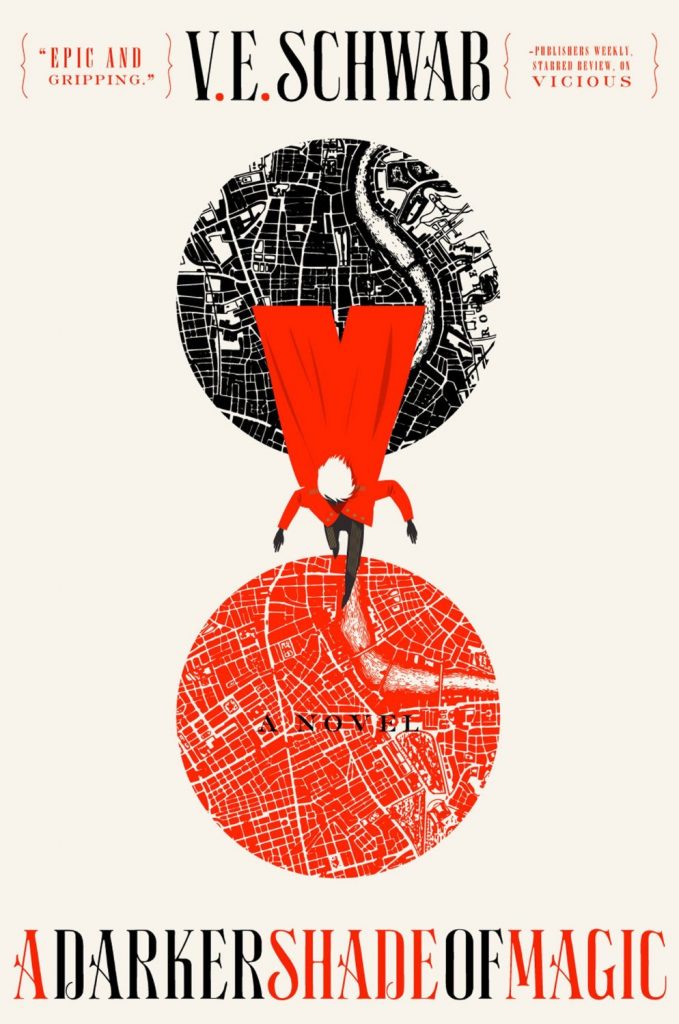 Kell is the prince of Red London who spends his time delivering messages to the other royals of the other Londons. How many you ask?
Grey: No magic and currently ruled by an insane king.
Red: magic is held in an especial awe, and a flourishing dynasty exists.
White: ruled by whoever has recently murdered their way into power, this version of London fights against magic and magic battles against oppression. As you can guess, this hasn't worked out so well for those who wish to suppress magic.
Black: No one speaks of this one anymore.
Unofficially, Kell is a smuggler.
He takes people to see what the other versions of their city look like. Being a smuggler he is no stranger to danger which is good because meeting the cut-purse Delilah Bard introduces him to more than he can bargain with.
If you loved Harry Potter for its world-hopping, then you will certainly enjoy V. E. Schwab's A Darker Shade of Magic.
Dedicated to "The ones who dream of stranger worlds" this is a splendid tome worth your hard earned ducats and far more important than what you are watching on TV or reading right now (unless it's this tome or some other books like Harry Potter of course).
A Gathering of Shadows by V. E. Schwab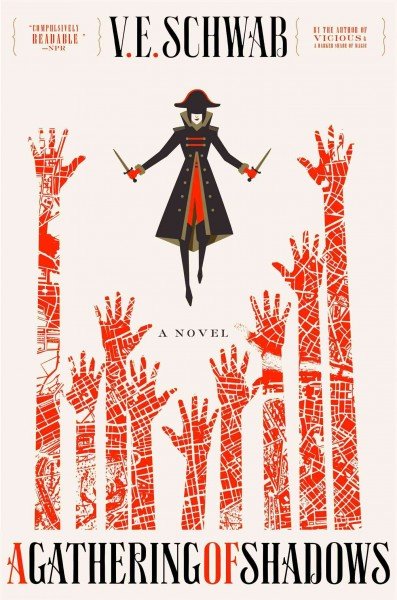 A Gathering of Shadows finds Red London preparing for the Element Games, a grand and international magical competition (just like the one held at Hogwarts!)
But amidst all the excitement and grand pageantry, Black London has risen the way "a shadow that was gone in the night reappears in the morning."
And to keep the balance of magic, some other London must fall.
The Queen of the Tearling by Erika Johanson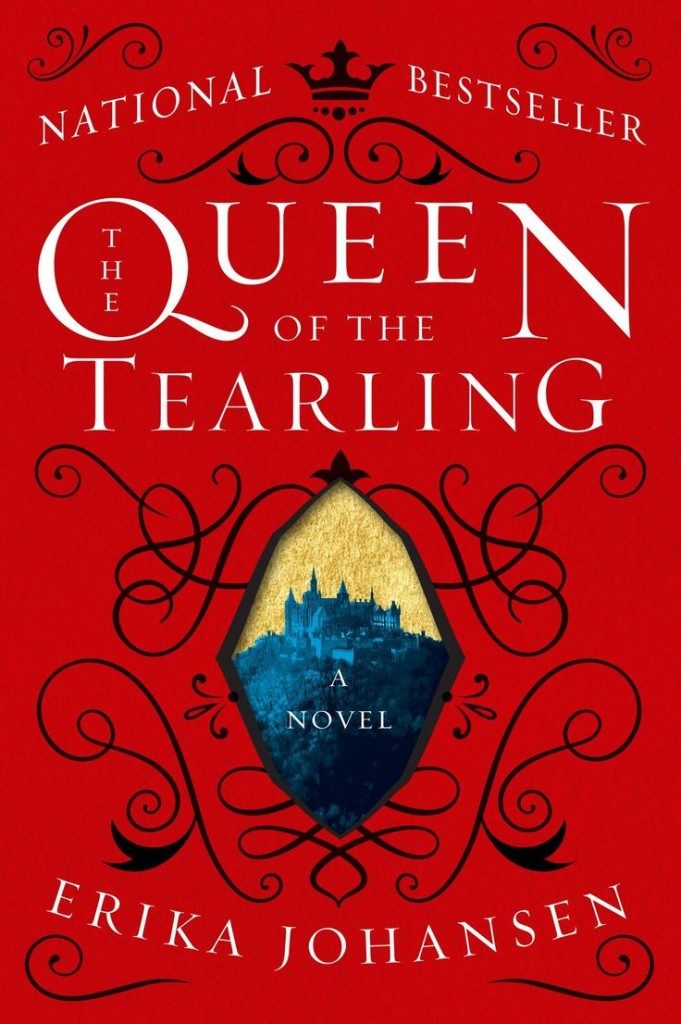 When the book-loving Princess Kelsea Raleigh Glynn turns 19 it's time for her to leave her home in the woods and ascend to take her rightful place as the new Queen.
Afterall, how hard can a trip from her home in the forest to a ceremony be? When a band of knights arrives to escort her to the city, Kelsea gets the hint that this might not be a quick and simple jaunt through the forest to the throne.
And she's right.
The evil sorceress Red Queen of Mortmesne has different plans for Kelsea.
Also just in case you were on the fence about this novel, it is set to become a movie with Emma Watson as both executive producer and the main female protagonist.
Here's what Emma Watson—yes, that Emma Watson—has to say about Tearling:
"Unfortunately, I didn't sleep for about a week because I couldn't put the bloody thing down. It would be fair to say I became obsessed with the role and the book. Now I am executive-producing it."
So if you haven't read this book yet you are going to want to before the movie is released.
The Magicians Series
The Magicians series was billed from the start as "Harry Potter for grown ups."
This is both true and absolutely false.
Like Harry Potter, it has a school of magic, ironically named "Brakebills" which I'm pretty sure is a clever joke about the crushing student loans most muggle students now must face.
There is also magic, but it is used far less frequently which is both a good and bad thing.
Good because it underscores how sacrosanct, powerful, and awesome magic is; bad, because it doesn't appear as much in the series as I wish it would have.
I really think these books are best for those would-be students of Slytherin, though there are moments of Griffendorian light as well.
The Magicians by Leg Grossman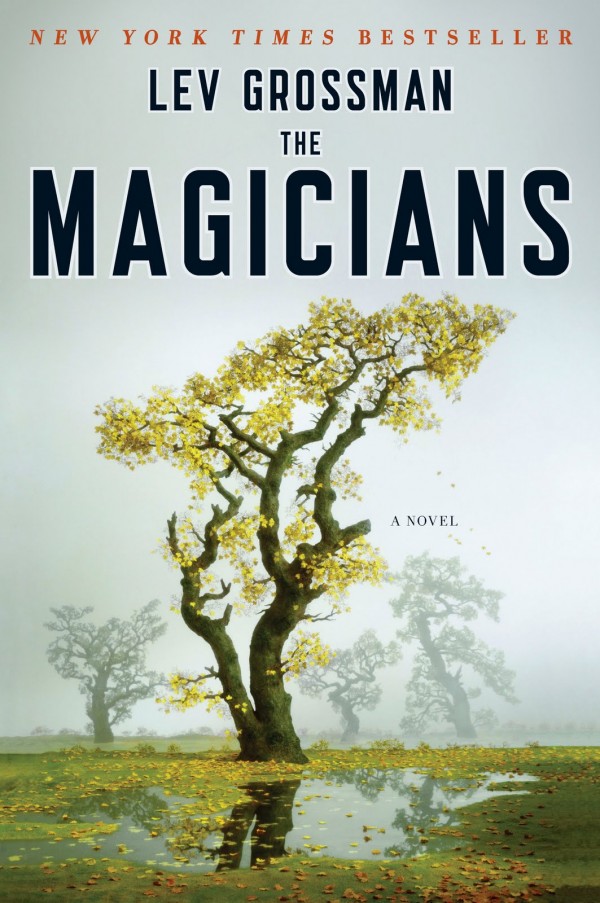 Quentin Coldwater is a brilliant student who is also fascinated with a series of children's fantasy novels set in a magical world called Fillory.
When he passes an exam and wins admission to the magical school of Brakebills he beings to learn that magic is not only mundane, but Fillory is real–and also incredibly dark and dangerous.
Lev Grossman uses a distinctly postmodern style to darken this young adult novel overfull with irony and sly references to movies, comic books, video games, and of course Narnia.
The Magician King by Lev Grossman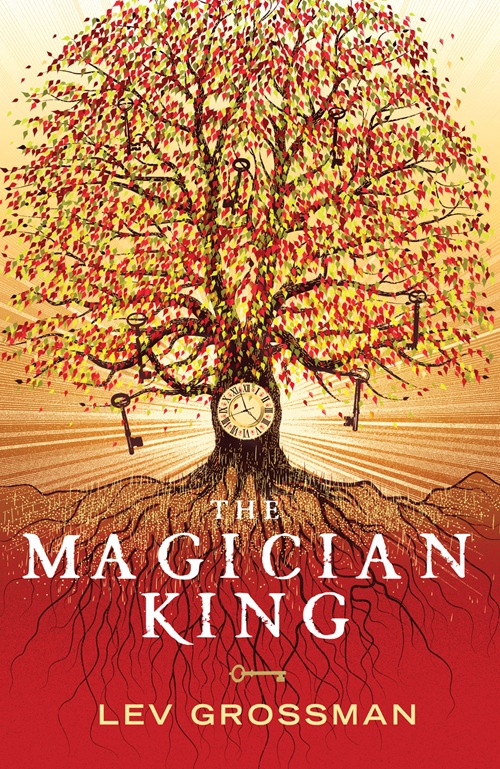 What Quentin wants is an epic adventure. You know, the kind that you read about in fantasy books.
What he gets is a dark quest that leads him out of Fillory and into the seedy magician underground where he becomes involved in an ancient conflict between dragons and gods.
The Magician's Land by Lev Grossman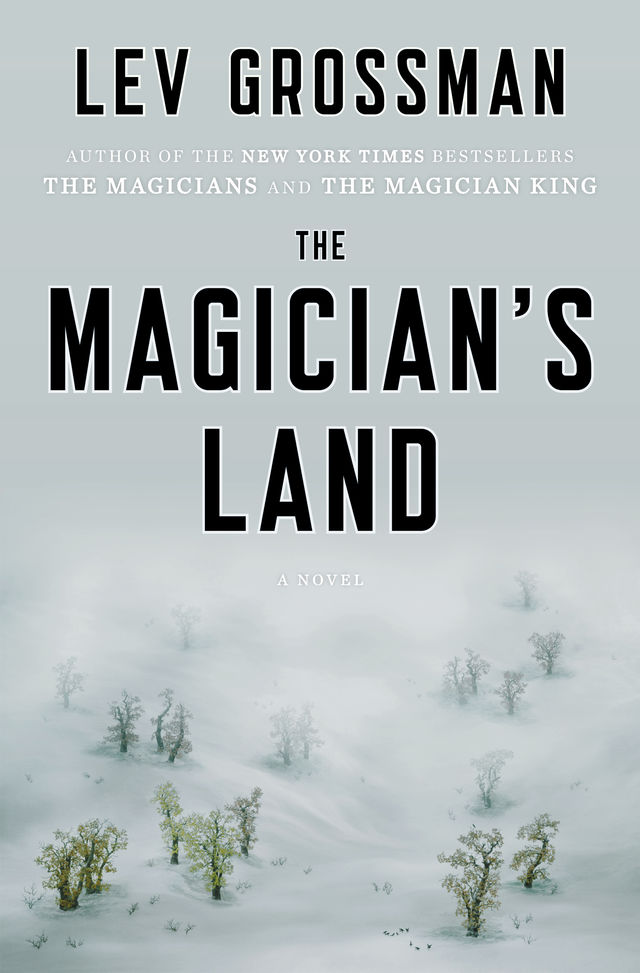 In a quick series of events Quentin is not only thrown from Fillory but also is tossed out of his teaching post at Brakebills.
But that doesn't mean he's run out of adventures. Rather, he gets wrapped up in a high-stakes magical heist, sees an old flame return, and a few old enemies as well.
The final entry to Lev Grossman's dark young adult novels is very final and the series as a whole is great if you were looking for more of life post-Hogwarts might really be like for the characters of Harry Potter.
His Dark Materials Series of Books
If you loved Harry Potter this series will be a little different for you.
You can pick up the entire trilogy or take them one at a time. Either way, you are going to read these books.
The Golden Compass by Philip Pullman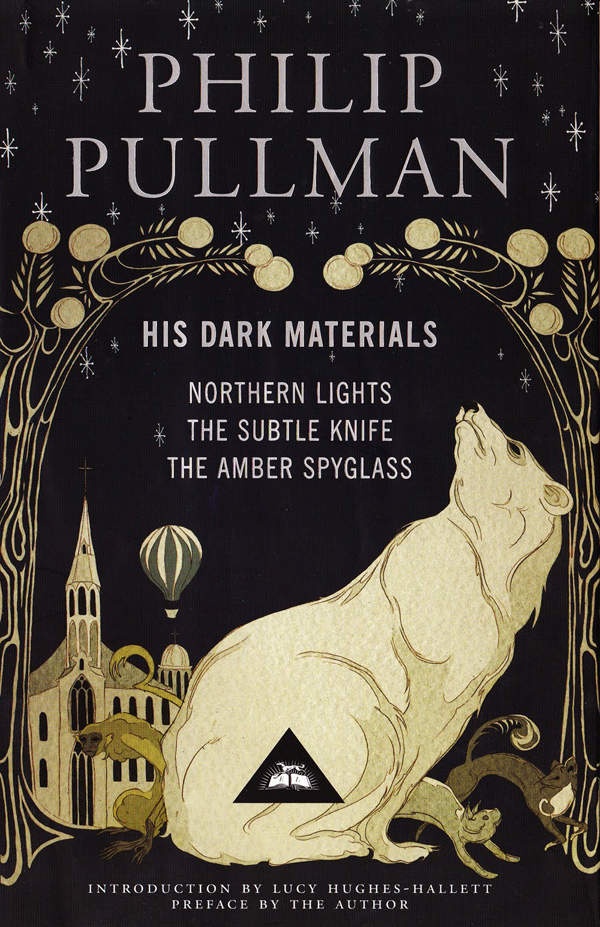 The first book, The Golden Compass,
Lyra Belacqua is a gifted orphan growing up in the idyllic Oxford University.
But this is a version of Oxford where everyone has their own daemon and magic, theology, and science seem to peacefully coexist. At least for the moment.
When Lyra's best friend Roger goes missing Lyra and her daemon Pantalaimon do what any plucky young heroine would do–embark on a journey to save him.
In the course of her journey she will thwart assassinations, travel to the North where witches and polar bears are ready for war, and discover the enigmatic substance known as "Dust," which might be the very stuff that binds everything and everyone in the universe together—or completely destroy it all.
The Subtle Knife by Philip Pullman
Lyra is looking for Dark Matter.
Will is looking for his father.
The two meet in a strange city called Cittagazze and must join forces to discover a knife which can cut the fabric that separates worlds.
(I'd also like to find this, so if you have one I'm on the market.)
Amber Spyglass by Philip Pullman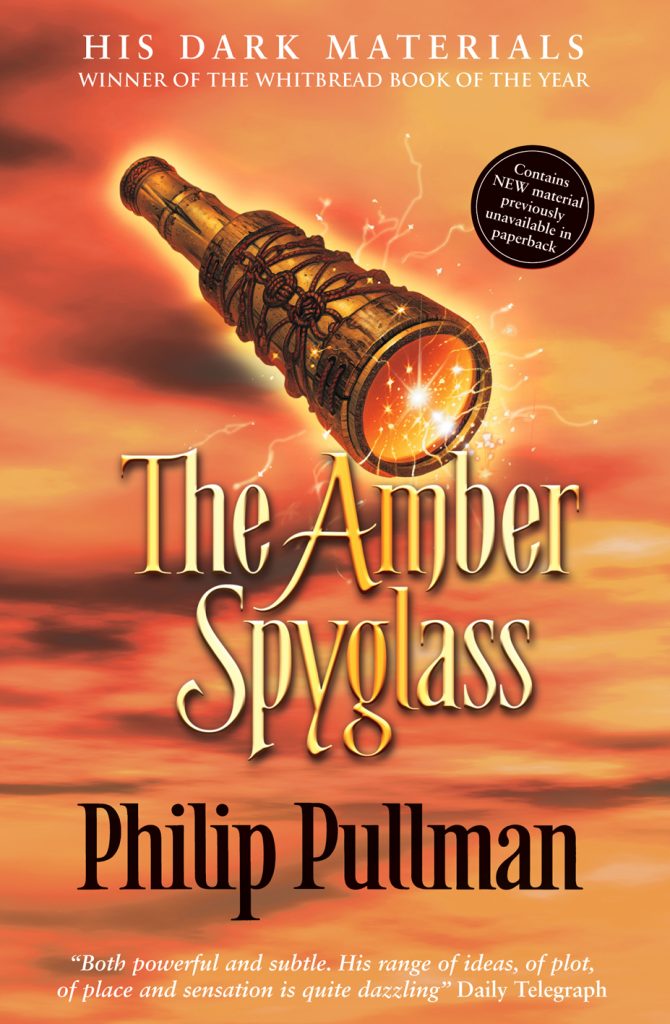 Harry Potter fans will love the stirring and provocative conclusion to the His Dark Materials series Philip Pullman weaves an epic and dramatic battle across multiple worlds.
Lord Asriel's rebellion is in full swing and everyone from witches to angels and all the universes they glide across will be forever changed.
The Alchemyst: The Secrets of the Immortal Nicholas Flamel
The Alchemyst is based upon the historical figure Nicholas Flamel who was a Parisian scribe and manuscript seller that supposedly discovered the sorcerer's stone and achieved immortality.
(He was also in Harry Potter, and it wouldn't surprise me if J. K. Rowling had made a secret pact with the Parisian alchemist in order to produce such golden work seven times in a row!)
Josh works in a bookstore in San Francisco across the street from Sophie, his Heart's Desire, who works at The Coffee Cup.
What Josh doesn't know is that his boss is Nicholas Flamel and the bookstore is home to one of the most powerful books ever written, the Book of Abraham the Mage which might just contain a crucial spell to keep Nicholas Flamel alive…
Of course, Dr. Jon Dee does know about this book and does know where it lies and knows exactly what he wants to do with it once he steals it: destroy the world.
And Josh just might let him.
Don't miss the other books in the series:
The Magician
The Sorceress
The Necromancer
The Warlock
The Enchantress
Septimus Heap Series
This series of magical tomes follows Septimus Heap, the seventh son of a seventh son. If you loved Harry Potter then this is going to be a series of books that are just as magical and a little more light-hearted but are still worthy of your time.
Magyk by Angie Sage
Septimus Heap is the seventh son of a seventh son (don't you already love the poetry of this book?), but he is pronounced dead upon birth.
On the same night that his seventh son dies, Silas Heap discovers a baby girl with violet eyes who has been abandoned in the snow.
Lastly, Jenna, the heir to the throne, is forced to flee the scheming Supreme Custodian with a guard named "Boy 412."
What follows is an absolutely spellbinding tale written perhaps in a way that only the fairy people who hail from that small island in the sea can.
Flyte by Angie Sage
The second book in the Septimus Heap series finds our young hero embracing his wizarding abilities and learning the magical arts of Conjuring, Charms, and other sundries from the renowned sorceress Marcia Overstrand.
You might have thought the dark wizard DomDaniel would be done for good after his bones were picked clean by Quake Ooze Brownies, but he's recruited Septimus's feeble-minded and jealous brother to aid in his dark endeavours to seize power.
Harry Potter will probably always be one of your most favorite wizards, but I think Septimus will eventually prove to be one of your closest magical confidants.
Physik by Angie Sage
Silas Heap mistakenly unseals an ancient room in the palace and awakens the wraith of Queen Etheldredda. The malfeasant Queen has made the most of death and divined a diabolical scheme to achieve everlasting life.
Septimus and his abilities will be tested as the Queen sets her deviant son, the powerful alchemist Marcellus Pye to do her evil bidding.
The other incredible books in this series are:
A Thinking Girl's Guide to Real Magic
If you are seeking a wry, deftly-written novel from Hermoine Granger then The Thinking Woman's Guide to Real Magic is destined to be your next read.
When a stressed out doctor student, Nora Fischer goes to a wedding she inadvertently walks through a portal to another universe which is thrumming with magic and magical gatherings.
It's not until after she has been engaged to a handsome and devilish prince(really, do they ever come in any other way?) that she begins to realize not everything is as it appears.
And that's when the real magic of this book kicks off since Nora is going to have to learn it and use it if she ever wants to see her home again.
Hogwarts Classics
This book collects 2 rich classics no Potterhead should be without:
The Tales of Beedle the Bard and Quidditch Through the Ages. The former is a translation from the ancient runes by Hermoine Granger herself and the latter is a thorough history of the iconic game. Both are cherished by all the young witches and wizards who attend Hogwarts year after year.
Fantastic Beasts and Where to Find Them
If the bedazzling cover isn't enough to make you want to pluck this book immediately, its enchanting contents are sure to quickly deliver you back into the magical and mischievous wizarding world of Harry Potter.
Harry Potter and the Cursed Child
While this is billed as the 8th story in the Harry Potter series, the fandom is pretty divided on it at the moment.
The story picks up where the series closed off, well 19 years later to be exact. Harry Potter is working in the Ministry of Magic, a husband, and father to 3 school-aged children. His youngest son Albus is now Hogwarts-bound and eventually ends up being placed by the Sorting Hat in–Slytherin.
The Lighting Thief by Rick Riordan (Percy Jackson and the Olympians)
This one appears on many lists of recommendations. Fans of J. K. Rowlings works will miss the British aesthetic but enjoy a snarky page turner about a "half-blood" whose mother dies.
Redwall by Brian Jacques
Redwall is a charmingly British young adult fantasy that makes great use of pastoral settings and populates a magical world of noble, talking mice, benevolent badgers, and evil rats.
I have a special adoration for these novels since I grew up reading them before moving on to things like the Wheel of Time.
Wait! Have You Read All of these Books Similar to Harry Potter?
You might be interested in reading a few free chapters from my upcoming young adult dystopian novel or reading an entire fantasy book for free.