The beauty of a secretary desk is that it offers a great amount of storage while also not taking up too much space, even while it is being used. Most of these desks have an antique look and appeal, and easily fit into any living room or small space. Full of hidden cubbies, drop down desktops, and pull-out drawers usually concealed by a roll-top, its easy to see why these are popular as both a piece of working furniture and piece of décor that has a bonus of added storage capabilities.
Sitting at your secretary desk is an excellent way to spend an afternoon or early morning with tea and your favorite notepad jotting refined thoughts and peering out into a busy garden.
So I've gathered a list here to do just that!
Nexera Chrono Secretary Desk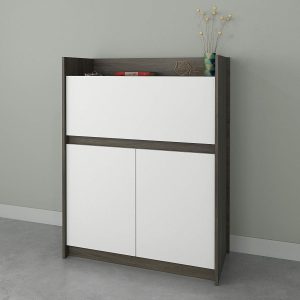 Sporting a modern aesthetic the Nexera Chrono is an excellent and affordable choice for those looking to get some additional storage along with some working space without taking up too much space in their room. There are cubbyholes on either side of the desk and a nice wide section along the top to set plants (bring a little greenery to your toil) or pictures or your favorite action figures on. Simply fold the front panel up and close the drawers when you are done with your working session and suddenly you are looking at a sleek piece of furniture! The white melamine is naturally stain and scratch resistant and offers a fun contrast to the dark grey wood.
Safavieh American Secretary Desk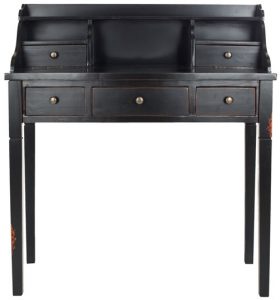 The distressed black wood is perfect for the hipster home and there are plenty of drawers to stuff your notebooks, loose draft papers, and weed bags in. The refined colonial grit will go perfect in your apartment and you won't mind sitting back nursing a nice whiskey or artisanal IPA with your thoughts and this desk at any point during the day.
Sauder Edgewater Secretary Desk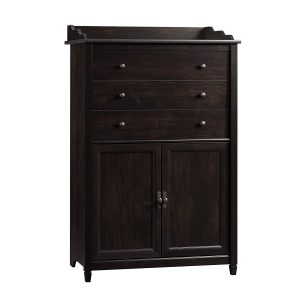 This is more of a classic secretary desk and offers all the of the great optionality traditionally associated with this piece of furniture. When you need to, you can open the top cabinet and unfold it into a mini desk. There is even more space below to store books, a printer, blankets, or whatever else you might need to stash away. If you are aiming for a stately and older look this piece will fit that vibe perfectly.
Finnegan Secretary Desk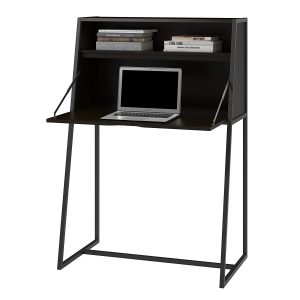 The Finnegan secretary desk is perfect for getting into the zone and getting your work done, and its urban, industrial vibe born out of the mix of dark espresso wood and thin black metal legs helps prove it. Just open the front shelf and suddenly you have ample room for your laptop and you can store books in the area above. When you are done, it easily closes and magically you have more space back in your room. Perfect for small working spaces where every inch matters.
Sauder Harbor View Secretary Desk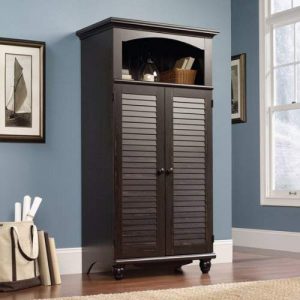 If you are looking for the ultimate in storage and an ad-hoc workstation and have some room you need to fill, the Harbor View desk is definitely worth considering. You can fit an entire desktop computer and monitor or printer and laptop inside and the slide-out desk has an area for the keyboard along with a notepad or journal above it. The spacious hutch on top is an optimal area to place things like baskets with blankets or magazines or even some special décor you've been trying to find a home for.
Monarch Solid Wood White Secretary Desk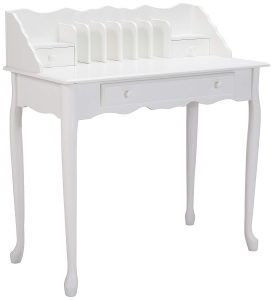 Looking to create that perfect place in a room where you can sequester yourself away whether it's for knocking out items on a to do list, reading, writing, or just making sure that things are organized and where they should be? The Monarch solid wood secretary desk will go a long way to helping you create this area. It has special dividers built in for important files or notebooks and two miniature drawers on either side for additional storage. Of course there is a sliding drawer where a whole host of things can be stashed, and it all comes together in this slender and refined piece of furniture.
Sullivan Secretary Desk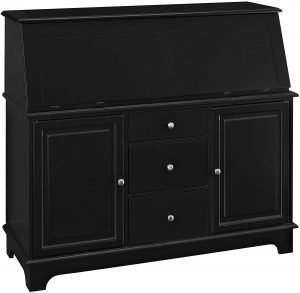 This larger desk is more traditional but with 9 different drawers and a host of different shelves and cabinets, there's no doubt you will be able to store all of your belongings with minimal hassle. Offered in a timeless white or studious black wood, the Sullivan secretary desk is sure to mesh with your homes interior palate.
Key West Secretary Desk in Washed Grey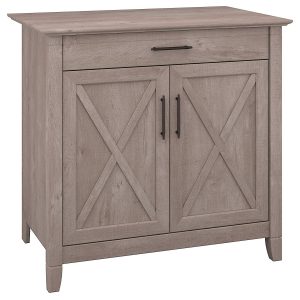 If you are going for the modern farmhouse vibe and looking to capture both some additional storage space and some additional working capabilities, the Key West secretary desk should be one of your top choices. Sporting a simple design, the drawer can be used to house a variety of smaller items or it can act as a keyboard tray or even a mini-desk to place your laptop on. Stylishly concealing plenty of storage below, there is an adjustable shelf to perfectly accommodate your individual needs.
Charlotte Secretary Desk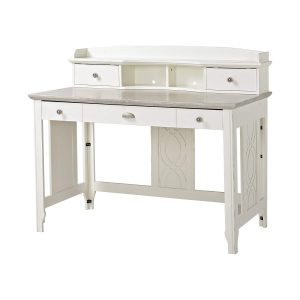 There is a lot to like about the Charlotte Secretary Desk. It provides ample space for both a laptop and other necessary work items like books or larger pieces of paper you might need for reviewing without feeling crowded or cluttered. The hutch provides additional room to store fun room décor or plants or even just additional space to throw whatever you can't fit on the desk at the moment but might need later. Lastly, it will add a touch of effortless elegance to any room you decide to place it in, immediately refining your workspace.
Crosley Furniture Landon Secretary Desk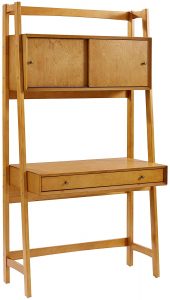 Finished in a warm and modern autumn acorn hue this desk is an excellent option for those narrow spaces you might want to take advantage of right by a wall and packs a lot of storage. Since it is tall you have a lot of options for what you want to do underneath the two cabinets (where you can store things like books and other items) and can even store more of your belongings on the shelf above them. A pull out drawer affords even more space for items you might need to have in immediate reach like pens and extra notebooks.